August 20, 2023
I have done a bit of guiding since I got back from Wyoming, and the general theme is this: fishing is a bit on the slow side with low water conditions and in stream growth that is choking out a few streams, making them virtually impossible to fish. The best advice I can give is to find volume - fish are stacked up in pools with depth and overhead cover.
I spent the morning with Dave from Wisconsin (really Ohio). Great guy, good angler, but we just couldn't get much going consistently, especially when it came to fishing dries. We kicked up millions of hoppers, so food availability was not an issue. The fish were, however, plenty spooky, and not terribly aggressive.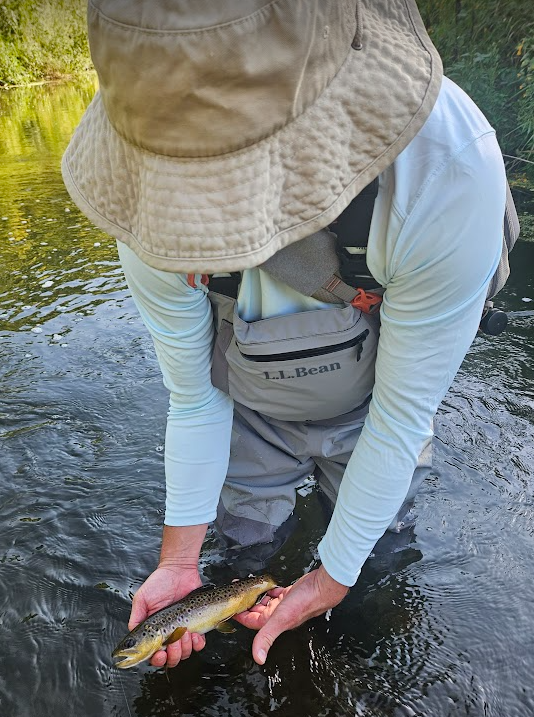 I have several trips lined up into early September, but after that, I doubt that I will take on any more clients for 2023. If water levels somehow rebound, then I'd consider it, but as of right now, September 9 may be closing time on this guiding season.
July 15, 2023
The Driftless has not seen much in the way of rain: drought is a reality right now. Lower temperatures with hazy Canadian wildfires conditions made Saturday's morning outing with Beau ideal. Dry and dropper were both effective ways to coax fish consistently.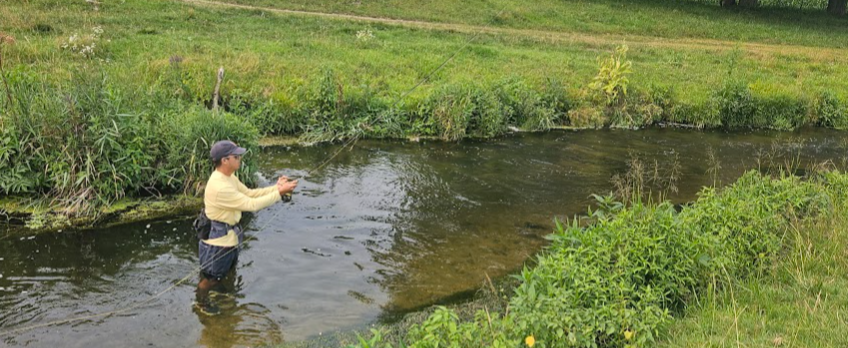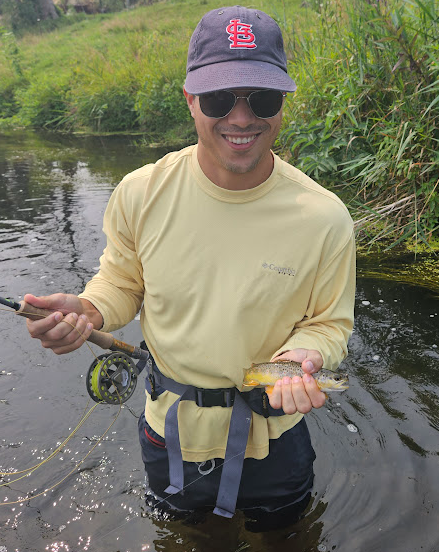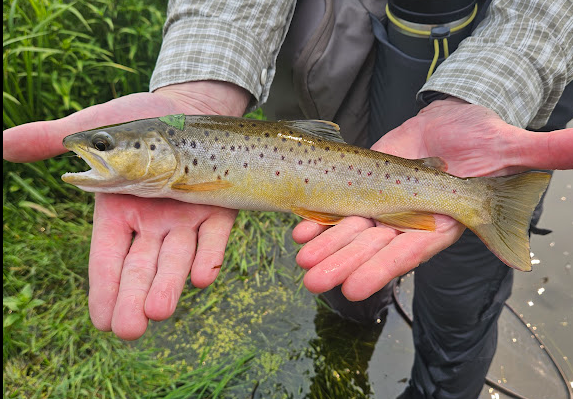 July 1, 2023
I had a fantasitc day fishing with Jose, a Driftless resident, but very new to the fly fishing game. The plus was that he could cast, so the rest of our day was all about ironing out minor details in casting and just putting flies in spots where the fish were. Dry and dropper were fantastic all day, specifically the dropper, but there were enough fish popping the dry to keep things interesting. Yes, I'm redundant: low, clear water, and the best fishing was in the AM before temperatures spiked and water temperatures rose to the point of trout disinterest.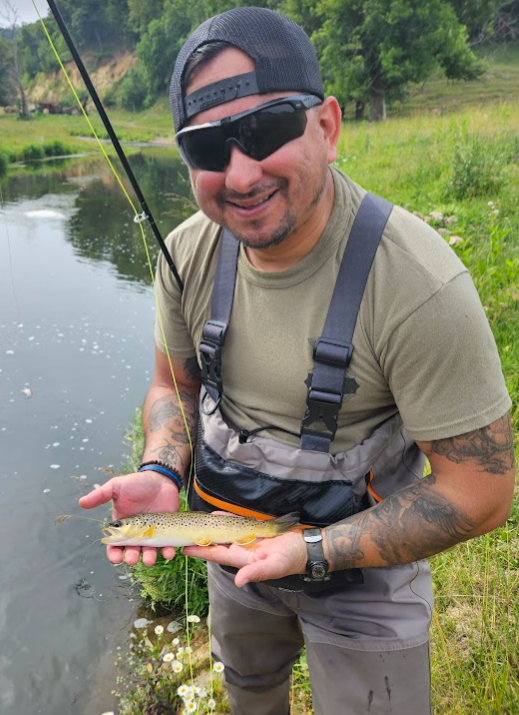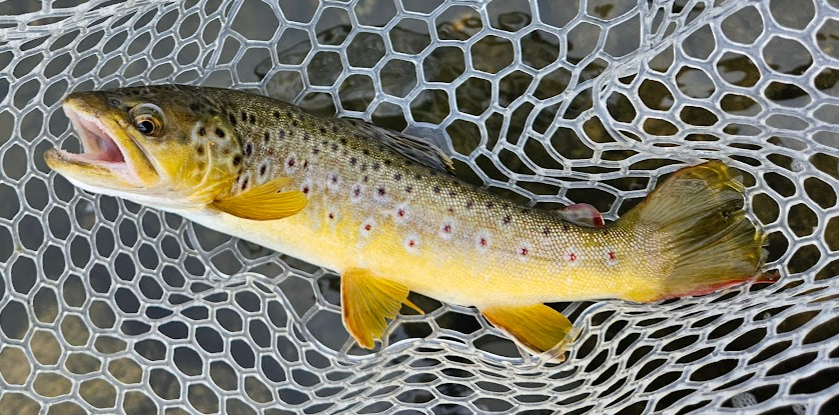 June 29, 2023
Guide's day off: I haven't fished on my own in a long time. It's not that I haven't been on the water, just not by myself without clientele. I had some high hopes that the location I was going to hit was going to be light's out, but, that was not the case. East wind and Candian wildfire smoke made it an off day, to say the least. I did catch fish, just not at the volume I had anticiapted with clean water and high temperatures. The dry/dropper combo that I fished was Ok, not great, but there was not enough water to nymph but two holes the entire day.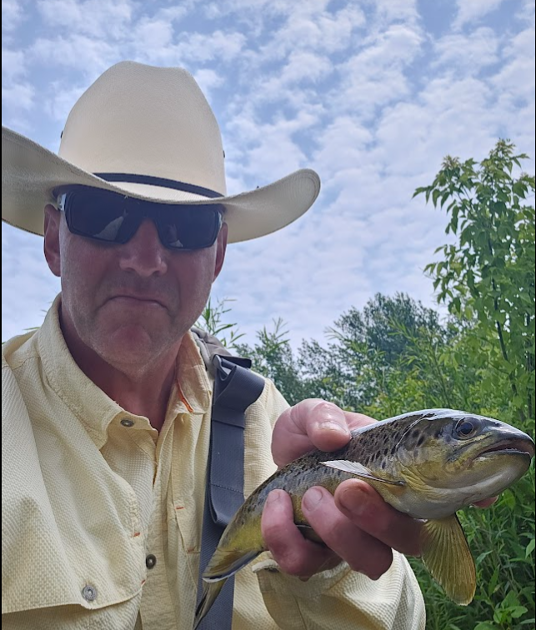 Don't get me wrong, fishing and not speaking a word to anyone for five hours has its benefits. That said, I'm hoping for rain. Big rain. Three inches in three hours type rain to flush things out. I love to fish dries as much as the next guy, but really low water fishing gets old in a hurry.
June 26, 2023
I spent the morning on the water with Kennet, a MN native transplanted to Washington back home to visit family. NW winds and cooler weather, much different than the weather the prior week, greeted us as we rigged up and walked downstream to our first hole, that had a few rising fish. Four casts, two landed fish out of the gate - all on the dropper. The dry was a "show me fly/indicator" the whole day.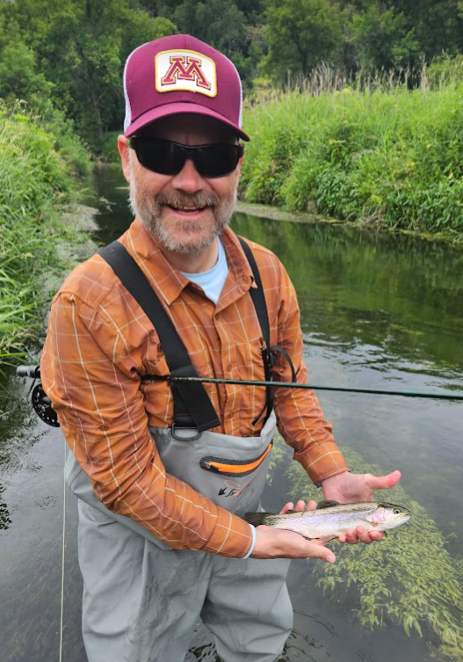 We did do some nymphing in the deeper runs, with both flies in our tandem approach catching fish.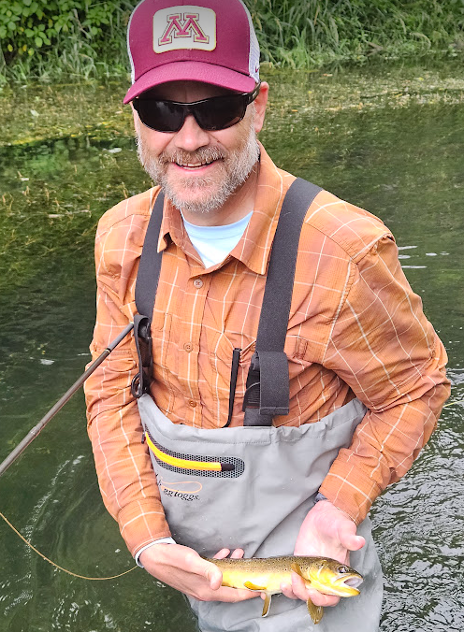 Getting to spend the morning on the water with a seasoned angler, who has fished and traveled to many of the same parts of Montana that I have visited, made for lively streamside conversation.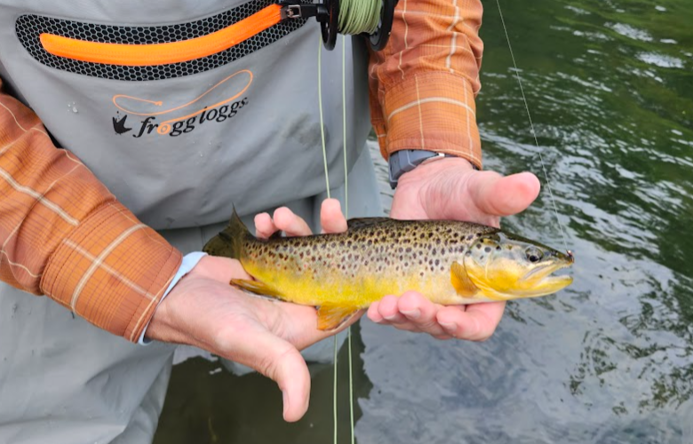 The streams are low - and I know I sound like a broken record, but that's a fact. They are low, clean, and have plenty of instream green for the fish to bury themselves and lay low. The dry and dropper approach has been stellar for my clients the last ten days, not that we haven't nymphed up some fish at times. Guiding openings in the near future are June 28 and July 3. Weekends in July are booked.
June 24, 2023
I guided Brian for a morning session - good angler, and first-time fly angler. We ironed our some casting before hitting the water, and fish were immediately on the dry/dropper set up. We did a little bit of nymphing in deeper runs, but with the lack of rain in the southern Driftless (.4 of an inch in the Rochester area for the month of June as of today), streams are parched, vegetation is going strong, and the fish have a lot of places to hide.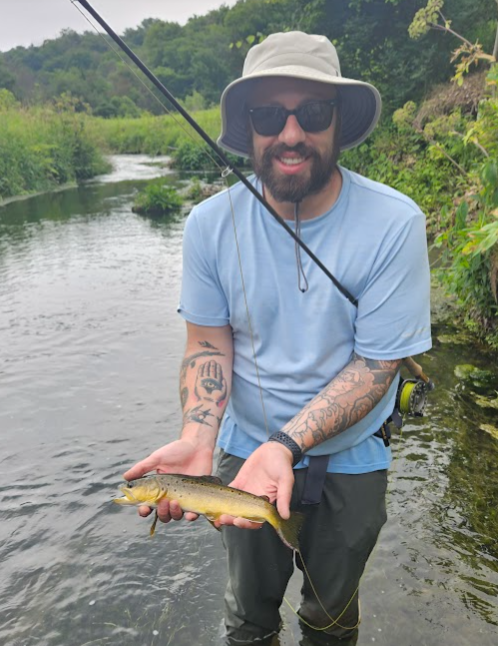 We consistently caught fish all morning in the places they should be. The clouds and wind kicked in by 11:00 and fishing slowed a bit.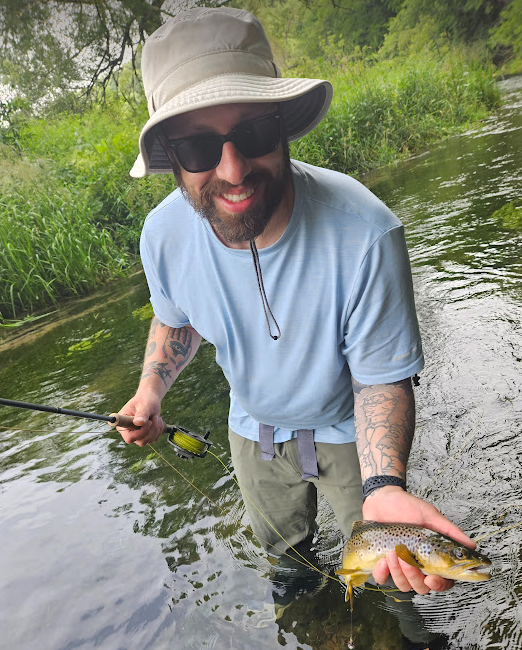 Great day on the water with a good dude willing to learn the ins and outs of fly fishing in southeast MN.
June 21, 20223
I have been off for a few weeks, finishing school, moving family around, and the 34th annual trip with good friends to the central lakes region for warmwater species. I guided on 6/21 - Karen, a first timer to the Driftless, and a novice fly angler. A few minutes ironing our her cast, setting up a nymph rod and a dry fly rod, and a short hike to our spot - we were ready to go.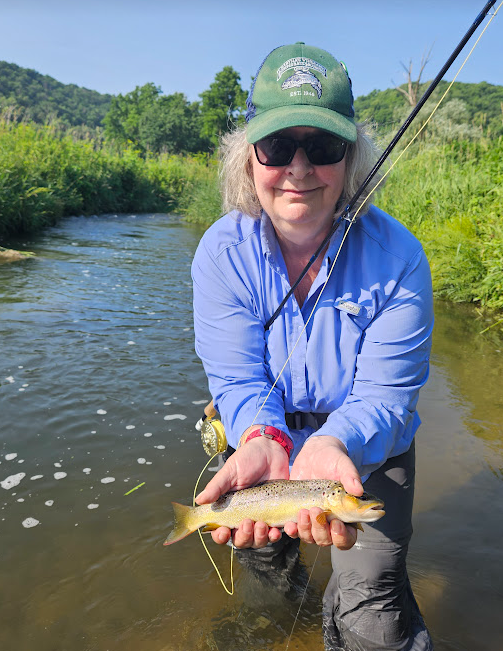 The dry and dropper combo platter was exceptional all morning (note: morning fishing with the extreme heat we've been subjected to in the southeast). Water levels were good enough, but super low and green on a few other places I checked. Nitrogen and heat have a way of turning streams very green, very fast in the Driftless.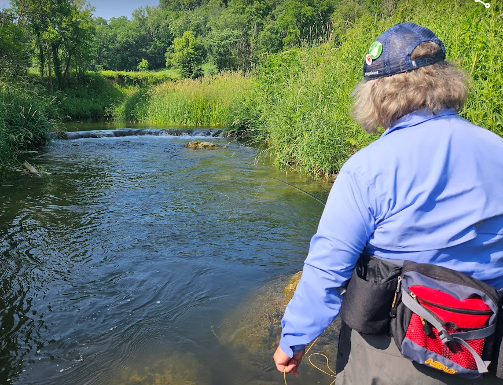 We have some rain in the forecast, but I fear it won't be enough to make significant impact on drought stricken waters right now, but I hope it pours. Guiding opportunities are dwindling in July, along with a week long trip to Wyoming. Drop me a line if interested, and I'll see what I can work out.
June 3, 2023
Spring weather is already in the rearview mirror with high temperatures and humidity reminscient of July. Regardless, planning is of the utmost importance when the weather is not on your side, so a 7:00 AM meet up with repeat clients John and his son Zach was the plan. Park two cars and walk point A to point B and hit as much water as possible on the walk.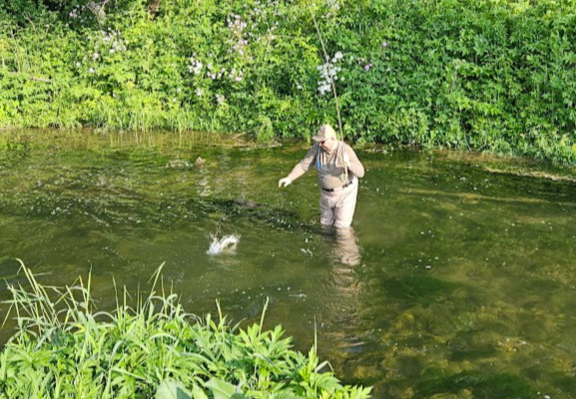 We got off to a fast start with fish taking dry and dropper, as well as nymphs in deeper runs early on. We caught numerous fish in skinny water at the tails of the big water - they were definitely looking up and ready to feed.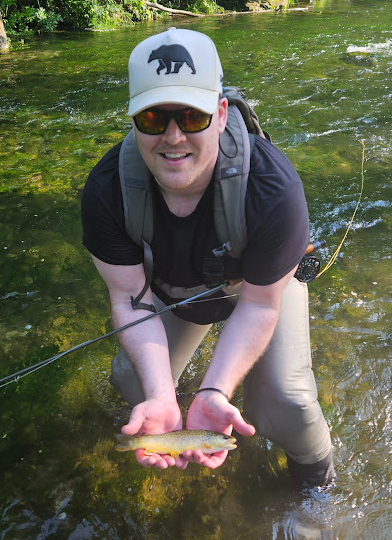 We meandered upstream, picking our spots, walking a distance, setting in on the good runs and pools, and did well all morning.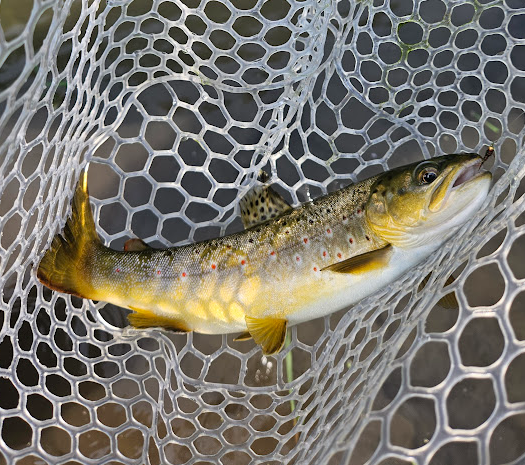 We saw no other anglers, but the gnats and black flies did make a consistent appearance all day. The nettles are thigh high with the wild parsnip a few weeks out.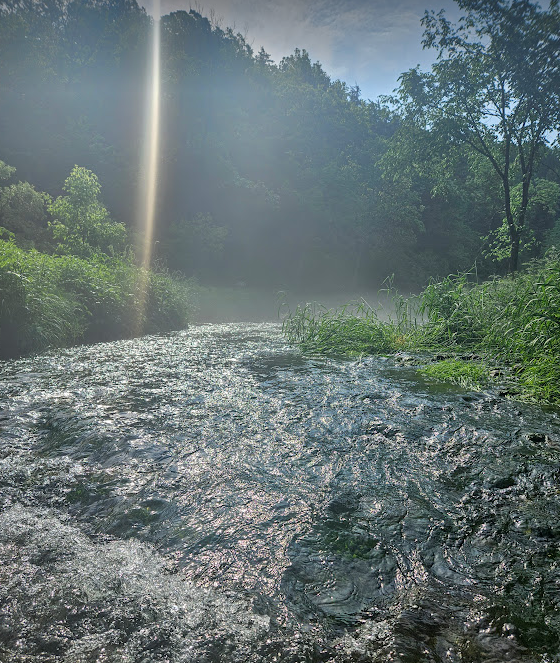 May 20 and 25, 2023
A few tidbits from my last two guiding trips: MN Driftless streams are in very good shape. There is some instream green (early for this time of year) in some streams. We haven't had any real flooding or gully washing for a long time, so the green has been safe. It's good for the fish, but tough for anglers.
Hatches: I've seen a few random caddis and Light Hendrickson, but not enough to get any fish feeding on top consistently.
The Good: The warm weather trend we are experiencing will be good for dry/dropper anglers. We covered a bunch of skinny water with dry and dropper, and the dropper was the ticket. No hang ups, no fuss.
The Bad: Big time warm weather is on tap, so timing your outing is in your best interest. If you don't wet wade, now is the time to learn. You'll thank me later.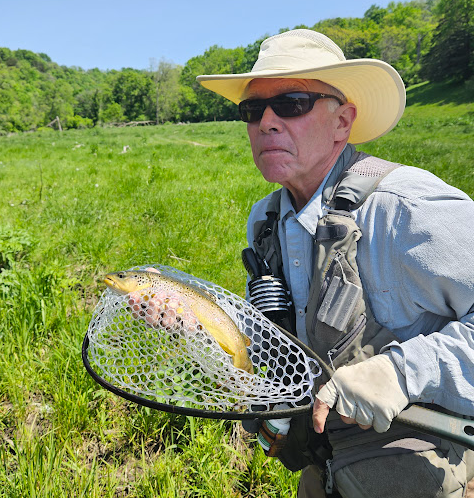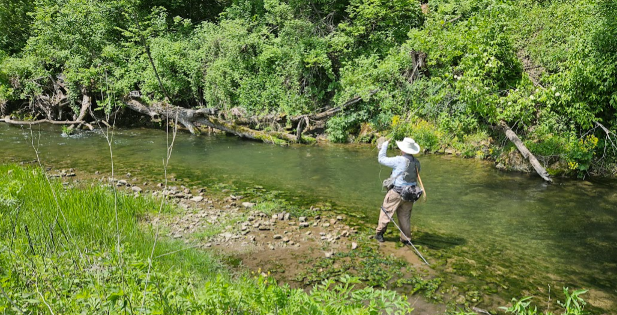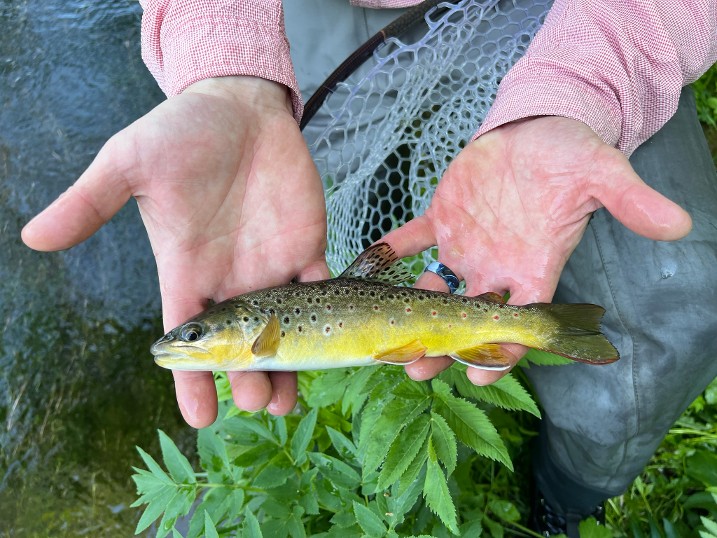 I had a buddy get tangled in some overhand, so I went and retrieved his fly, and this is what the overhang coughed up:
Free tip from your helpful guide - leave the Sofa Pillow fly in your "going out West" box. Way too big to consistently catch fish in the Driftless. The others in the mix? Maybe.
May 4 and 6, 2023
I spent two days with two different sets of anglers with two very different weather conditions. Thursday may have been the nicest day we've had all spring - mid to upper 70's, light breeze...just fantastic. Water levels are as good as they have been in years. They're full but not raging. There was only a brief window Thursday of a few fish rising to something minuscule. A cripple BWO trailed by the Cat Turd nymph was an effective combination.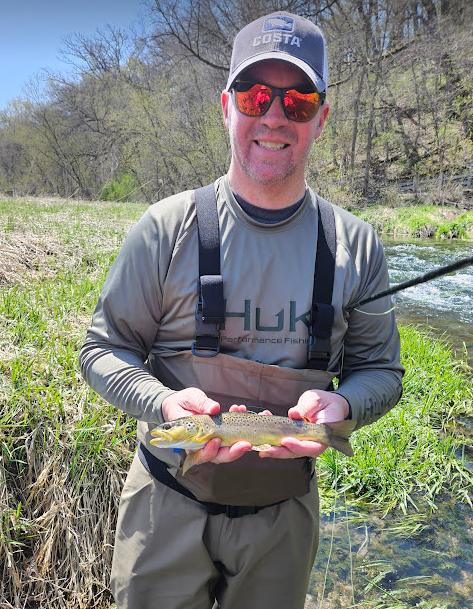 Jim and his son Ryan were fantastic guys to fish with. Pleasant, good sense of humor, and willing to take advice to hook up over 40 fish combined that day.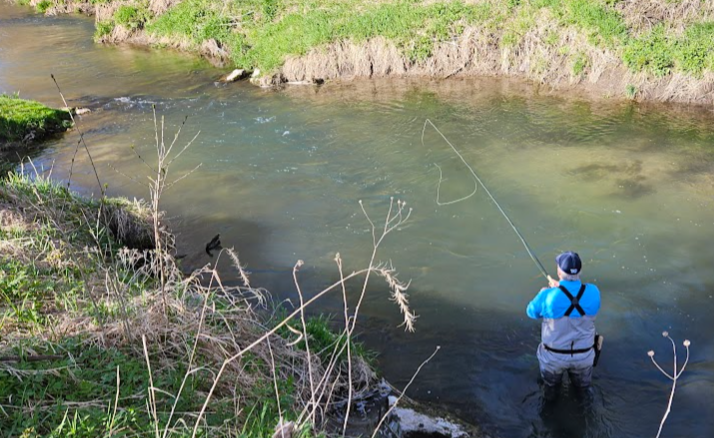 Saturday was a different story. Significant rains north of I90 late Friday didn't touch the southern half of the Driftless, leaving those streams in fishable shape all over. I met Callaway and Cassie streamside. We had to do some logistical navigation as there were cars parked all over well before 8AM. We managed to avoid crowds for the most part and had a wonderful day nymphing.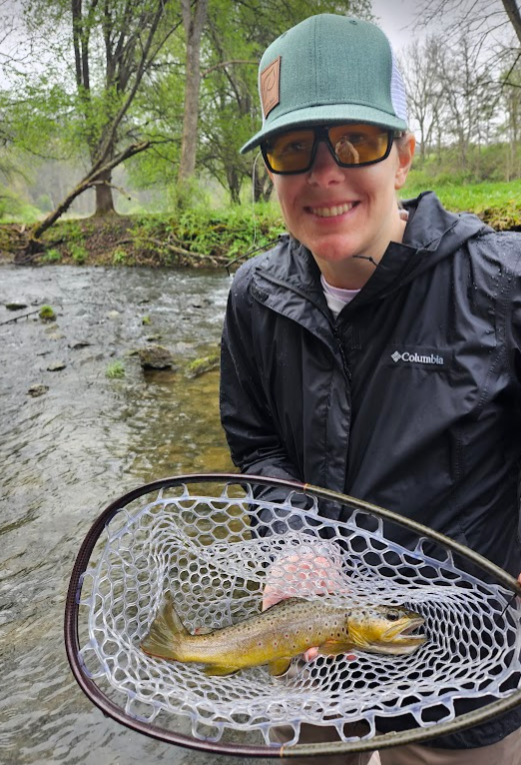 More rain throughout the area on Saturday night into Sunday AM, but the rest of the week looks great: 70's and no rain until next weekend.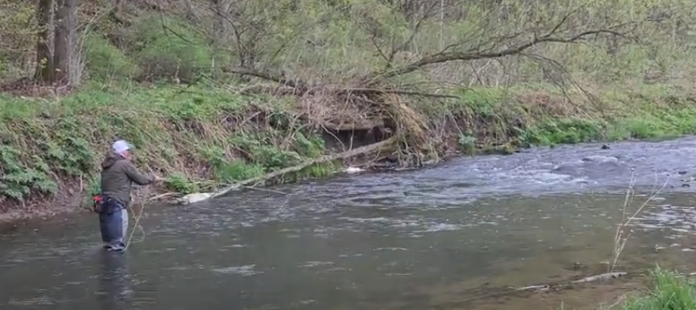 April 29, 2023
Clarity continues to improve in southeast MN. Stream volume is not an issue, which is a pleasant surprise, considering what the past few years have been like. Hatches should start coming off with more consistency as air and water temperatures start to climb and stay there.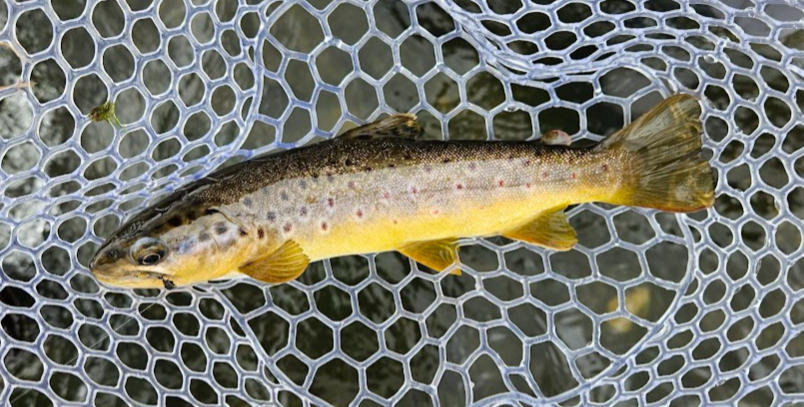 Saturday was nothing complicated - tandem nymph rig and fish the sides of the faster water, where the fish were holding all day. It was cold, windy, and even rained on us, but we stuck it out and did very well overall.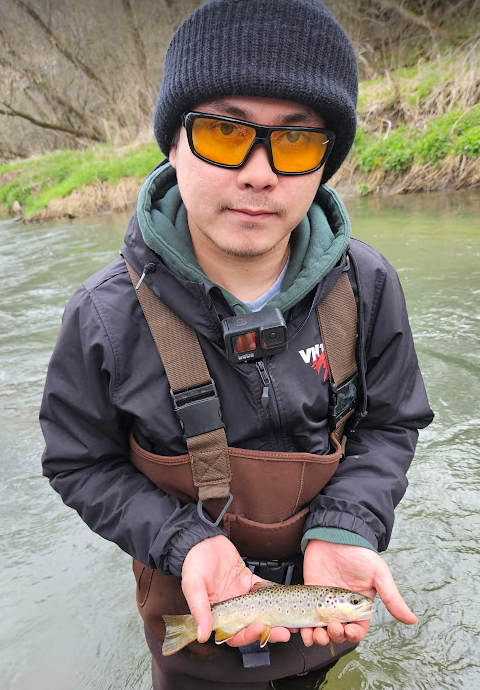 Next available weekend opening: May 20 and 21.
April 22, 2023
The trip from Saturday was a huge success: clients eager to learn more about fly fishing, casting, reading water, fly choices, and, of course, getting on some fish. I did quite a bit of driving around on Saturday morning and looked at several different watersheds after getting some reliable intel that the streams in and around the highway 52 south corridor were a mess. Stream conditions vary tremendously right now with last weekend's barrage of snow, ensuing melt, and more rain this week. The good news is that the southern driftless will get a chance to dry out over the next few days. The bad news: temperatures are not expected to be north of 60 for two weeks.....and, more rain.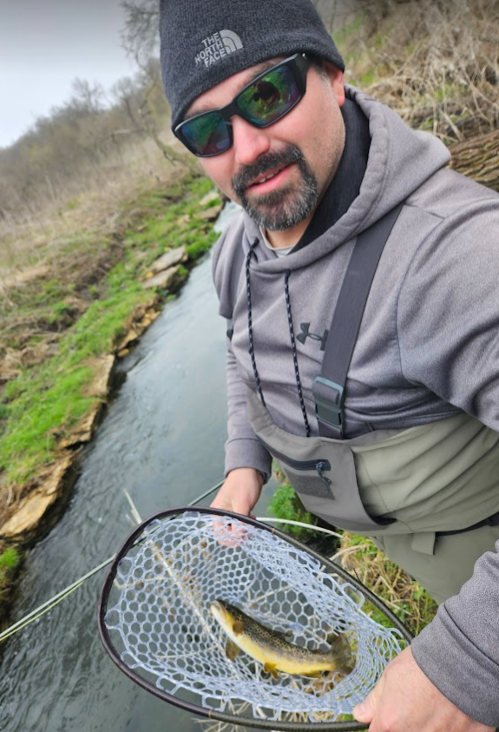 The best free advice I can give is if you like to streamer and nymph fish, this is your wheelhouse. If you like hatches, I'd pack for a little bit of everything: BWO, DH, and caddis.
April 7, 2023
I had the privilege of fishing with Mark, an exceptional fly fisher, who has traveled the globe pursuing species in both fresh and salt water. What started as an unseasonably cool morning transcended into a sublime dry fly fishing experience.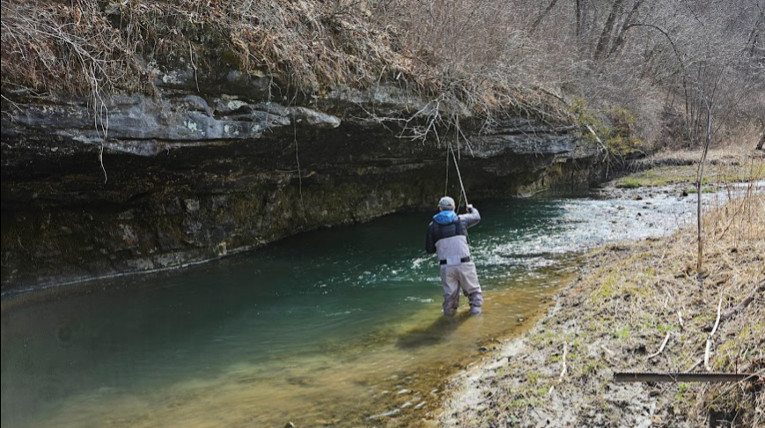 If you follow my page routinely for the past 25 or so years I have been guiding, I often opt for nymphing, not that I don't love hatches and trout that want to stick their noses out of the water to take a relatively decently tied imitation, but it comes down to a simple fact: if you want to catch fish, learn how to nymph fish. This time of year, with overnight temperatures plummeting and often taking time to rise during the day, one is forced to nymph until that magical moment where air temperatures and water temperatures intersect, and the bugs start hatching.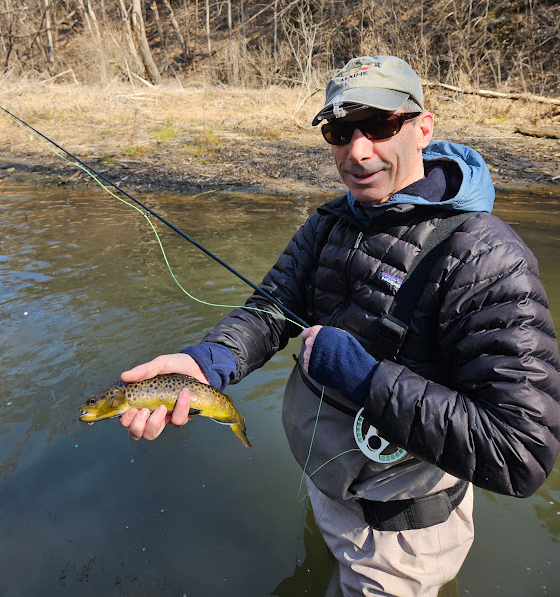 The trout started to take naturals around 1:00, so that was our cue to give them a fly to consider. What started out as a belief that we had a true BWO hatch on was quickly dismissed as we got a closer look at the duns, a larger #16 mayfly. It became apparent that we were on a Blue Quill emergance, so a change to a larger dry fly, and it was the proverbial lights out thereafter. Days like today, where a fish rises on about every other cast, to your dry fly are not long forgotten.
March 26, 2023
I got out south of 90 on Sunday for most of the late morning into early afternoon. There were a few guys out already when I was driving around trying to decide on my plan of action. The weather was fine, but I should have opted for Saturday as the Sunday clouds and north wind prevented some real BWO action from materializing.
That said, the midges were prolific. They were already off in swarms when I hit the water at 10:30 and were around all day. Fish were rising in many areas to them, so I did a lot of rigging and re-rigging early on - managed a few on top, but the action wasn't consistent enough for me to wander the river with just a dry and emerger.
Water temps were still plenty cold as east facing slopes still have some snow. Everything else has melted and the frost is starting to move in many areas. Unlike the rest of the state, we do not have a snowpack of any significance. What we do have are consistent stream flows and clean water (for now).
The only picture worth the outing ( and not a great zommed in cellphone pic) was this eagle sitting in her nest atop a massive cottonwood. She was none too impressed with me walking in her vicinity, circling me and chirping from above.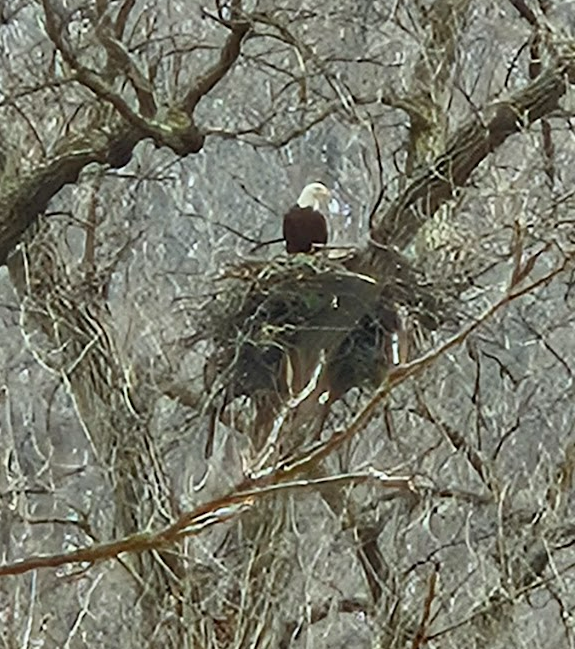 March 5, 2023/March 8-9, 2023
I got out Sunday for a few hours. The weather was very good to start, and the fish were on, even in 38 degree, early morning weather. Then, the clouds rolled in, the wind started to blow, and things shut down completely. Observations: stream levels are still on the low side. The slow, deliberate snow melt hasn't gotten area streams out of hand in the slightest. They're clear, cold, and in need of a good flushing.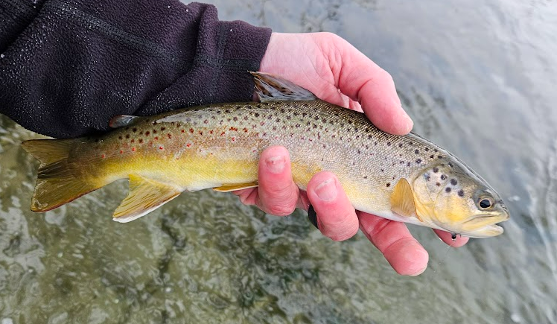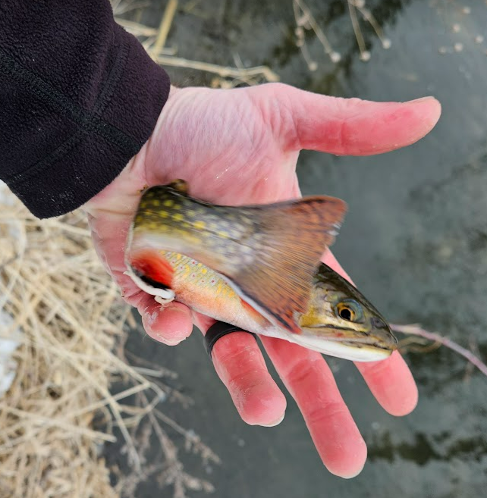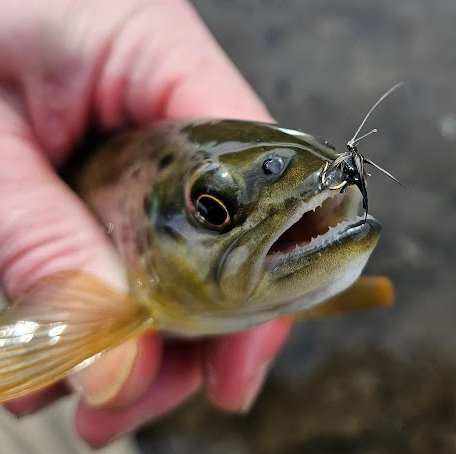 March 8, 2023
I'm on spring break, but I'm not some place nice and warm, just 40 degree southeast Minnesota. I hit three different streams over a seven hour fishing day. The sun was out and minimal wind to start. I nymphed early on and did well: scuds, Copper Johns, midge larvae, Zebra Midge, midge mergers - nothing complicated.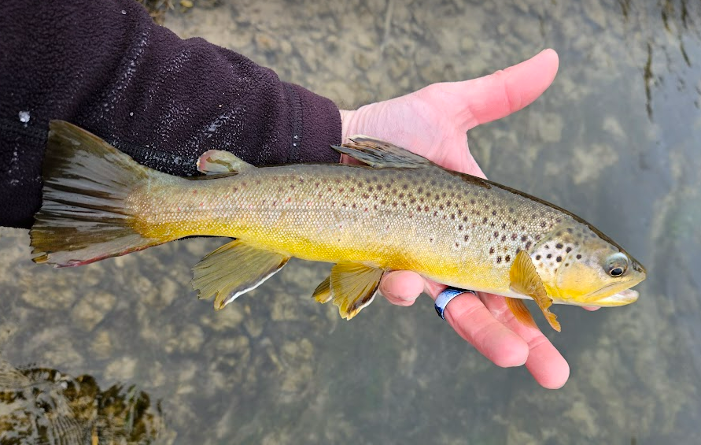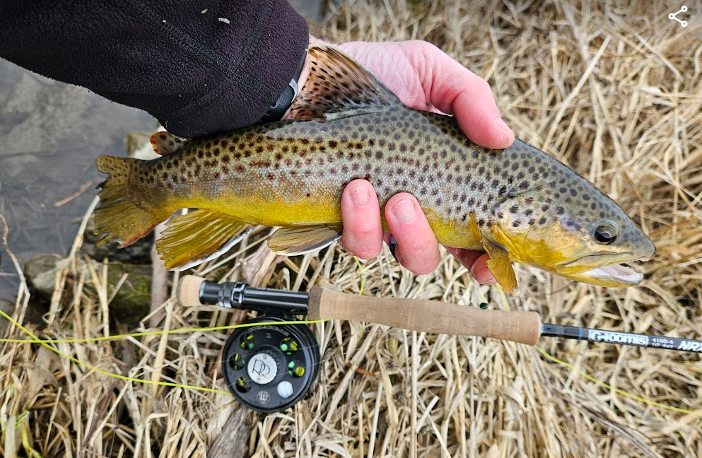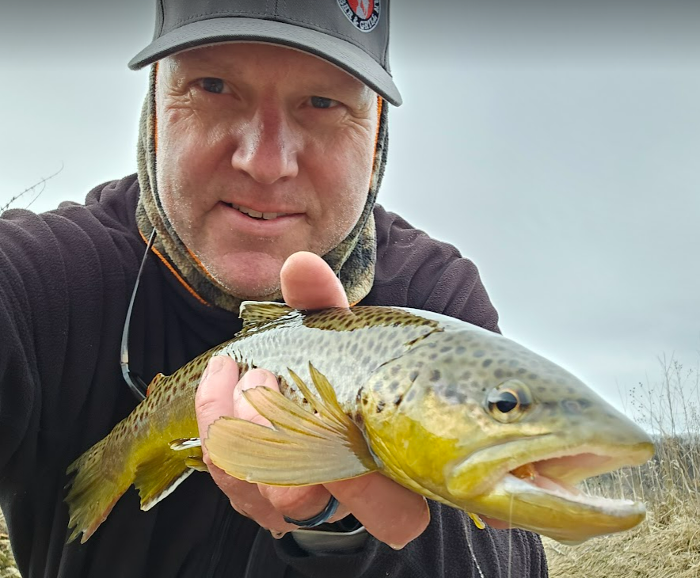 By the time I hit the second stop, the clouds had rolled in, and the east winds had picked up significantly. Most of our Driftless streams either flow east or north, so fishing with the wind at my back was unusual, but the midges started to come off for real. Fish were visible, taking emergers, sipping right off the top, so sight fishing them wasn't too complicated. Getting a cast on point with a size 18 or 20 pattern was the biggest challenge.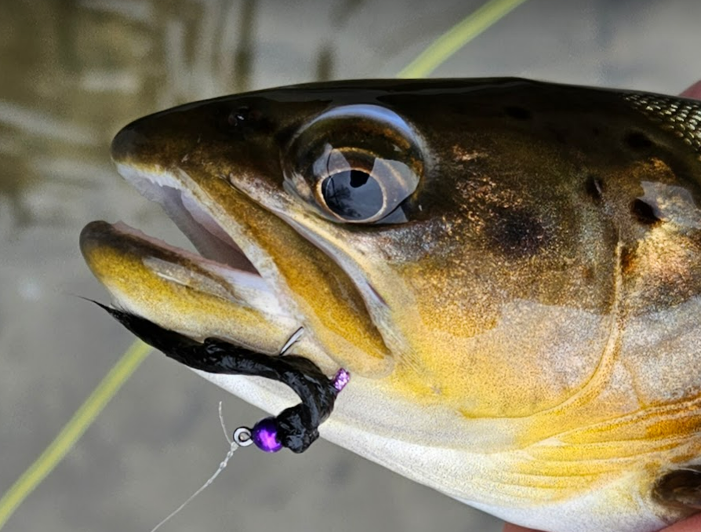 Oh yeah. Forgot to mention that I switched over to a streamer for a while - my version of Mayer's Jig Leech. I managed enough to keep it interesting, but I soon switched back to nymphs.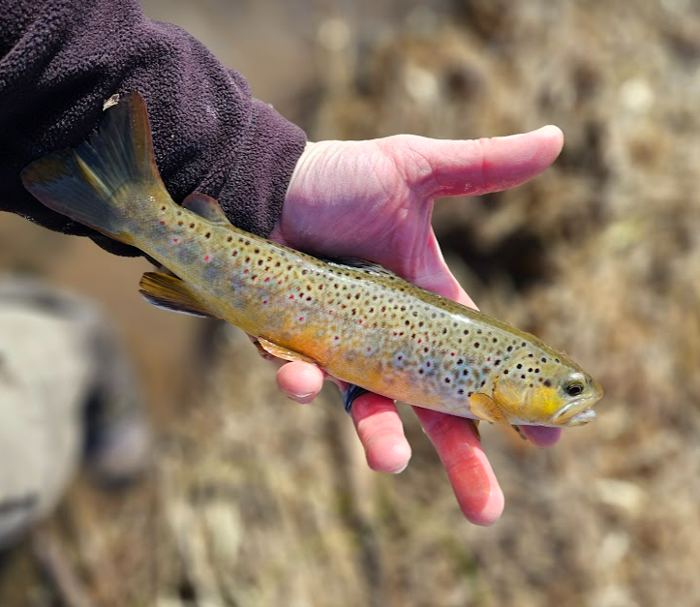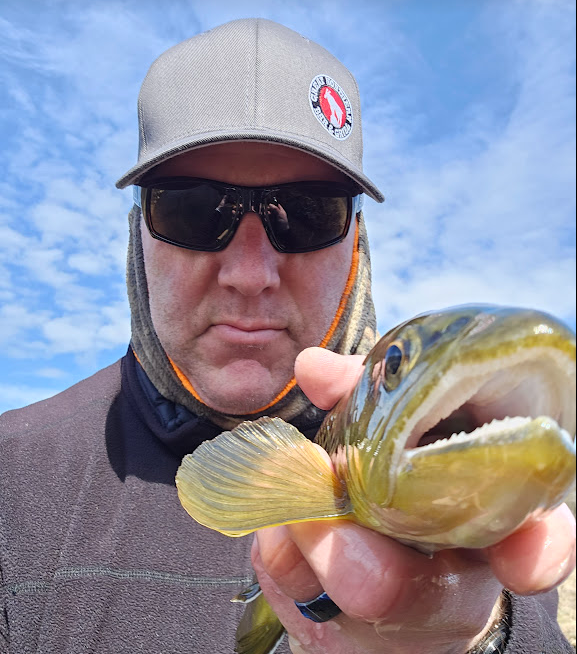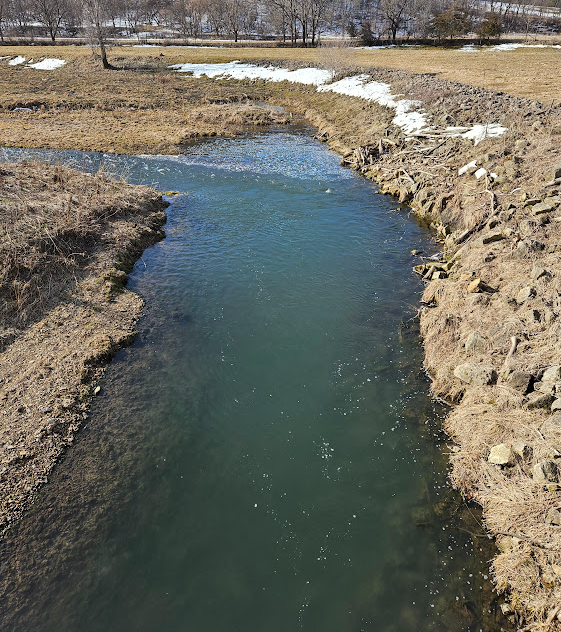 Now, the not so good of southeast Minnesota. High cut, dirt banks like this, that will only continue to erode are not uncommon. I could get into the row crop situation, but I'll save that for a rant on another day.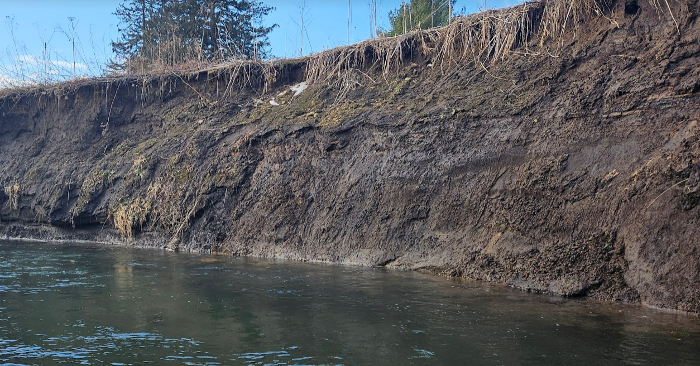 This is also not uncommon - pull over on the side of the road, suck down some poorly crafted macrobrew, and just leave the empties there, because, well....because.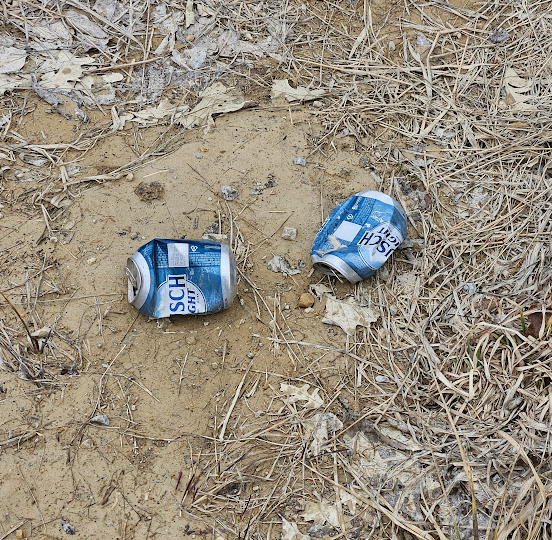 February 12, 2023
It's been a while since the last fishing outing update. A myriad of reasons are out there: the weather sucked, I was too busy...anyway, I did manage a morning into early afternoon session Sunday. I got out to my first stop of two plenty early, as in 8:30 early. Temps were still in the lower 20's, so it wasn't "ideal" winter conditions, but the fish were cooperative out of the gate.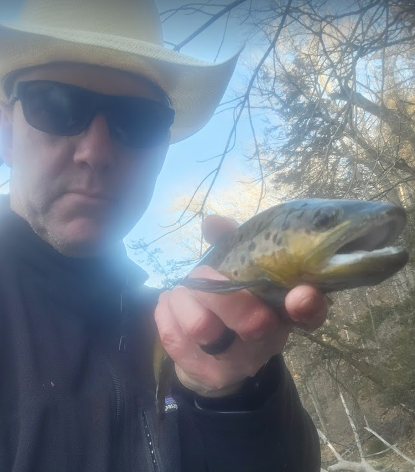 This is the only pic I got of this guy. I got better video (see my Insta page). At any rate, stream conditions were good - a little on the tingey side due to Saturday's runoff, but good, nonetheless.
By 11:00 I was off to my second stop. High sun, a slight breeze, and crystal clear, low water was in store. Catching was a little tougher. Midges were not prevalent on top, but the trout were all over the midge trailer I had on.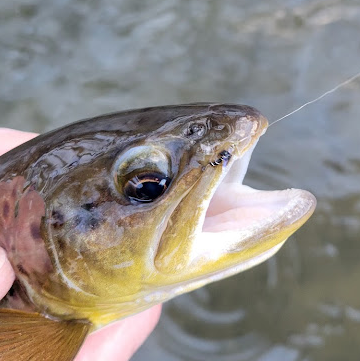 I did well enough out of each deeper run to keep things interesting. Speaking of interesting, some real rain is on tap for the southeast Tuesday into Wednesday, so streams could be a little wonky in the short term. Personally, I'd love to see some more serious precipitation. The southeast corner of the state is in dire need of more snow and rain to recharge the overly dry fall we had.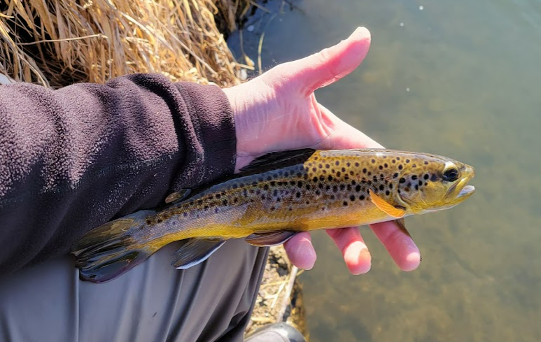 January 15, 2023
I got out this morning for a few hours before the Sunday playoff football tilt. Area streams are clean and in their typically low threshold for the winter. Fish were responsive to a variety of flies, but the scud outpaced all others I tried with the Zebra Midge being a close second.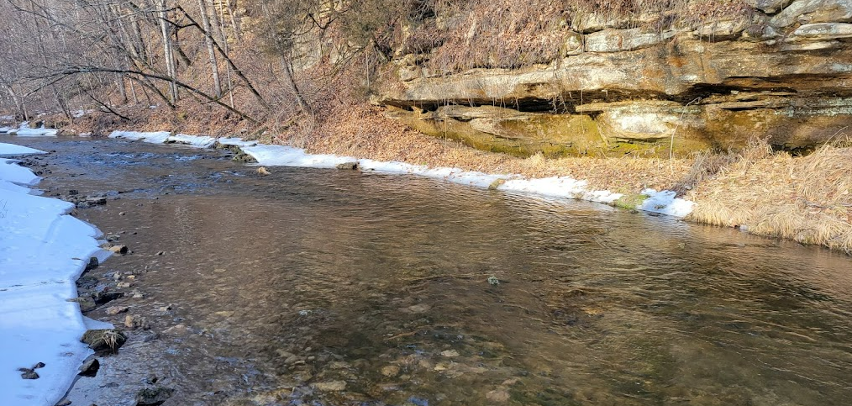 Shelf ice is minimal after being in the deep freeze most of late December. Snow pack is also not a barrier as you navigate up and down the river.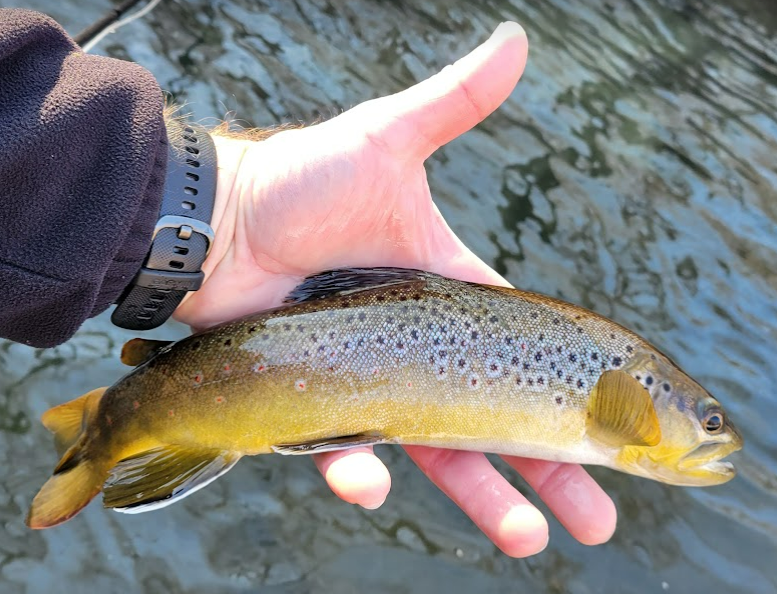 The extended forecast gets a little complicated with MLK day slated to be a rain out followed by decent enough winter fishing weather all week before the real January weather reappears.