September 18-20, 2020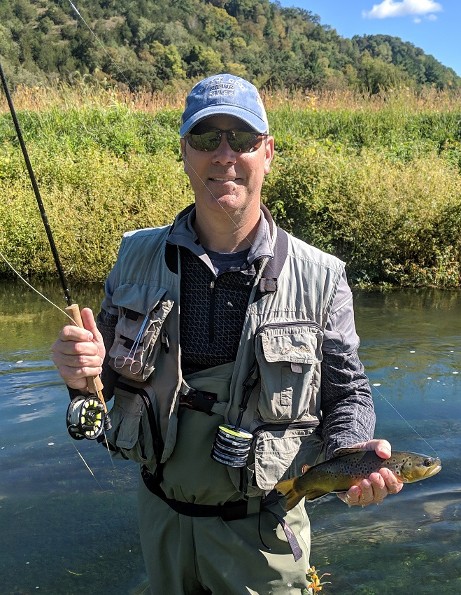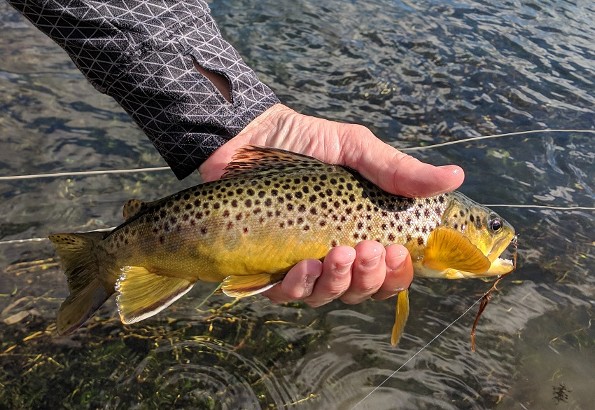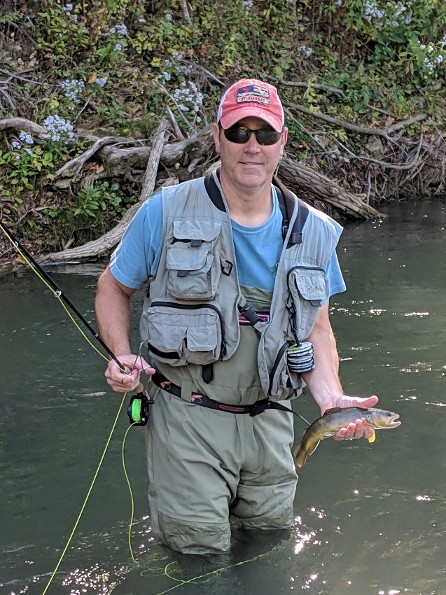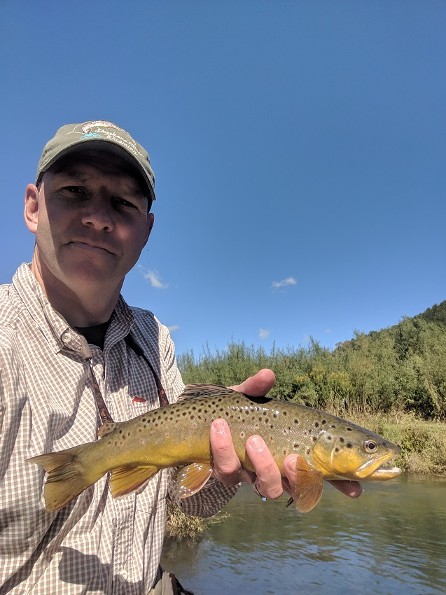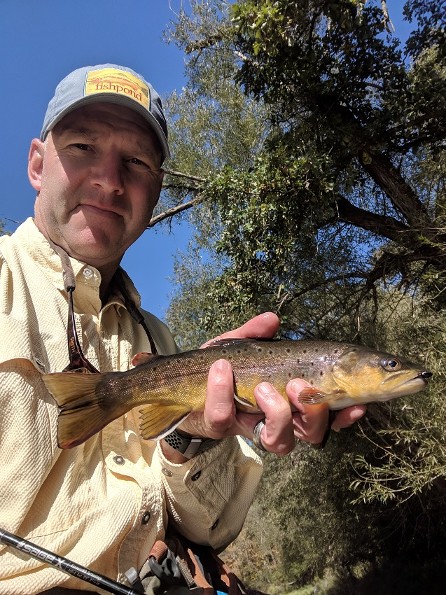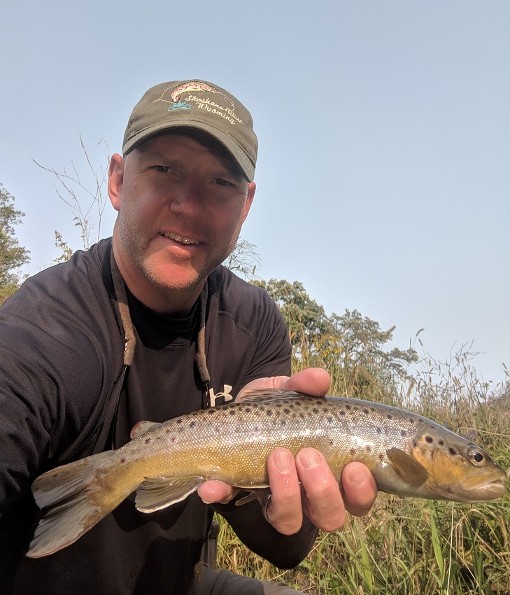 September 12-13, 2020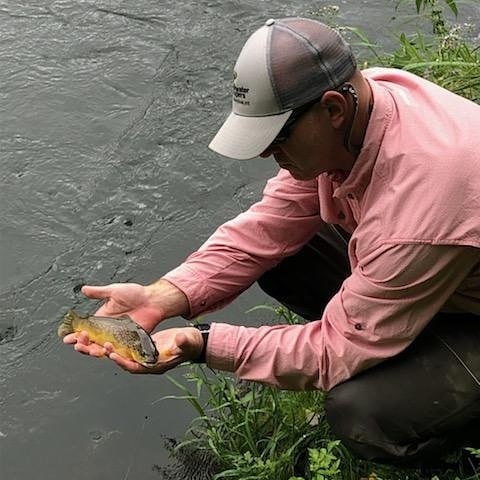 Saturday had lots of anglers out and about: could be it's getting close to the end of the harvest season. Could be the Vikings were on for the first tim in ages on Sunday. Hard to say.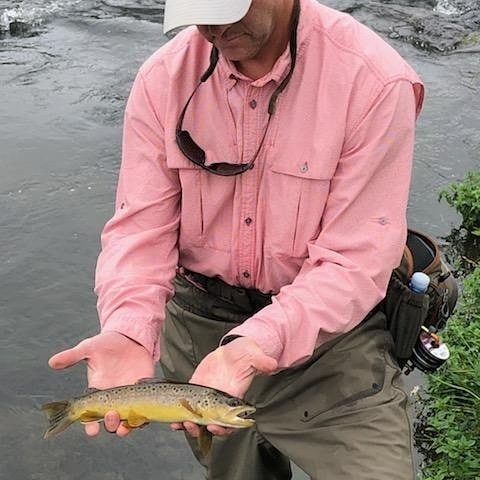 I fished a double nymph rig all day, no indicator, split shot and worked the bigger water and pools.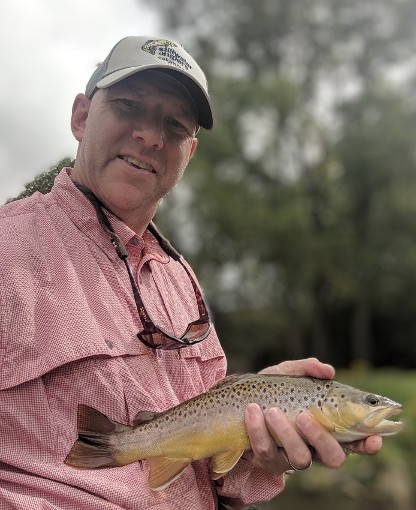 What we lacked in sheer volume of fish caught, we made up for in some pretty fat and healthy trout.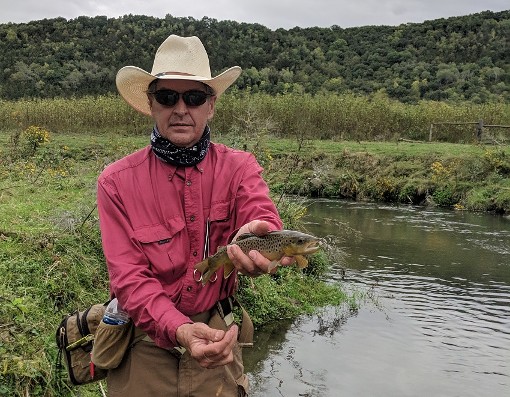 Charlie is a dry and dropper guru, so he fished most of the pocket water and thinner water Saturday.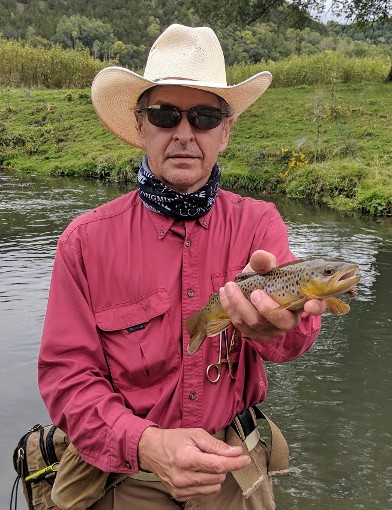 He tried out a few dries before finding the right combination. Despite temperatures not being north of 60 degrees, he still had fish on top taking swipes at his dry.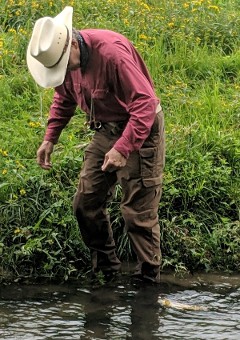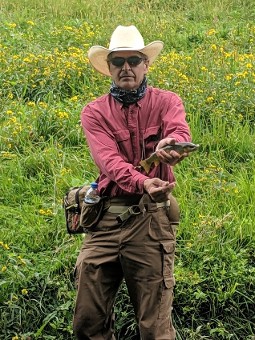 A good friend relayed to me that he hit a good BWO hatch Saturday. #18 dries.
September 5-6, 2020
Saturday the 5th, I teamed up again with a good fishing buddy and fished some water I haven't been on since April. Two cars. Two anglers. Point A to point B.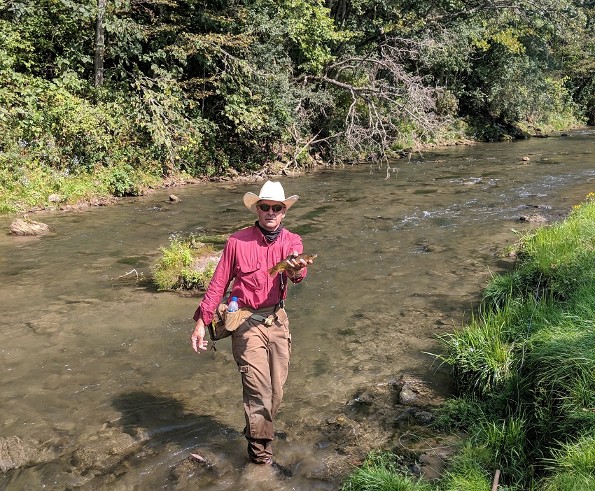 The going was tough the first hour and change due to no trails and heavy vegetation, so we had to bushwhack some, walk the river some, and deal with it.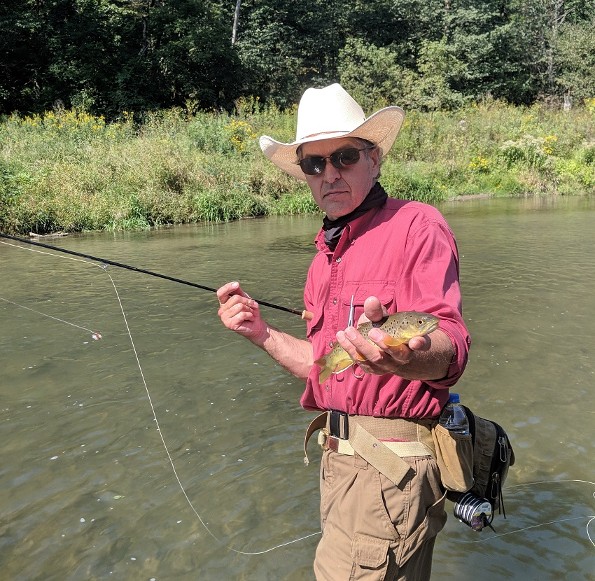 Charlie opted for a dry dropper, and got some consistent pocket water action after the noon hour. I stayed two nymphs, lead, no indicator, and did very well all day in deep water, thin water, fast water. It really didn't matter.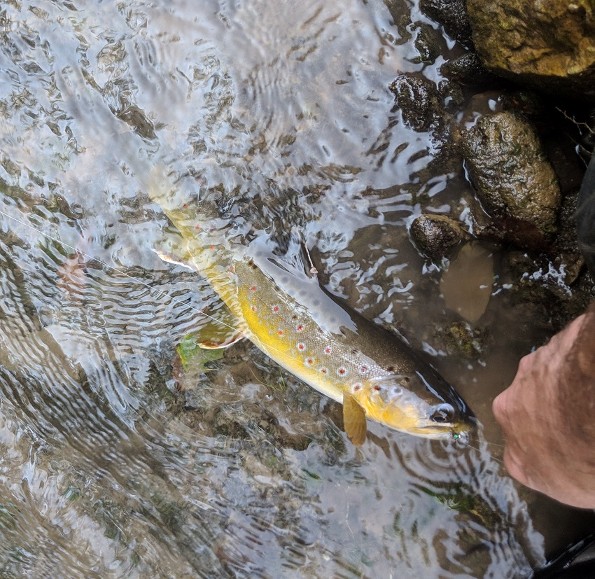 I also ran into one brookie and one rainbow on top of the brown domininat catch total, so it was my first Driftless Trout Slam of 2020.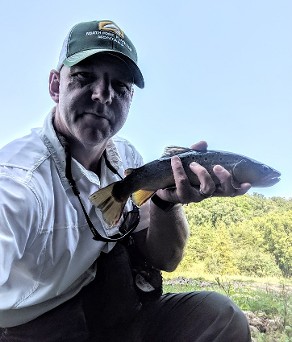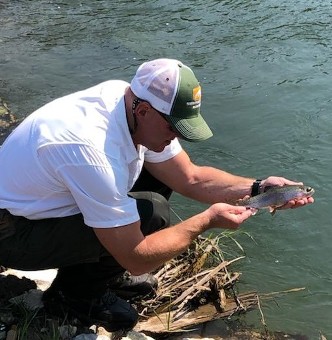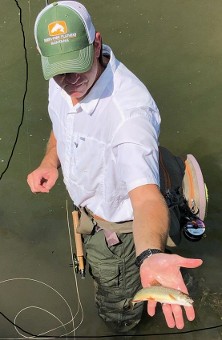 September 6, 2020
Super windy, which probably kept anglers off the water this holiday weekend Sunday. Took out relative newcomers to the sport, Dan and his son Sam, for their first forray into the Minnesota Driftless.
Overnight rains had stained the water, so tandem nymph rigging was in order for our half day session. A real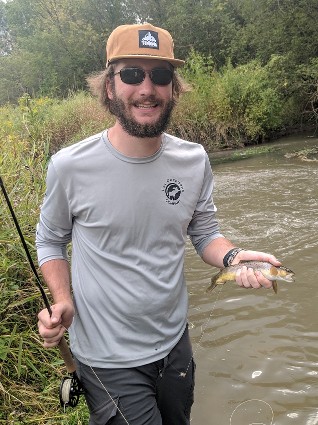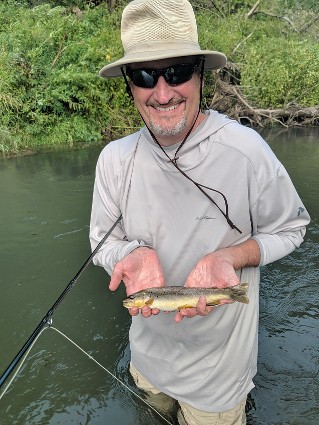 August 30, 2020
Another Sunday, another two car fishing outing with my friend Charlie. This time the route took us to some water I hadn't been on in many years, and Charlie never. We were fortunate that given the beautiful Sunday afternoon weather, no one else was out on the stream we were exploring.
Charlie went dry and dropper most of the day. I went with a tandem nymph rig. I managed to lose five flies while catching my first two trout, so my day was not off to a great start. The best pattern was a black and red silver beadhead Higas pattern with a trailer. I picked the Higas up on Instagram this winter, tied up a few, and never gave them much of a chance until Sunday.
Water clarity and lack of actual flow was a challenge all day. The best run I stumbled on, I managed to pull nine browns from it before moving on. A water temperature sampling showed a high of 64 degrees, plenty warm for trout considering air temperatures were in the 72 degree range.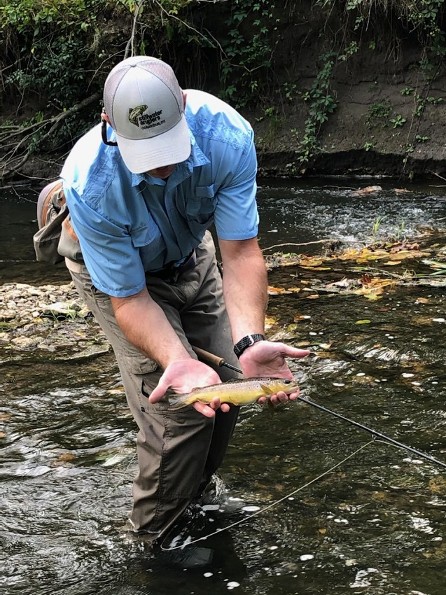 It's September 1 as I post this, so we are in the final six weeks of the season. For me, fly tying for 2021 starts in ernest and time spent in the deer stand archery hunting takes over. Until then, I have a few weekend slots open if you're looking to get out.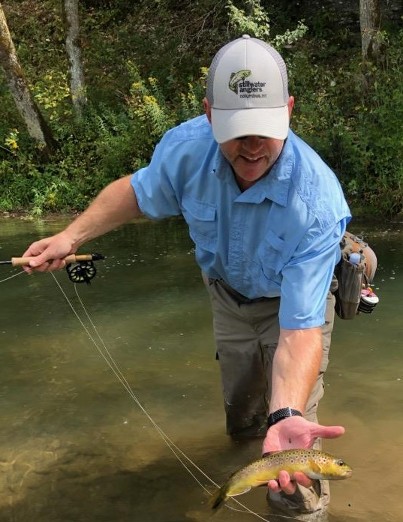 August 16, 2020
High sun, no clouds, and light north winds was on the docket Sunday. I fished a long stretch of water, utilizing two vehciles with my fishing buddy Charlie, for most of Sunday afternoon. Fishing was tougher than normal. Low and clear water, combined with fish not up in the heads of riffles feeding made it challenging.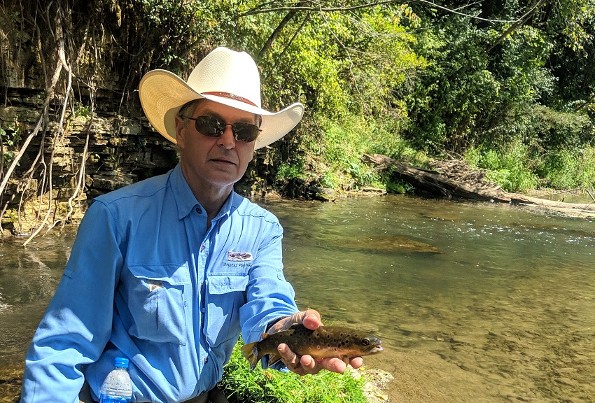 I started out wiht an array of terrestrials and didn't get a tap,so I changed over to a tandem nymph rig (no indicator), while my sidekick opted for a variety of dries and droppers.
The fish were concentrated in the tails of pools, just sitting on the bottom chilling, and had no real interest in flies.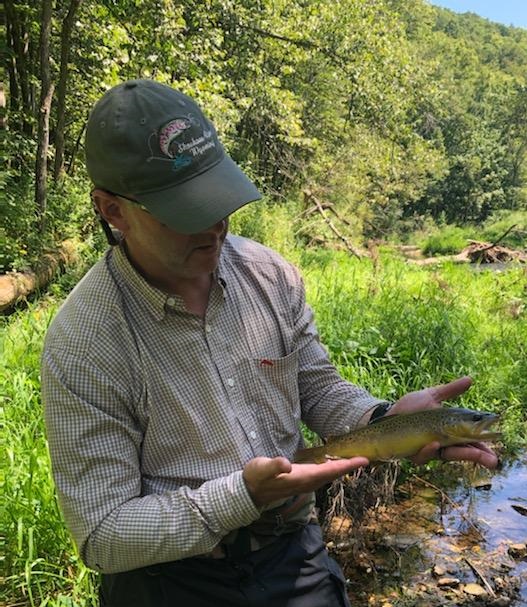 I fished a stream earlier in the morning that held a pile of juvenile browns. It is a feeder to a larger stream, so those trout are probably reared there until they can swim out and fend for themselves.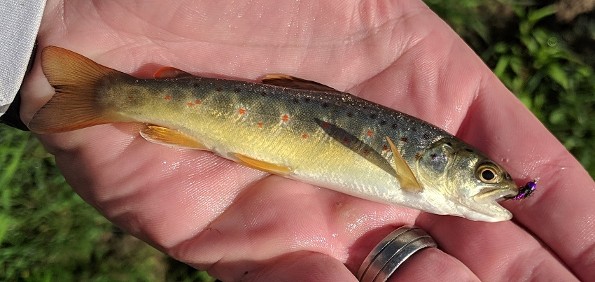 Fun day despite not catching a pile of trout. I have been guiding a lot the last few months, so getting out on my own was a nicechange of pace.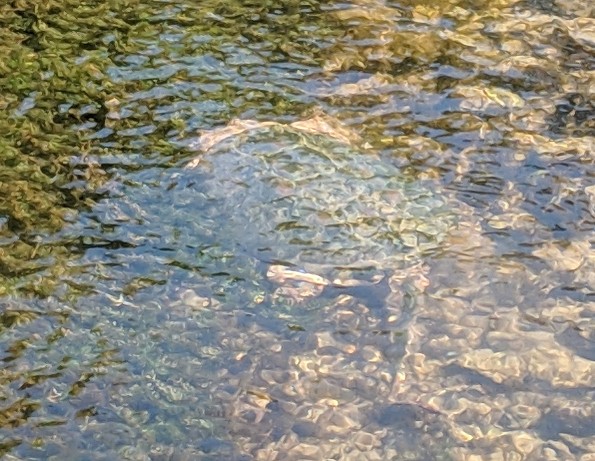 August 6, 2020
This is the second time I have had the pleasure of guiding Gary and Janet. We opted for some new water for them, and the fishing was steady all morning.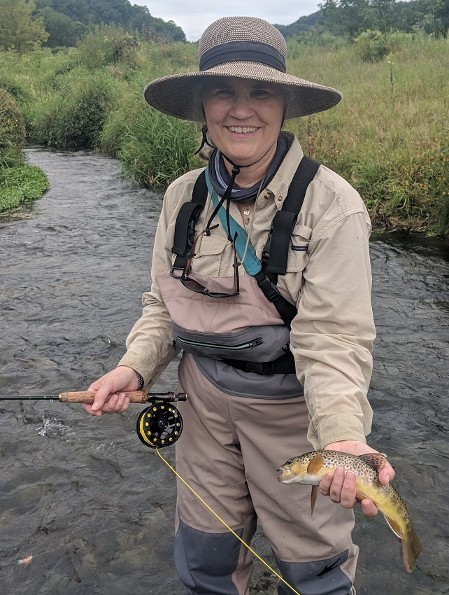 Gary even managed to pull of the Driftless Trifecta: brown, rainbow, and brook trout, all from the same stream.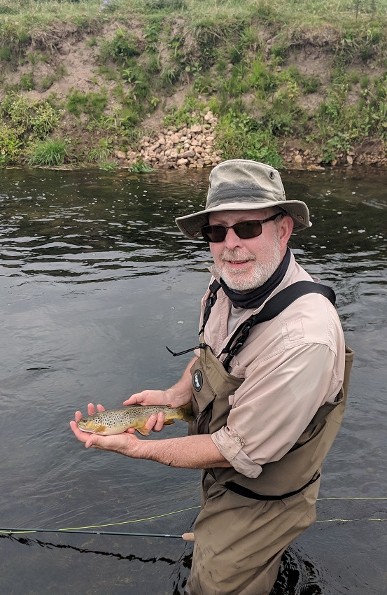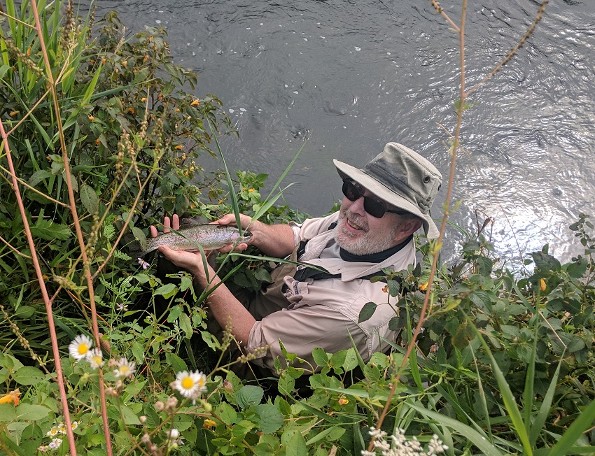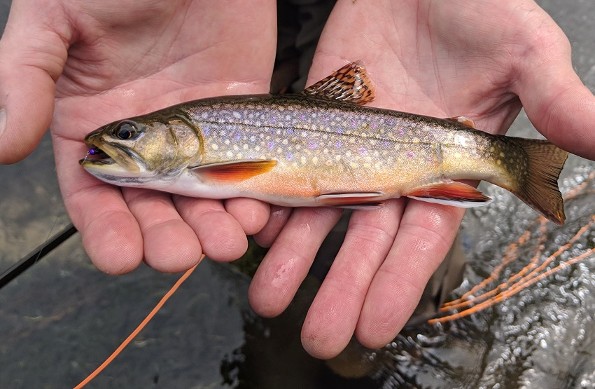 Fishing has been steady and guiding has been as well. I have more openings over Labor Day weekend and all through September until the end of the season October 15. Give me a shout if you're interested. Take care, all.
August 1, 2020
I spent the morning with Chen and Aaron from the Twin Cities area. Chen and I have fished a few times before, but this was Aaron's first trip with a fly rod, so like anyone who is new to the sport, we worked on some basic casting and then put it to use on the stream itself.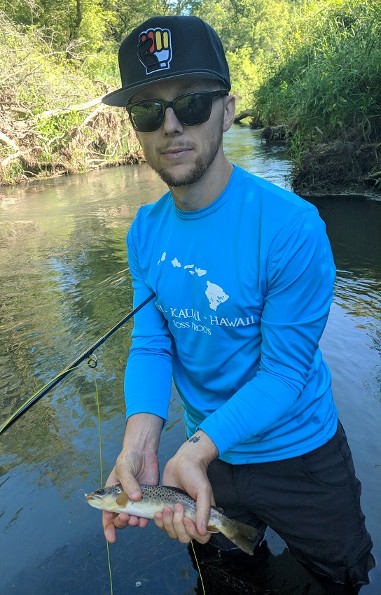 We stuck to a variety of tandem nymphs and rigging for the morning as the stream we were on still was a bit chalky from cattle on the upper end.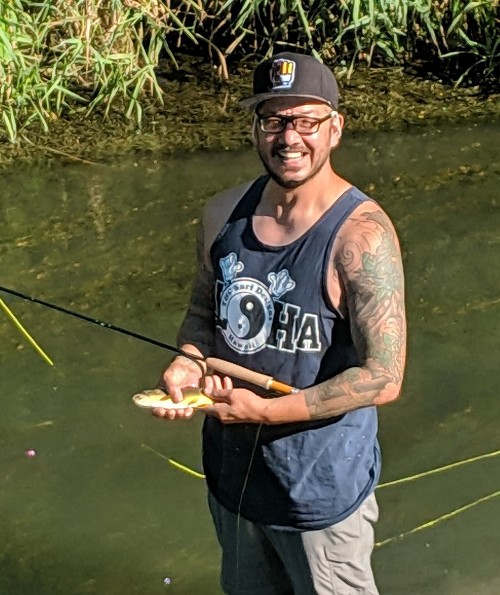 Great morning on the water with a couple of guys who, despite being newbies, enjoy the challenges that is fly fishing.
July 23-24, 2020
I have been out and about, either fishing myself or with clients, quite a bit the past two weeks. Water conditions are very summer like for the most part. Green in some places, lower in others. Tricos were going south of 90 yesterday, but I opted to do some sight fishing in a pool area with the sun behind me. There were some bruisers podded up, which is nto surprising considering the hot weather patterns. I stuck to one or two spots on the bank to cast from as to try to not make too much movement. Doubling up on the typical volume of split shot I use to get my flies way down was essential, too.
This guy took a #14 beadhead pattern on a nymph rig using a 5x fluorocarbon leader. I didn't measure him, opting for a few photos before releasing him back in.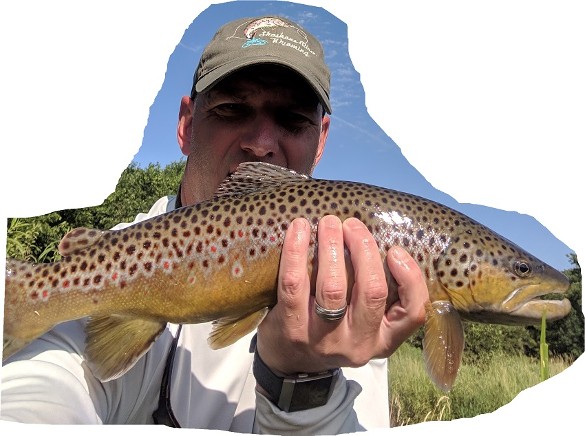 July 9, 2020
The Driftless region got some much needed rain on Thrusday; however, we got a lot of it in some places. Radar showed significant rains from Rochester east, all the way south into Iowa, and poured across the region. As of Friday, there will be many streams that are dirty or are unfishable. It will take a few days, for the most part, for them to clear up.
I was on the water with Patti Thrusday AM, and we managed to avoid the rains to an extent. We dry/droppered successfully and even pulled a few out nymph rigging.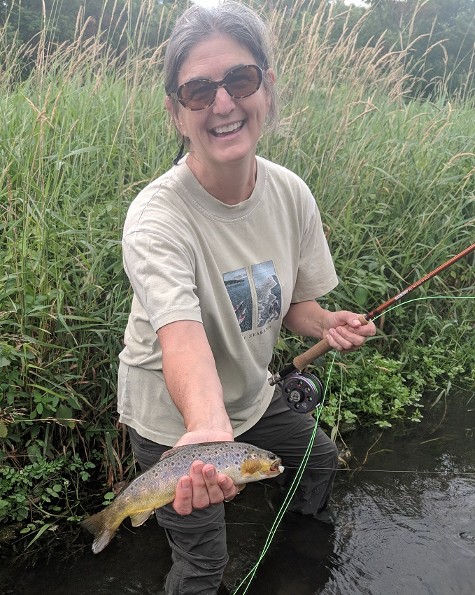 It was the coolest weather day in a long time being on the water. Temperatures look relatively decent for the next week or so. Time to make sure you have some terrestrials in your fly boxes to go along with the tricos that have just started.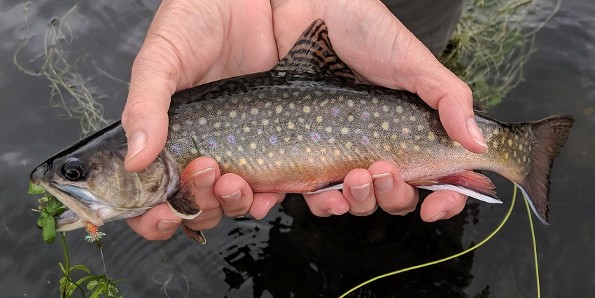 July 6, 2020:
Hot and humid with very little breeze has been the norm and will continue for a while. I wouldn't say the streams I have been on are terribly low...yet...but we could use some nice steady rain and a shift away from 90's. If you carry a stream thermometer, now is the time to use it as water temperatures have been plenty high, even in the early morning hours due to lack of falling overnight temps. This will definitely affect your catch rates. The fish we caught on Monday were either in fast pocket water or at the bottom of deep, cool pools.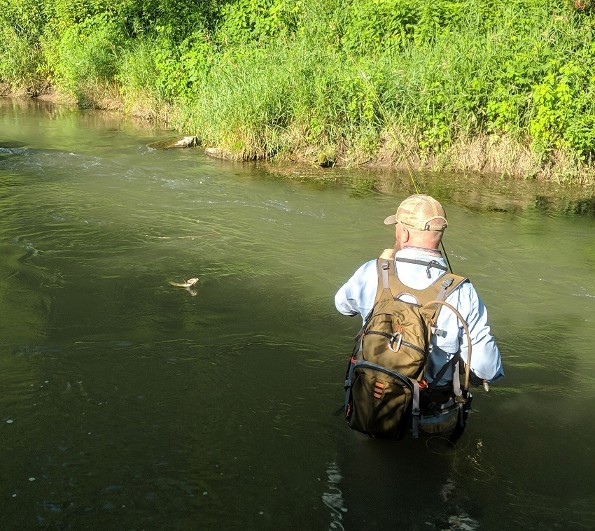 We were on the water early and shut things down around noon.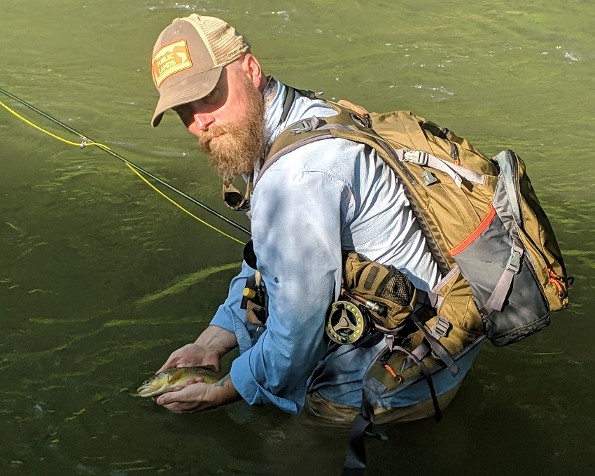 June 30, 2020
I spent the morning with Kate and Mark from Minneapolis on a stream that had cleared very well since the last rounds of rains. Heat and humidity was going to be an issue, as it will be for the next week, thus an early start on the water was the plan. Wet wading IS the way to go ti help combat the warm weather.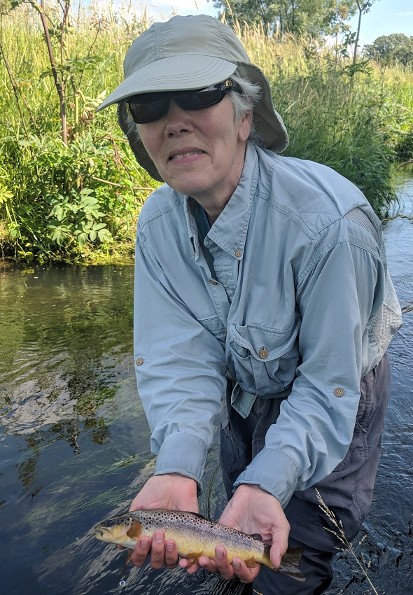 We did some nymph rigging in the bigger pools, but dry and dropper was very effective.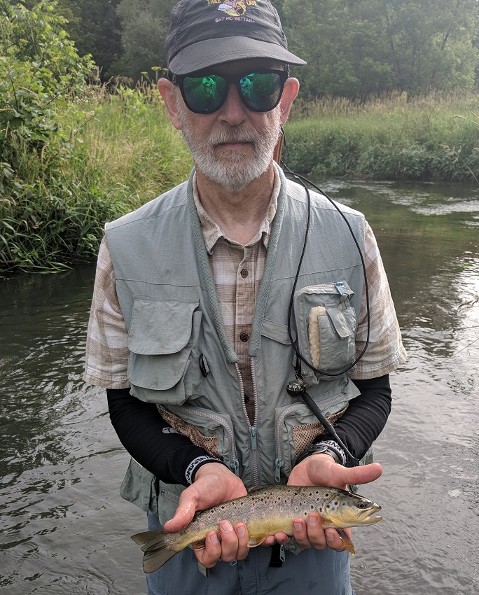 I have trips lined up for July 3, 6, and 10, but I can fit in half day morning trips in around that from now until July 13 if you are interested. The heat and humidity can be too much for some people, as well as the trout, which is the reason for half day trips in the short term.
June 27, 2020
Much of Fillmore County as of Saturday was not clean enough to fish. That area has been hit way harder with consistent rains than the northern half of the driftless, for sure.
That said, I fished with two buddies, Charlie and Mark, on Saturday. Wet wading is the WAY to go this time of year as it is getting very summer like in temperatures. Mark fished a tandem nymph rig of varying degrees all day.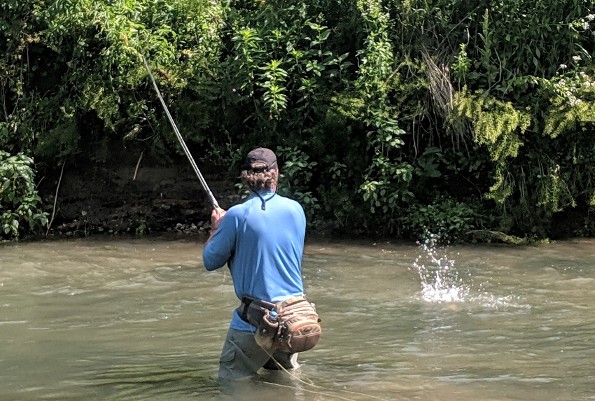 The water was just off enough that Mark could get close enough to fish and put a nymph presentation on them.
Charlie, on the other hand, opted to fish dry and dropper. The runs and shallow pocket water sections were clean enough for him to get fish on both top and dropper.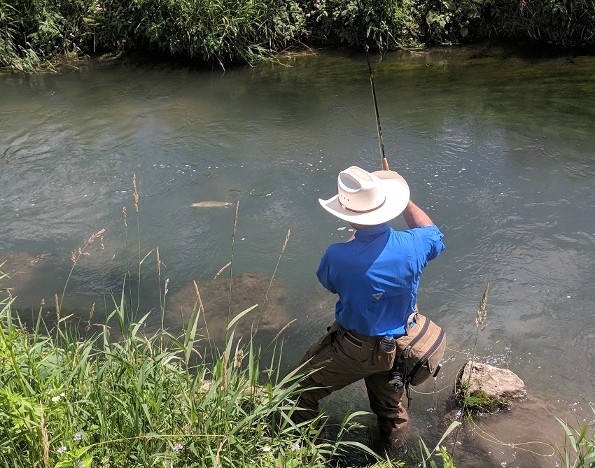 The weather was fantastic Saturday. Gnats were very manageable for this time of year, and water clarity was improving.
June 25, 2020
Today was the first day back on the water in the Driftless after an annual one week vacation to the north country with my son. Good walleye fishing, low water, and no real panfish action would be the synopsis.
I took two newbies to fly fishing out today, and both did great! Water was clear and fish were active on dry/dropper combinations.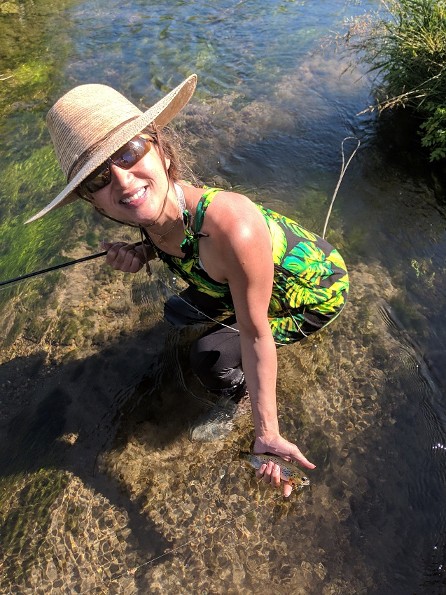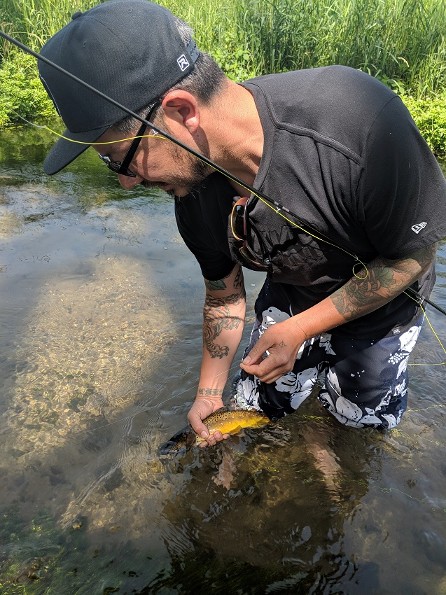 The water was absolute crystal, but I know that is not the case all over the Driftless. Guiding again with some longtime friends on Saturday. Will report back on Sunday. Have a great weekend, all.
June 6, 2020
I spent the morning with Kody and his dad Keith. Kody has the fly fishing bug and a day on the water providing instruction to shorten the curve to being a better fly angler as the goal.
The water was off, but definitely fishable. We tandem nymph rigged the whole day as the water clarity didn't warrant any type of dries.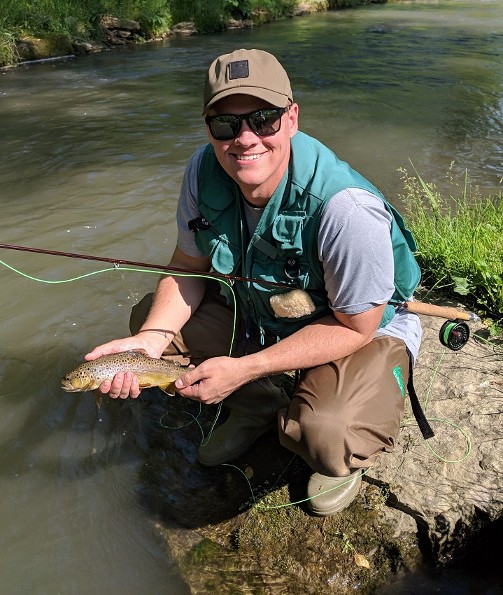 \
My guess is that Kody ended with well over a dozen trout caught and released, coming on four or five different nymph patterns.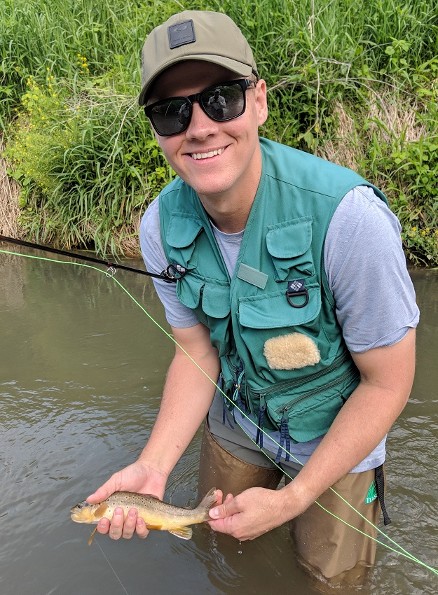 It's always a pleasure to introduce young people stopped the sport, with the hopes that they will take the ball and run. These are the next generation conservationists, anglers, and maybe environmental leaders.
June 5, 2020
After some rain during the week, I wanted to head south and check things out for myself. Almost everything I looked at Friday was not fishable and wasn't going to be for a day or so.
I stopped by a stretch of water that didn't have anyone around and hiked back in a ways before fishing my way out.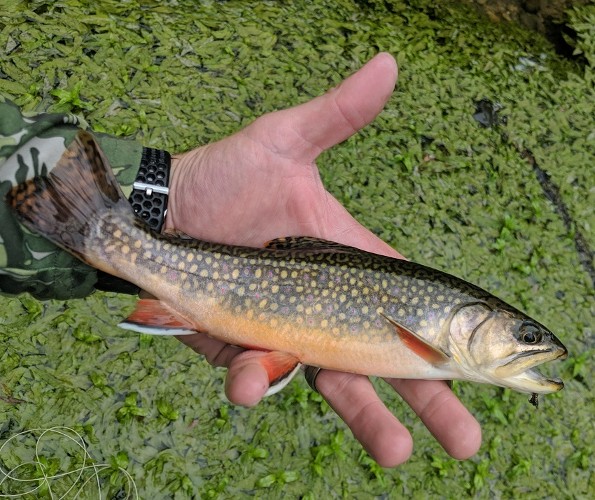 It was mixed bag browns and brookies in just tinted water quality. I opted for dry/dropper all morning and caught fish equally on both.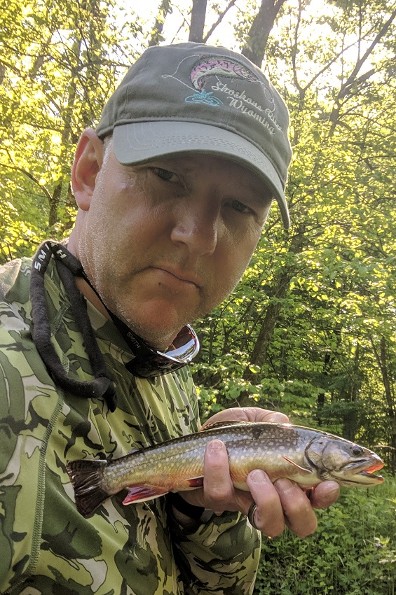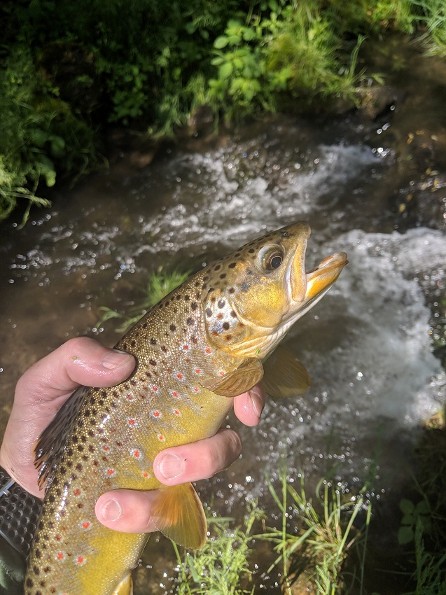 There were some dark mahogany mayflies hatching, but the fish were more interested in a tan dry, which they didn't pass up. It was a great morning. I caught some beautiful brookies, and some slob browns in just a few hours.
A good day.
May 30, 2020
I drove a large loop through southeast Minnesota Saturday morning, and the theme was dirty and unfishable water south of 90, with better conditions to the north. Things should be good all over this coming week, and definitely hot.
We had some tan caddis around, so dries and droppers were the ticket for much of a very windy Saturday.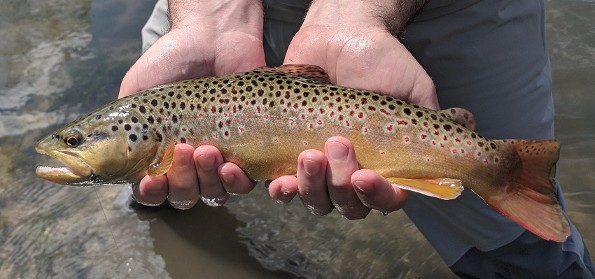 We did some nymphing in the runs and pool areas, but the best part of the day was getting fish to come up and take down dries.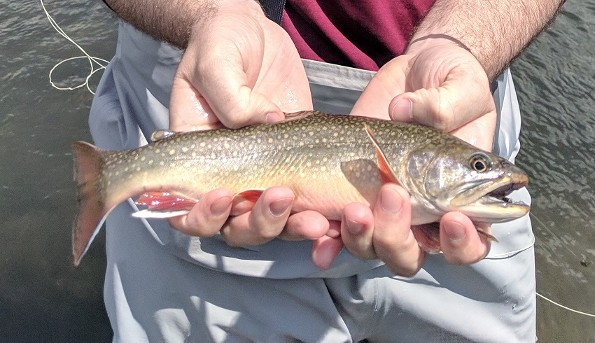 Caddis, Light Hendricksons, and March Browns are around right now, so pack your dry flies. The heat will make fishing interesting this week - fish will definitely give your dry fly a look, but wet wading would be a good choice. Pack your bug spray as the deer flies have made an appearance and the gnats are just starting.
May 24, 2020
No guiding this weekend, so I met up with good fishing partner, Charlie, in Lanesboro Saturday morning. We knew we were in for some dicey weather, depending upon what weather app you were looking at on a cell phone. The rains came and went by 11:00 or so, so we loaded up and ventured out for an afternoon outing.
Water conditions are in very good shape after the rains. With the added heat, dry and dropper is becoming a go to staple for fly fishing right now. We dry/droppered the whole day because we didn't have to do much else to catch trout.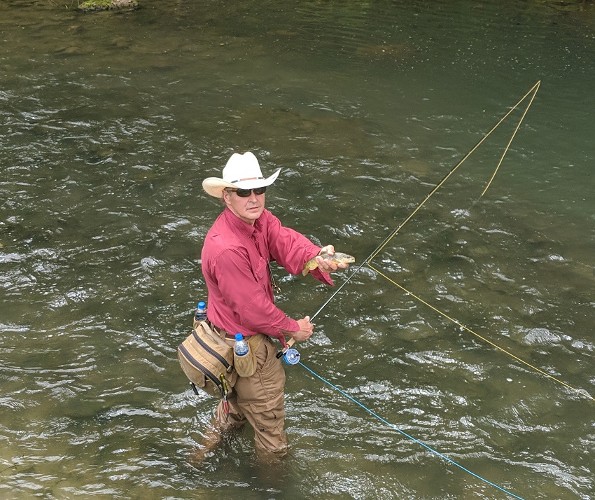 We had a variety of hatches going on around us Saturday: several sizes of caddis, several size of Light Hendricksons, and even a few crane flies.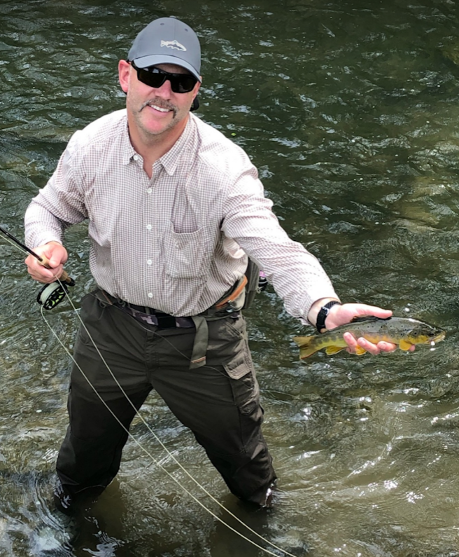 We ran into a few other anglers out as well, but not much else. The streamside vegetation is coming in thick and lush right now, kind of like a head of hair during a quarantine. The gnats were a bit pesky at time, and the deer flies were definitely present later in the day as temperatures warmed.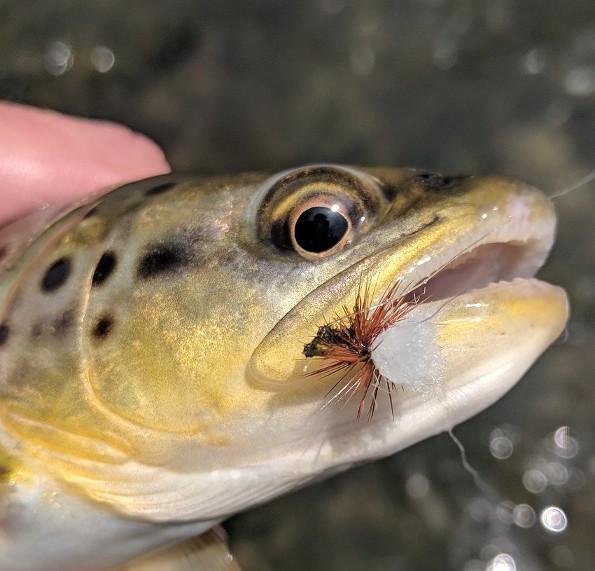 The warm, consistent weather has definitely kicked fishing up significantly. As Charles put it, the "stupid button" was on Saturday, so catching a whole lot of fish was not a probem.
May 7 and 11, 2020
May 7 was a cool day to start but warmed enough later in the day to get some tan caddis moving in size 14-16. Conditions were tough early on with high clouds and north wind making nymphing our best option. Dry with an emerger trailer worked wonders most of the afternoon hours. We saw and caught a load of trout. Water clarity is tremendous right now, so spotting fish is pretty simple. Darren caught and released somewhere around 50 trout that day, which is not uncommonwhen the conditions are right.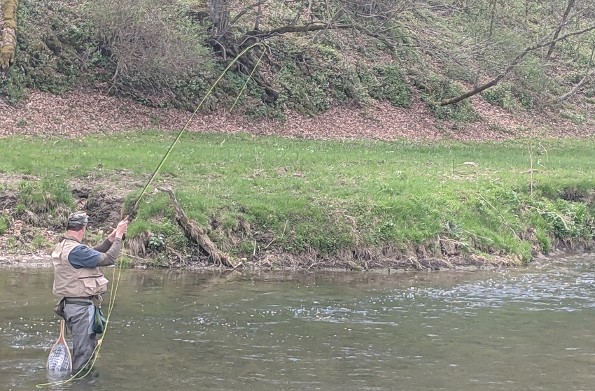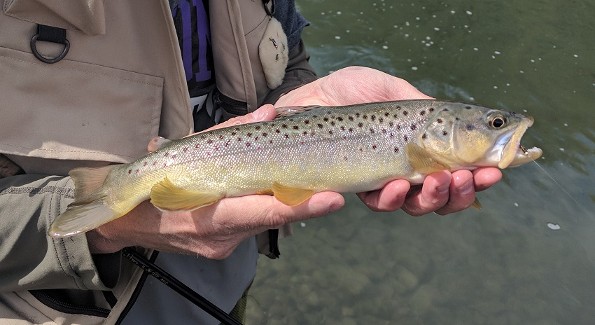 May 11 was a complete change in weather patterns for us. John and his son Andy gutted out a day that wasn't pleasant at all as a severe cold front shut down any thoughts of hatching caddis. We still had a fantastic day with an assortment of nymphs and emergers. John is a fantastic Euro nympher, so he dredged up a bunch of trout.His son Andy caught fish onall sorts of tandem ruigged nymph patterns and one on top to astandard Adams parachute.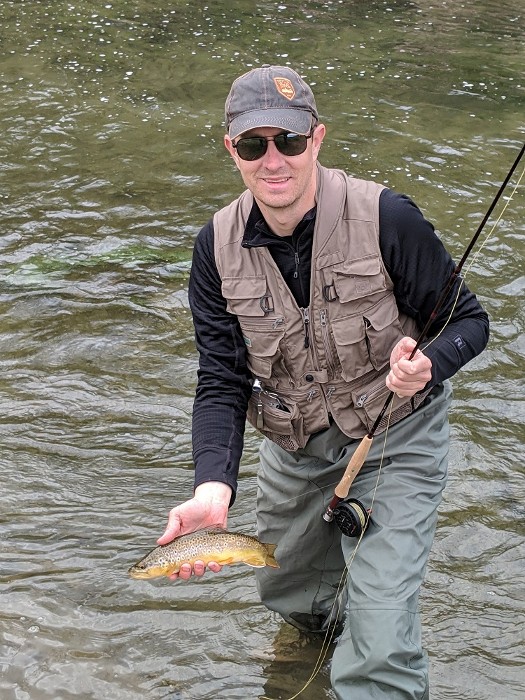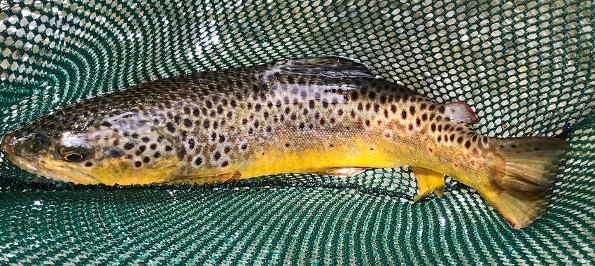 April 23, 2020
I met with Fletch and Wally, brothers-in-law, from the Metro for an afternoon fish. The weather was cool, overcast, and not terrobly promising that a hatch would occur, but by 12:30, the sun popped out, and the bugs started hatching.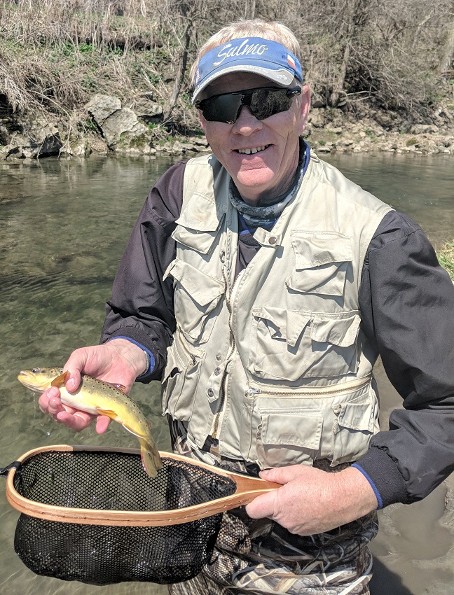 I set up one angler with a dry/emerger combo and the other one up with a caddi oriented nymph rig. Both were lights out for the first hour as fish were rising, porpoising, and feeding with reckless abandon.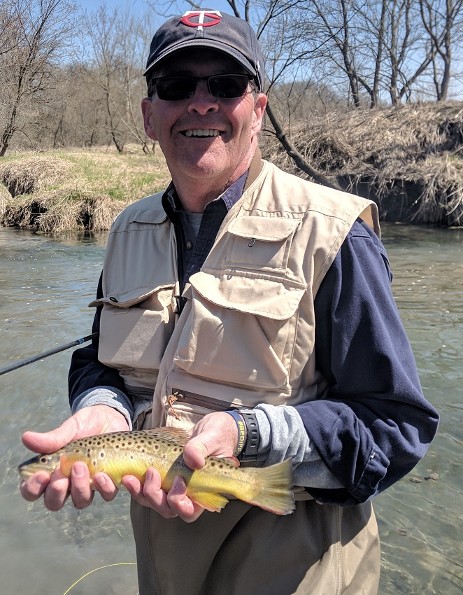 We ended up changing rigs quite often that afternoon to meet the conditions. Sometimes we had full on risers, other times the water was dead quiet, so we had to go back to an assortment of nymphs.
Caddis have been the dominat hatch, yet we also ran into craneflies and some adult mayflys as well.
April 18, 2020
Today, is not a day I always normally fish, and that is the annual Minnesota trout opener. To compound matters, temperatures were going to top out in the mid 60's and sunny; this day had the recipe for people, and lots of them. The plan, for me, was simple: get up and get out the door. I sacrificed the option for a noon time hatch of caddis in favor of numb fingers and nymph rigging in 34 degree weather. But, it was a trade off I preferred than being elbow to elbow with every other weekend trout angler who wanted to get out of the house. For wanting to get out of the house, I can't blame them.
I went to a stream that has traditionally high populations of trout and does get its fair share of people. I went there for one reason, and that was to bag a limit of trout and help thin the population.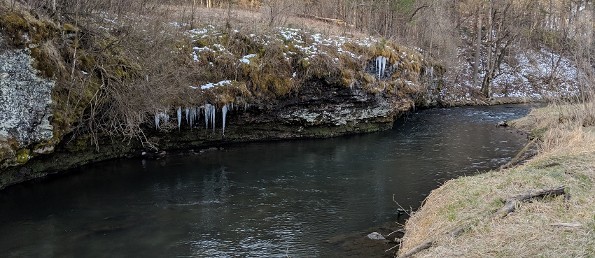 I only spent a grand total of under two hours on the stream, but it was not without merit. ran into deer, a pair of strutting toms, an active bald eagle nest, and several drumming grouse. Throw in a limit of trout, and other fish that I released (see below), and it could not have turned out better.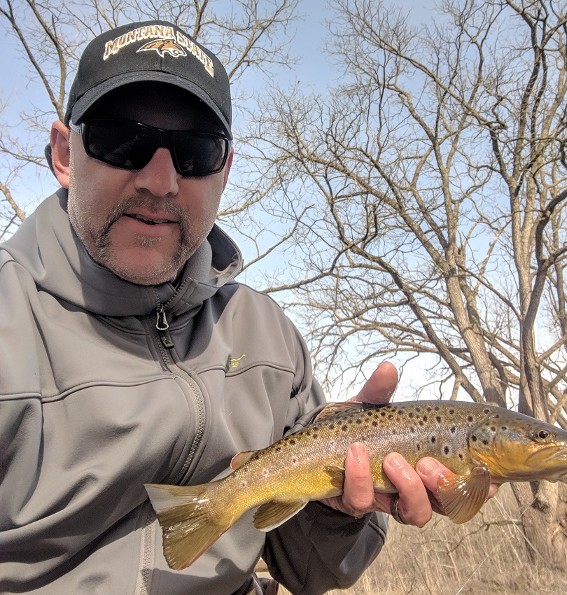 Talked to a few turkey hunters driving around looking for a place to fish. By that time of the morning, every access point where I was had three cars minimum. It's hard to predict if the crowds, with the coronavirus situation, stay heavy until the lakes open, or if it was just a typical trout opener weekend with a mass of humanity descending upon the area.
April 11, 2020
After looking at the future weather predictions for the area, including up to 11" of heavy, wet snow on Easter, Saturday seemed like the only best option to gt out and fish in t e foreseeable future. I contacted Wes, a young guy that I've guided a few times and gotten to know on a personal level, and wanted to see if he was interested in a hike/fish on Saturday: park two cars, walk from point A to point B, get in a one car and drive back to the other. Simple enough plan.
We met up and were on the water shortly after 8:30 for what turned out to be, according to my Fitbit, a relaxing nine mile sojourn. Wes has a high altitude elk hunt in Idaho coming in October, so he was all in on getting some exercise and chasing a few trout.
The water was clear and cold (46.6 degrees) on my first take around 10:00AM. We had bounced around to a variety of nymph rigs, al with varying degrees of success. To suggest that we had one pattern dialed in would not be entirely accurate, although any variation of a #16 black PT was consistent.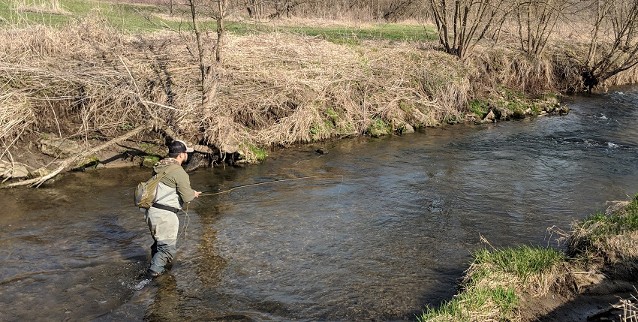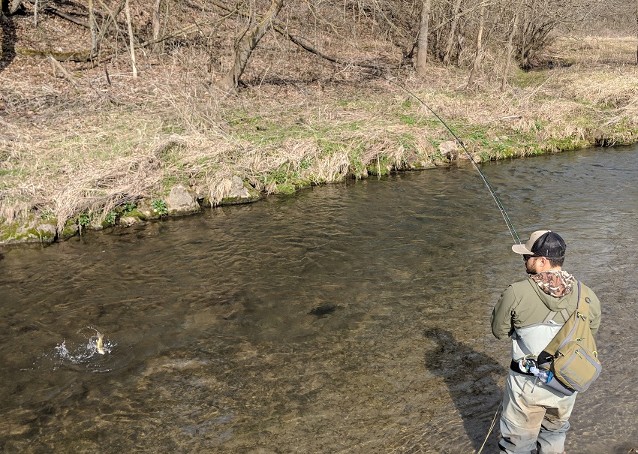 The sun was out early and then covered up by some high cloud. We eventually ran into a pod of rising fish, so some soft hackled emergers did the trick there. It never really warmed up enough for us to get a good hatch of anything going. Midges were being sipped here and there, but nothing in the larger mayfly department materialized.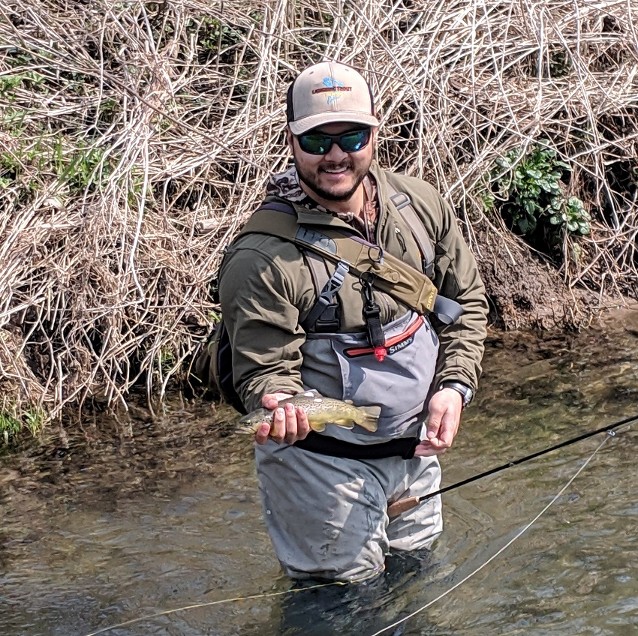 Wes eventually set up a parachute dry and a beadhead PT dropper despite no hatch being on and had very good success with the PT. with the thin, clean water in places, the PT running high in the water column was an enticing presentation.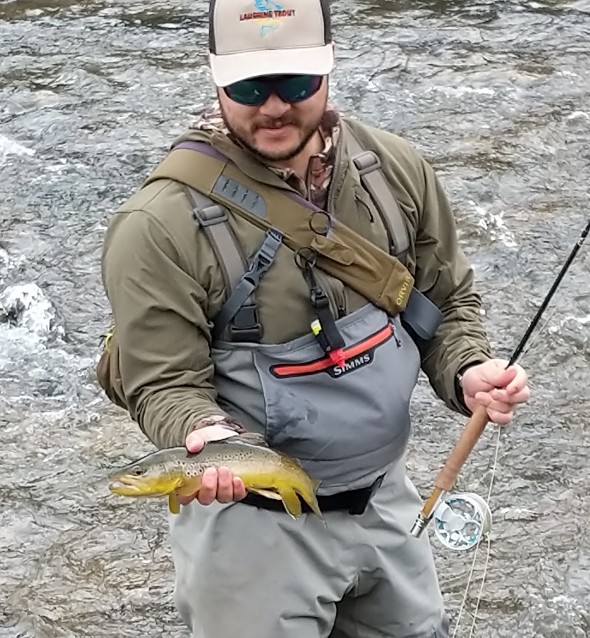 The clouds had enveloped the sun by late afternoon, so we switched up to micro-nymphing. No indicator, no split shot for those high in the water column feeders.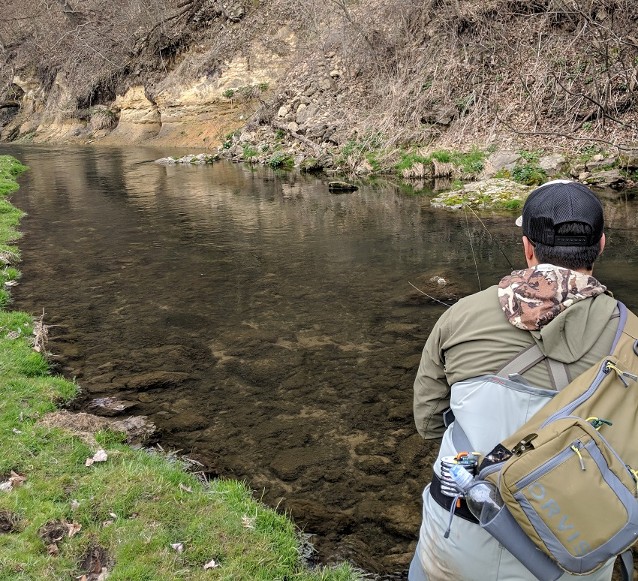 This was one of the nicer trout I tagged on Saturday in some very skinny water with a nymph pattern.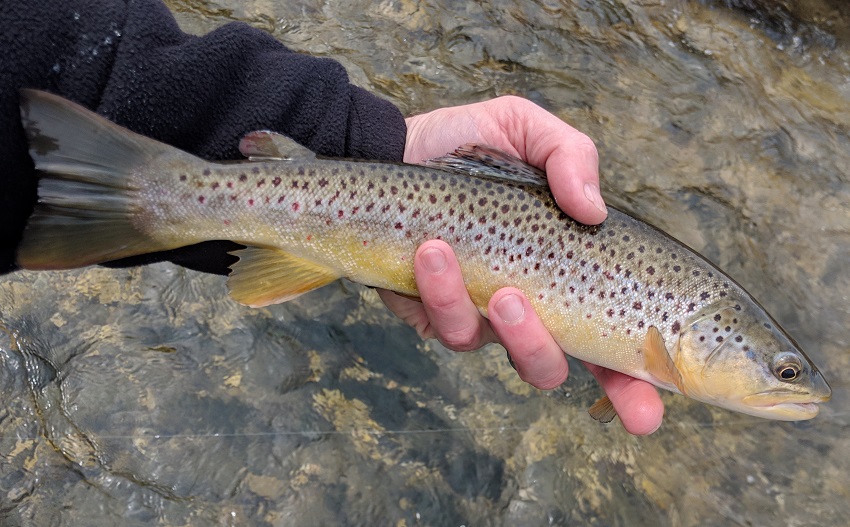 April 6, 2020
I spent the day with client Larry, setting up his new four weight fly rod and showing him a few tips and tricks while pursuing some trout. As a future soon-to-be retiree, Larry's interested in pursuing fly fishing, so we shortened his learning curve today and got after it.
It was actually pleasant out yesterday AM with hopes that temperatures would flirt with the mid-50's. Overcast and calm, I was confident a hatch would appear later.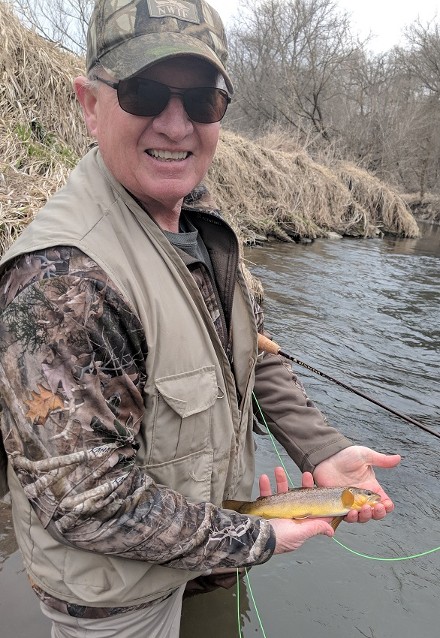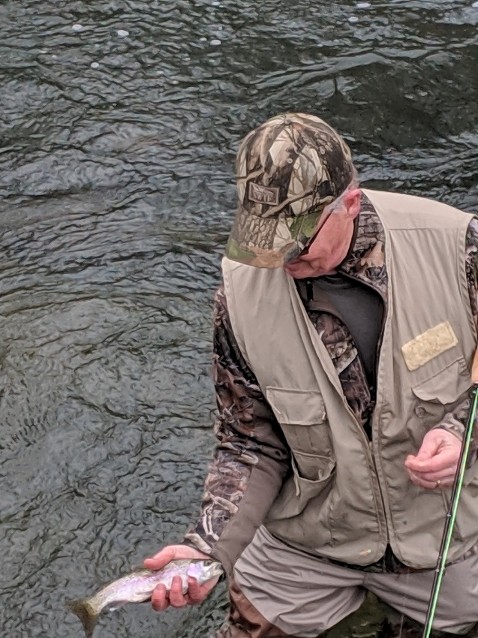 We tandem nymph rigged throughout the morning with decent success, including this bruiser.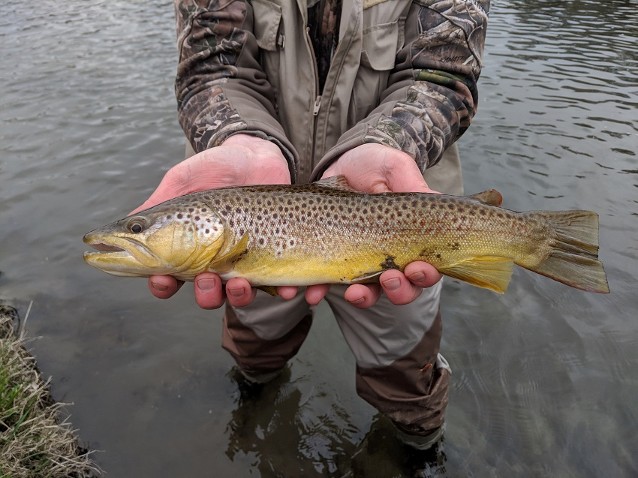 From 11:30-1:00 we couldn't buy a fish. Nothing was hatching, nothing was rising, the wind had turned from tolerable to downright cold. We switched up streams by 1:30 and, voila, by 1:45 a solid BWO hatch was on until 2:45 or so. Typical BWO day: 48, overcast, windy, and cold.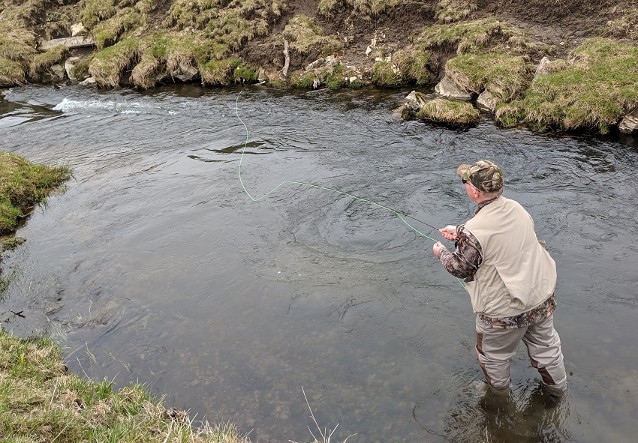 April 2, 2020
My plan for the day was to do a little bit of everything: streamers, nymphs, and hopefully a hatch. 45 degrees and cloudy at the first stop was very inviting for throwing streamers. The water was in great shape, but it was big, and I mean big to the point of I struggled to find a safe river crossing. It was reminiscent of being West on some of their aggressive waters.
I was looking for some big trout with the streamer set up. Big as in 18 plus inch trout, but no luck there. I did land a few, lost a few, and had a few swipes and miss my streamer.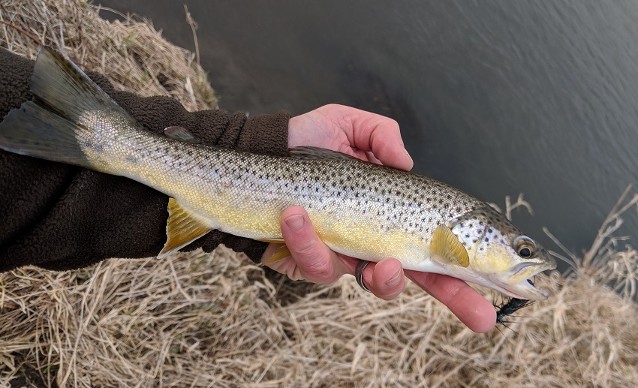 I was using a 9' 6 weight with an intermediate line, sinking leader, and fluorocarbon tippet.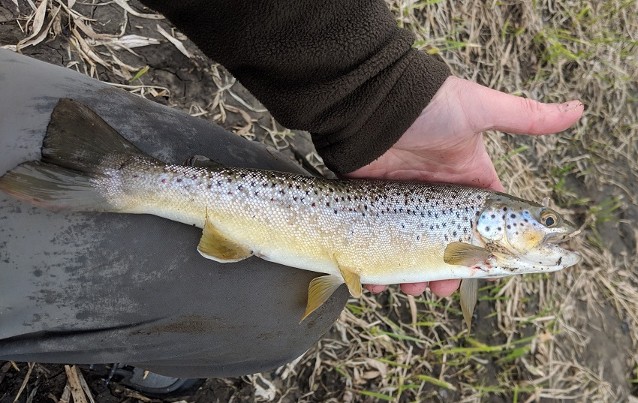 went to a second stream, smaller and more secluded, and had great success nymphing for a few hours. The water wasn't high, but I would call it robust right now and definitely clear.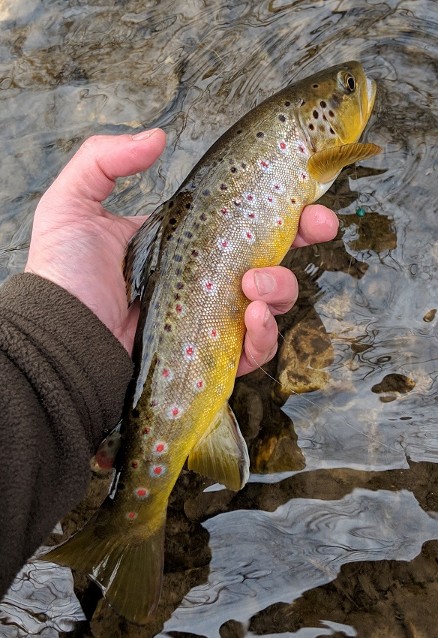 This stream does have some larger pool structure in spots, so I re-rigged and put a small bugger on and tagged a few as well.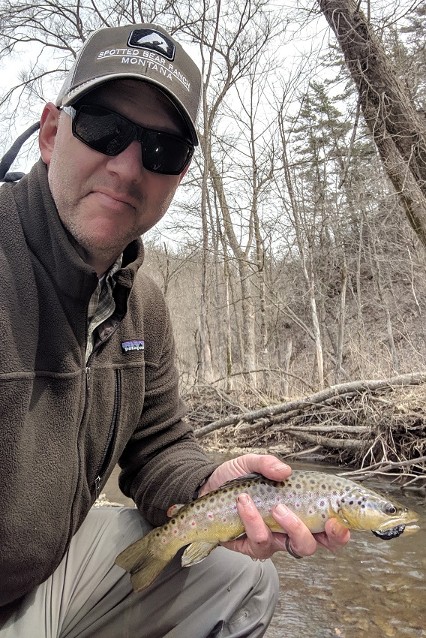 Small feeder stream adding more volume to the already abundant flow.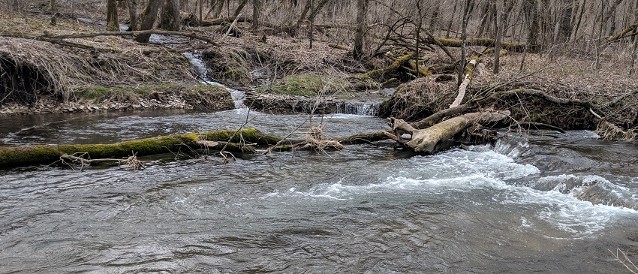 I decided to hit one more area before heading home, and BWO's were being sipped when I got there. I stayed an hour, and the fish were high in the water column, feeding consistently.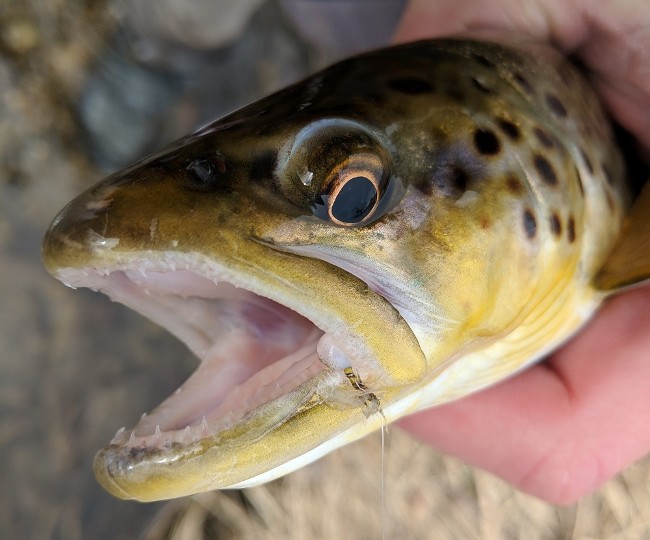 March 28, 2020
Considering the weather trends lately, yesterday (Friday) would have been the best day to fish in the Driftless. My buddy Charlie was out Friday and ran into angler and cars all over. Not a shock considering the current state of the state, the nice weather, and hungry trout.
We fished together all day Saturday, which was a much different day than Friday: cooler temperatures had settled in overnight, so I was not optimistic that we were going to touch temps in the 50's, which probably would have gotten the bugs moving and the trout as well.
Not much you can do about the wather.....we settled for two cars, doing our part in social distancing, and decided to cover some distance on foot, fishing streamers most of the morning.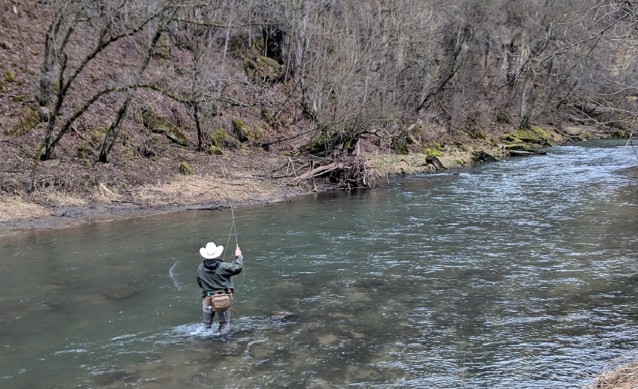 We did some nymphing later on with minimal success. Nothing was really on fire pattern wise on Saturday, yet we still caught fish.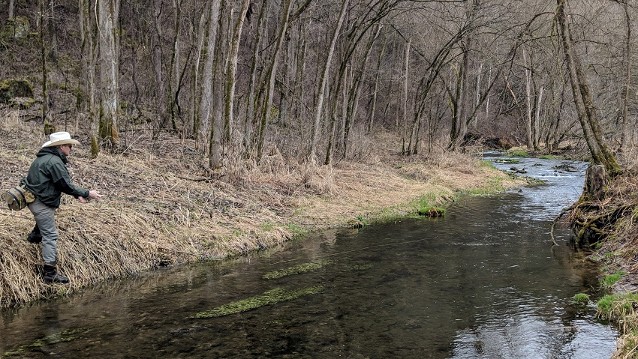 We ended up hitting four streams total, several of which were clean and low like the one above. It was late in the day, yet we still had some rising fish when we pulled the plug at 3:00.
March 22, 2020
It's been a few weeks since the last report,mainly due to a pile of other commitments, poor weather, and other excuses. Sunday was not an ideal day with the heavy wind, but I couldn't complain, really. I had an entire valley to myself and three hours to get after it.
My first bridge stop was not encouraging as the water was higher than I anticipated and off-colored as well. Throw in the fact that it snowed Saturday night (and Sunday), the run-off was inevitable, and water temps were going to be a challenge also.
I opted for an upper portion of a watershed due to the better water clarity. I rigged up a new 6 weight Winston I got this winter and took it out for the christening.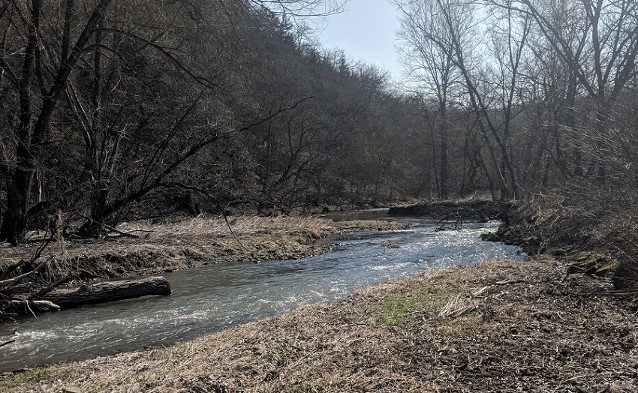 It was a nice walk downstream with zero vegetation to deal with, so making time was very easy compared to the summer months. I started streamer fishing at 11:00 with mixed results. I caught a few, but it wasn't anything crazy. nymph rigged a little bit until I broke off in a tree and stuck with a streamer the rest of the outing.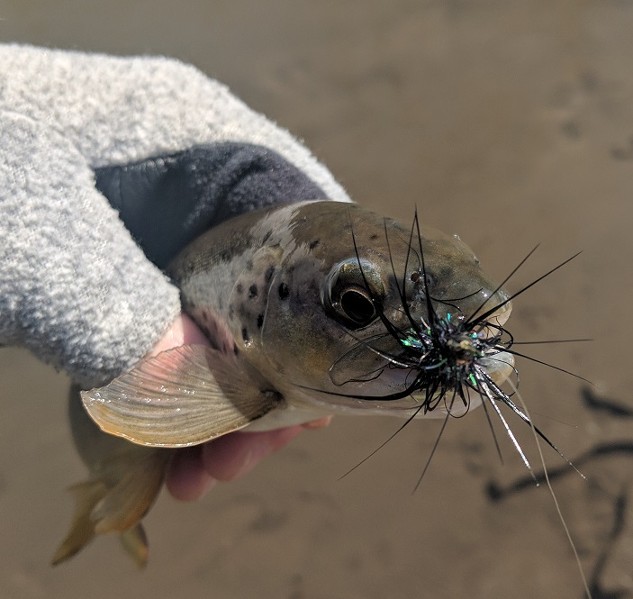 The wind was challenging at times, but the methodlogy I used Sunday didn't require much for casting. Getting upstream of the runs and pools, lobbing a streamer across and down and twitching it back against the current turned the fish on for a good two hours. I had the luxury of sun for most of the outing, but when a thin layer of clouds rolled through, the fishing definitely shut down a bit.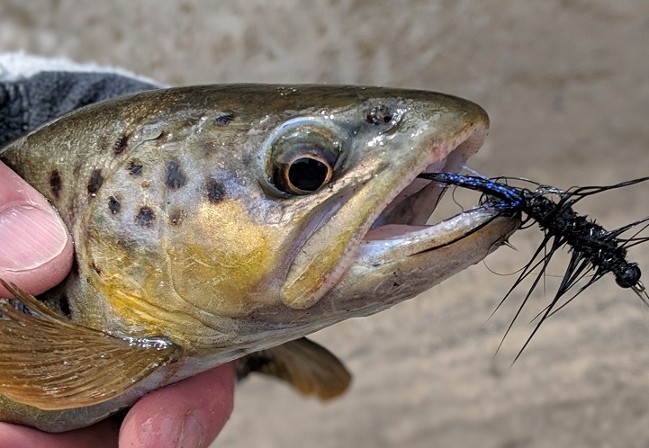 I know these are strange times with the COVID-19 virus, but I am still taking people out fly fishing if they are interested. Area streams are in great shape and the trout are definitely hungry and starting to feed consistently. The weather predictions are interesting the next week with mid 40's, rain, snow, etc (read: garbage), then shift to consistent 50's in ten days or so. BWO action will consistently pick up then as well.
March 4, 2020
I had the pleasure of showing Matt and Marie around southeast Minnesota's Driftless for most of the morning into the early PM hours. Calling home Arkansas, this was their first trip to the area. Fly fishing enthusiasts that they are, picking up on how to cast and catch trout came quickly.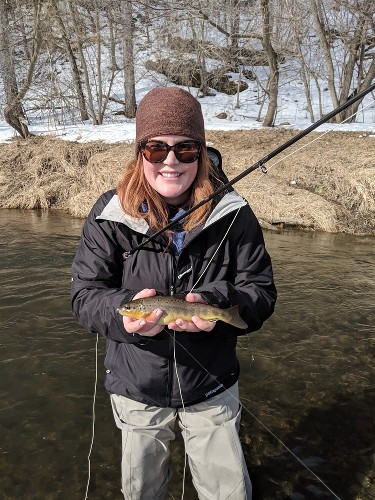 We didn't do anything complicated today - nymph rigging as no real risers presented themselves. We did start fishing a variety of BWO nymphs around 11:00 throughout the remainder of the day. The streams were unaffected at this point with major snow melt, but action did slow by 1:30-2:00. Streams at this point were clear, clean, and low. High sun and no hatches didn't help the spooky fish factor at all.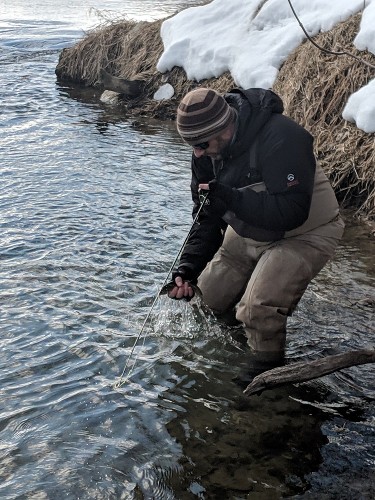 I turned a few rocks and found one common thread: caddis casing and lot of them. The caddis hatches could be impressive this spring.
February 23, 2020
The weather this weekend was tremendous, so getting out for a few hours on the water was a must. Haven't been out in a while, but winter fishing is like that some years: opportunities may be abound for weeks at a time, or it may be weeks at a time before the weather breaks enough to get out there. Either way, it was good to get away from the tying vise and get after it.
I got an early start on my way to stop one of three. It was interesting to watch the temperature fluctuate from low 20's to a low of 12, according to my vehicle's outdoor temperature gauge. The valleys were definitely on the cool side early on.
My first stop was the toughest part of the day with low temps and a sun that had not yet warmed the valley. I managed a few out of deeper runs before I pulled up stakes and investigated a stream I had only been on briefly last May. Unfortunately, it had plenty of shelf ice on it, and the flows were very low. Sure, I spooked a pile of fish in skinny water, but I decided I'd come back to that one later this spring.
My last stop was very good. Midges were already in the air, on the banks, and were being sipped here and there by willing trout. I put on a dry for one flat run and had minimal success. A regular scud and midge emerger were doing better, so I stayed with that.
Great day to get outside. No other cars around where I was. Water is definitely on the low side. Stream temp at noon was 46.6. This nice, deliberate melt will hopefully help offest any potential flooding this spring.
January 25, 2020
It's been a while since I last gout out, mainly due to the weather not being overly cooperative. The latest round of weather brought significant snow to southeast MN compared to where we were just a week prior. Air temperatures topped out at 31 for me yesterday with lots of cloud cover and a bit of wind. I hoofed in from where I parked dwonstream and fished out, so the first 20 or so minutes was the warmest I was all day. Action was slow early on as the water temperatures had clearly not warmed up enough to get fish interested in picking up a fly. By 9:00, there were quite a few midges starting to appear on the banks.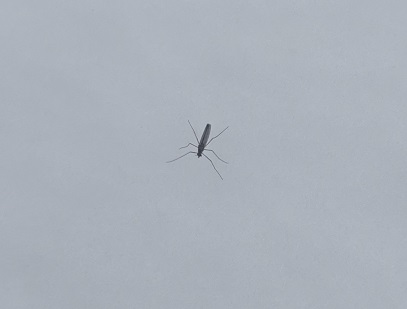 Action picked up from there, taking fish on both midges, scuds, and some beadhead patterns. If you do get out in the near future, just be forewarned that the going will be a little slow with the snowpack and creating trails along the stream to bog you down.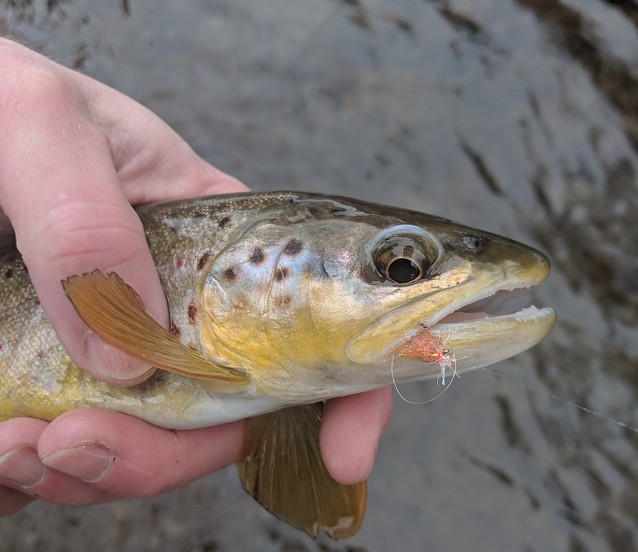 January 4, 2020
I kicked off the 2020 season with Jens on an area stream. Saturday was overcast, a bit on the cool side, but we dodged Sunday's wind. There was no issues with snowpack, and the streams are very clear and a bit low. A few fish were on top feeding on midge emergers, but most of our success was on scuds moreso than the midge trailer. Fishing was better earlier on in the morning and slowed some after the noon hour. Not sure why, but it happens.