Reminder: If you see illegal or suspicious activity on your local waters, be sure to report it. Game warden Mitch Boyum covers Fillmore, Houston, and Counties. He can be reached at 507.932.4947.
June 22, 2018
I met up with a couple of fishing buddies Thursday afternoon at the Lanesboro retreat. W went for a round trip drive to look at water, none of which was fishable at that point, and may not be for a while.
We knew where we could probably find some, so we got up Friday and made the trek after a stop to see Brett at the bakery in Lanesboro. The stream we fished was not clear by any stretch, but it was clean enough to fish.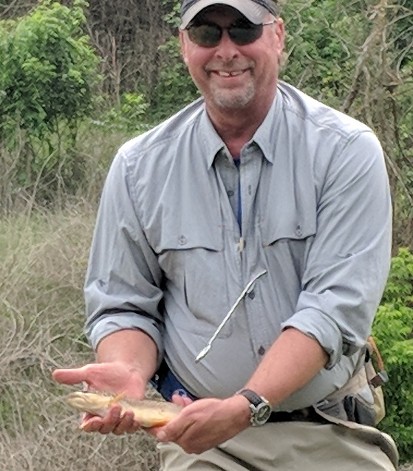 Mark stuck with a nymphing rig and was successful on both the lead and trail fly. Charlie was using his standard dry and dropper. It appeared anything that had some color to it was attracting the fish to the dropper.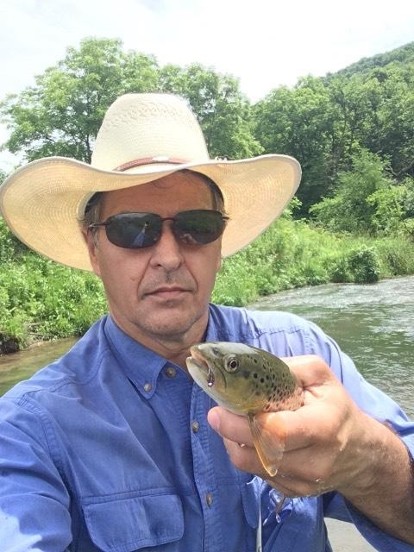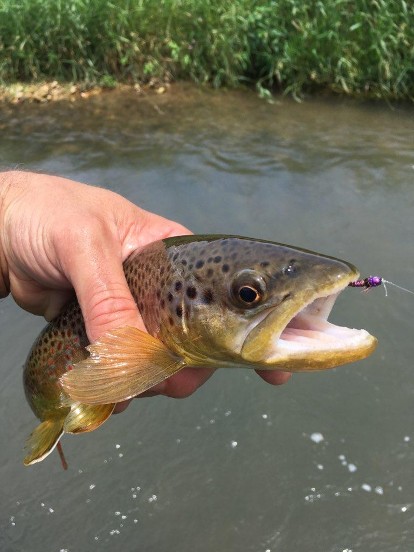 It turned out to be a realtively nice weather day - lots of sun mixed in with some clouds late. Enough breeze at times to keep the hordes of gnats at bay. The gnats are out of control right now, so pack your vanilla extract and use it liberally. I did manage a first on the stream. I was reaching over trying to untangle a line near some fast water, lost my balance and tried to lunge back towards shore, only to end up dislocating the ring finger on my right hand. I managed to pop it back into place with ease, and we continued on with our fishing. First onstream mishap in the 20 plus years of guiding :).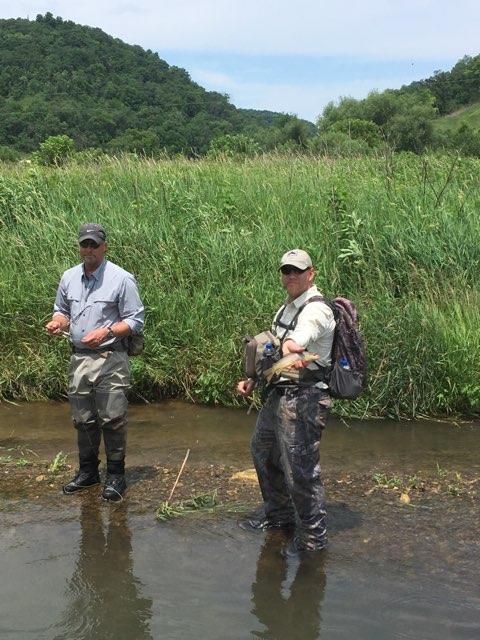 June 12, 2018
I took a repeat client from last year, Troy from Minneapolis, out to show him some new water today. I was concerned about lack of clean and fishable water, but that was not an issue at all today. Having a topnotch caster like Troy on the water made my task as guide pretty easy.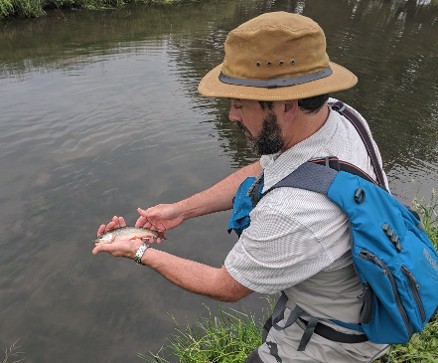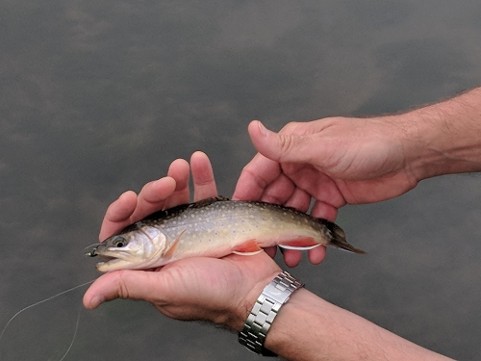 We did a little bit of everything today - standard tandem nymph rigging, pitches a few streamer patterns, and did some dry and dropper. All produced trout, given each situation we fished today. The humidity was the only tough part of the day - we probably should have wet waded.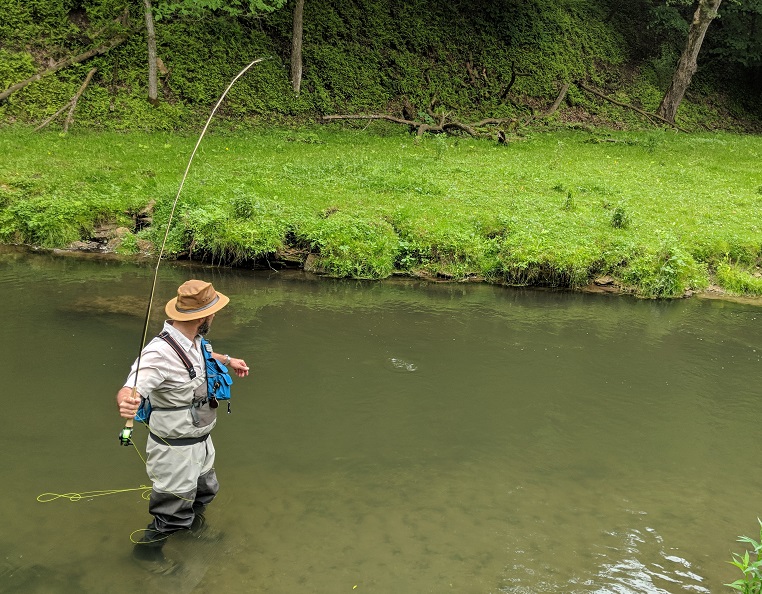 Water clarity was very good all day and was not a problem, but we were on some very good water all day and didn't have any other anglers to contend with, either. Water clarity is a premium right now, but it's out there if you know where to venture.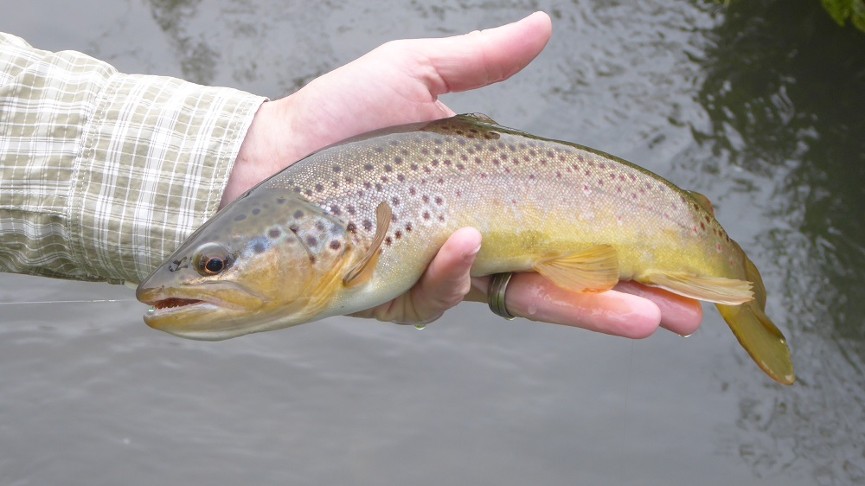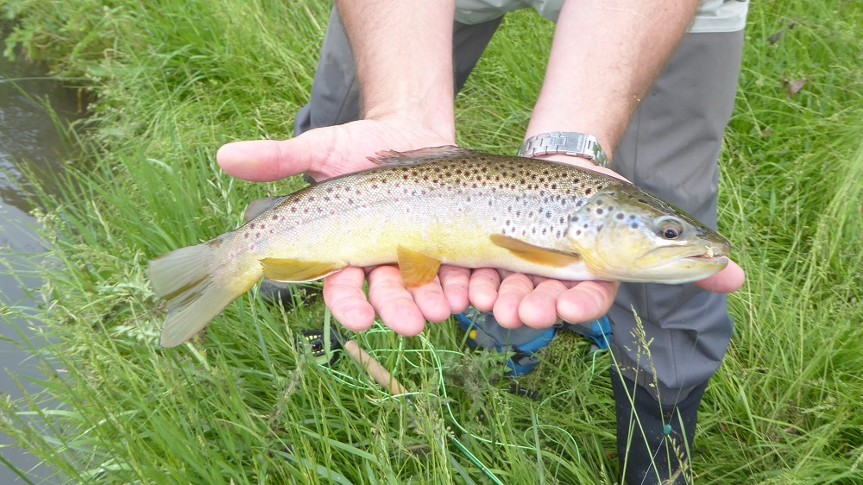 June 7, 2018
I had Gary and Janet out for a morning fly fishing outing - two relative beginners to the sport. We ironed out some casting and mending issues, and the trout were cooperative the latter part of the morning.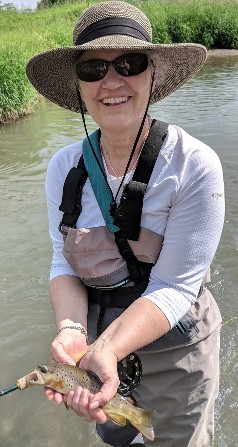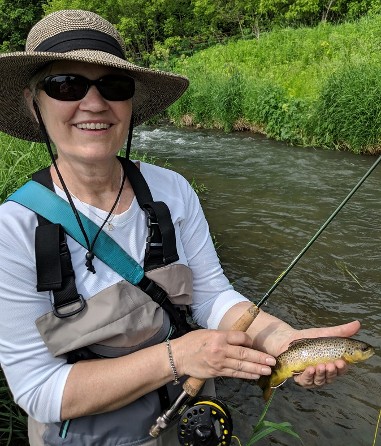 We mainly tandem nymph rigged a variety of patterns ion less than clean water. Not sure the reason for all the dirty water prior to Thursday/Friday rains.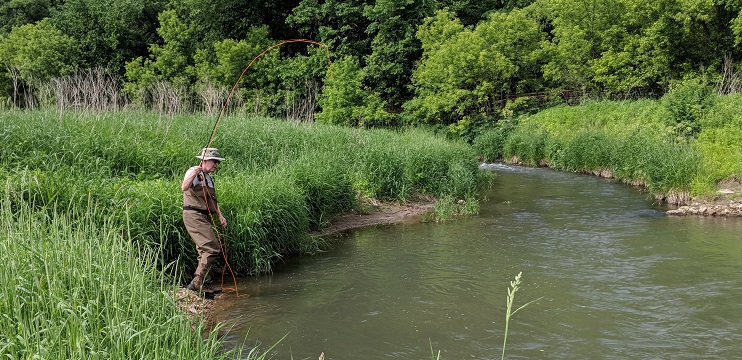 We did a some dry and dropper later in the morning on the thin, fast moving pocket water areas.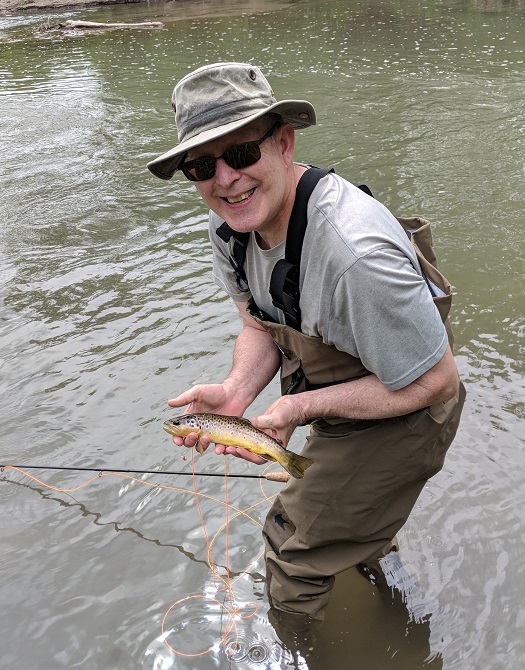 May 27, 2018
High heat and humidity is not typically my preference, but when you have a day off to fish with a friend, you can't be too choosy. The current high heat and humidity based front that is common throughout southeast Minnesota did not deter the trout from cooperating. Charlie and I met up at 7:30 and picked the upper reaches of a stream we knew would stay cold most of the day. We walked in quite a distance before fishing out. The further we got back in, the better the fishing was (there's something to be said for sweat equity).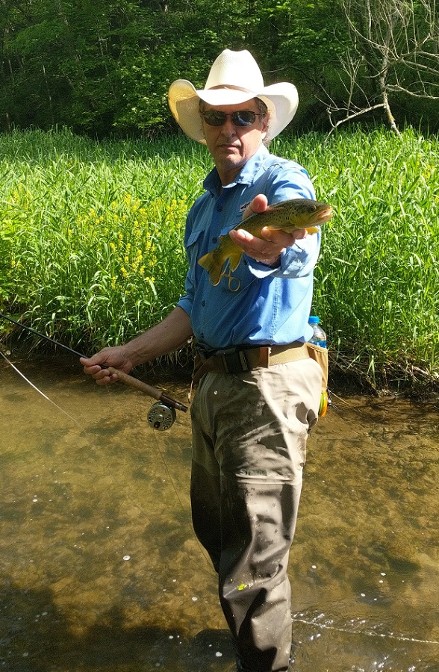 My pal was dry and dropper the whole day and absolutely killed it. He stub to the shallower pocket water type runs while I had the bigger, deeper runs with the tandem rig.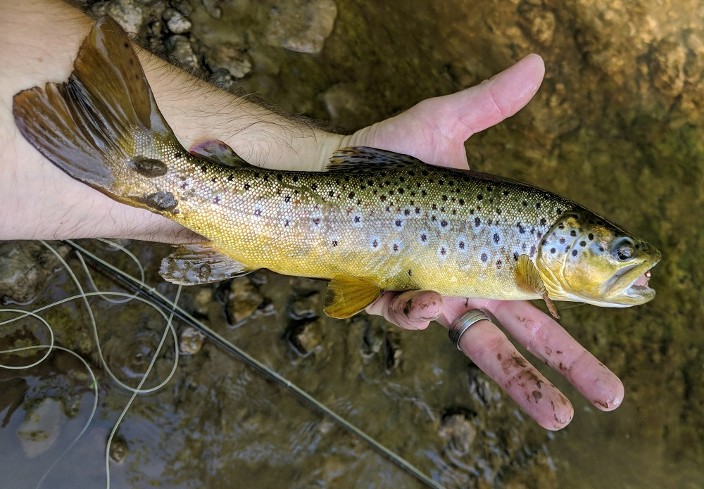 I stayed nymph rig most of the day, opting only to got to the dry and dropper combo myself once I broke off.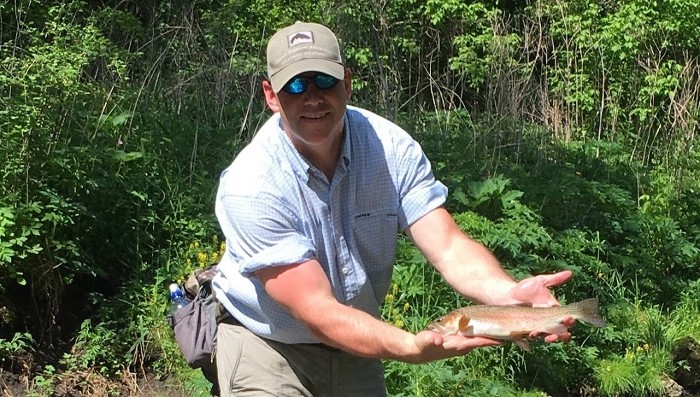 This is what your fingers look like once you have caught and release north of fifty trout and your hemostat's in the vehicle.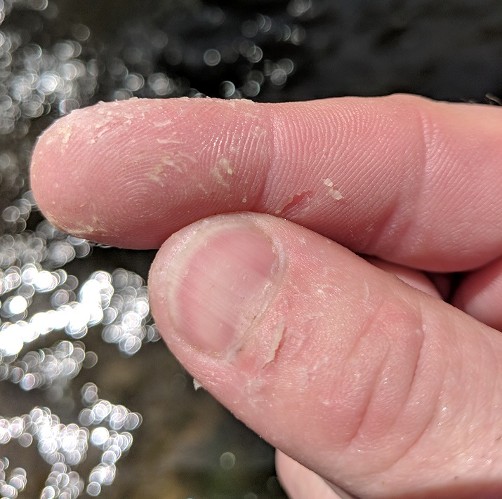 Hatches: we had some small, tan caddis most of the morning followed by a smattering of March Browns and a few Light Hendricksons. The trout were not on top taking the dries consistently, but they were feeding on the dropper aggressively. Waters are clear throughout the area.
Some video footage of our morning: https://youtu.be/zvfaIuQ0n34
May 19, 2018
If you follow the page routinely, you'll often see some familiar faces here and there. Two of this are Charlie, from Des Moines; and Fred, from Denver. These two longtime fishing friends are very good anglers and know the area very well. I'm just a tag along, really, as they don't need my help to catch trout.
We started around 9:00AM and immediately were into trout via tandem nymphing. Fred, who had already caught a boatload of trout on his trip to the area, was content to try an array of streamers and fool as many trout that were willing. Standing above the run and fishing/swinging flies downstream was easily the best method that day.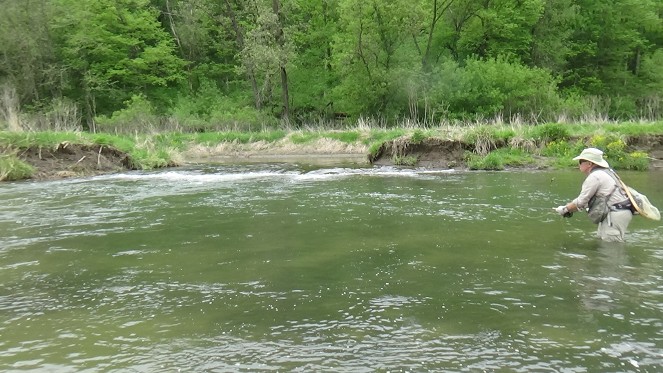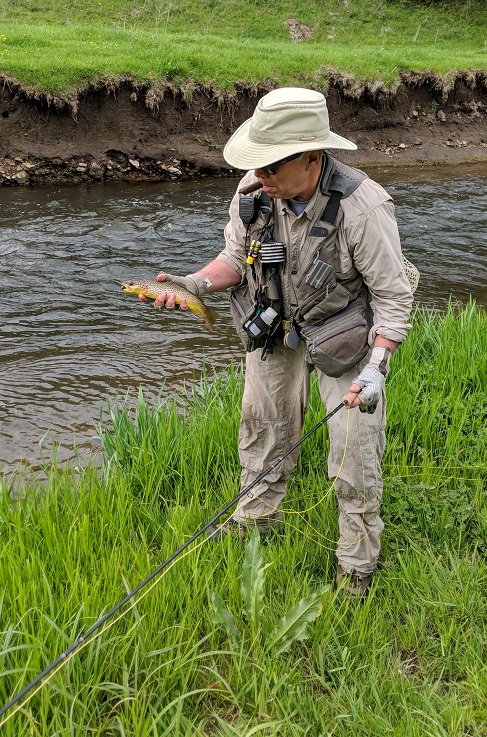 Charlie, on the other hand, was more content to abandon his already successful double nymph rig in favor of a dry dropper. He didn't pop that many fish on top with the dry, but the dropper was stellar all day. Being that it was Charlie's birthday, his goal was to fish his age. Well, he did that and some, stopping after fish 100 was brought to hand.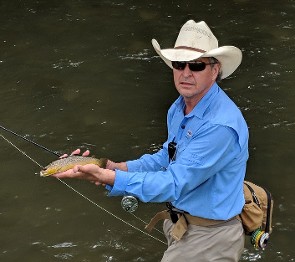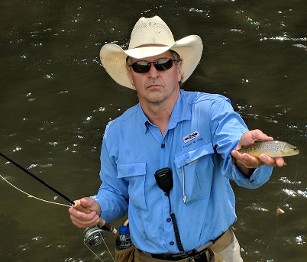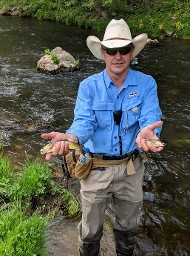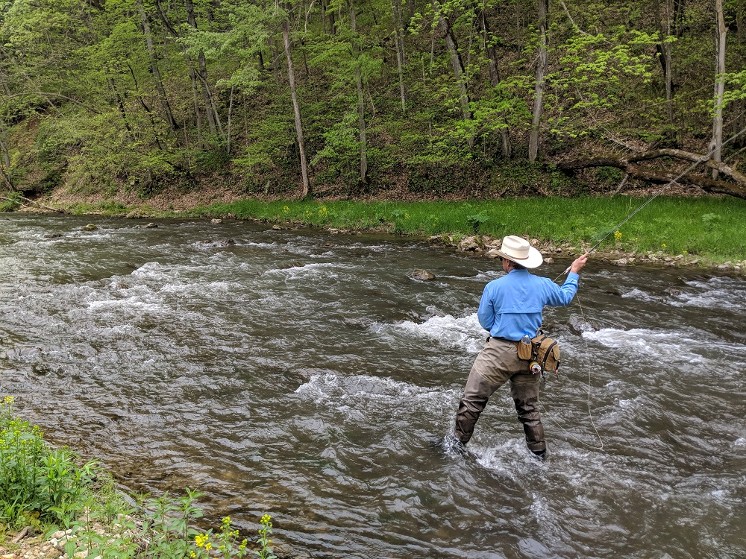 Some video footage of our day: https://www.youtube.com/watch?v=CLwyAa_RMps&t=4s
May 15, 2018
I had the chance to spend the afternoon with Cal, a hell of a good caster, showing a few different areas of southeast Minnesota for him to check out the next time he's camping in the area.
The only downside to the day is that the trout were not very aggressive. We had a few caddis going around the noon hour and a few fish sucking down emergers, but nothing on top to pique our interest. We ended up moving streams and getting on a few fish nymphing. The trail fly seemed to work best with the fish holding at the ends of the runs and tail outs.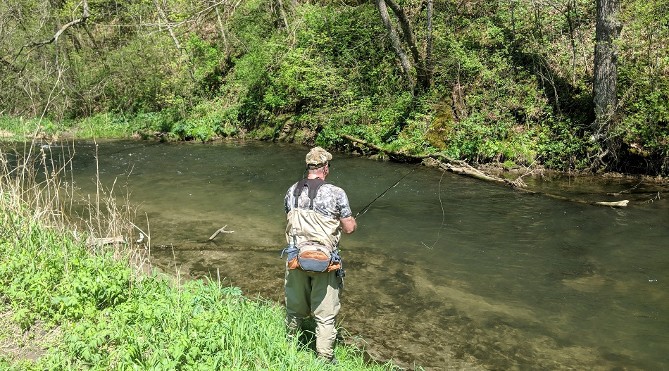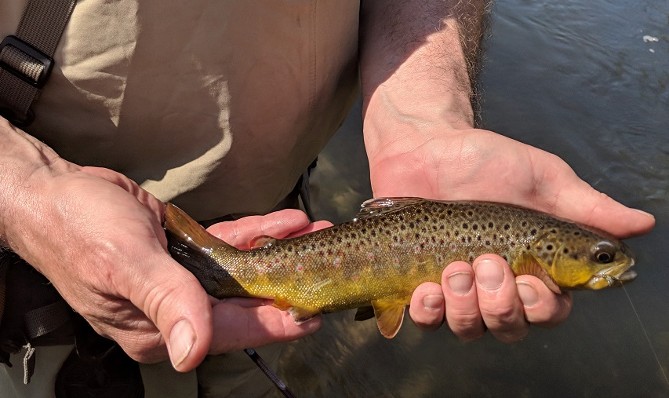 May 12, 2018
I spent all day Saturday with Wes, showing him around southeast Minnesota. The first hour and change was spent driving around, looking at water, so off to Plan B. There were plenty of other anglers around on Saturday, but the stream we were on was clean, which was no doubt why we had so much traffic around us.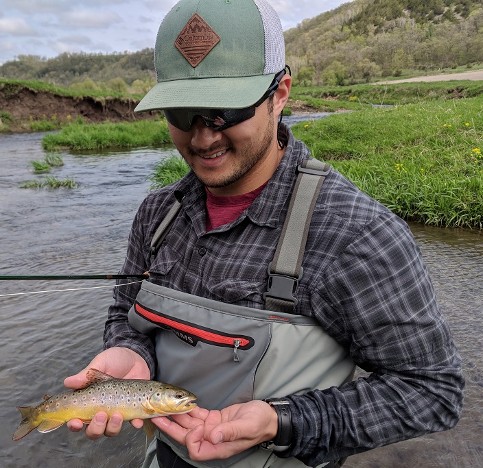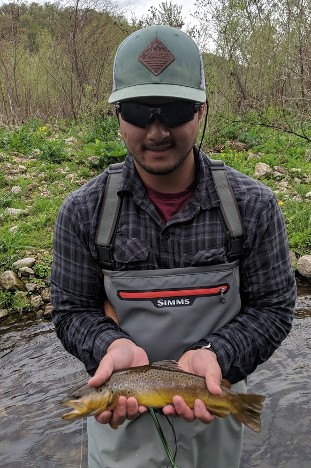 The day never really warmed up enough for any hatches to get going. By late afternoon, there was a smattering of caddis around, but not enough to get fish interested in taking a dry. The best success we had was setting an indicator about two feet from the flies and drifting fast, pocket water. The fish were up in the riffles and aggressive.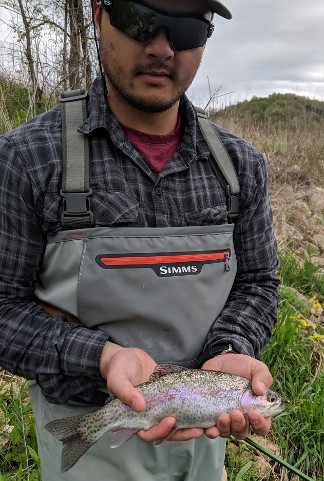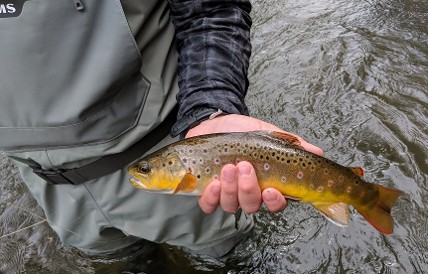 We worked on casting, mending, reading the water, fly selection - all of the things that will make Web a better angler next time he hits the stream, which probably won't be too far in the near future.
May 10, 2018
I spent the day on the water with Mike and his wife Peggy, repeat clients from last fall. I had a chance to show them some different water in southeast MN than the first outing.
Clean, fish able water is a bit of a premium right now, especially as the heavy rains rip through southeast Minnesota on Friday, making conditions even more tenuous.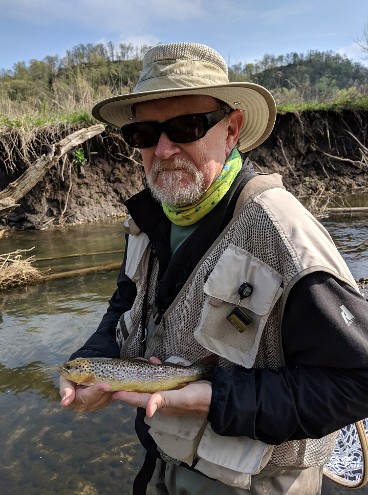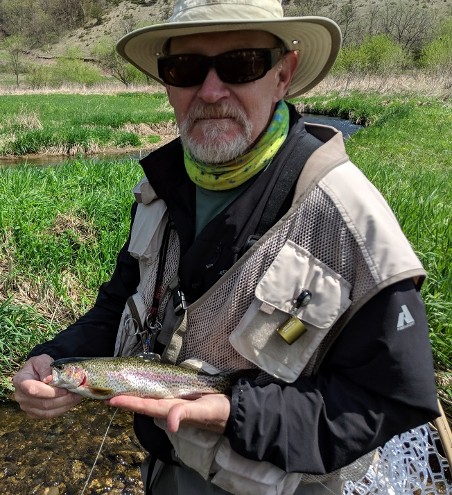 We did a little of dry and dropper on the shallower runs and a little bit of tandem nymph rigging on the deeper portions. Fish were cooperative all day despite no real hatch being present. I saw a few caddis here and there and few rises, but it was not a full on hatch by any stretch. The water we were on was clean, but there are no guarantees heading into the weekend.
May 6, 2018
It was a beautiful day in southeast Minnesota on Sunday. Lots of sun, not too hot, and the winds weren't too bad. I kind of figured I knew where to find some clean water based on Saturday's fishing and a little intel from some fishing friends. We were on the water by 9:00 and did a little bit of nymphing and a little bit of dry dropper. There was no hatch on the entire day, but we still did well on top with a caddis dry and dropper. Nymphing the larger holes and runs produced numerous takes. Scuds with a caddis emerger or nymph was really all we needed most of the day. Robert got into all sorts of browns, with a variety of size and age class. Some of the bigger trout took nymphs or the dropper on the dry fly, but many were very interested in the caddis despite the lack of a real hatch.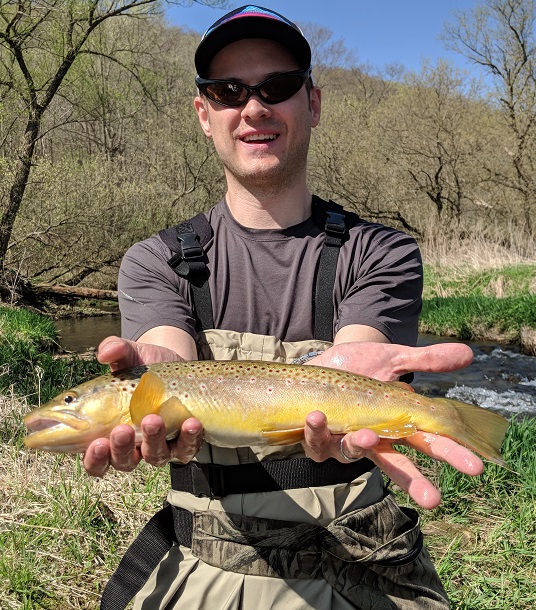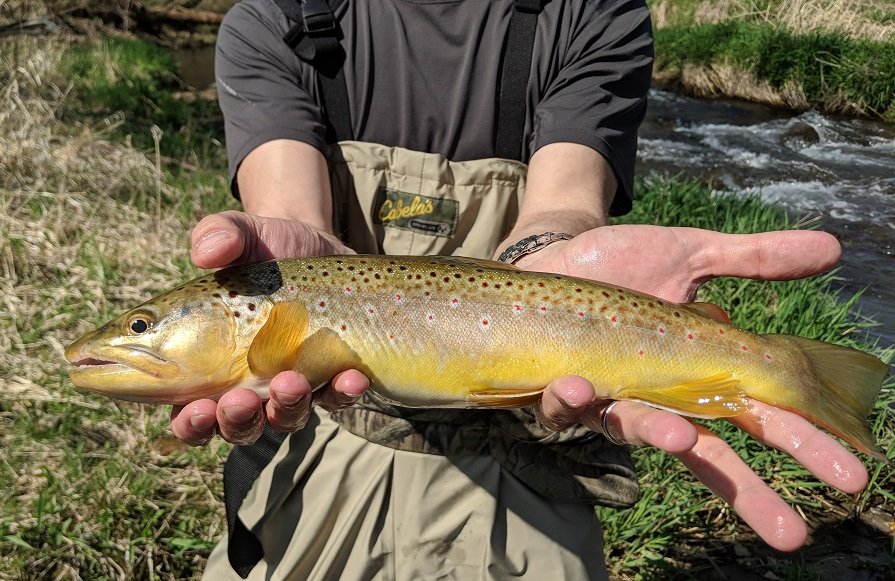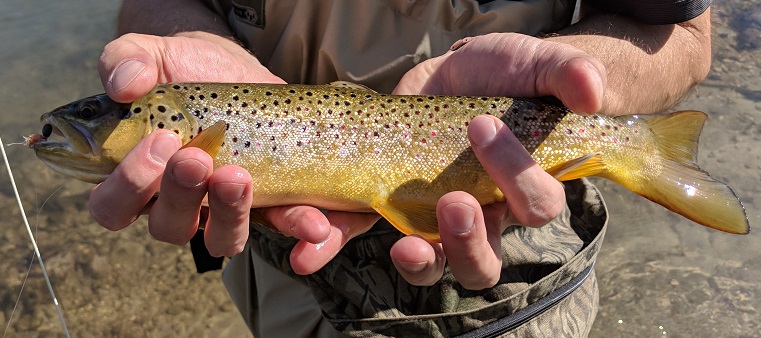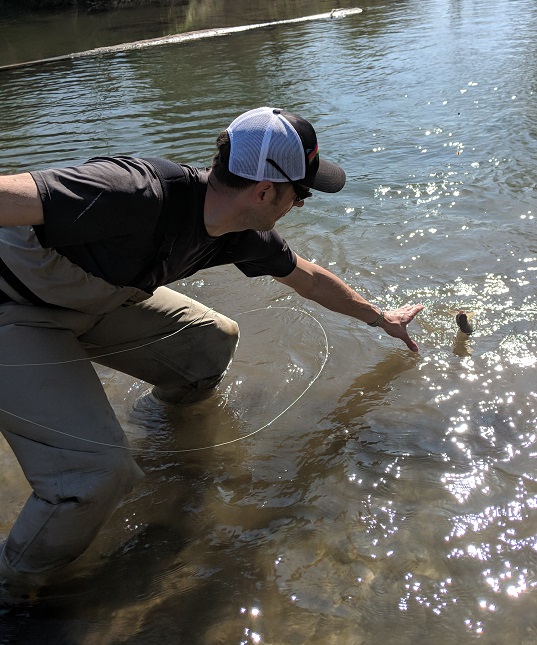 May 5, 2018
I spent the morning with Kelly, a trip that was in sever doubt once I drove around and looked at stream conditions after last week's barrage of rain. Many main rivers and streams were still high and dirty at the time of this entry. However, there are some small streams that are fish able.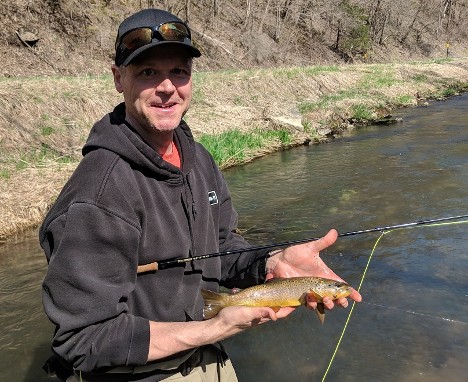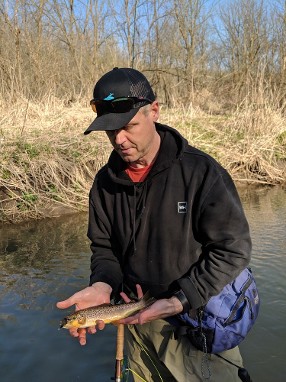 We did a little bit of everything yesterday - streamers, nymphs, dry and dropper - caddis with an emerger. The stream cleared considerably once we got moving and the sun began to get higher. The caddis came off around 10:00 and were still bouncing around when we left.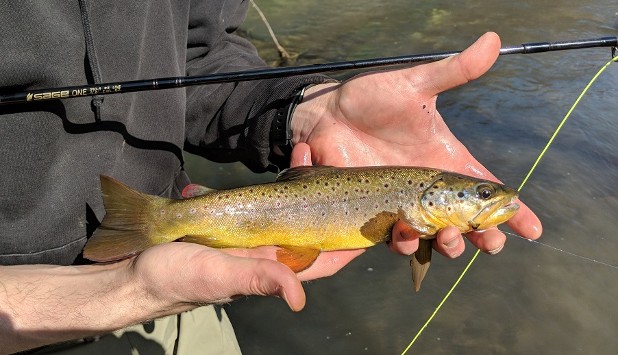 It's always a great day when you can take a client out who has never fished southeast Minnesota before and show him what the area has to offer.
March 25, 2018
Paul and I spent the better part of Sunday on the water (8:30-3:00) and had some consistent fishing all day. The morning hours were steady with trout picking up an array of scuds, Princes, Copper Johns, PT's, and emergers.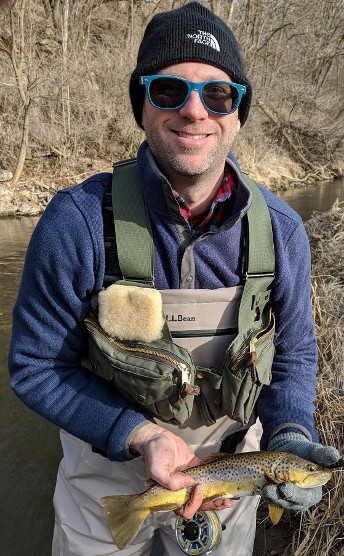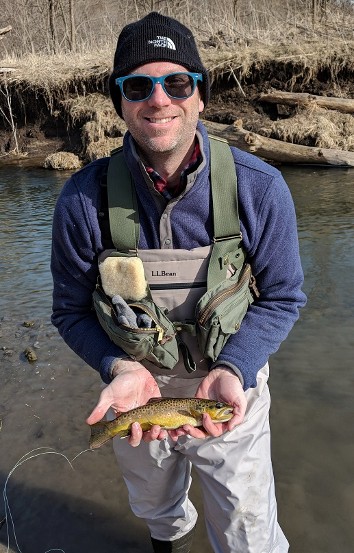 We ate some lunch on the go, switched streams, and hiked in for our afternoon fish out. The going was tough at times despite the sunny conditions. The southeast winds were unmerciful at times, but some BWO's came off around 1:30 and provided a good 45 minutes of consistent dry fly fishing. Small, gray #18 duns and emergers worked wonderfully. It was good to see a hatch in such crappy weather conditions. Streams are clean, decent levels, and very fish able right now.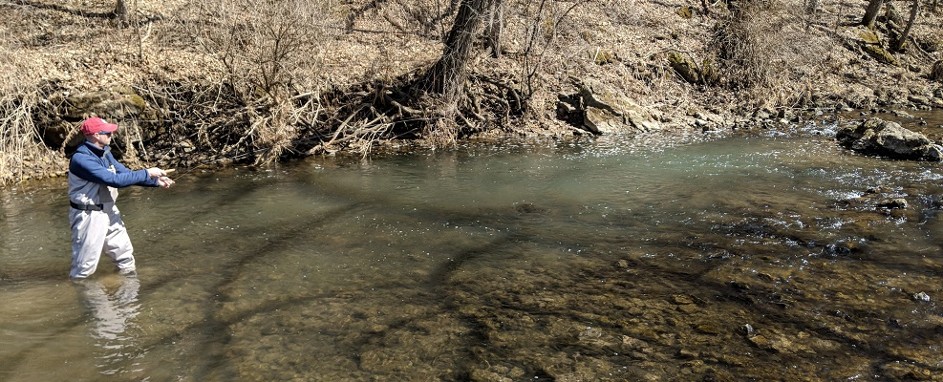 March 11, 2018
I fished most of the through the early afternoon hours on one stream, bouncing around access points and what not. The weather was a brisk 29 degrees, but no wind and overcast (perfect). Fish were not overly eager to chase down a streamer with water temperatures being cold due to runoff. Streams were not crystal, but they were not unfishable unfishable. I used a few different streamer patterns with mixed results.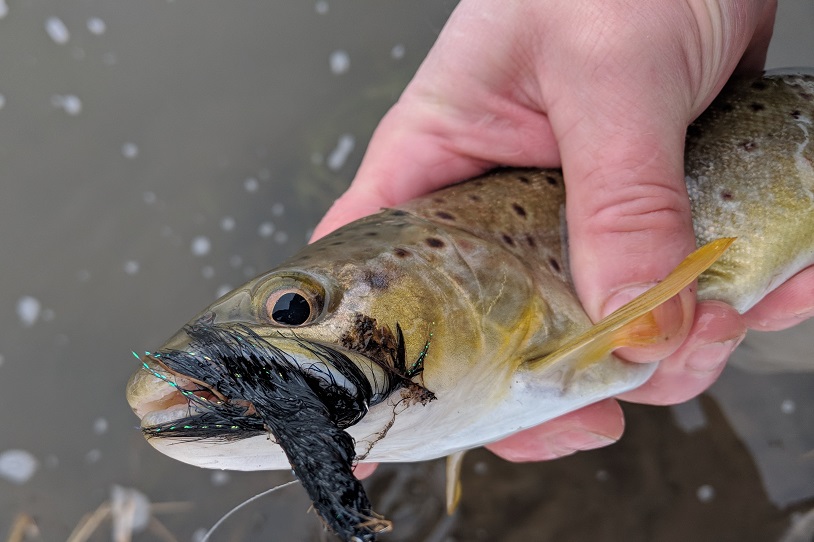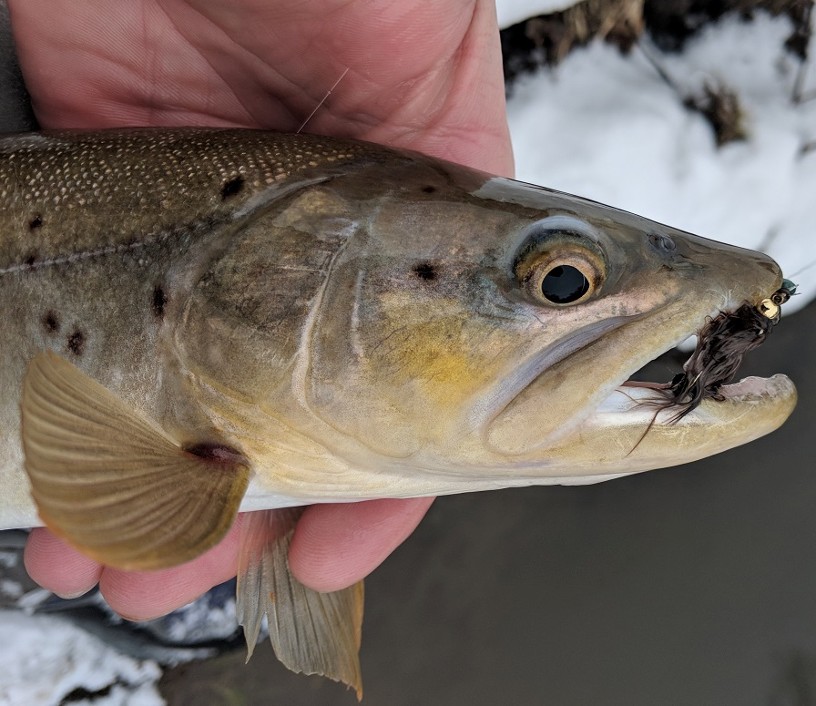 I also messed around with a variety of nymph patterns. They all caught fish, so one was not overly better than the others. A few midges were around when I left, but the fish were not on top consistently picking them up.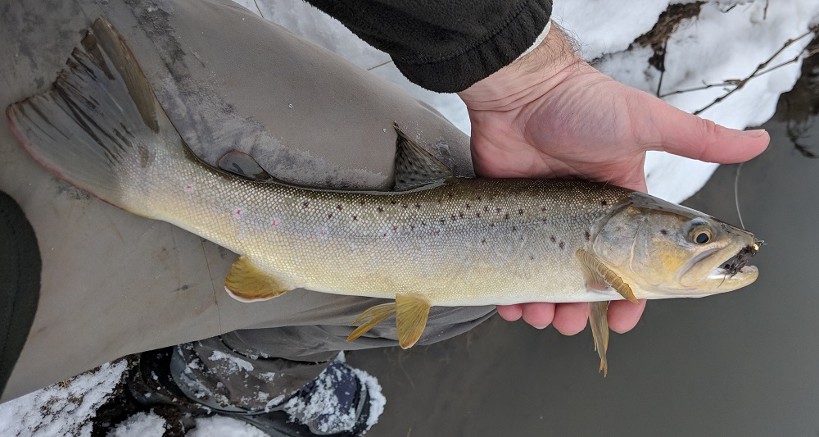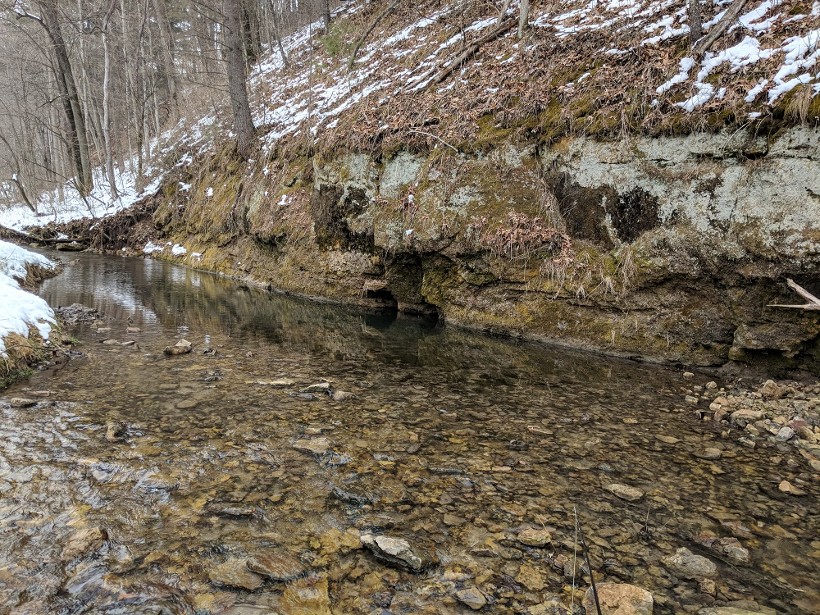 Temperatures are predicted to climb into the 40's and may touch 50 later in the week, so runoff conditions could become a reality in short order.
January 21, 2018
I finally got a chance to get out and partake in my first fishing outing of 2018. Family obligations and poor weather have been a main culprit so far.
I was on the water by 8:30 or so, plenty early by my standards, and still plenty cool out with temperatures checking in at a brisk 26 degrees. I geared up and broke out a new rod for 2018: Orvis Recon 10' 3 weight with 3WF SA fly line, a Rio fluoro leader with a tippet ring and 5x Rio fluoro. I know there are varying opinions of fluoro, but I did not have to change out my tippet once at all from 8:30-1:30.
I nymphed the whole day with a tandem nymph rig. Fish were in the pools, in the runs, and later, were right up in the faster water. I did very well in fast, shallow runs as the trout were eager to hit as soon as the fly was adrift.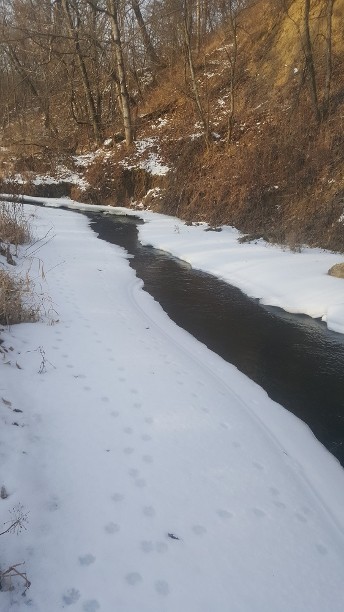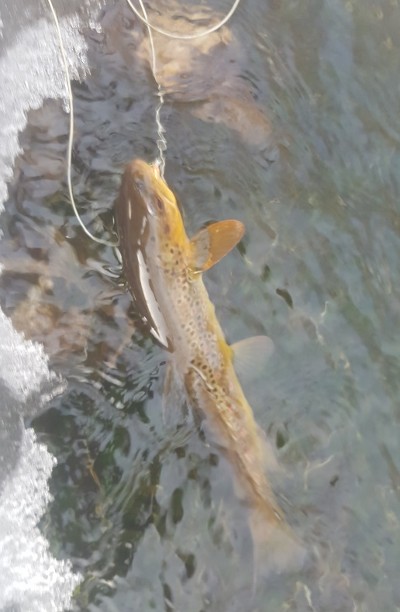 As you can see, the shelf ice is significant in places due to recent low, consistent temperatures.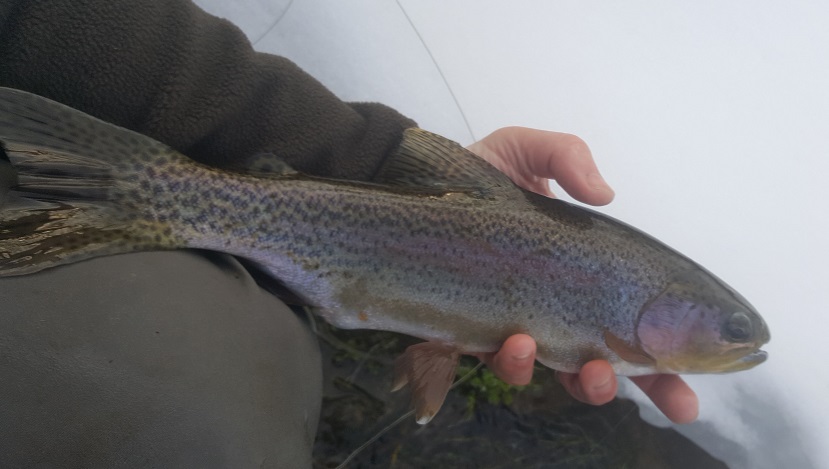 It was a good outing - plenty of willing fish and no other anglers at all. Now, it's time to focus on a playoff game #skol.