April 10, 2021
I spent the day with Paul, a client I have known for several years: great guy - funny, smart, and always up for an adventure. We decided to do something different and do some two-car fishing. We were the first ones on the water, and, truthfully, with yesterday's cold north winds and low temperatures, it didn't matter greatly.
We did a tandem nymph rig all day, and got into fish right away Saturday morning.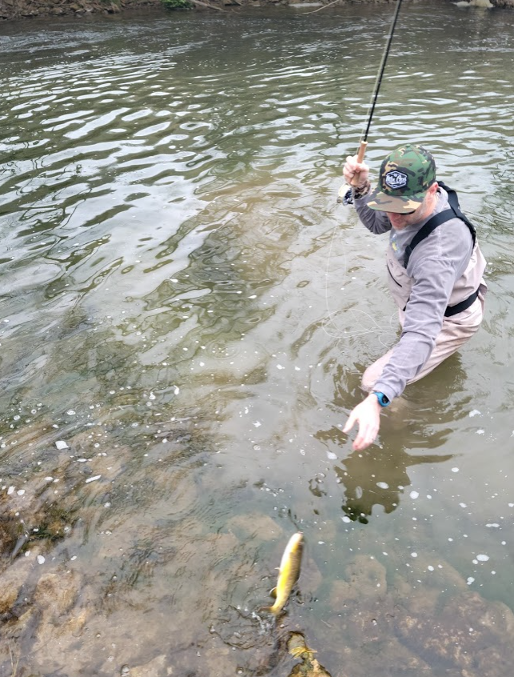 All the browns we caught yesterday with very healthy and in optimal spring time shape.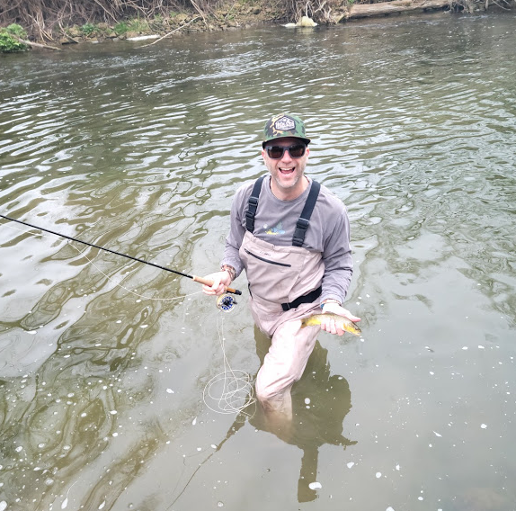 Paul did a masterful job of navigating this beautiful brown out the hole and around some trees before landing him, taking a few pics, and letting him swim off.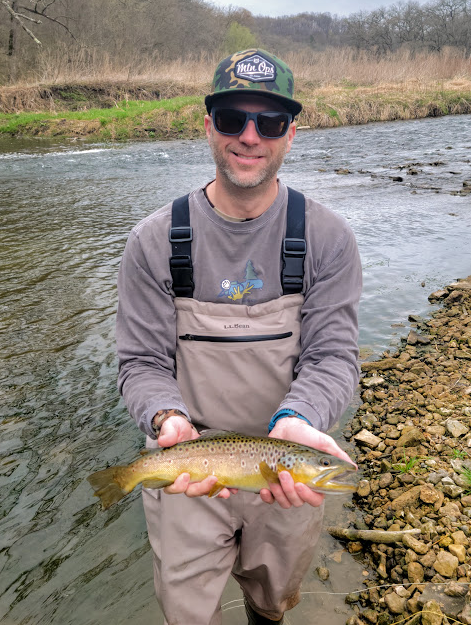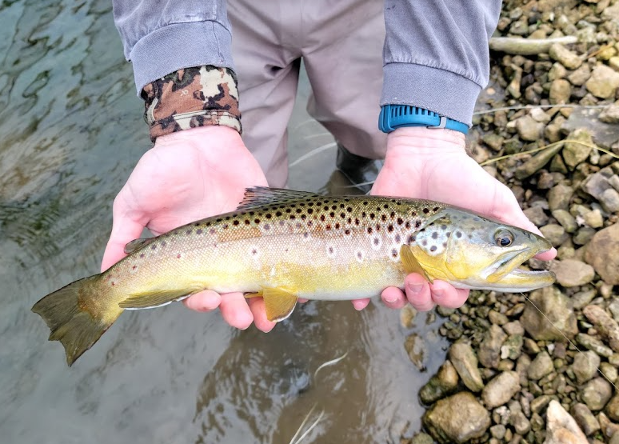 It was a productive, steady day. We didn't stand in one spot and catch a pile of trout, but we got one or two out of the typical spots and just kept moving.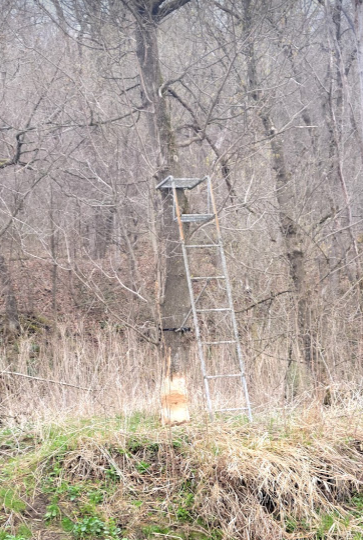 April 5, 2021
Last day of my spring break, so I got up and hit four different streams by the time I pulled the plug at 2:00.
There wasn't anythign really hatching in the morning hours with air temperatures starting in the 50's and the thermometer touching 81 by the end of the fish. Tandem nymphing was the ticket, using a variety of nymphs and emergers.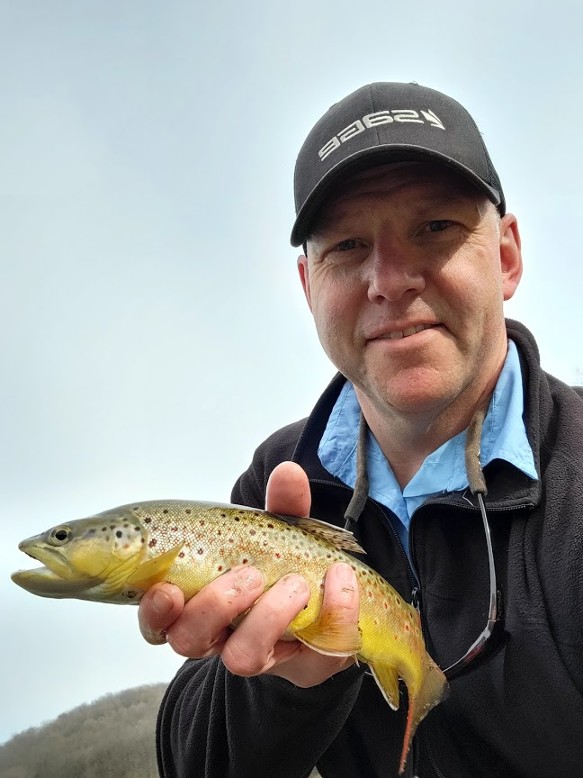 Area streams are super clean and super low (for now). Fish are spooky, so tread carefully.
There are a few atreams with plenty of sticker rainbows still around from last fall. They're fat and chunky, so if you want to bonk a few fish on the harvest opener, take these guys home with you.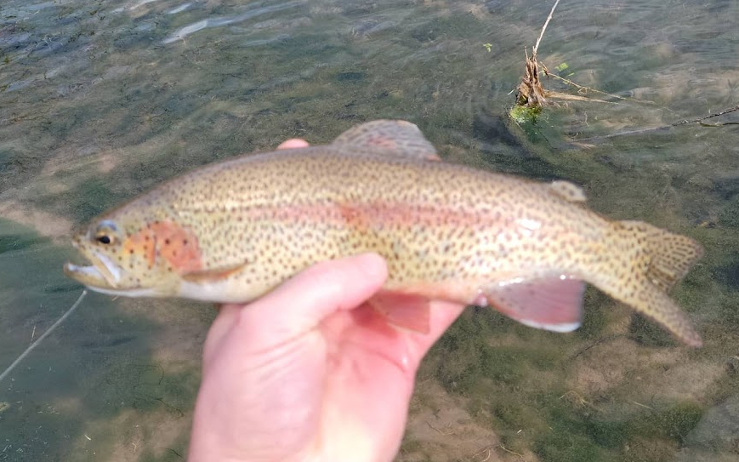 April 3, 2021
The morning started off with temperatures in the low 40's, but it didn't take long to get into the 50's and 60's by mid day. Midges were everywhere when I got on the water, but nothing was rising. Started out nymphing for a few holes, when fish started dimpling the surface sucking down emergers. It wasn't long before a few BWO duns appeared, and it was game on for the next three hours.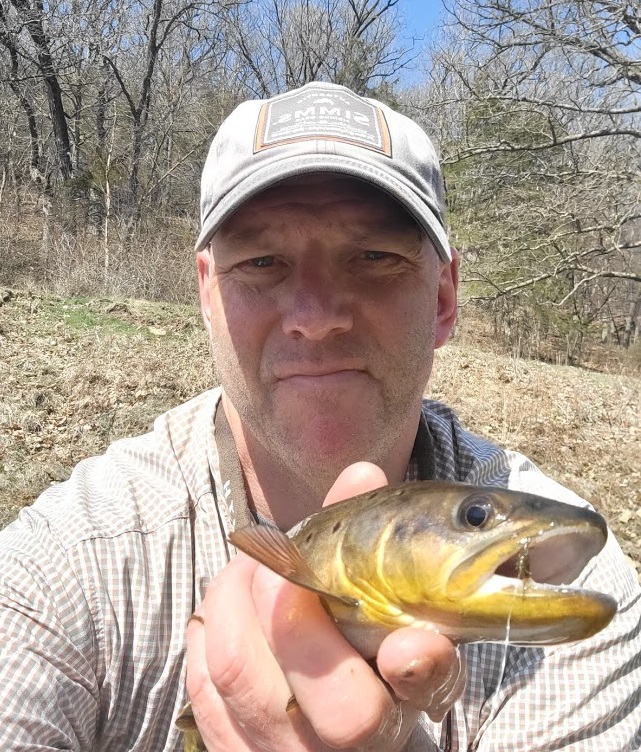 My approach was super simple: 5x fluoro leader to a #18 gray BWO dun. I trailed that with 6 x fluoro and a pattern dubbed by fishing friends as a cat turd - small nondescript soft hackles.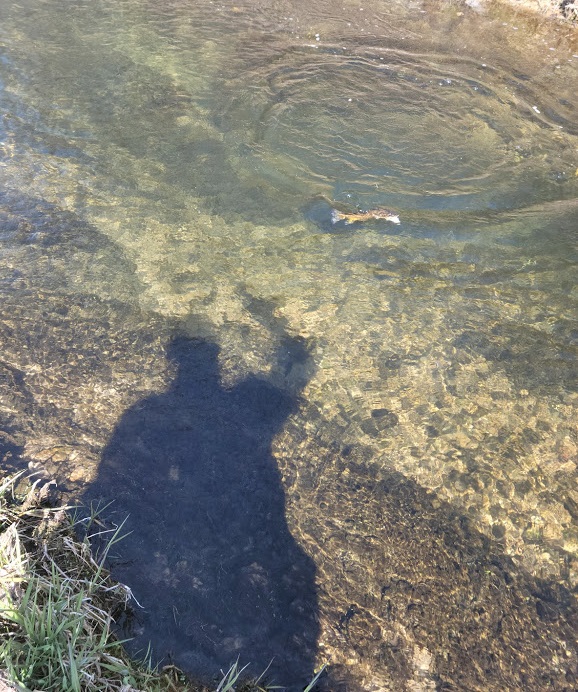 It was one of those days that there were fishing rising in every run and riffle, so the pace was very deliberate all day.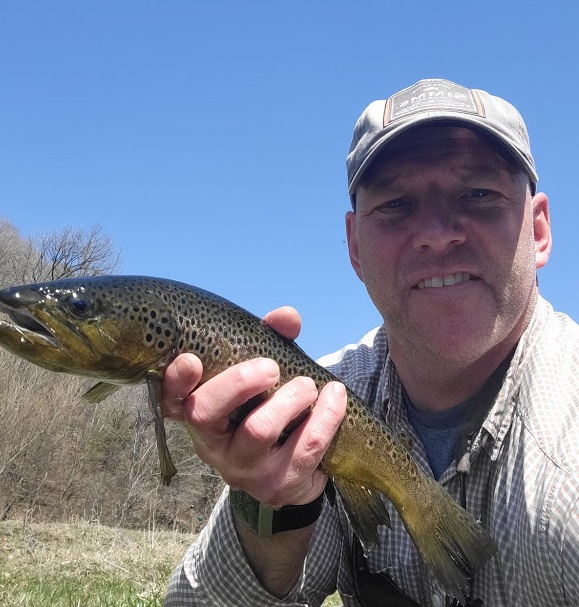 On my walk out, I stopped to admire the biggest cottonwood I've maybe ever seen, so big that I didn't notice the eagle nest in it the first time I walked by.
March 29, 2021
There are pros and cons to fishing on days like Sunday, where the NW winds were bitter and air temps hovered in the upper 30's. Wait, I mean, there isn't a ton of upside...other than there was literally no one around. The streams are clean after some steady rain Saturday. Temperatures are going to be all over the place the next week, but the constant is no rain in the forecast.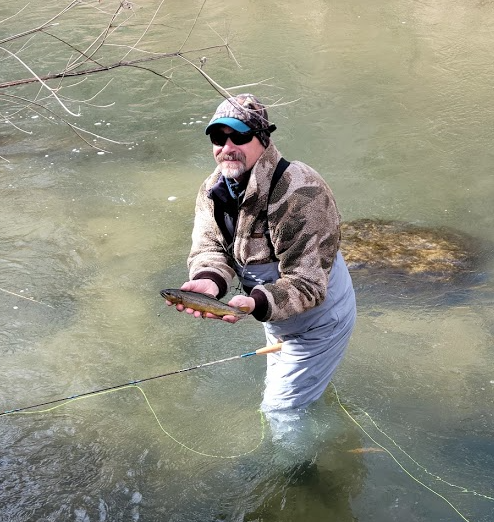 Andy and Collette were awesome clients yesterday. Funny, tough (Nodaks), and all around great people to spend time on the water. Andy is an Accomplished artist in his own right: Plains Perspective Gallery.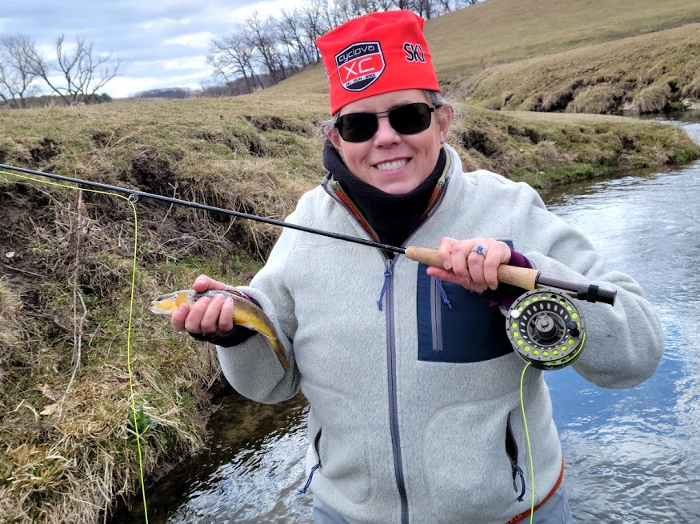 We tandem nymphed the whole day with a variety of trail flies seemingly working better and better as noon faded into early afternnon hours and temperatures started to peak slightly.
March 27, 2021
I'm doing a half day guide tomorrow, so I will have more of an in-depth stream report then. Steady rain most of Saturday in the Driftless, followed by wind and 67 Monday, colder temoratures Tuesday-Thursday, and a significant warm up Easter Weekend.
I'm booked for all day Friday 4/2. I can do some half day outings earlier in the week, mainly due to the weather. Easter Sunday is a no go, but Monday, the 5th, I am open all day. Contact me for an outing if you are interested.
March 13, 2021:
There's not much snow left in southeast MN....but you're in luck. 3-5 inches of wet, sloppy snow is slated for Monday. If you've been out on area streams recently, you will see that they are a little off in color, but I gauge the water levels, overall, to be on the thin side. Monday's precipitation will be a welcome sight.
According to my Fitbit, we put in around 19,000 steps and nine miles of water/walking on Saturday. Much of the day was spent exploring new water that I hadn't really fished hard in the past.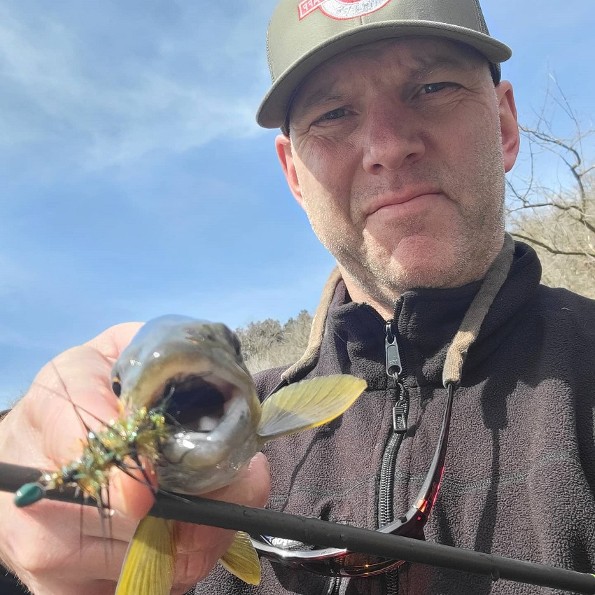 I fished streamers most of the morning on a new Orvis Recon 490. I hadn't planned on fishing it for streamers, but we called an audible last second. It performed well enough with the streamers, but it excelled when I set it up for tandem nymphing. It is a smooth, lightweight rod that won't break the bank if you are looking for a good, mid-priced model.
We ended up pulling up stakes and hitting another stream in the area - smaller and less stained. It was late in the day, so we didn't catch trout hand over fist, but we managed a few here on there on a variety of nymphs.
Openings next weekend: March 20-21. Contact me if interested in a guided trip.
March 6, 2021:
The weather just keeps getting better in the MN Driftless, a trend that will continue for a few more days.
A few observations from yesterday: Nice weather = lots of people out, at least for a day in March. I can't blame anyone for not wanting to get out and fish, though. Snow pack in the valleys is still significant enough to make walking longer distances taxing. Those who know me or have fished with me know that I do like to put on the miles, but there is a reward factor involved with that walk, like fish like this one: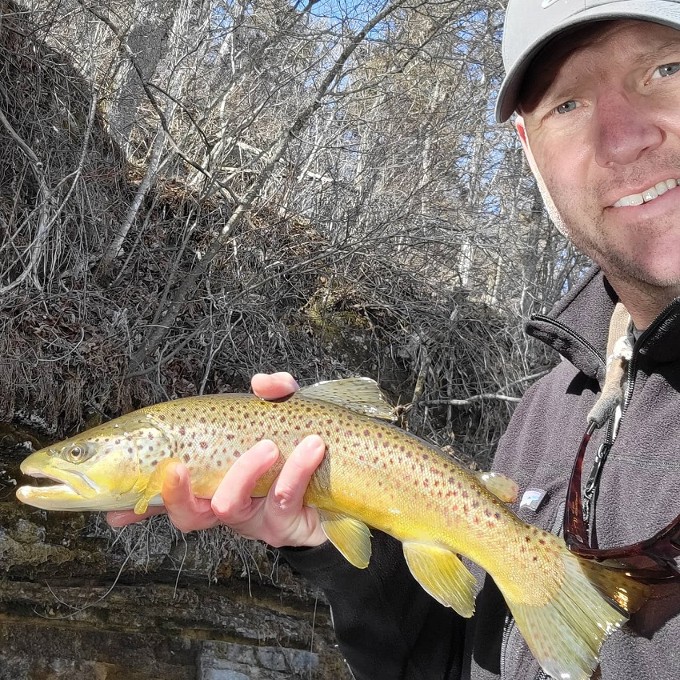 I fished a tandem nymphs rig most of the day. I changed my midge trailer up and starting picking fish off routinely. Sometimes appearance and size of the patterns you fish matter greatly. Yesterday was like that.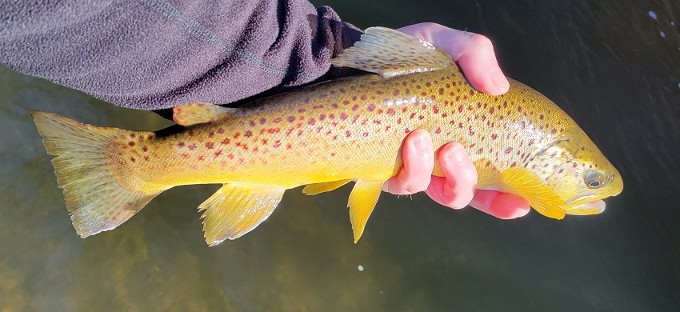 I did get the chance to fish the new Douglas DXF fly rod yesterday. I have the 3904, and it would rate it as good as any high end 3 weight rod I have fished in the past. It's not as stiff or powerful as say the Sage X 390, but it packs enough punch to get flies to where they need to go. While it does not excel at long distances, anglers aren't making LONG casts as a norm in the Driftless. Here, accuracy matters, and the 3904 fits that description.
I don't often give extensive gear reviews, and I'm not on the Pro Staff or some type of ambassador (whatever that means). I'm just an independent fly fishing guide who would recommend this is a check book friendly fly rod that I can solidly say is a great choice for fishing the Driftless area.
February 28, 2021:
The weather was slated to get blustery by noon, so I was on the water by 8:00. Nothing fancy today: tandem nymphing with a midge trailer. Midges did come off around 9:00, and there were some rising fish in places.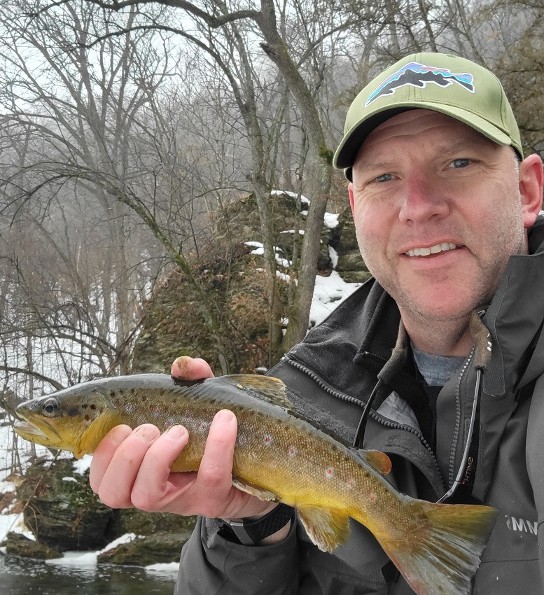 The fish seemed very healthy and were lying in typical winter fishing spots.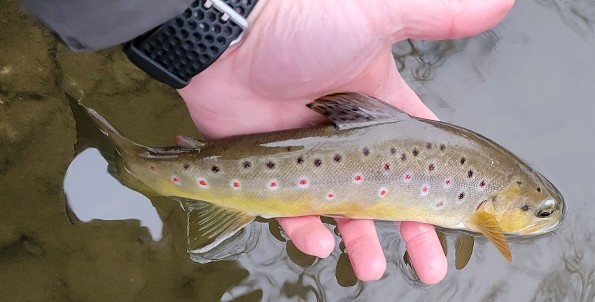 There was still considerable shelf ice in places, and walking along the edges of the river broke off massive chunks.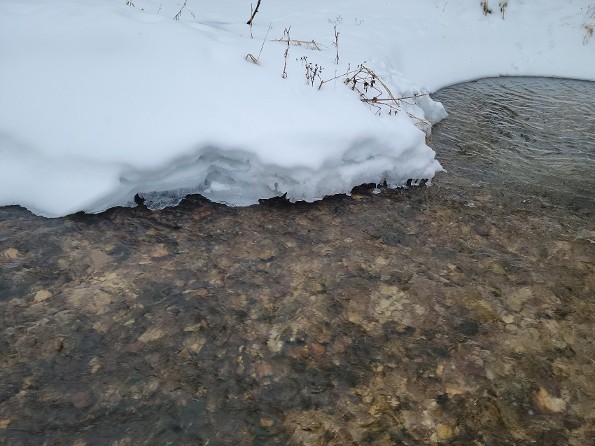 The best part of the day was near the end of the fish, when I heard a pack of coyotes fire up in the distance.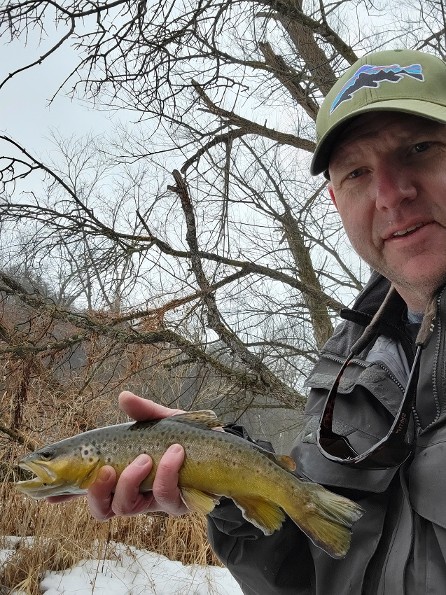 The melt this week should be significant, but it will also mess with water temperatures. Carrying a thermometer is useful this time of year. Don't be afraid to check temps periodically. If fishing slows down for you, chances are the snowmelt is dropping water temperatures to the point that fish may shut down.
January 21, 2021:
Area streams are still clear with nymph rigging being the most productive. Streamers have been producing as well. Weather, overnight, has been plenty cold, so fishing daytime through the noon hours is a good idea to increase your odds of targeting actively feeding fish.
Snowpack is not an issue, so walkiing up and down the stream banks will not pose much of a challenge. The Driftless, as a whole, did not have much in the way of consistent, meaningful precipitation to recharge aquifers and get stream levels up. In short, the water is clear and low. Stealth is of the essence.