September 24-26, 2021
I spent three days bouncing all lover the southeast with childhood friend Troy, from the Metro. Friday was a stellar weather day, and the trout were very cooperative until a front and some rains rolled in and shut things down.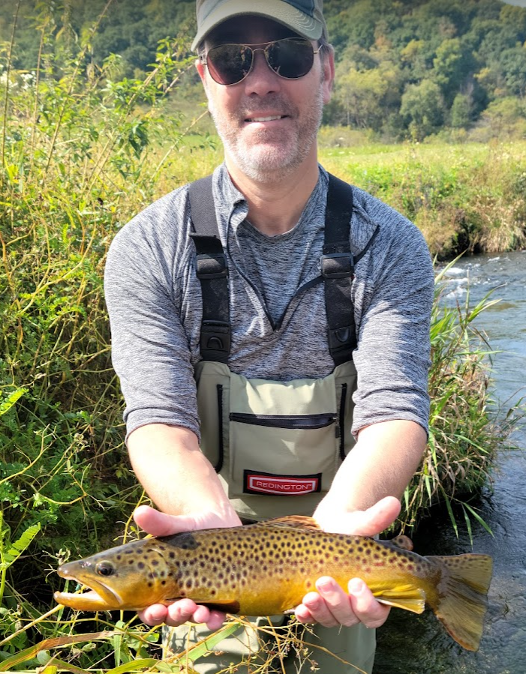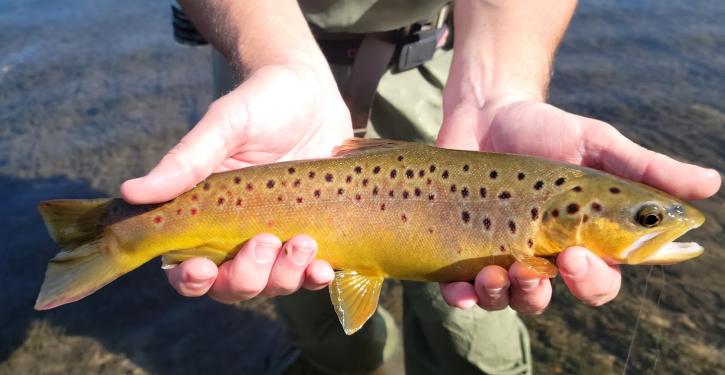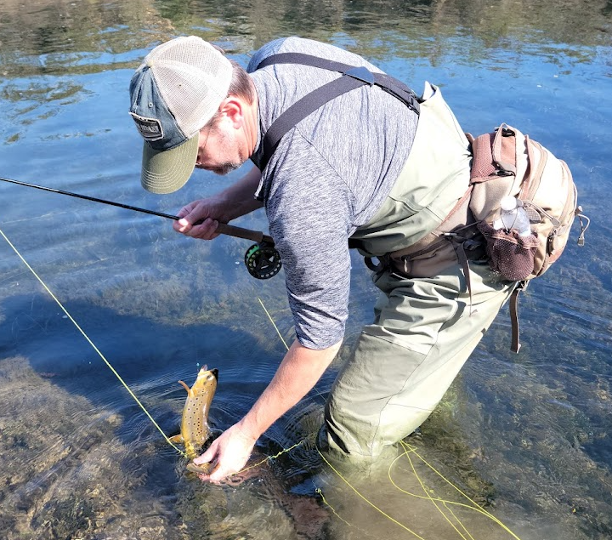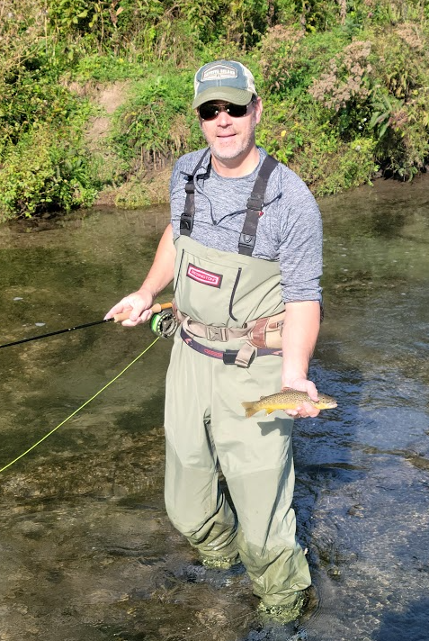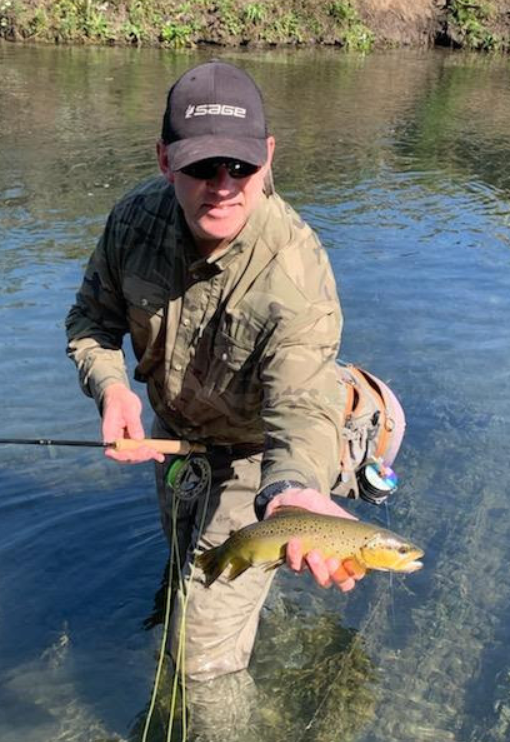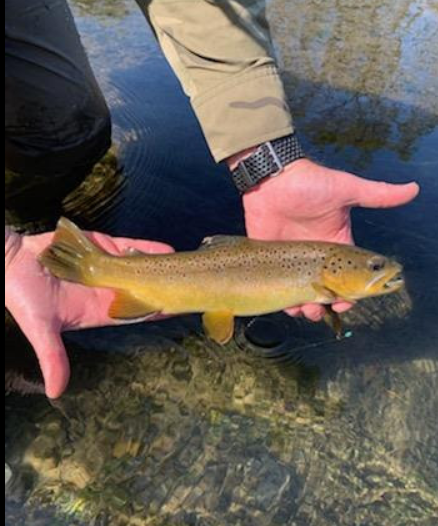 Saturday was a weird weather day: lots of cloouds, some wind at times, and not enough heat to get any meaningful insects moving to kick fish on. We did hit a nice BWO hatch around 3:30 for a bit.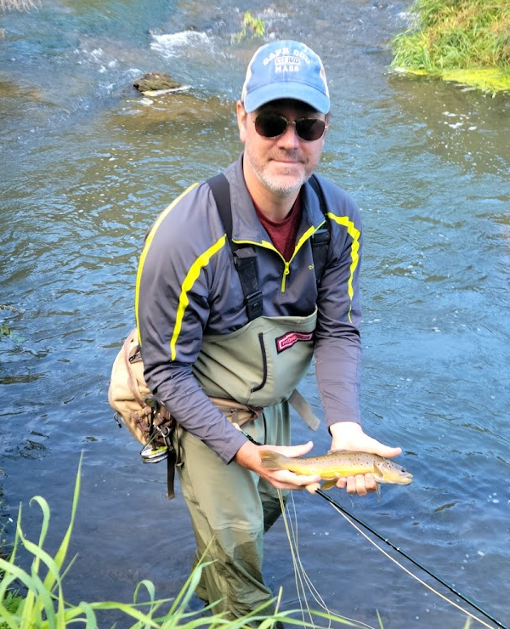 Sunday was a brief outing, so we had only one thing on the bucket list: brook trout to complete the Driftess Trifecta, and we each manged to get one.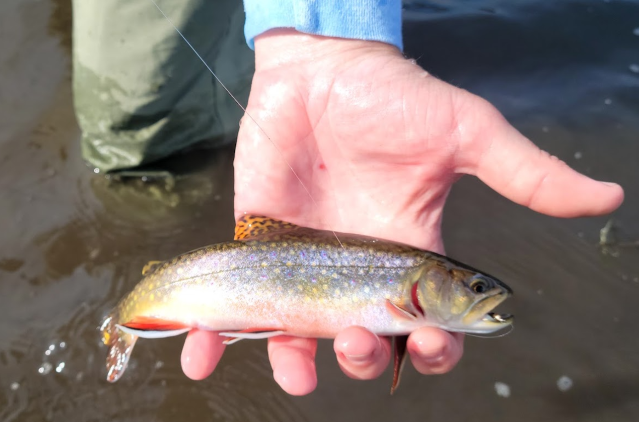 August 29, 2021:
Clients Tom and Dean were en route to meet up for a half day of fishing, when I had to call an audible. I watch weather maps consistently, so I had planned to meet up in an area that wasn't deluged over the last several days. It's pretty common for me to go check out streams before meeting clients, and Saturday reminded why I embrace that practice. The stream was blown out and chocolate milk. It wasn't over the banks, but it wasn't fishable.
The audible took us to a stream I knew would be clean, and it looked as it no rain had altered its flows whatsoever.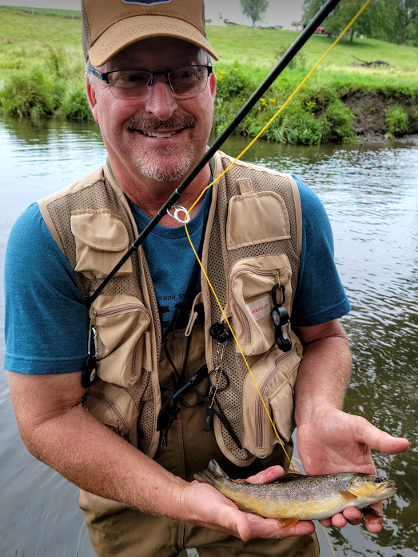 We did a little dry and dropper early on, emphasis on the dropper being the fly of choice. Later, nymphing the runs was where it was at. The early morning sunshine gave way to clouds and some serious south wind, making accuracy and presentation challenging at times.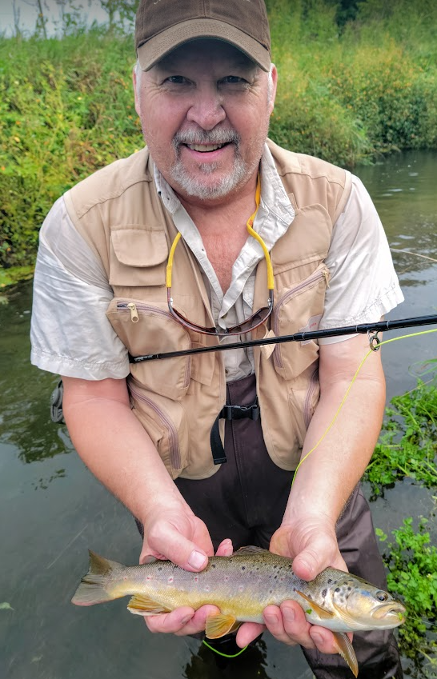 A reminder that the season officially closes on October 15, so we're about a month of half from the end. If you want to get in one last guided trip before it ends, please contact me directly. I already have several weekends booked at this point. I can guide weekdays, but it will take a little more planning to work around my other job. Remaining Weekend Openings: September 11, 12, 18, 19.
August 26, 2021:
I decided to get out for a few hours in anticipation of some significant rains on Thursday, which never materialized where I was fishing. It was pretty damn humid with no airflow was nonexistent. The short of it was that I sweated my ass off, but in the end, it was all worth it. I tried a little hopper/dropper out of the gate, but the fish weren't interested. I did better double nymphing with no indicator on what little deep pockets I encountered.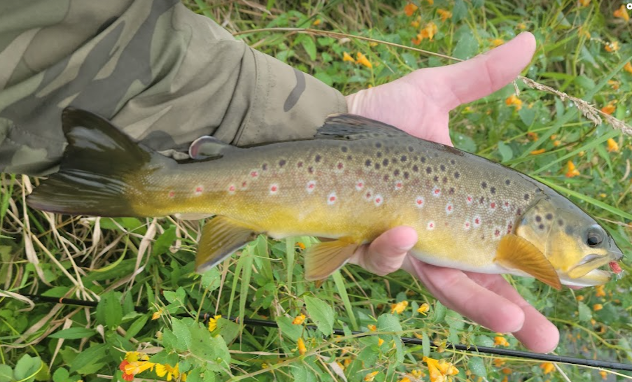 I did catch enough fish to make it worth my while today, but I also covered a bunch of water, seeking out deepr runs and pools where they were holding.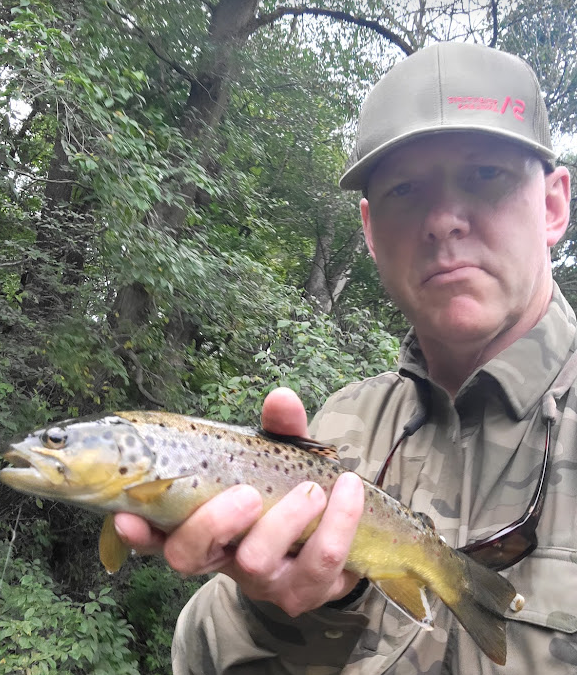 This was the last fish of the day. In fact, after I landed him and took a few pictures, I didn't make another cast.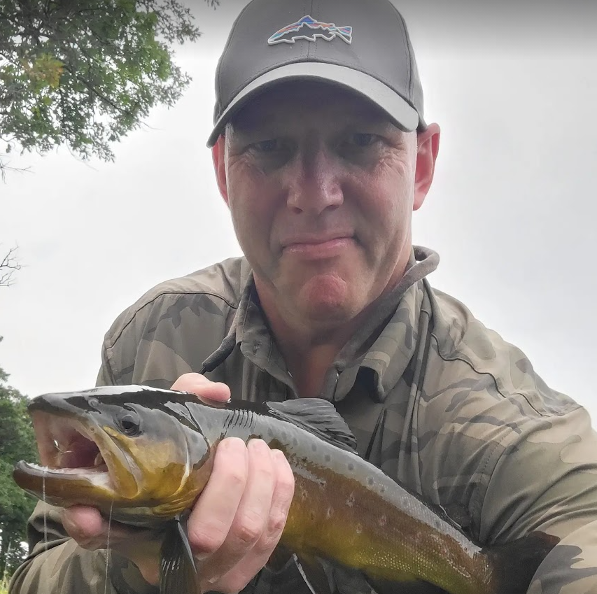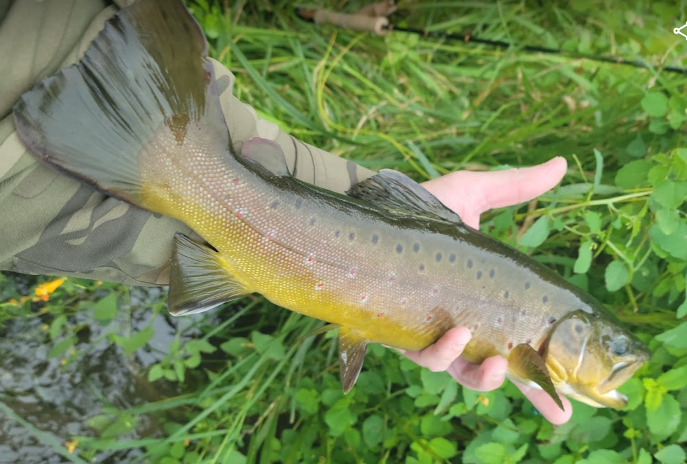 August 19, 2021:
I've been doing a little bit of fishing and guiding this month when the weather has been cooperative. A friend was leaving town for a while, so we got together Thursday to fish in unpleasantly warm and humid conditions. Whatever recharge area streams got from the prior week's rain has quickly gone away.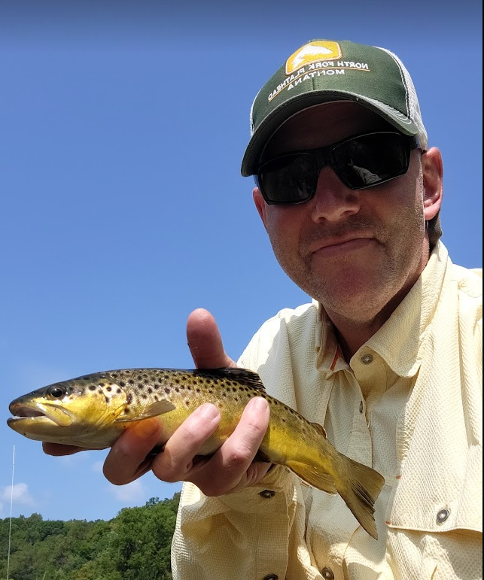 We both started the day off with dry and dropper, more out of necessity fishing low water streams. I switched it up to a tandem rig - #14 PT with a #16 PT as the trail, a trick I learned many years ago from one of my mentors, Norm Zimmerman. I consistently caught fish all morning with that set up, but by the time the sun got to its apex at noon, things shut down.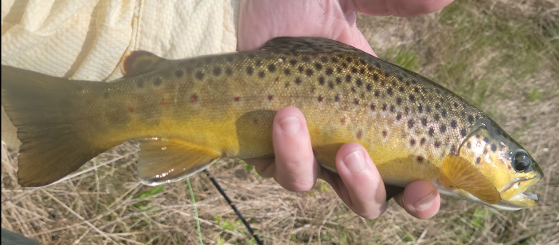 I don't have a pile of guiding openings left for August, and my September-October schedule is relegated to weekends with school on the horizon.
August 1, 2021:
I personally have not fished southeast MN much as of late, other than guiding clients. After my trip to NW Montana last week, the weather finally broke enough for me to get after it. Sunday was a fantastic day: sun, some light winds, and low temperatures.
I opted to fish dry and dropper the three hours I was on the water. I tried a few different terrestrials out of the gate before finally dialing in a pattern trout were willing to take consistently: an orange Madame X with black legs tied parachute style. High vis, high float. I dropped it with a #16 Pole Dancer, a pattern that I modified from a friend who got into the pattern after picking it up out west.
It was also the first time I pulled off the Driftless Trifecta this summer: brown, rainbow, and brook trout....all on the same dry fly, too.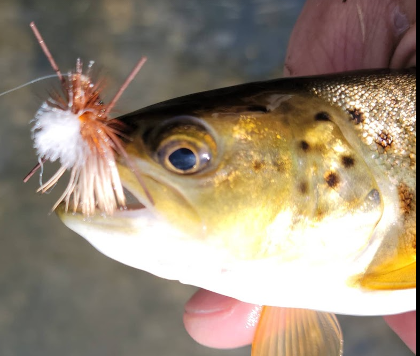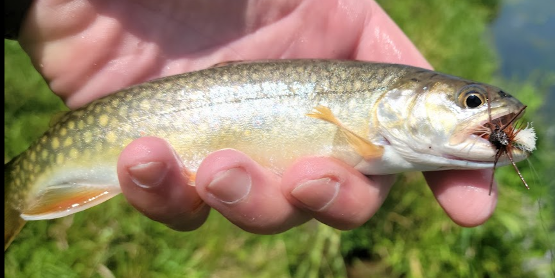 Water is still low, clear, and fish can be spooky. Making longer casts helps catch rate significantly.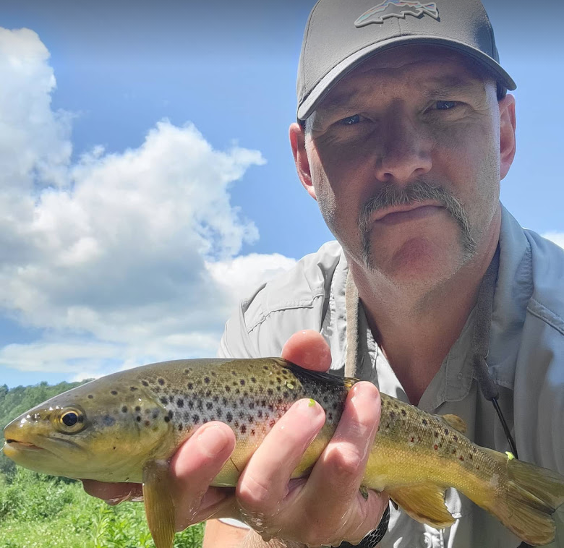 July 29, 2021
I spent the morning with Matt, a Minnesota native now residing in Atlanta, for a morning on a stream south of 90. The recent, welcome rains had put the stream a bit off colored (should be fine by the weekend), but we did very well all morning on a dry/dropper combination.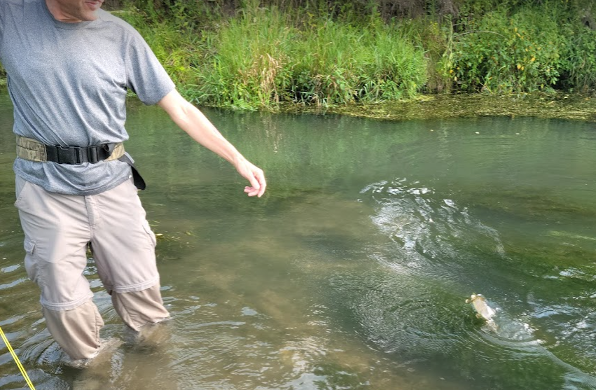 A few trout were receptive to the dry, mainly in thinner, faster runs that were not overrun with vegetation, which is common in the southeast right now. We did manage a few on nymphs, but predominately, the fish we caught were on the dropper portion of the set up.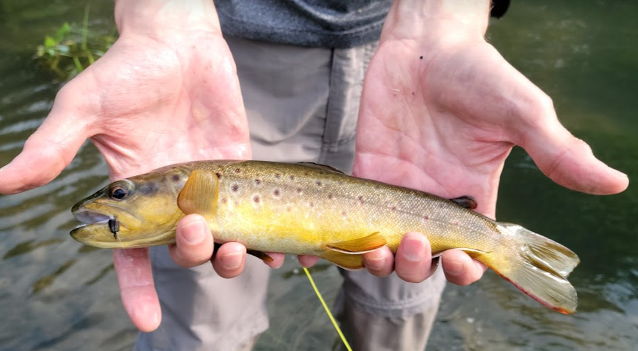 There are a TON of grasshoppers streamside right now. The dry spring/summer has definitely aided their numers, and fish are keying on them.
July 16-17, 2021
I first fished with Frank two years ago as he was in Rochester for work related obligations. Covid torpedoed us fishing last summer, so we had a few days to get after it this year. Frank's a salt water guy, which means he can cast, so getting line out to fish was never an issue. With very good water conditions, in terms of clarity, right now, having the ability to throw some line is a huge advantage.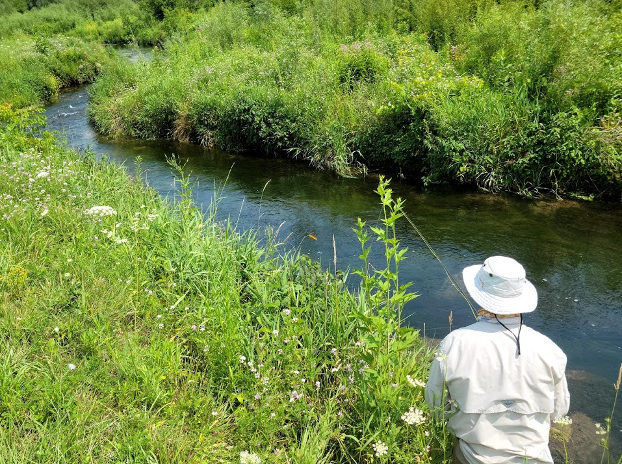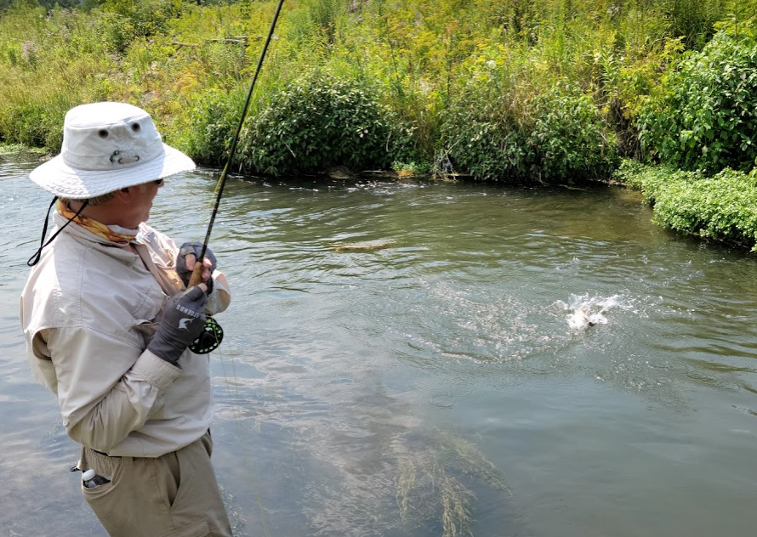 We fished a little everything Friday: nymphs, dry/dropper, some small emergers to try and match a brief hatch we ran into that morning (not tricos). It seemed that 11:00-1:00 was go time and fish were all over whatever we did (mainly the dropper).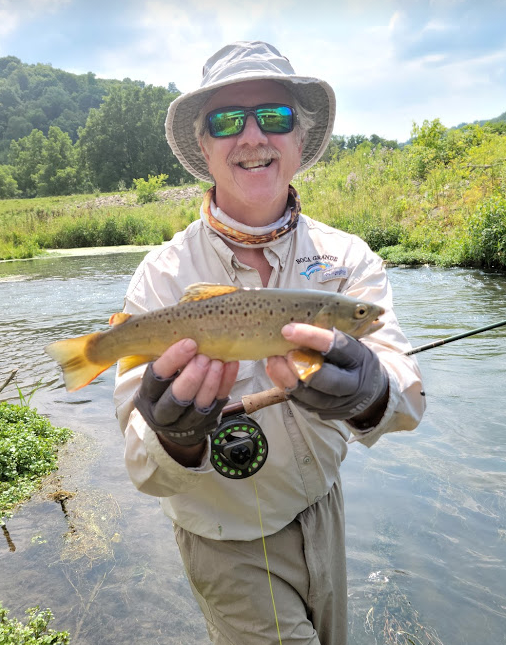 We fished two streams (one for most of the day) and did well on both, saw one other angler, fished none foot four weights with 9-10" of leader: nothing complicated.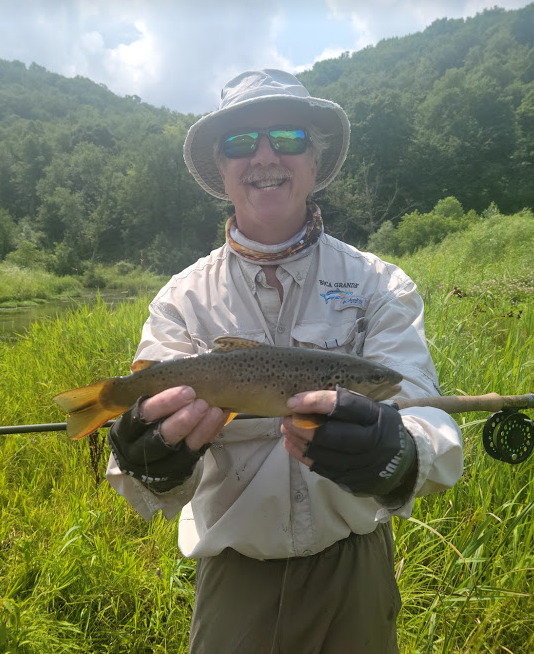 Saturday, we fished one stream, but we fished it in different areas by morning and afternoon. We really did very little nymphing and primarily stuck to dry and dropper, but the trout were responsive to it, so there was not reason to change.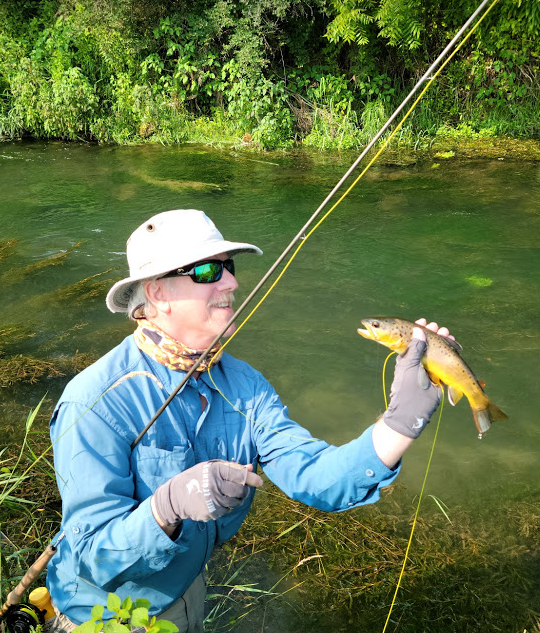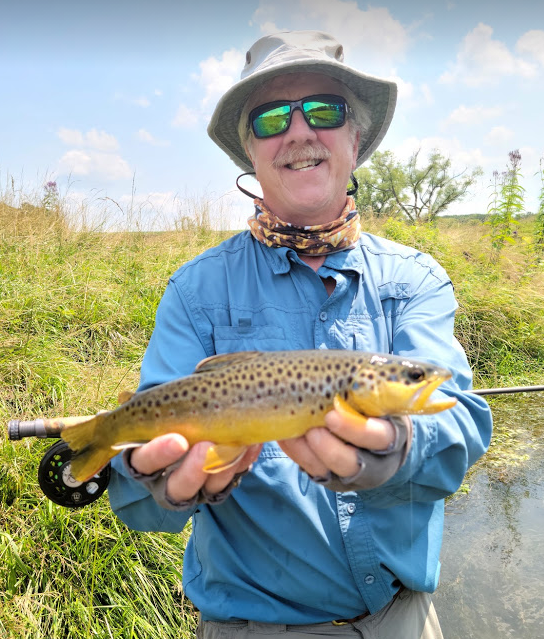 We wet waded both days as there is NO good reason to be wearing any type of wader right now. We ran into one guy coming off the water Saturday AM with full chest waders. Why? Staying cool and staying mobile is huge right now.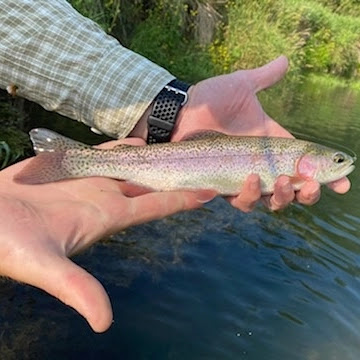 I'm off to Montana Wednesday. A report when I get back. More guiding bookings opens up after that if you are interested in lining up a trip.
July 4-5, 2021
I did a couple of half day morning guides over the holiday weekend. Both days, we got our and hit the water early do dodge the heat and humidity and give my clients th best shot at success. We did a variety of nymphing pools in the off colored water switching over to dry and dropper in the cleaner runs. Fish were all over the dropper in skinny pocket water, while they took the dry enough to make things interesting.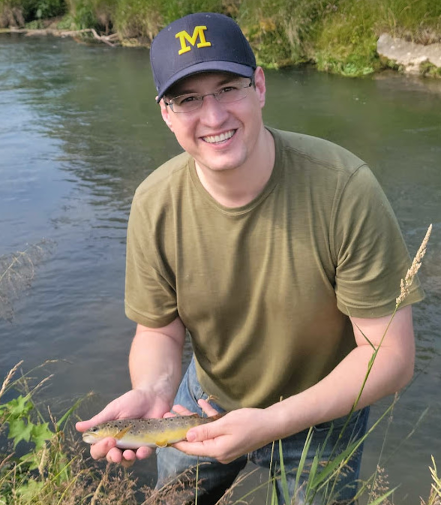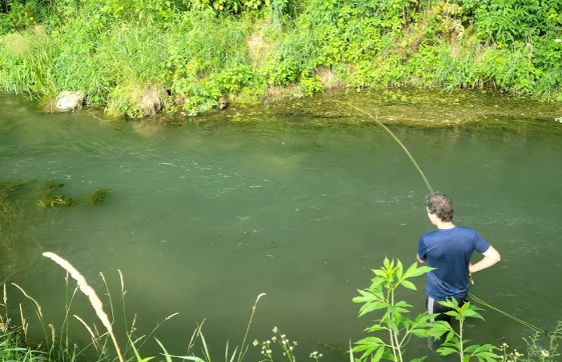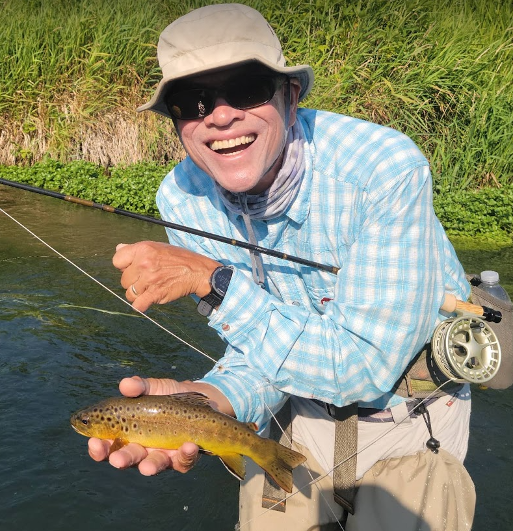 A neat part of being a guide is the people you meet: Andreas and Luis are originally from Argentina, went to college at the University of Michigan, and are now successful professionals in the States. John was born in North Dakota, grew up in Minneapolis, and now lives is Boston. All three had never fished the Driftless before this weekend.
June 27, 22021
I finally got back out after a few weeks off due to high heat and a family trip to the central lakes region. Doug and Robert were on the water the whole day to very good conditions after the rains on Saturday. We did a bit of nymph rigging on the deeper holes, but they were few and far between.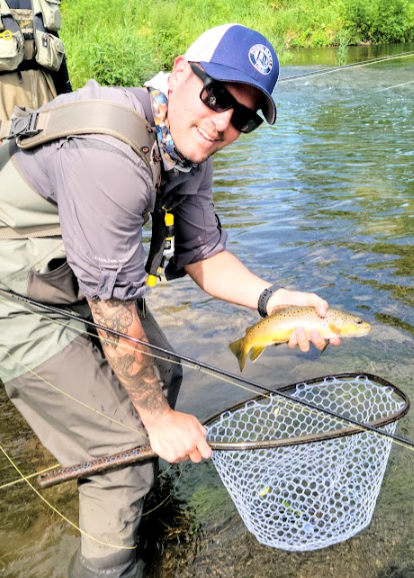 Eventually, we switched over to a dry dropper combo and did very well through the late morning into the afternoon hours.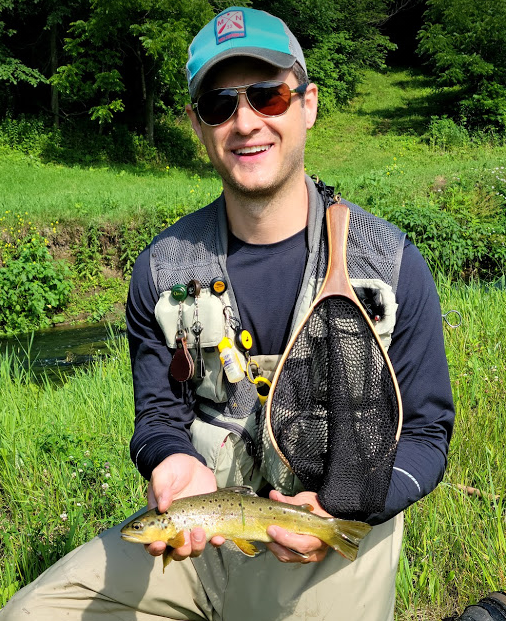 We saw a pile of trout and managed to catch quite a few as well. They were fat and healthy and had great coloration.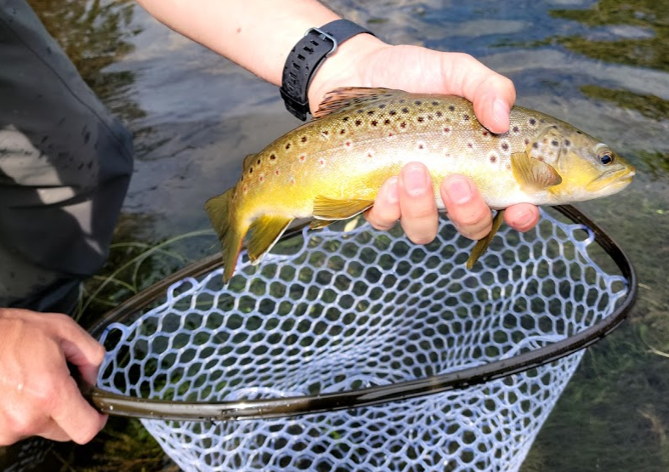 June 3, 2021
Thursday was a beautiful day on the water. My long time Fred and his buddy Tab from Denver, Co. were in the area bouncing around for a few days. We didn't really hit anything meaningful in terms of hatches, but the warm spell has definitely kicked the trout activity.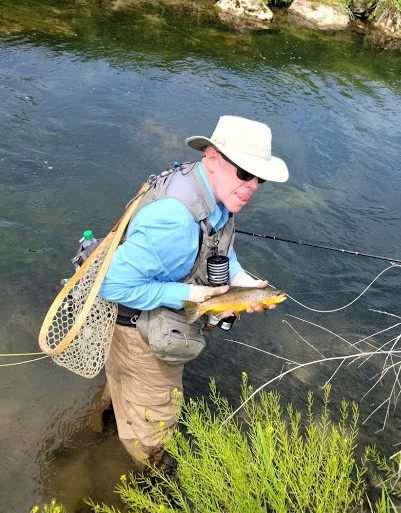 Beadhead PT's trailed behind a tan caddis dry was the hot all day. Nymphing what few deep runs we encountered, a CDC dark tan emerger was on fire.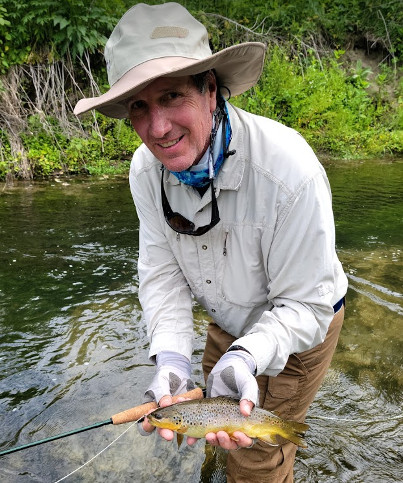 We parked two vehicles and covered a bunch of water in six hours. Things shut down significantly at around 3:00, mainly due to the heat and temperatures in the 80's.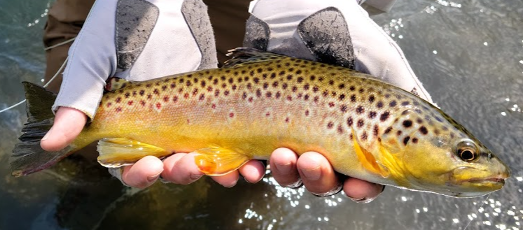 I urge everyone who is wanting to get and fish to use some common sense. The lack of water and high temperatures are going to stress the fish out, so fish early in the day, watch those water temperatures, and stay hydrated.
June 1, 2021
I spent the morning with a new client, Eric, from the Metro, and fishing was lights out. Hatches were going immediately when we arrived (midges), and we had hatches going when we left (tan caddis and smattering of March Browns). We dry droppered the entire morning and did nothing on nymph rigs.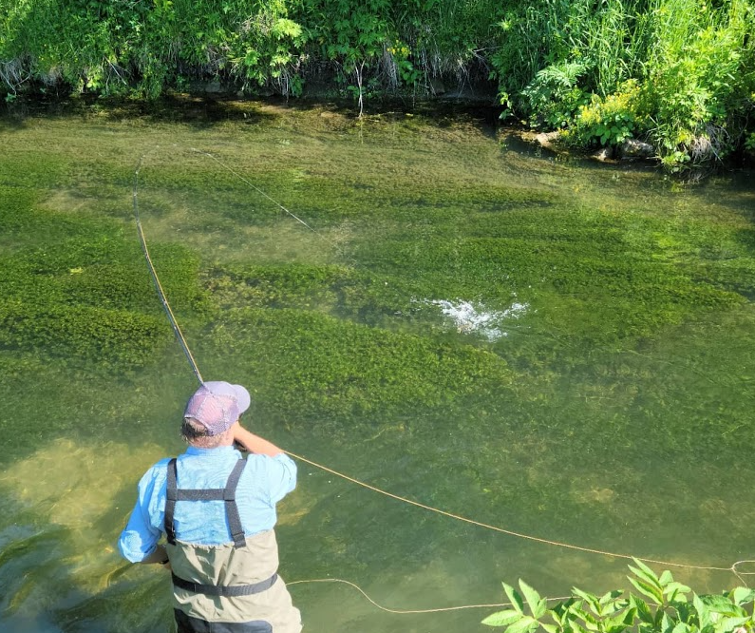 Eric was an excellent caster, so getting a bunch of line out in clear water was not a problem. Talked to some buddies who fished last night as well and had similar success with dry and dropper. Some good weather this week should equate into some good hatches before things get super warm this weekend.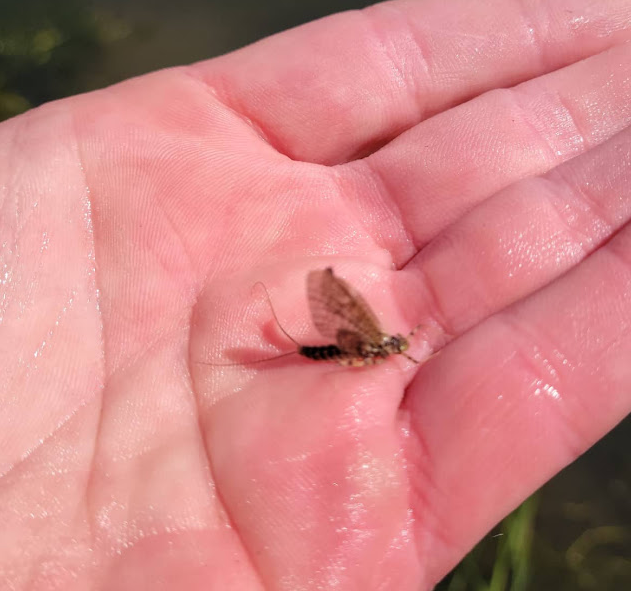 May 25-26, 2021
I spent half days Tuesday and Wednesday with cleints in various locales. Streams are still well below normal flows despite recent rains. I found some streams to be off colored (great nymphing conditions) and others to be gin clear. We had little luck with a variety of dry and droppers. Nymphing tandem rigs in pools was, and has been, very consistent. There should be some decent March Browns and Light Hendrickson action around the corner.
It's raining throughout the Driftless now (Thursday). I will probably check a few spots tomorrow and get a better gauge of conditions heading into the weekend.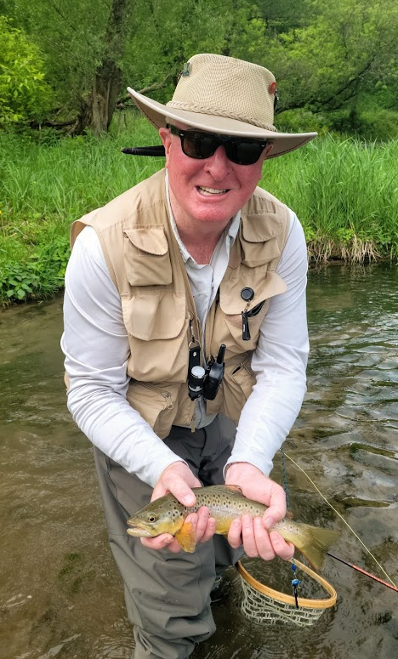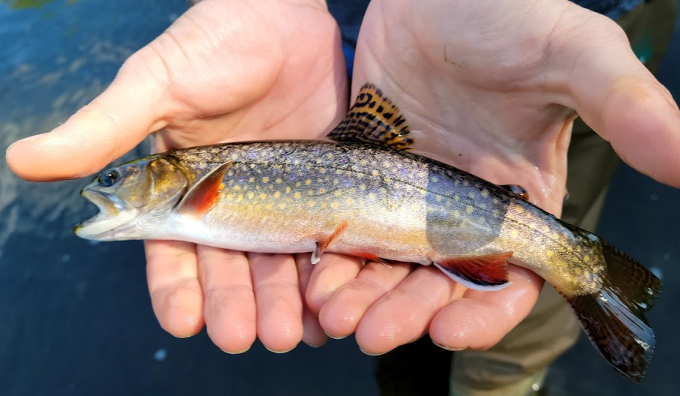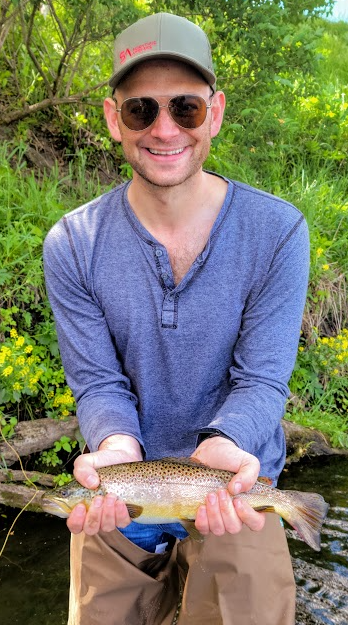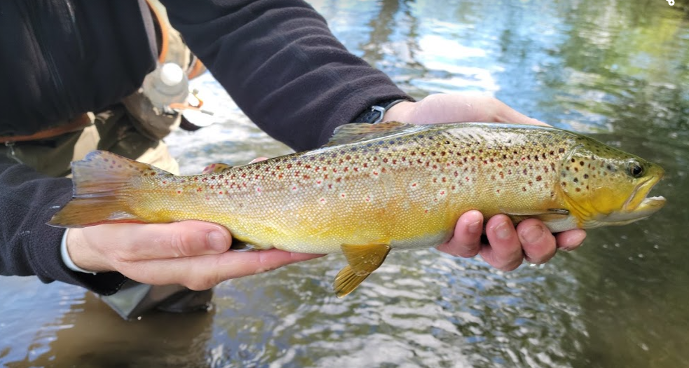 May 15, 2021
I spent the morning on the water with Josh and his father-in-law Jeff, who was a newcomer to the sport. Josh is a helluva a good caster, and once we got him to nymph without an indicator, he had fish on all morning.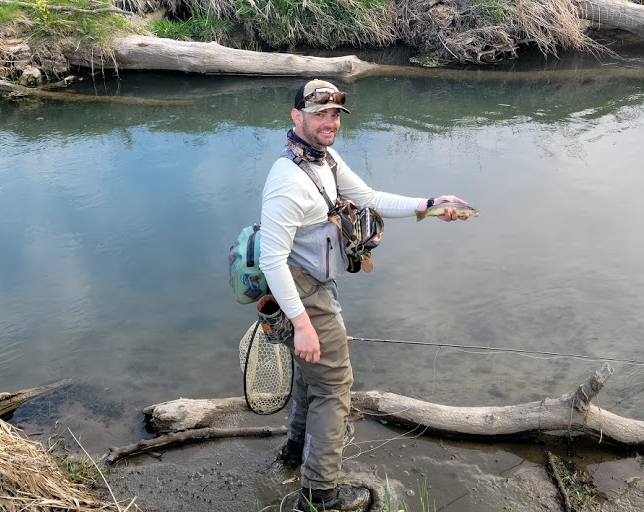 We got Jeff his first ever trout on a fly rod in the first run he fished.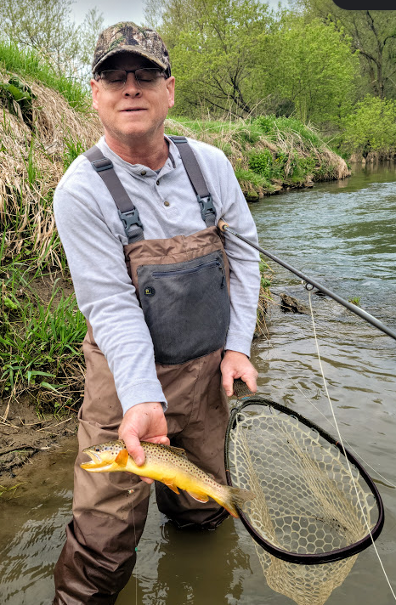 The rest of the day was spent bouncing from hole to hole. Fish were definitely deep yesterday no hatches and cool weather. Josh's ability to get deep, put on some lead, and take the indicator off was a huge part of his successful outing. Jeff stuck to two flies and an indicator, fishing the fastrer and deeper runs.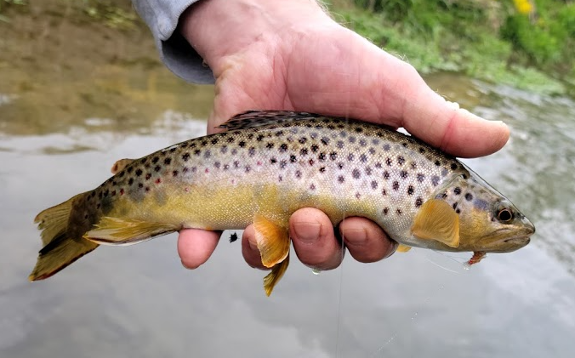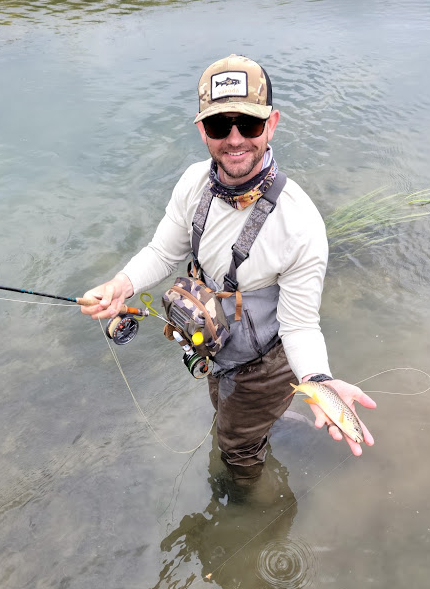 May 13, 2021
Thursday was finally a decent spring day - plenty of sun and then a few clouds with minimal wind. Streams are still plenty low and clear, but fish were feeding with good casts and drifts. Nothing on top, hatch wise, but turning over rocks showed caddis still yet to hatch.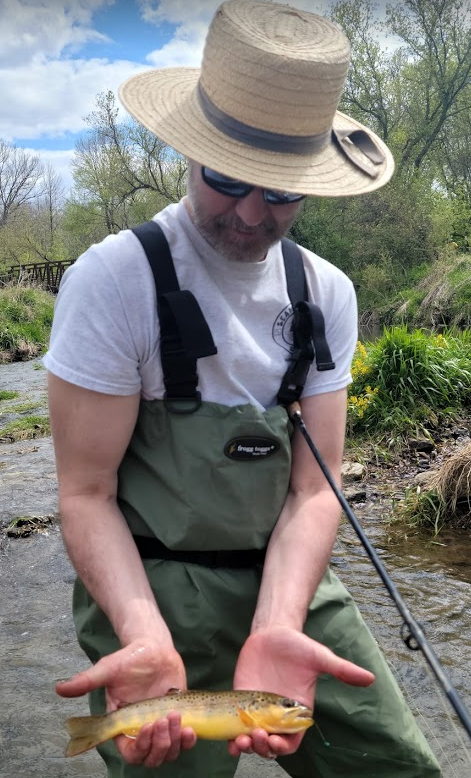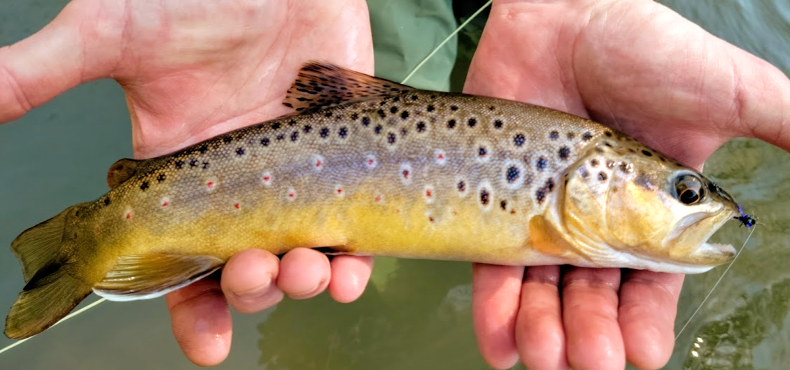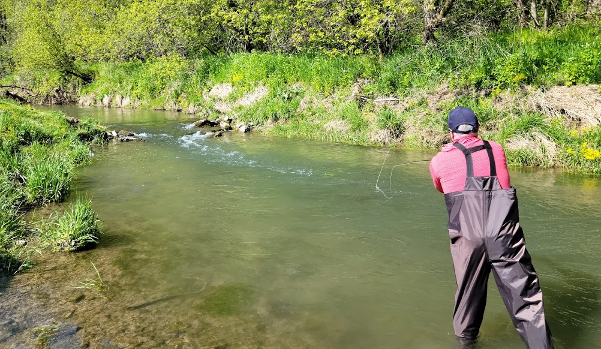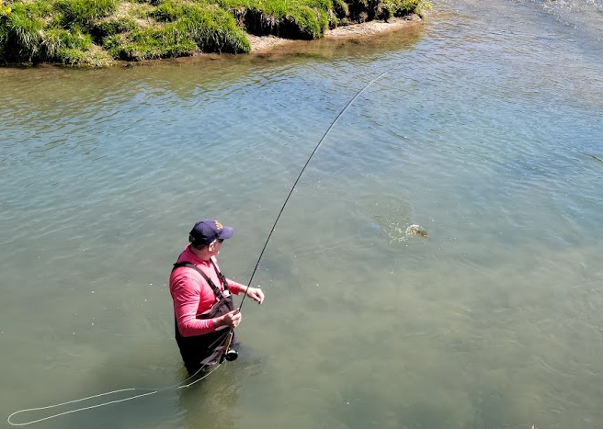 May 8, 2021
Andrew and I spent the day hitting up a few different streams in southeast Minnesota, and it was definitely an outing with extremes.
The morning was sunny and bright. The stream was crystal clear, and we even had fish rising in places to some minutae that we couldn't decipher.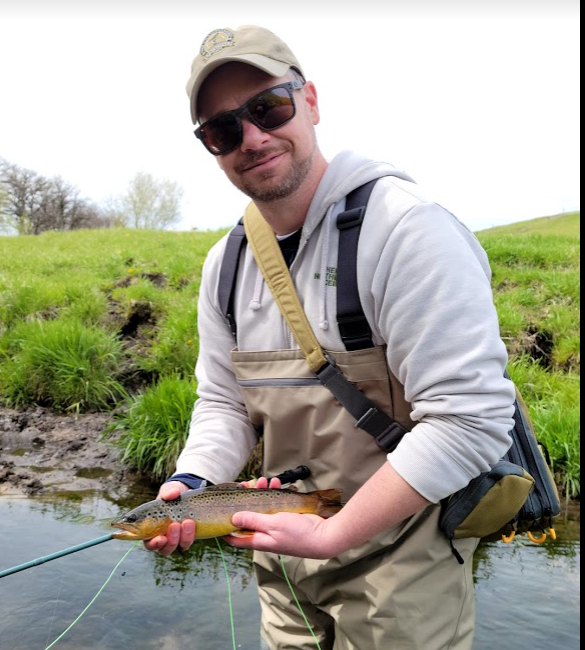 Fishing was solid all morning with nymphs.
The clouds rolled in, the wind picked up some, and fishing went down the shitter as well. Granted, it was still a great time onstream, but the catch rates definitely slacked off.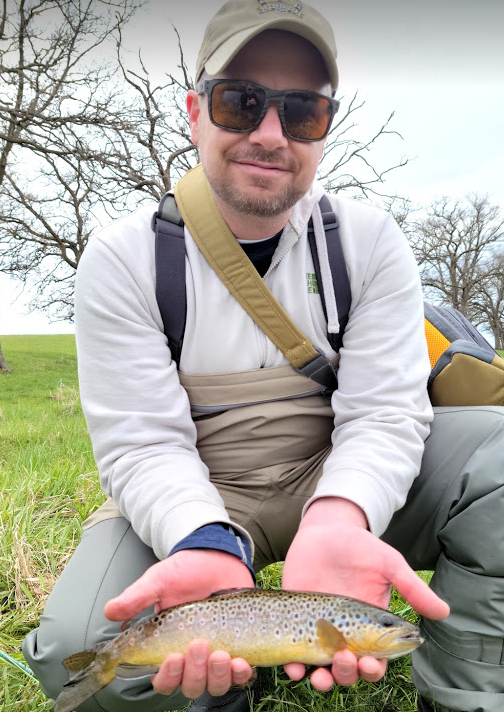 Streams are still as they have been all spring: low, clear, and in much need of a recharge.
May 1, 2021
I spent the day with Dave from Rochester, reacquainting him to some area streams after a short layoff from the sport. Dave can cast very well, so the heavy S/SW winds that buffeted us all day weren't an isse when it came to getting flies out on some trout.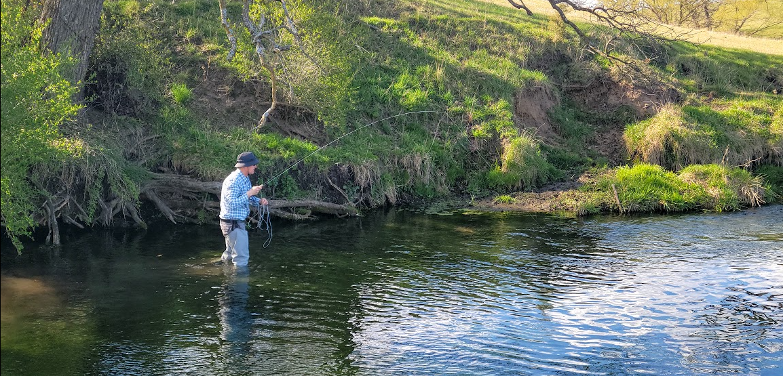 We fished a mixed bag of streams: one was a brookies/brown combo platter. The second a bit more heavy on the brown trout front (but we did catch and release one beautiful rainbow stocker).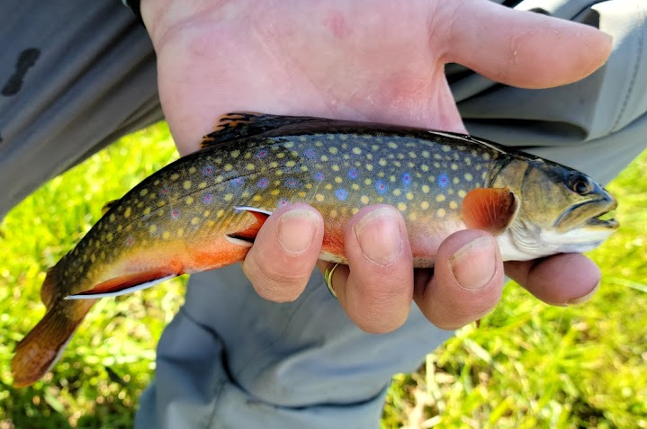 We did not have any real hatches come off Saturday, despite the really nice, warm weather. We did a little prospecting with a caddis dry and a caddis nymph with limited success.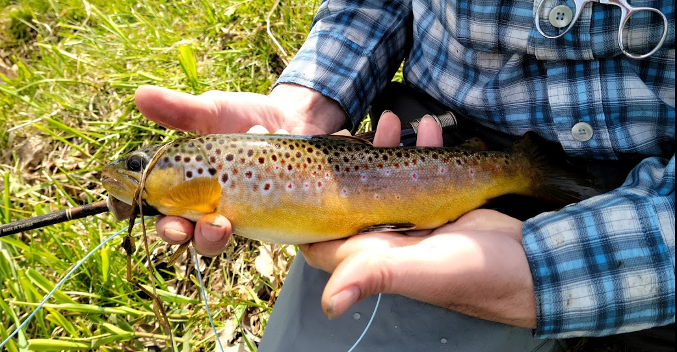 We had the best luck with a tandem nymph rig, and eventually ditched the caddis trailer in favor of some other patterns.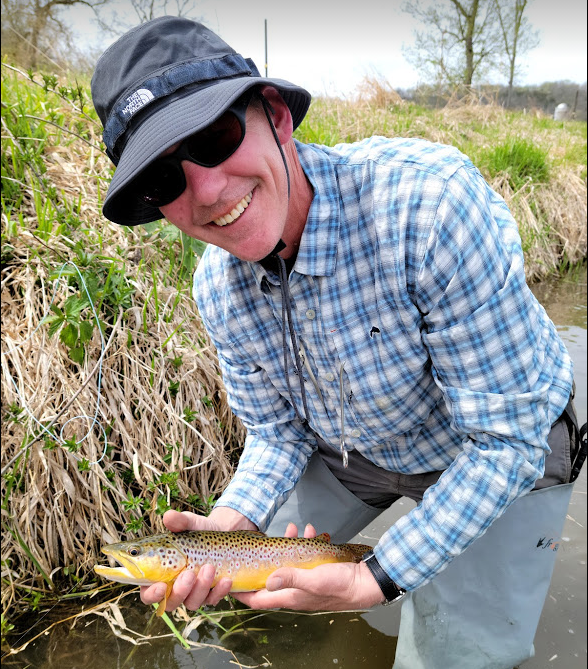 Super fun day on the water with a guy who could cast and was willing to get after it.
April 21, 2021
Cold and blustery and no real caddis action to speak of, but we did fine deep nymphing (tandem) some of the bigger holes until the fish started to move into the heads of the pools to feed by mid-afternoon.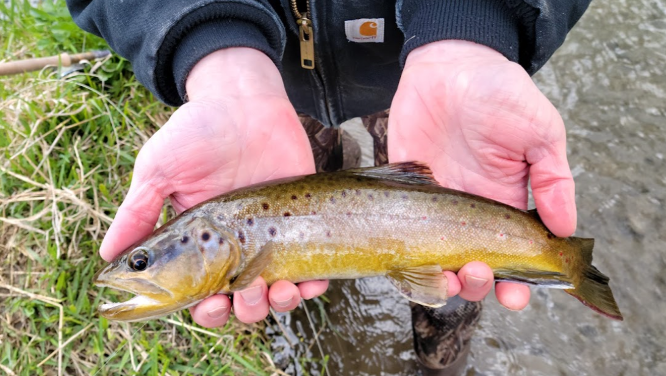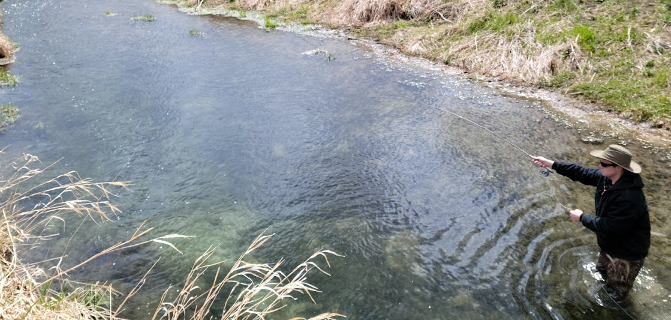 April 10, 2021
I spent the day with Paul, a client I have known for several years: great guy - funny, smart, and always up for an adventure. We decided to do something different and do some two-car fishing. We were the first ones on the water, and, truthfully, with yesterday's cold north winds and low temperatures, it didn't matter greatly.
did a tandem nymph rig all day, and got into fish right away Saturday morning.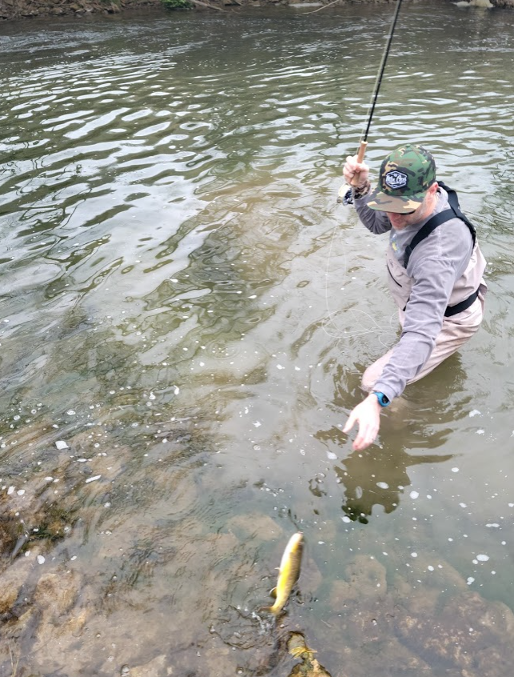 All the browns we caught yesterday with very healthy and in optimal spring time shape.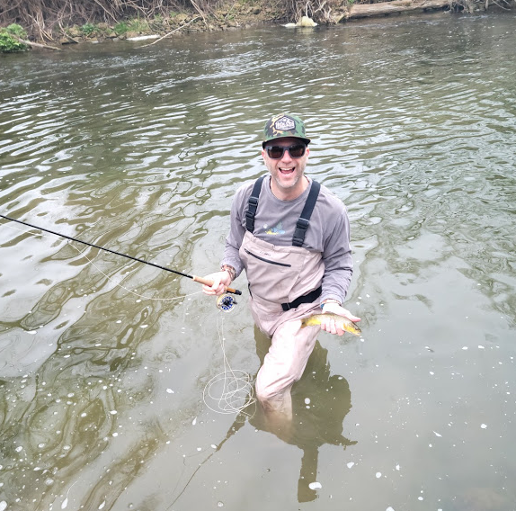 Paul did a masterful job of navigating this beautiful brown out the hole and around some trees before landing him, taking a few pics, and letting him swim off.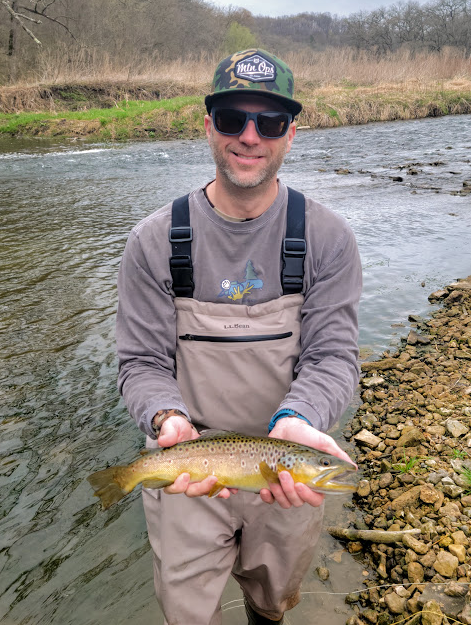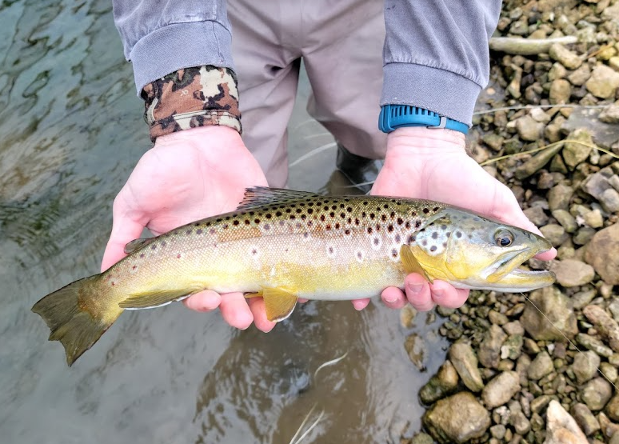 It was a productive, steady day. We didn't stand in one spot and catch a pile of trout, but we got one or two out of the typical spots and just kept moving.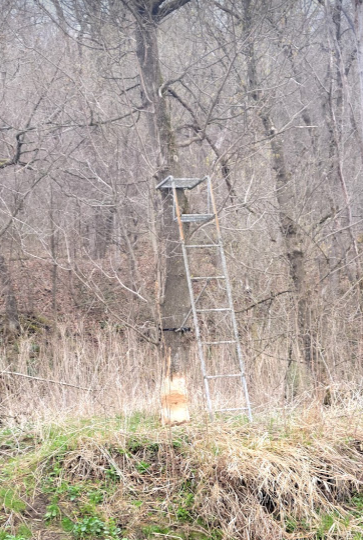 April 5, 2021
Last day of my spring break, so I got up and hit four different streams by the time I pulled the plug at 2:00.
There wasn't anything really hatching in the morning hours with air temperatures starting in the 50's and the thermometer touching 81 by the end of the fish. Tandem nymphing was the ticket, using a variety of nymphs and emergers.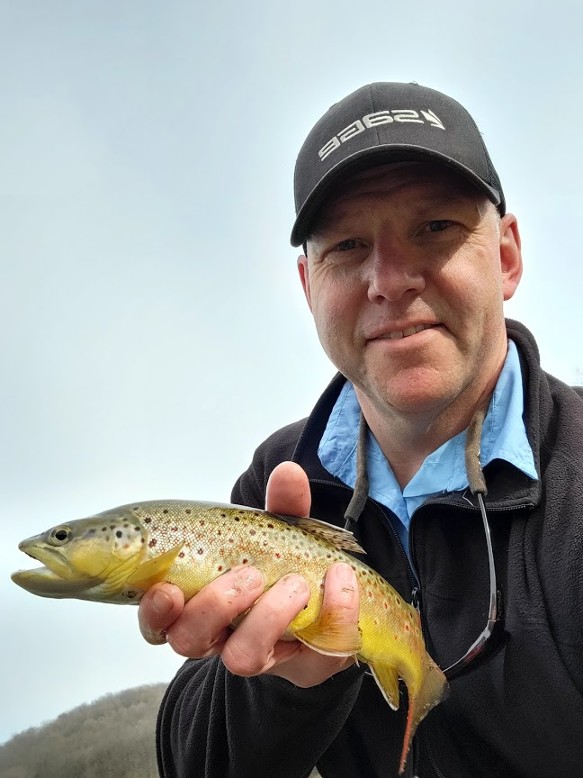 Area streams are super clean and super low (for now). Fish are spooky, so tread carefully.
There are a few streams with plenty of sticker rainbows still around from last fall. They're fat and chunky, so if you want to bonk a few fish on the harvest opener, take these guys home with you.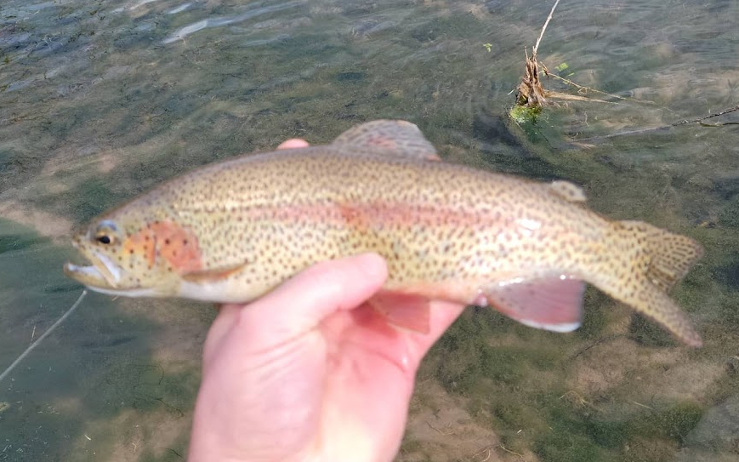 April 3, 2021
The morning started off with temperatures in the low 40's, but it didn't take long to get into the 50's and 60's by mid day. Midges were everywhere when I got on the water, but nothing was rising. Started out nymphing for a few holes, when fish started dimpling the surface sucking down emergers. It wasn't long before a few BWO duns appeared, and it was game on for the next three hours.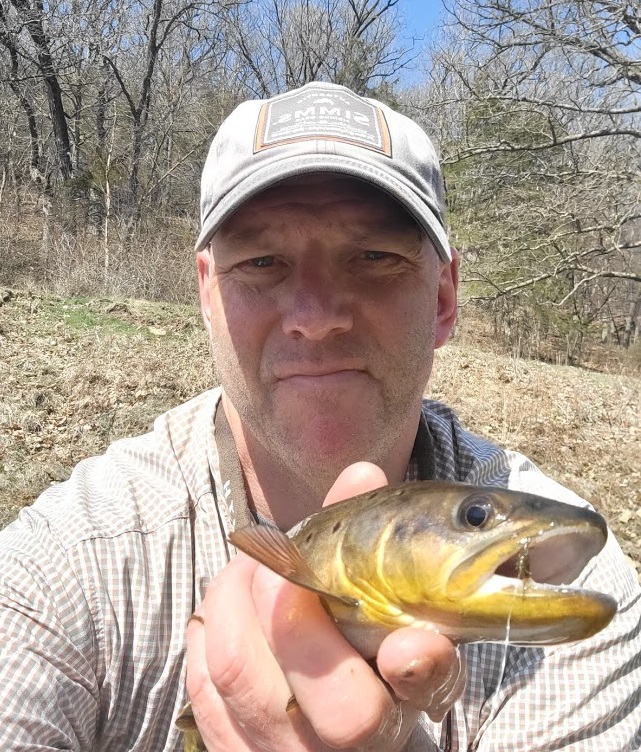 My approach was super simple: 5x fluoro leader to a #18 gray BWO dun. I trailed that with 6 x fluoro and a pattern dubbed by fishing friends as a cat turd - small nondescript soft hackles.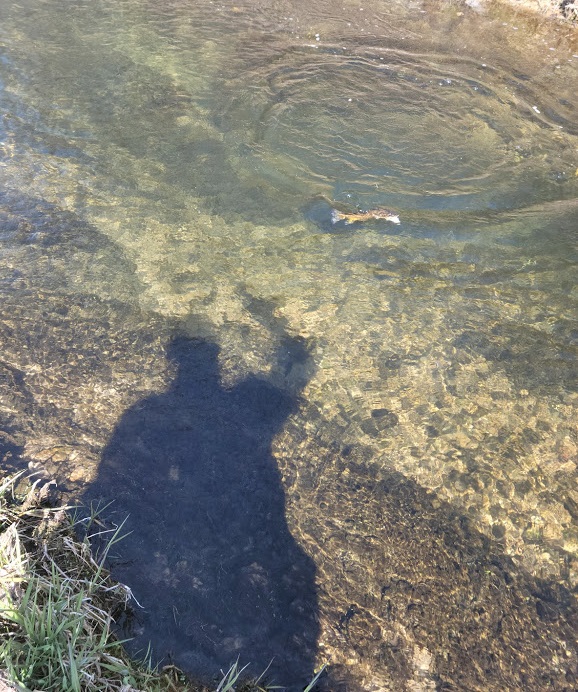 It was one of those days that there were fishing rising in every run and riffle, so the pace was very deliberate all day.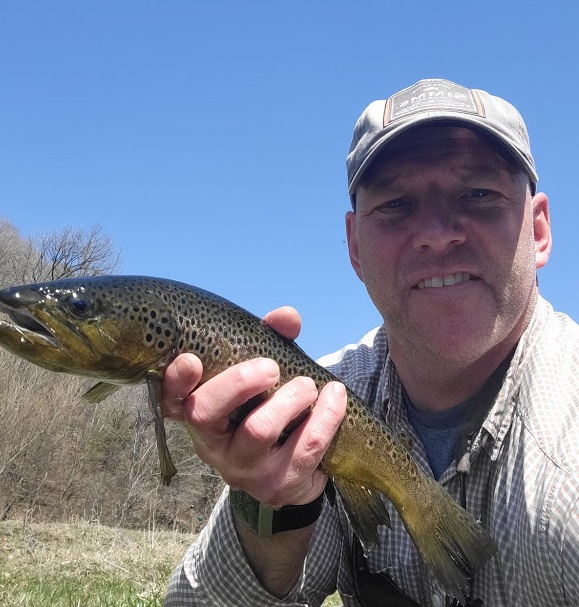 On my walk out, I stopped to admire the biggest cottonwood I've maybe ever seen, so big that I didn't notice the eagle nest in it the first time I walked by.
March 29, 2021
There are pros and cons to fishing on days like Sunday, where the NW winds were bitter and air temps hovered in the upper 30's. Wait, I mean, there isn't a ton of upside...other than there was literally no one around. The streams are clean after some steady rain Saturday. Temperatures are going to be all over the place the next week, but the constant is no rain in the forecast.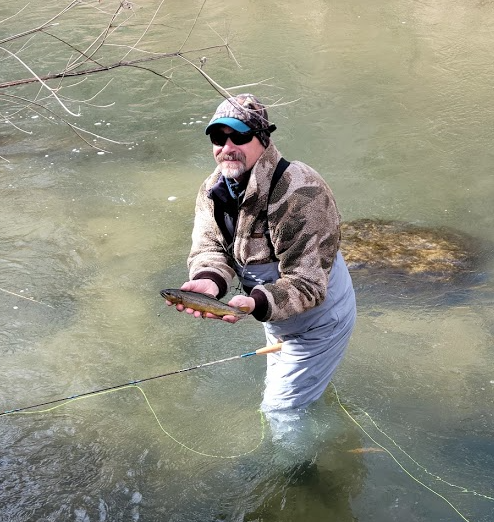 Andy and Collette were awesome clients yesterday. Funny, tough (Nodaks), and all around great people to spend time on the water. Andy is an Accomplished artist in his own right: Plains Perspective Gallery.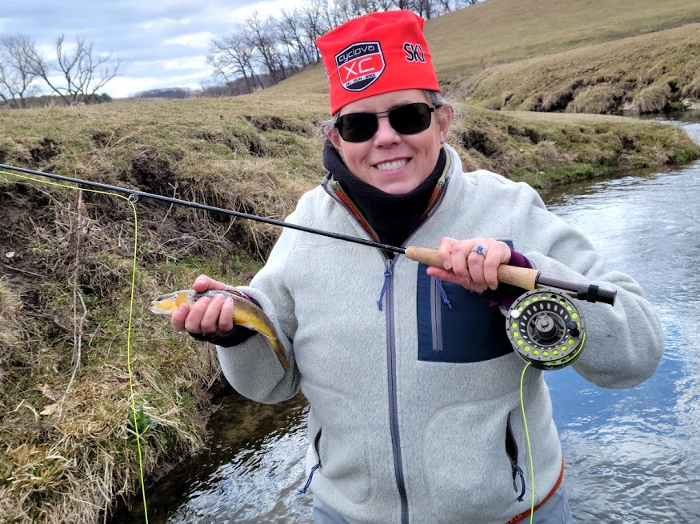 We tandem nymphed the whole day with a variety of trail flies seemingly working better and better as noon faded into early afternnon hours and temperatures started to peak slightly.
March 27, 2021
I'm doing a half day guide tomorrow, so I will have more of an in-depth stream report then. Steady rain most of Saturday in the Driftless, followed by wind and 67 Monday, colder temoratures Tuesday-Thursday, and a significant warm up Easter Weekend.
I'm booked for all day Friday 4/2. I can do some half day outings earlier in the week, mainly due to the weather. Easter Sunday is a no go, but Monday, the 5th, I am open all day. Contact me for an outing if you are interested.
March 13, 2021:
There's not much snow left in southeast MN....but you're in luck. 3-5 inches of wet, sloppy snow is slated for Monday. If you've been out on area streams recently, you will see that they are a little off in color, but I gauge the water levels, overall, to be on the thin side. Monday's precipitation will be a welcome sight.
According to my Fitbit, we put in around 19,000 steps and nine miles of water/walking on Saturday. Much of the day was spent exploring new water that I hadn't really fished hard in the past.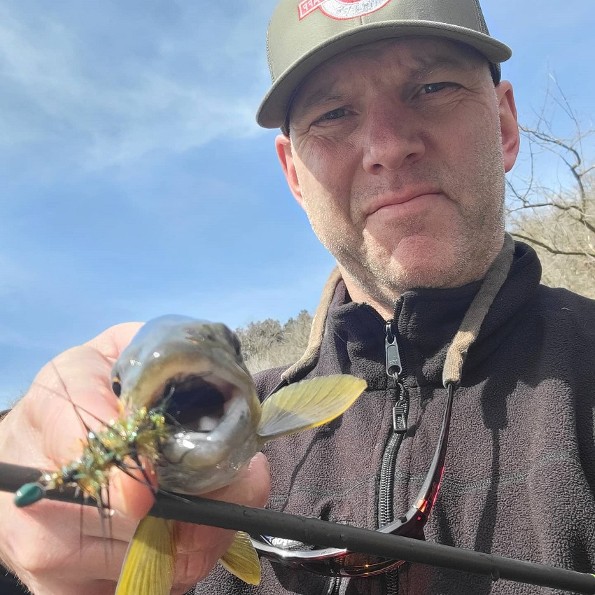 I fished streamers most of the morning on a new Orvis Recon 490. I hadn't planned on fishing it for streamers, but we called an audible last second. It performed well enough with the streamers, but it excelled when I set it up for tandem nymphing. It is a smooth, lightweight rod that won't break the bank if you are looking for a good, mid-priced model.
We ended up pulling up stakes and hitting another stream in the area - smaller and less stained. It was late in the day, so we didn't catch trout hand over fist, but we managed a few here on there on a variety of nymphs.
Openings next weekend: March 20-21. Contact me if interested in a guided trip.
March 6, 2021:
The weather just keeps getting better in the MN Driftless, a trend that will continue for a few more days.
A few observations from yesterday: Nice weather = lots of people out, at least for a day in March. I can't blame anyone for not wanting to get out and fish, though. Snow pack in the valleys is still significant enough to make walking longer distances taxing. Those who know me or have fished with me know that I do like to put on the miles, but there is a reward factor involved with that walk, like fish like this one: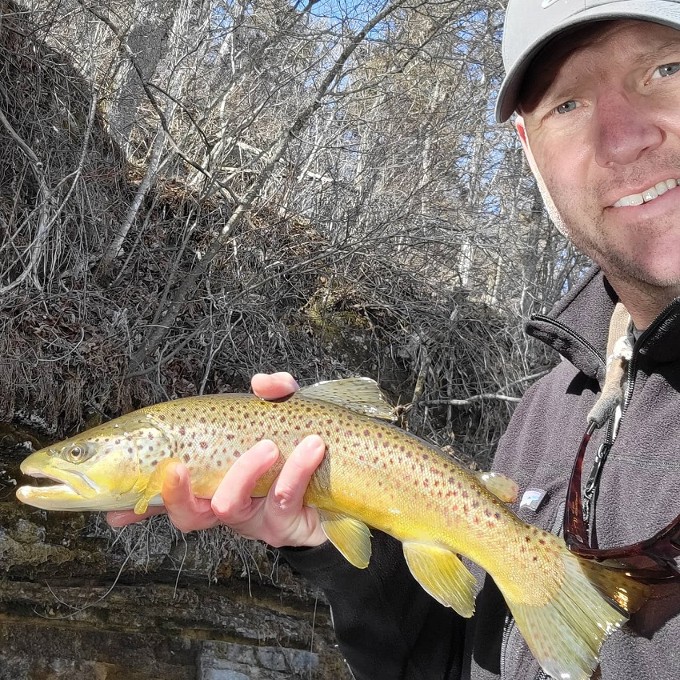 I fished a tandem nymphs rig most of the day. I changed my midge trailer up and starting picking fish off routinely. Sometimes appearance and size of the patterns you fish matter greatly. Yesterday was like that.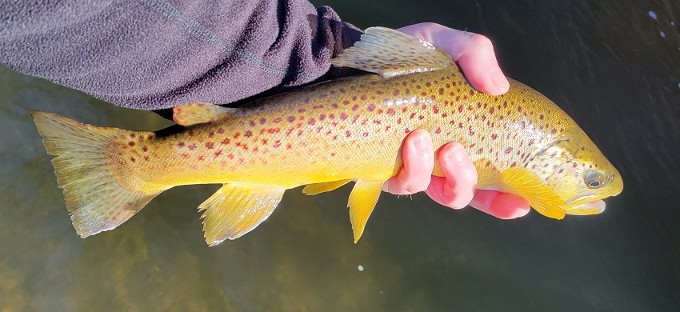 I did get the chance to fish the new Douglas DXF fly rod yesterday. I have the 3904, and it would rate it as good as any high end 3 weight rod I have fished in the past. It's not as stiff or powerful as say the Sage X 390, but it packs enough punch to get flies to where they need to go. While it does not excel at long distances, anglers aren't making LONG casts as a norm in the Driftless. Here, accuracy matters, and the 3904 fits that description.
I don't often give extensive gear reviews, and I'm not on the Pro Staff or some type of ambassador (whatever that means). I'm just an independent fly fishing guide who would recommend this is a check book friendly fly rod that I can solidly say is a great choice for fishing the Driftless area.
February 28, 2021:
The weather was slated to get blustery by noon, so I was on the water by 8:00. Nothing fancy today: tandem nymphing with a midge trailer. Midges did come off around 9:00, and there were some rising fish in places.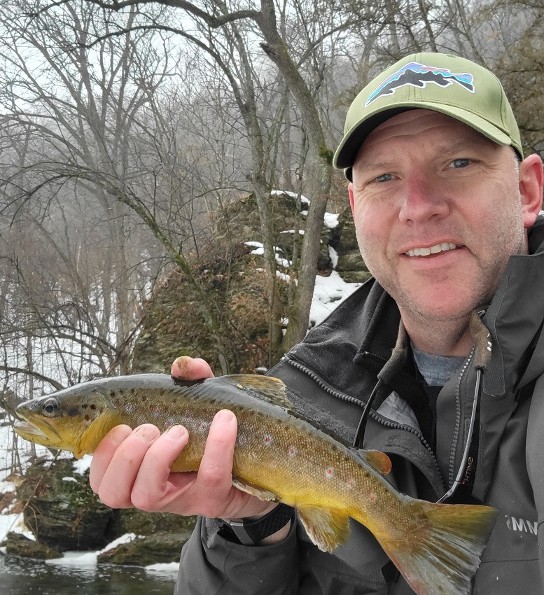 The fish seemed very healthy and were lying in typical winter fishing spots.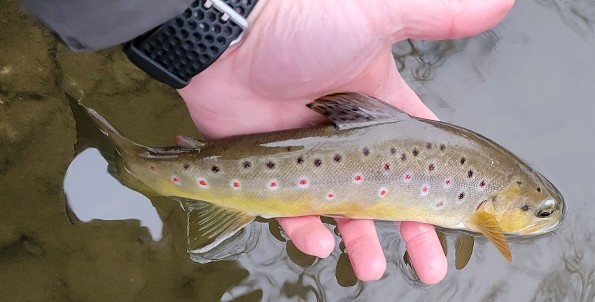 There was still considerable shelf ice in places, and walking along the edges of the river broke off massive chunks.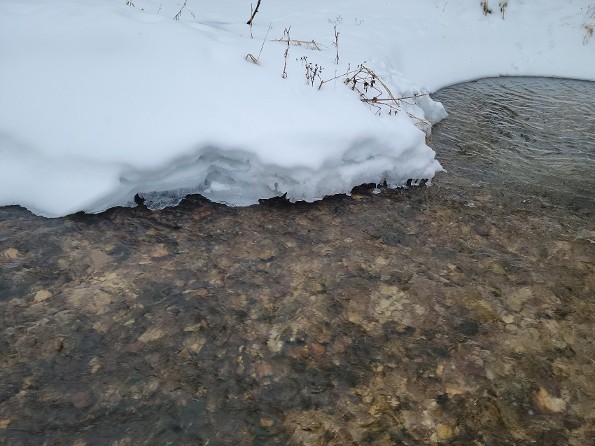 The best part of the day was near the end of the fish, when I heard a pack of coyotes fire up in the distance.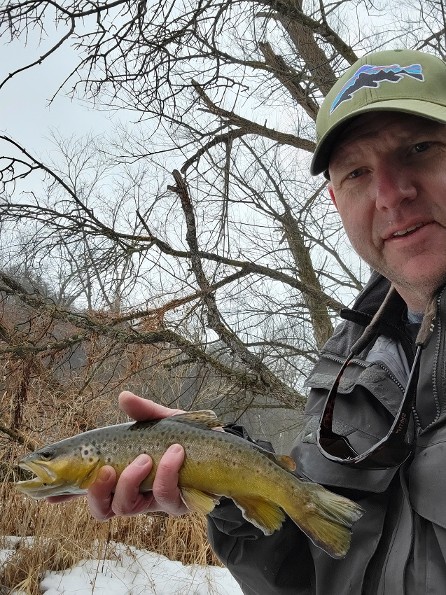 The melt this week should be significant, but it will also mess with water temperatures. Carrying a thermometer is useful this time of year. Don't be afraid to check temps periodically. If fishing slows down for you, chances are the snowmelt is dropping water temperatures to the point that fish may shut down.
January 21, 2021:
Area streams are still clear with nymph rigging being the most productive. Streamers have been producing as well. Weather, overnight, has been plenty cold, so fishing daytime through the noon hours is a good idea to increase your odds of targeting actively feeding fish.
Snowpack is not an issue, so walkiing up and down the stream banks will not pose much of a challenge. The Driftless, as a whole, did not have much in the way of consistent, meaningful precipitation to recharge aquifers and get stream levels up. In short, the water is clear and low. Stealth is of the essence.