March 17, 2019
Nothing against the Great Waters Expo, but I opted to take a chance and check out the waters south of my home instead of venturing north to hobnob with friends, industry pros and insiders....the works. It wasn't particularly warm this morning (26 degrees when I rigged up), but no one was looking to fish, and I had the whole stream to myself.
I fished a 9' 4 weight Sage X with 4X Rio Fluoro leaders and tippet. The water was stained, but definitely enticing this morning, so I went with a gray leech out of the gate with minimal success. I switched to a scud trailed with a pink beadhead PT (no fancy name required) and immediately caught fish the rest of the day. Fish were holding at the tails of the pools early on, but I did catch fish in skinny water and the heads of runs throughout the day.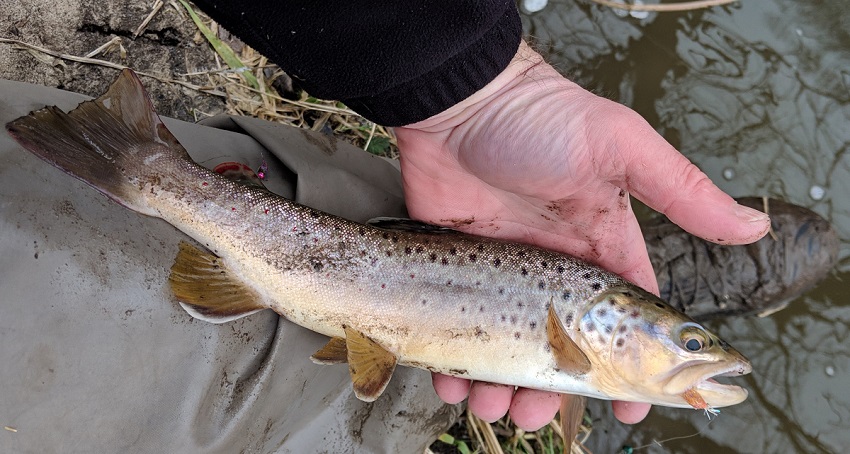 I got to try out my Fishpond Gunnison Guide Pack as well. It's an RV sized waist pack that hold everything you will need on the water without the issue of a huge, bulky pack. I've not been a vest guy for many years, and the Gunnison reiterates the reason why I will never go back to a vest. It will be ideal this summer on the annual pilgrimag to Wyoming and some long treks from the car.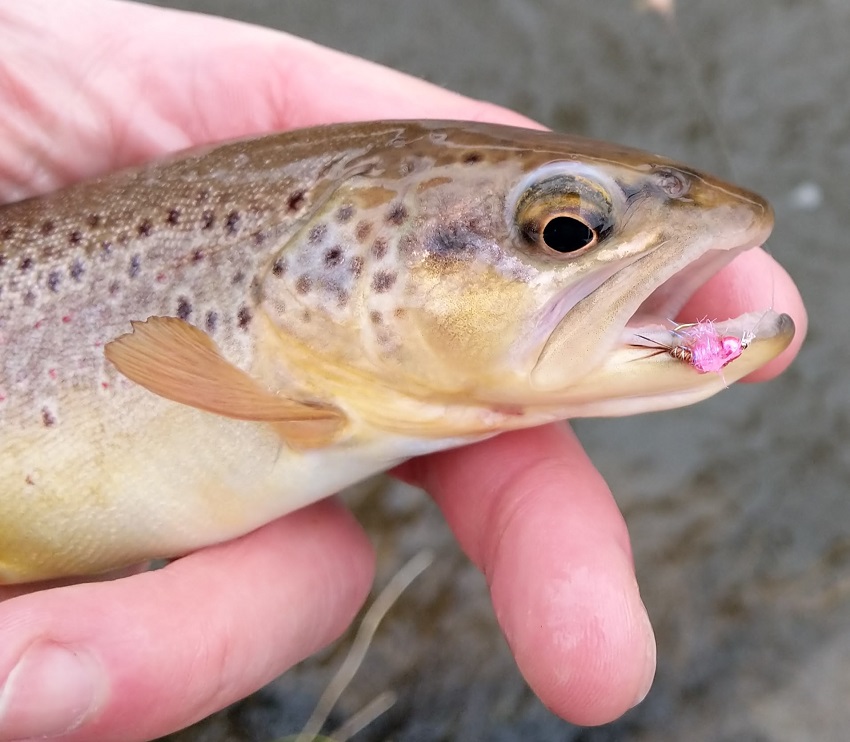 The news isn't all good right now. There will definitely be some serious run off come Thursday-whenever as temperatures are going to climb into the 50's and not dip below freezing overnight. The plus side is that we should be relatively snow free in ten days or so, just in time for some decent baetis and DH right behind them.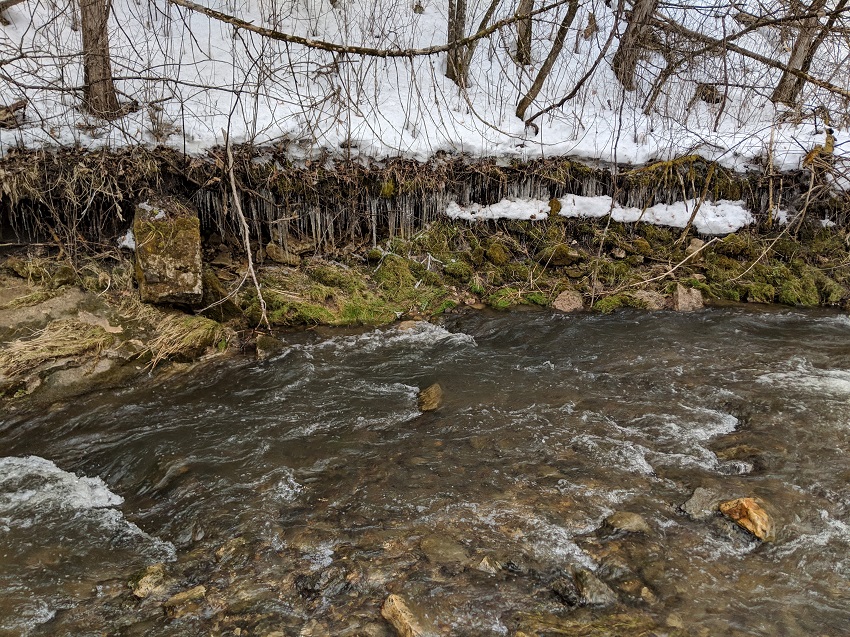 February 26, 2019:
Southeast Minnesota is finally done digging out of a 10-14" snowstorm on top of the several feet we had already this month. The Rochester, MN area snowfall total for February is at 39.7". The good news is that there should be plenty of water this spring...the bad news is that it could significantly wipe out YOY and some to most of our spring hatches IF it melts way too fast.
Streams are cetainly fishable right now. The problem is getting in and out of them with the significant snowpack.
At this rate of snow and cold weather, there will still be significant snow on the ground in southeast MN by April 1. That doesn't mean fishing can't be had, however. It just means that anglers are going to have to adapt their game to fit the situation.
January 6 2019:
This past Saturday would have been the better of the two days this past weekend to fish, weather wise, but I could only manage a Sunday trip. I arrived on the stream ready to shake the rust off of a few months off. It was a whopping 27, overcast, with a definite bite in the air. A twenty minute walk back in through less than January like conditions warmed me up a bit. I started witha scud and a zebra midge, but quickly ditched the midge in favor of a small beadhead stonefly. The stream was less than crystal clear due to the prior day's runoff, but it was very fishable.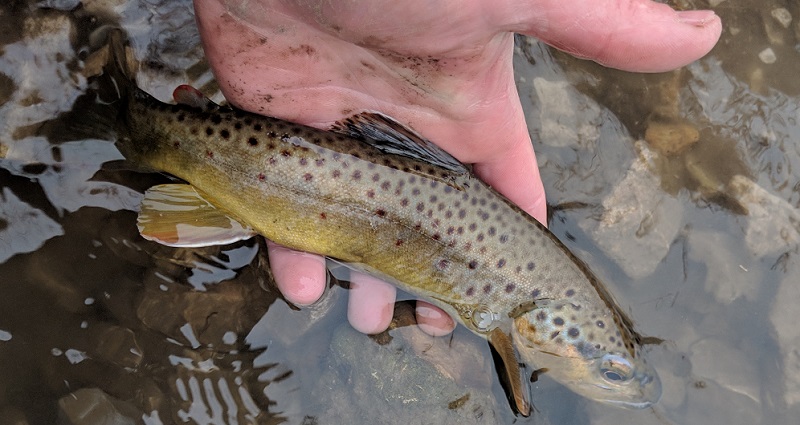 I did well for the three hour so hours I fished. No fish were on top taking midges, but they willingly picked up my nymphs.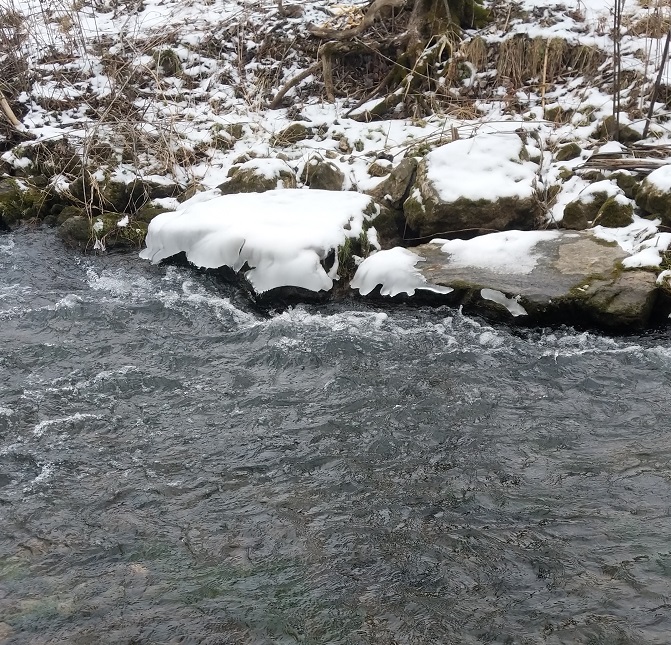 I pulled the plug and hit a second stream on my way home. This one was much cleaner and, actually, the fish were even more eager to pick up flies (scud with a soft hackled midge emerger). I fished until around 2:00 and decided to get back to the confines of my warm vehicle and head home. Great "opening" day for me. There are definitley lots of trout out there right now.