April 6, 2020
I spent the day with client Larry, setting up his new four weight fly rod and shwing him a few tips and tricks while purusing some trout. As a future soon-to-be retiree, Larry's interested in purusing fly fishing, so we whortened his learning curve today and got after it.
It was actually pleasant out yesterday AM with hopes that temperatures would flirt with the mid-50's. Overcast and calm, I was confident a hatch would appear later.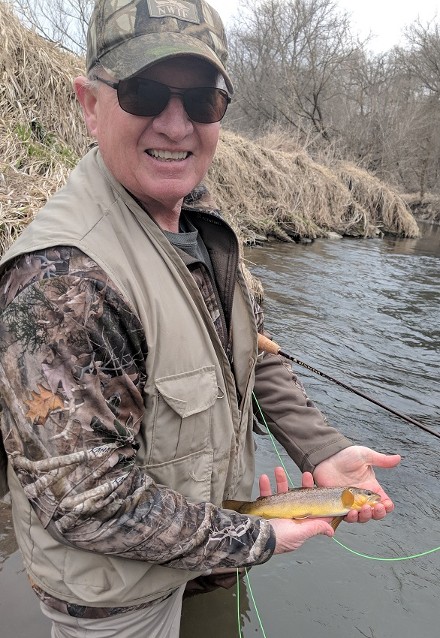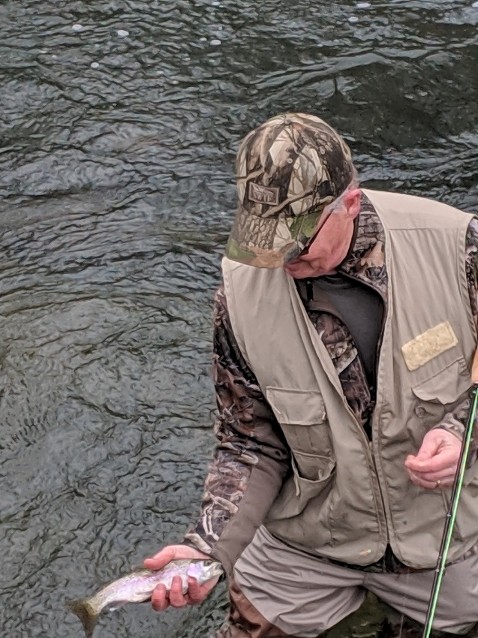 We tandem nymp rigged throughout the morning with decent success, including this bruiser.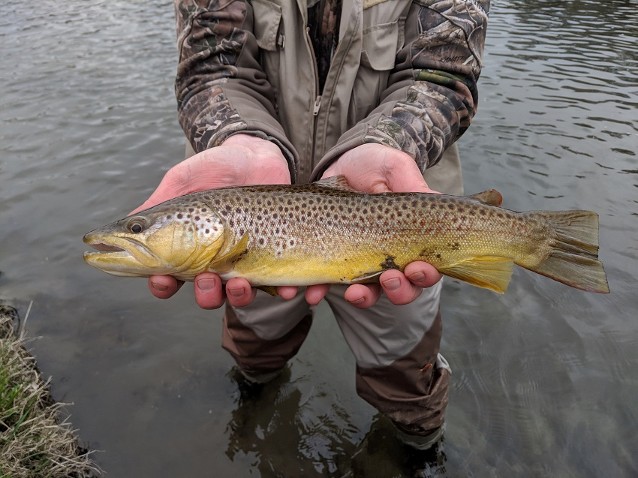 From 11:30-1:00 we couldn't buy a fish. Nothing was hatching, nothing was rising, the wind had turned from tolerable to downright cold. We switched up streams by 1:30 and, voila, by 1:45 a solid BWO hatch was on until 2:45 or so. Typical BWO day: 48, overcast, windy, and cold.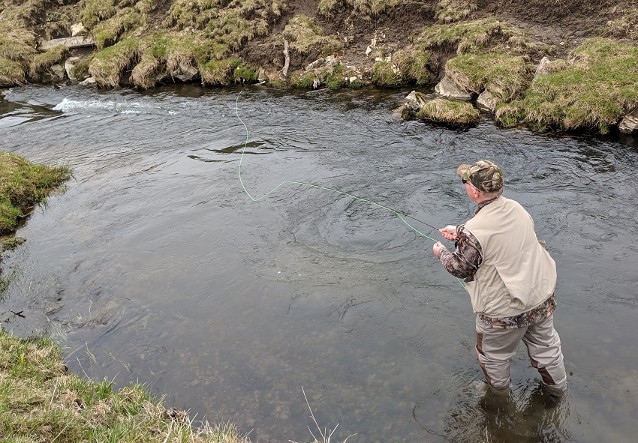 April 2, 2020
My plan for the day was to do a little bit of everything: streamers, nymphs, and hopefully a hatch. 45 degrees and cloudy at the first stop was very inviting for throwing streamers. The water was in great shape, but it was big, and I mean big to the point of I struggled to find a safe river crossing. It was reminiscent of being West on some of their aggressive waters.
I was looking for some big trout with the streamer set up. Big as in 18 plus inch trout, but no luck there. I did land a few, lost a few, and had a few swipe and miss my streamer.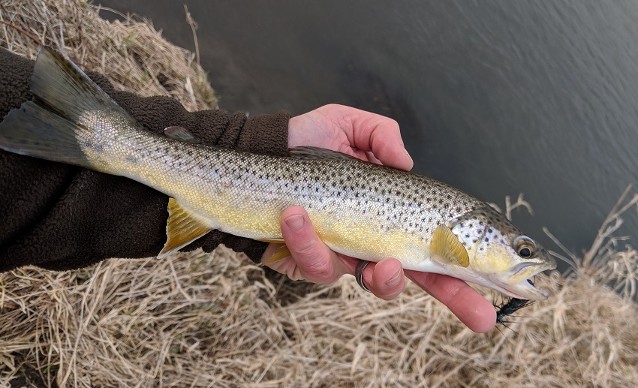 I was using a 9' 6 weight with an intermediate line, sinking leader, and fluorocarbon tippet.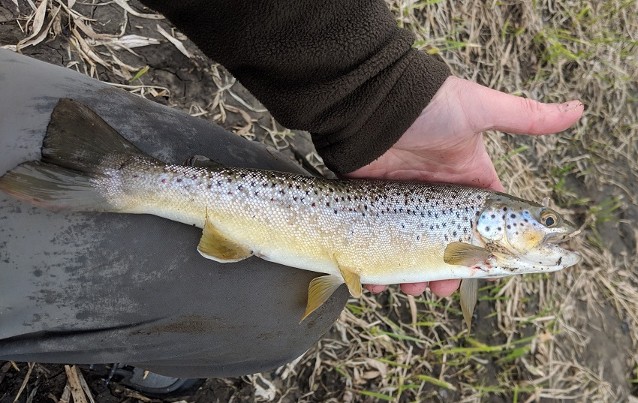 I went to a second stream, smaller and more secluded, and had great success nymphing for a few hours. The water wasn't high, but I would call it robust right now and definitely clear.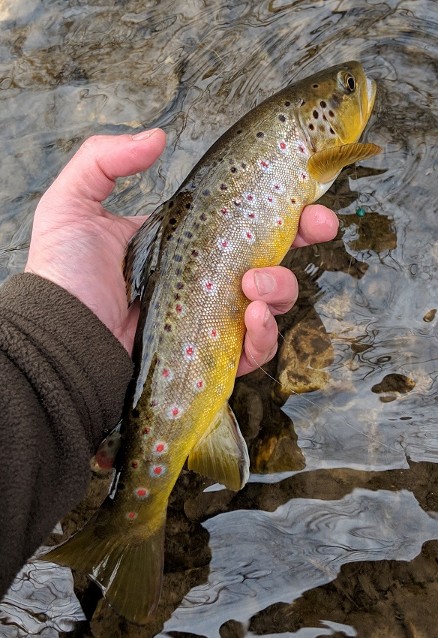 This stream does have some larger pool structure in spots, so I re-rigged and put a small bugger on and tagged a few as well.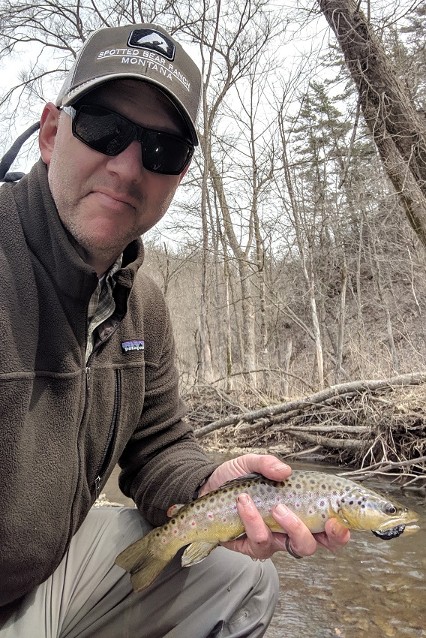 Small feeder stream adding more volume to the already abundant flow.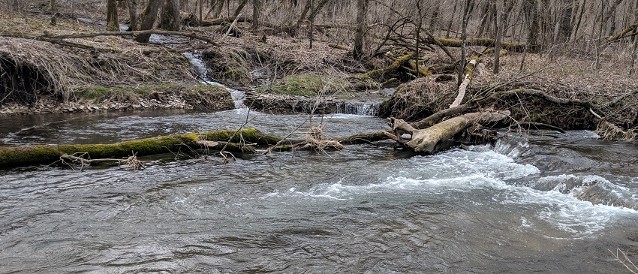 I decided to hit one more area before heading home, and BWO's were being sipped when I got there. I stayed an hour, and the fish were high in the water column, feeding consistently.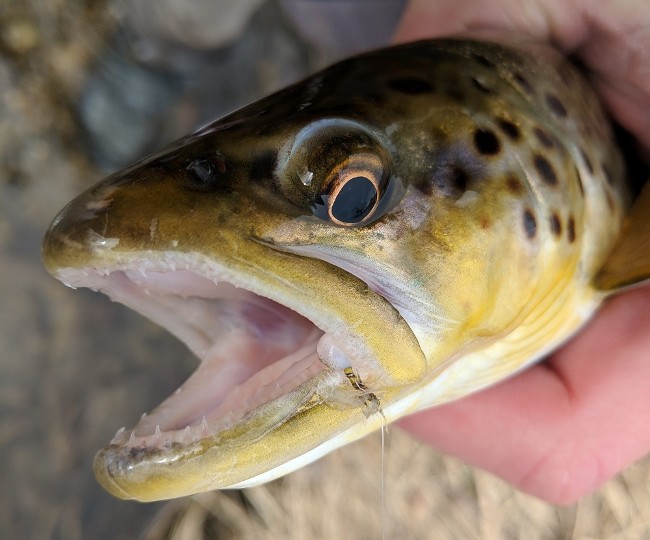 March 28, 2020
Considering the weather trends lately, yesterday (Friday) would have been the best day to fish in the Driftless. My buddy Charlie was out Friday and ran into angler and cars all over. Not a shock considering the current state of the state, the nice weather, and hungry trout.
We fished together all day Saturday, which was a much different day than Friday: cooler temperatures had settle in overnight, so I was not optimistic that we were going to touch temps in the 50's, which probably would have gotten the bugs moving and the trout as well.
Not much you can do about the wather.....we settled for two cars, doing our part in social distancing, and decided to cover some distance on foot, fishing streamers most of the morning.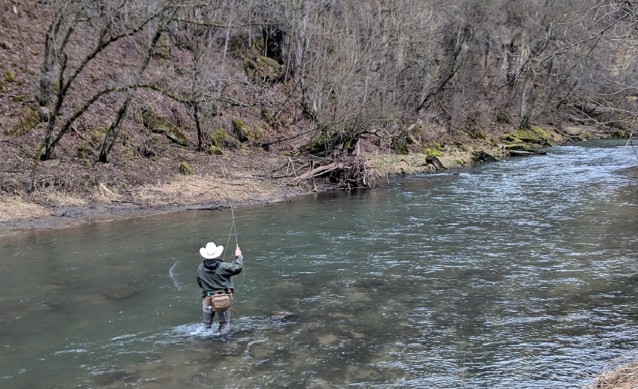 We did some nymphing later on with minimal success. Nothing was really on fire pattern wise on Saturday, yet we still caught fish.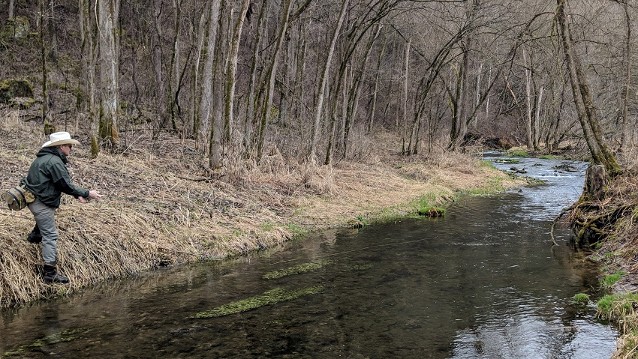 We ended up hitting four streams total, several of which were clean and low like the one above. It was late in the day, yet we still had some rising fish when we pulled the plug at 3:00.
March 22, 2020
It's been a few weeks since the last report,mainly due to a pile of other commitments, poor weather, and other excuses. Sunday was not an ideal day with the heavy wind, but I couldn't complain, really. I had an entire valley to myself and three hours to get after it.
My first bridge stop was not encouraging as the water was higher than I anticipated and off-colored as well. Throw in the fact that it snowed Saturday night (and Sunday), the run-off was inevitable, and water temps were going to be a challenge also.
I opted for an upper portion of a watershed due to the better water clarity. I rigged up a new 6 weight Winston I got this winter and took it out for the christening.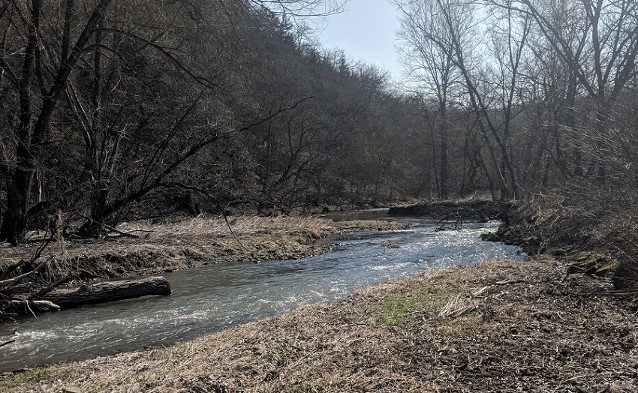 It was a nice walk downstream with zero vegetation to deal with, so making time was very easy compared to the summer months. I started streamer fishing at 11:00 with mixed results. I caught a few, but it wasn't anything crazy. I nymph rigged a little bit until I broke off in a tree and stuck with a streamer the rest of the outing.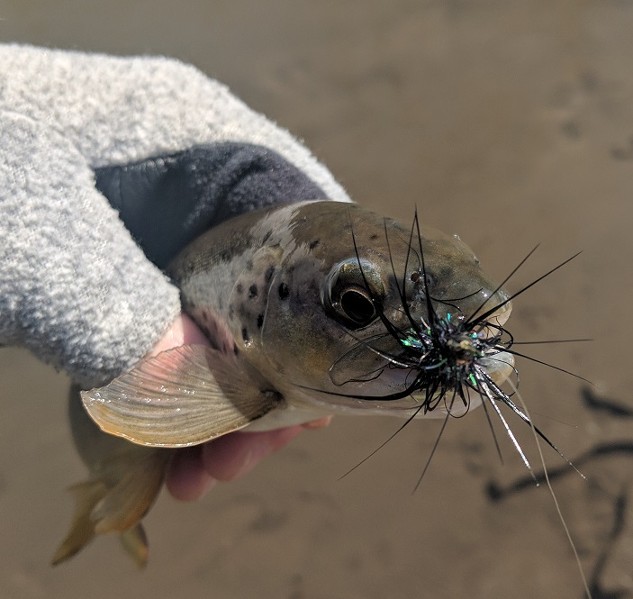 The wind was challenging at times, but the methodlogy I used Sunday didn't require much for casting. Getting upstream of the runs and pools, lobbing a streamer across and down and twitching it back against the current turned the fish on for a good two hours. I had the luxury of sun for most of the outing, but when a thin layer of clouds rolled through, the fishing definitely shut down a bit.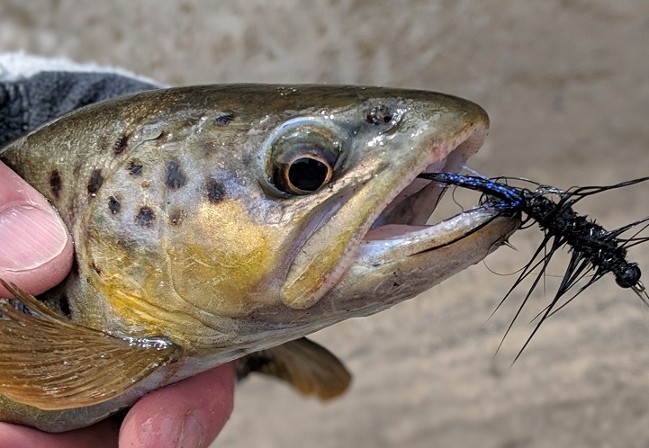 I know these are strange times with the COVID-19 virus, but I am still taking people out fly fishing if they are interested. Area streams are in great shape and the trout are definitely hungry and starting to feed consistently. The weather predictions are interesting the next week with mid 40's, rain, snow, etc (read: garbage), then shift to consistent 50's in ten days or so. BWO action will consistently pick up then as well.
March 4, 2020
I had the pleasure of showing Matt and Marie around southeast Minnesota's Driftless for most of the morning into the early PM hours. Calling home Arkansas, this was their first trip to the area. Fly fishing enthusiasts that they are, picking up on how to cast and catch trout came quickly.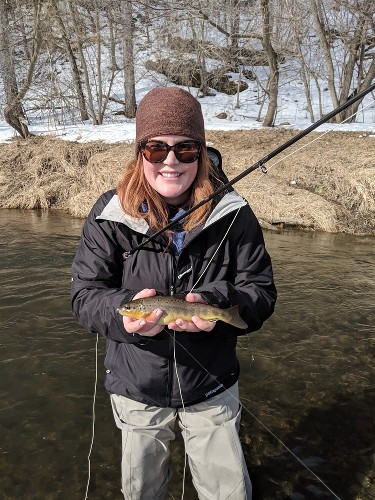 We didn't do anything complicated today - nymph rigging as no real risers presented themselves. We did start fishing a variety of BWO nymphs around 11:00 throughout the remainder of the day. The streams were unaffected at this point with major snow melt, but action did slow by 1:30-2:00. Streams at this point were clear, clean, and low. High sun and no hatches didn't help the spooky fish factor at all.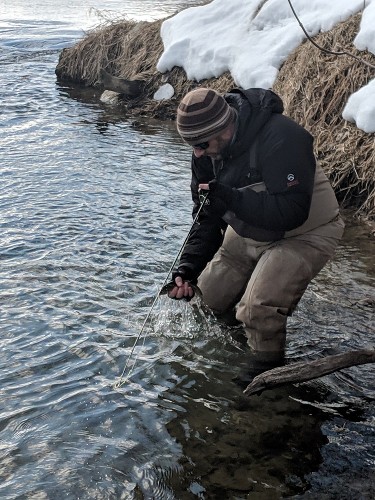 I turned a few rocks and found one common thread: caddis casing and lot of them. The caddis hatches could be impressive this spring.
February 23, 2020
The weather this weekend was tremendous, so getting out for a few hours on the water was a must. Haven't been out in a while, but winter fishing is like that some years: opportunities may be abound for weeks at a time, or it may be weeks at a time before the weather breaks enough to get out there. Either way, it was good to get away from the tying vise and get after it.
I got an early start on my way to stop one of three. It was interesting to watch the temperature fluctuate from low 20's to a low of 12, according to my vehicle's outdoor temperature gauge. The valleys were definitely on the cool side early on.
My first stop was the toughest part of the day with low temps and a sun that had not yet warmed the valley. I managed a few out of deeper runs before I pulled up stakes and investigated a stream I had only been on briefly last May. Unfortunately, it had plenty of shelf ice on it, and the flows were very low. Sure, I spooked a pile of fish in skinny water, but I decided I'd come back to that one later this spring.
My last stop was very good. Midges were already in the air, on the banks, and were being sipped here and there by willing trout. I put on a dry for one flat run and had minimal success. A regular scud and midge emerger were doing better, so I stayed with that.
Great day to get outside. No other cars around where I was. Water is definitely on the low side. Stream temp at noon was 46.6. This nice, deliberate melt will hopefully help offest any potential flooding this spring.
January 25, 2020
It's been a while since I last gout out, mainly due to the weather not being overly cooperative. The latest round of weather brought significant snow to southeast MN compared to where we were just a week prior. Air temperatures topped out at 31 for me yesterday with lots of cloud cover and a bit of wind. I hoofed in from where I parked dwonstream and fished out, so the first 20 or so minutes was the warmest I was all day. Action was slow early on as the water temperatures had clearly not warmed up enough to get fish interested in picking up a fly. By 9:00, there were quite a few midges starting to appear on the banks.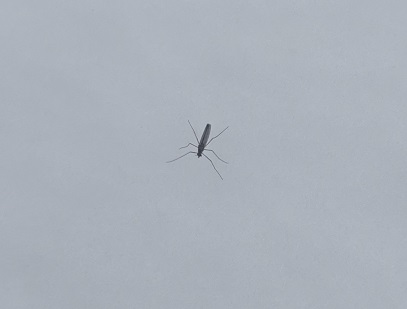 Action picked up from there, taking fish on both midges, scuds, and some beadhead patterns. If you do get out in the near future, just be forewarned that the going will be a little slow with the snowpack and creating trails along the stream to bog you down.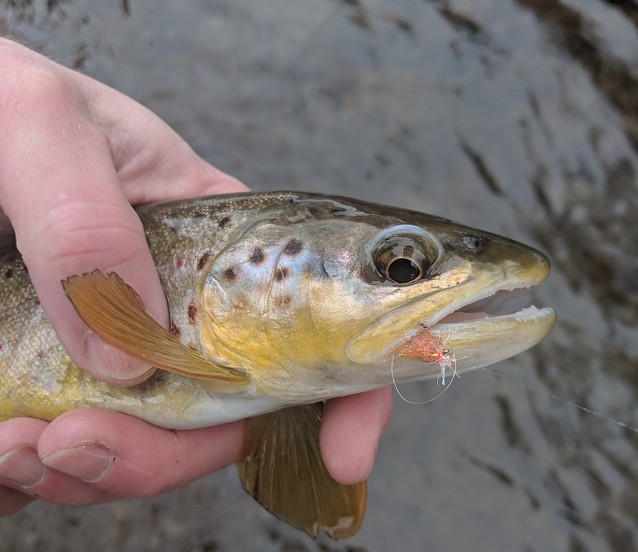 January 4, 2020
I kicked off the 2020 season with Jens on an area stream. Saturday was overcast, a bit on the cool side, but we dodged Sunday's wind. There was no issues with snowpack, and the streams are very clear and a bit low. A few fish were on top feeding on midge emergers, but most of our success was on scuds moreso than the midge trailer. Fishing was better earlier on in the morning and slowed some after the noon hour. Not sure why, but it happens.