August-September 5, 2022
I've been guiding a little bit and fishing a little bit myself the past five or six weeks. If you follow the reports with regularity, terrestrials have been the hot ticket item for quite a while. Hopper and Hippie Stompers have been fantastic this summer. I don't follow the bigger is better mantra with flies all the time, and that is certainly the case with terrestrials. I rarely fish anything larger than a #10 or 12 for the most part.
I did run into some consistent trico activity throughout the earlier part of August, but the hatch has waned a bit, which isn't a surprise. The last round of tricos should be going anytime now, and with the cooler mornings, chances are you will get to witness the hatch materialize right in front of you. BWO's are also a strong candidate for late season dry fly action. Unlike tricos, they will often appear on overcast, cool, dreary days.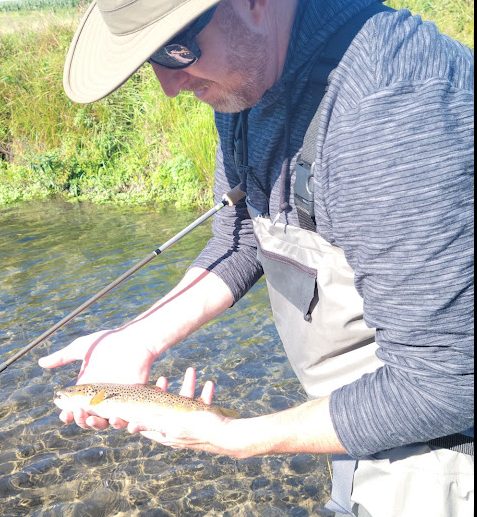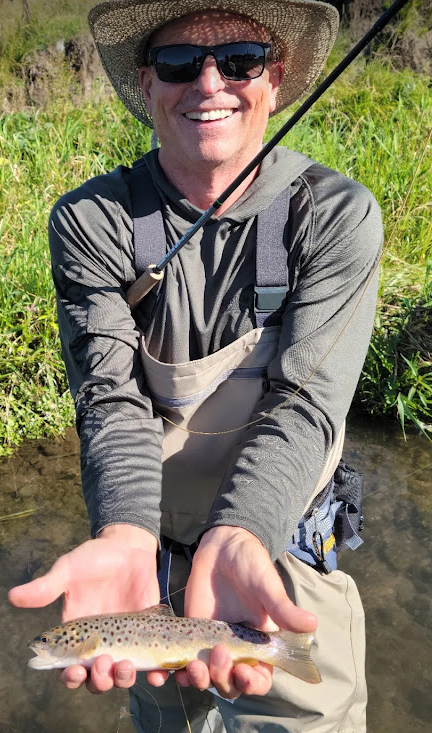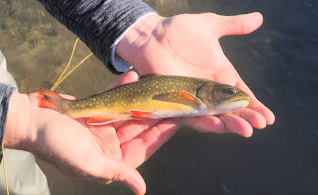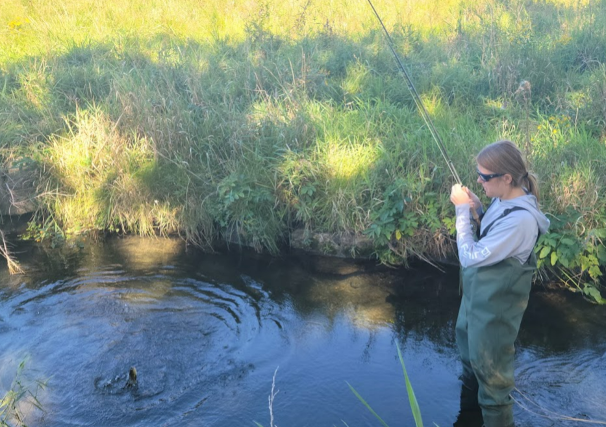 Streamers are also a solid ticket item as the browns will go on the binge prior to the spawn in late October. I have a six weight fast action rod, sinking line, and a sinking leader all rigged up for such a moment.
Below are a pair of browns, both over 20", caught and released this month. This summer has easily been one of the better summers for fishing in recent memory.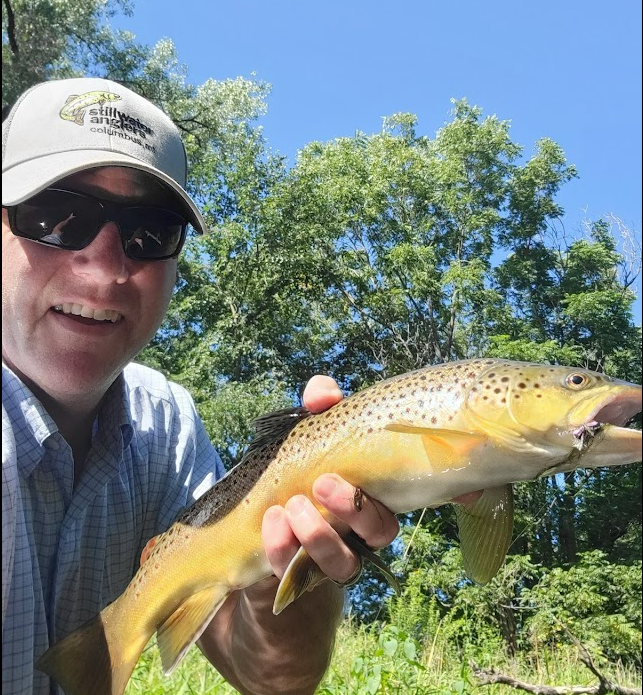 July 31, 2022
I took a few hours out for myself and hit an area stream that has been teeming with hoppers since early summer. A parachute Madame X and an orange Hippie Stomper, two dries at once, were on fire all day.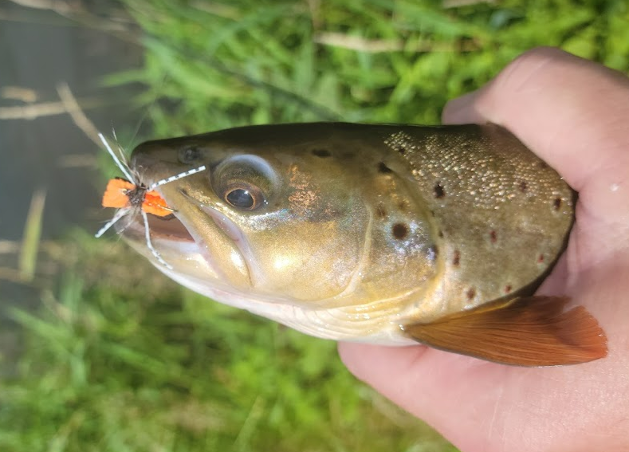 I don't honestly know how many trout I caught, and there were moments where I had multiple fish on both dries simultaneously.

Fishing has been very good in many areas of the Driftless. You have to carefully watch the rainfall totals and where they are heaviest to get a good gauge on what's clean and what is not.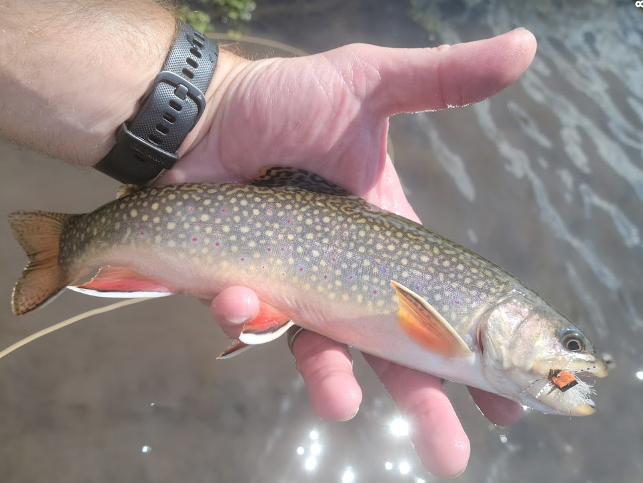 Right now is as good as good gets, IMO. I love to fish hatches, and nymph rigging always prodices fish, but to entice a fish to explode on a well-placed terrestrial is trout nirvana.
July 22, 2022
Streams south of I90 continue to clear from the barrage of big rain that swept through that area ten days ago. I checked out several different streams Friday, and they ranged from unfishable to just off. I fished with John from Missouri all day. We got an early start to beat the heat and maximize our window of opportunity. Nymph rigging the deeper runs, while dry and droppering the pocket water was a great combination.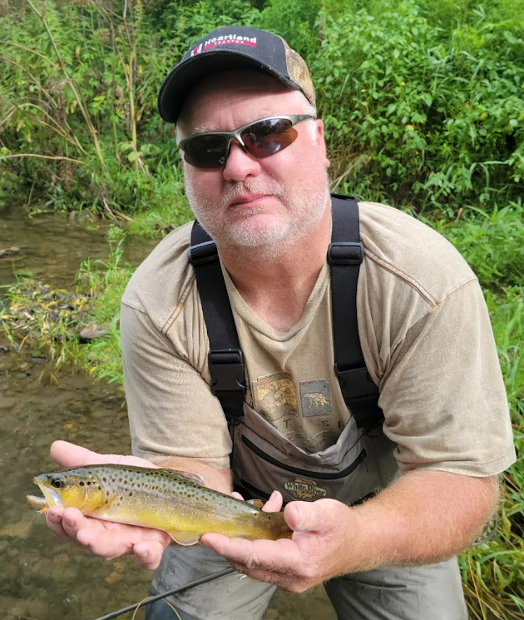 Right now, the streams closer to the I90 corridor and north are in much cleaner and fishable shape than many streams to the south. That's not to say they are all dirty south of 90, but they took a beating in the last round of storms. Potential for some nasty weather is very real today (Saturday 7/23), but a major cool down is on the horizon.
July 9, 2022
I fished with my son Brock throughout the late morning into mid-afternoon. We started south of 90 and quickly found that clean water was not a reality. We fished a stream I would call dirty but fishable for a while, catching a few here and there. We moved north of 90 and found cleaner water, but the mid-day heat and sun made catching very challenging. Temperatures are going to be upper 80's to low 90's for the foreseeable future, so late in the evening or early in the morning are your best bets.
I am still continuing to take a few trips for the remainder of 2022, but with an employment change, weekdays are not an option, so weekends are what I can offer.
June 30, 2022
I got out on my own for a few hours around the noon hour. No pictures this trip, but fishing was lights out for the time I was there. I fished a meadow section and only fished dry/dropper. Fish were receptive to both, but it seemed like the longer the cast and presentation, the better the hook up rate was. In short: clear water makes for spooky fish, so being able to throw some line accurately matters.
June 26, 2022
Jake and Jon came down Sunday for a full day outing in some very good weather: windy, but temps in the low 70's. The heavy rains from Saturday made things off-colored, so dries were a non-factor, but the dropper portion of that equation was on fire. We nymphed quite a bit with success as well.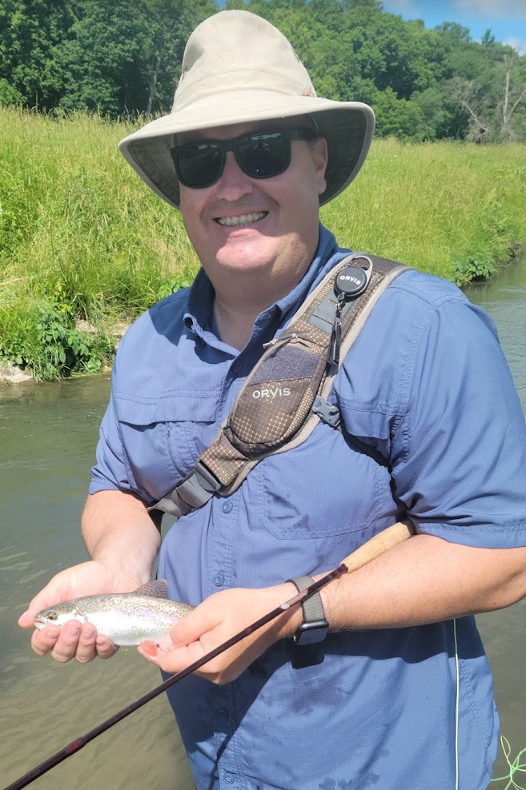 The weather is going to switch to very summer like conditions: hot, muggy, and plenty of parsnip around (wear long sleeves). The deer flies are still present and the gnats are the same. Just be prepared if you are venturing out. Wet wading is the way to go this time of year. Waders are not a necessity; plenty of Natrapil, vanilla extract, and staying hydrated will get you places.
June 11, 2022
Ashley and her mom Renee, first time fly anglers, dodged the rains on Sunday for a cool and humid morning on the water. It never got warm enough for trout to want to take dries, but they willingly picked up nymphs.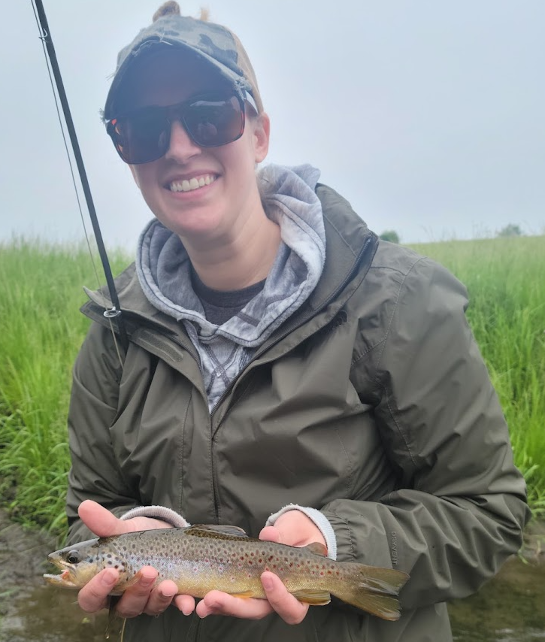 The ladies were great on the water, and figured out casting, mending, and setting the hook throughout the morning.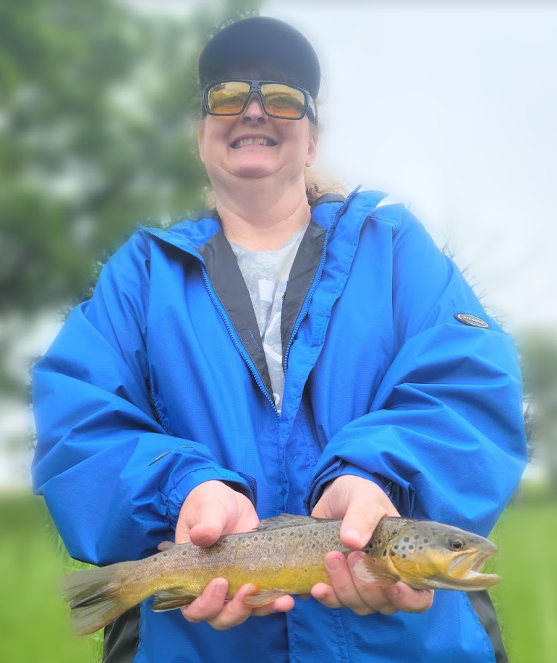 I'm off for a bit, taking the annual trip to the lake with the boys for panfish and walleyes. Back next week, and hopefully on the water if temperatures cooperate.
Late May Early June Compilation
I've been out on my own once and guided a few times the past few weeks. Water volume and flow is solid all over and clarity is good all over (with the exception being some of the Whitewater Valley). I continue to see a smattering of caddis, but it's also that time of year that you could run into Hendricksons, March Browns, and a variety of Drakes.
The clients I have had lately, all brand new never fly fished before types, have all managed to put up double digit half day numbers. Much of that is that there is a good, solid fish population in the Driftless right now, and some of that is having a guide who knows where to put people on fish.
June is limited with availability with prior commitments, but things open up a bit in July. Hit me up if you want to get out on the water.
May 20, 2022 I spent the day on the water with two dear friends, as I have this time of year for almost the last twenty years. We had two vehicles, so we walked from point A to point B. The only problem with said plan was the significant rains that came through on Wednesday and Thursday, which made Friday's fish tenuous at first.
My drive to our meeting locale took me down highway 52. I was greeted with standing water in the fields and ditches, which is never a good sign for fishable water. Watersheds (including the middle branch of the Root) were in unfishable shape, but the further south I went, the conditions greatly improved.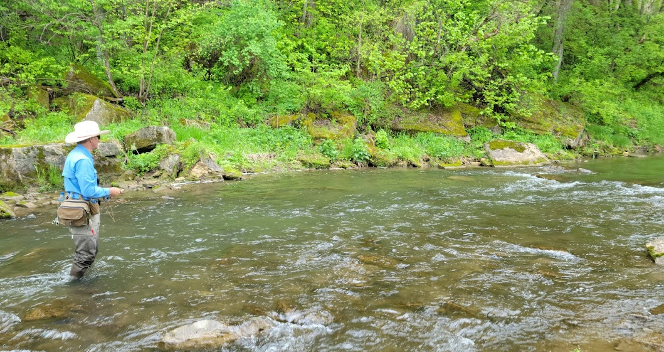 We arrived, rigged up, and got moving around 9:30 for what would turn into a roughly 4.5 to 5 mile walk/fish. The pace of these days is hugely predicated on the action, which was consistent early on, but not crazy.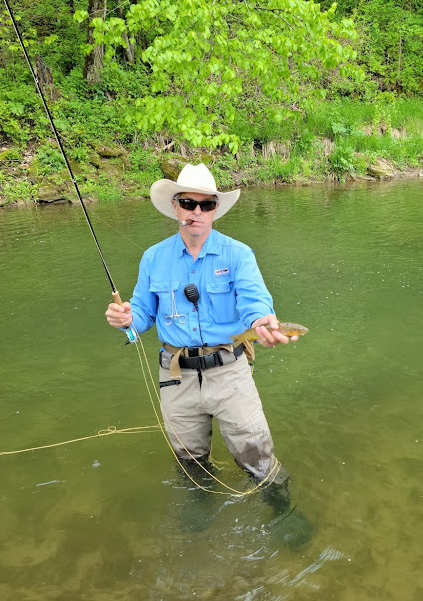 Fred fished a streamer early on and later switched to a two rig setup, while Charlie opted for a pair of nymphs. By early afternoon, the weather had warmed enough to do some dry and dropper. Most were not interested in the dry, but they were all over the beadhead dropper. We had enough fish on the dry to keep it interesting, though.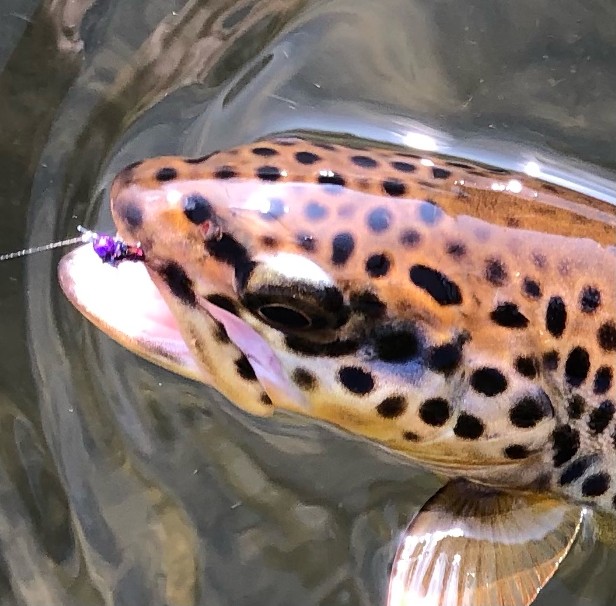 Once the sun came out by mid to late afternoon, the trout's interest in picking up the dry waned considerably, so we were back to double nymphing.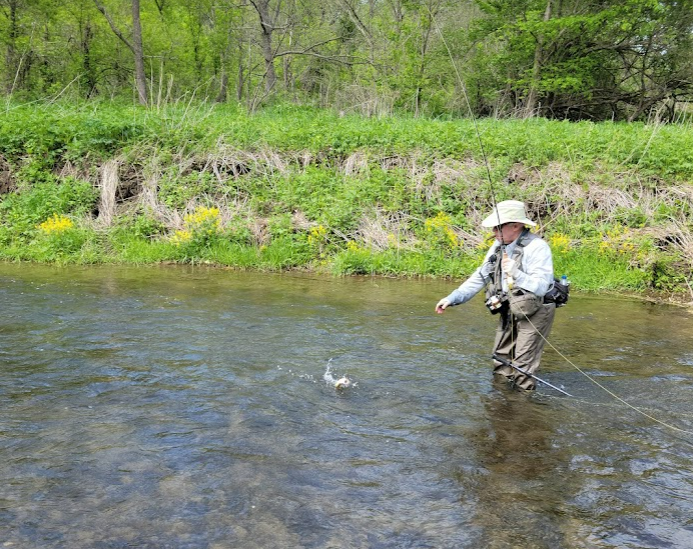 All told, both guys were north of the 50 fish mark for the day with dark, smaller, beadhead nymphs being the preferred fly.
May 14-15, 2022
I spent Saturday morning with a father/son duo from New York. Great guys, who picked up fly casting quickly, so they were on fish all morning. One fished a dry/dropper with decent success, while the other nymph rigged the bigger runs and deeper pools.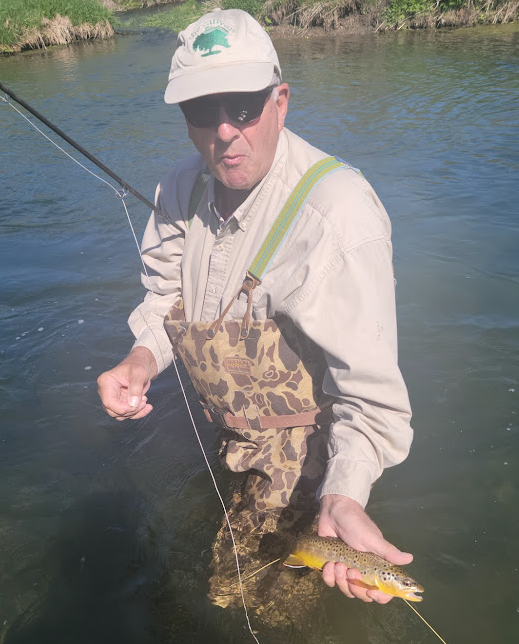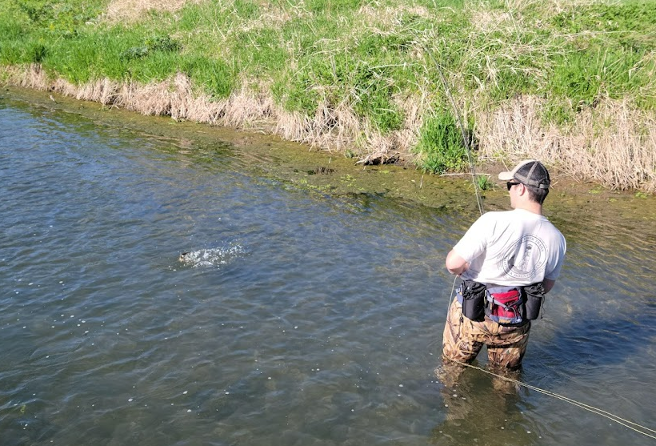 I got out solo on Sunday, early afternoon. After a hike into my chosen spot, I started with a caddis dry and dropper, with minimal success on the dry. I switched over to an Adams and a dropper, and it was lights out for the next few hours.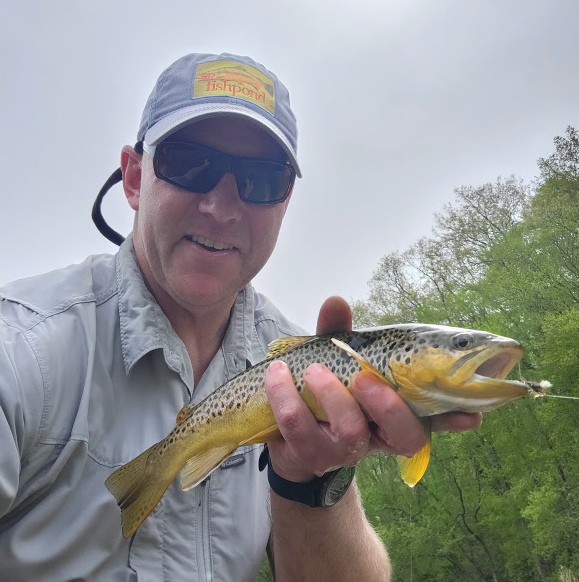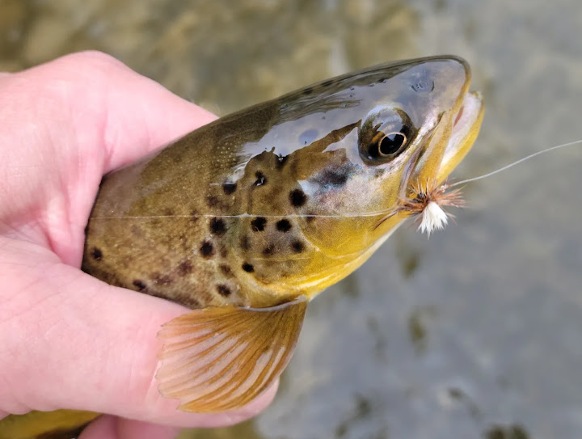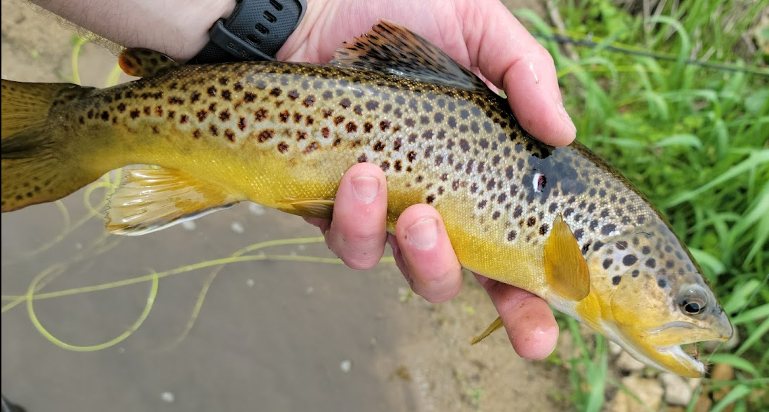 The dropper outfished the dry 5-1, easily; however, water conditions are definitely on the low side of things, so dry and dropper was the only way to go. I covered a lot of water in a few hours, staying put on a run if I was catching, moving on if I wasn't.
April 23, 2022
I spent the morning hours guiding a client in town from Maine. The temperatures were finally more seasonal than they have been most of the spring, but the wind (of course) was relentless. Couple that with last night's rains, and streams were in varying degrees of fishable. We had no trouble finding clear water. We didn't have anything hatching, either, but an Adams with a dropper got the attention of enough fish to keep things interesting.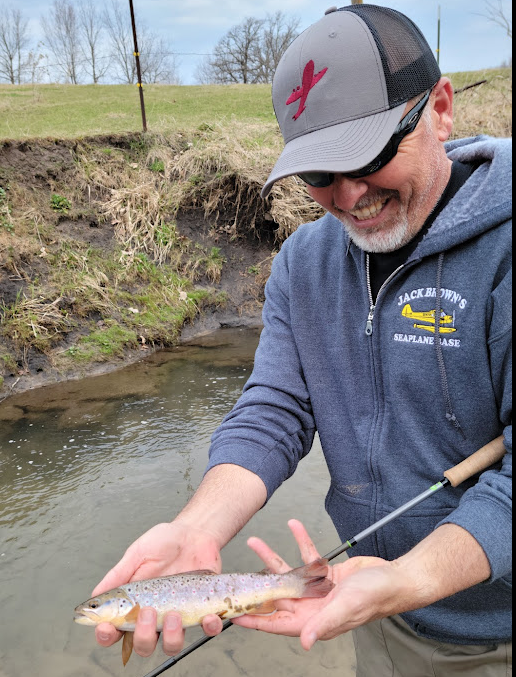 We carried a second rod, as is often the case when I guide, so we nymphed rigged some deeper runs and some faster water with very good success.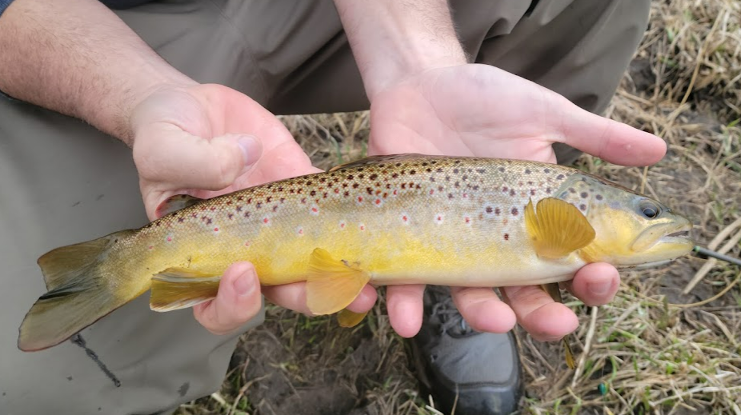 What the intermittent rains and relentless wind tried to do to damper our outing, the willingness of trout to pick up flies consistently made it a worthwhile outing.
Couple of observations: the BWO hatches are still lingering in places with the cooler temperatures, and the caddis hasn't blown up yet for the same reason: temps. This week doesn't look any better to get things warming and get the hatches moving, but with 57 on tap for Friday, there may be a window for caddis.
April 14-15, 2022
Thursday and Friday were not days that I would normally ditch work to spend the day on area streams: high NW winds, sleet, more wind, and more wind made both days challenging. I did what I could to get out of the wind and fish less wide open spaces. The drive Thursday showed a variety of stream conditions. The Root is full, to say the least. The rain front that went through Tuesday definitely impacted more of the Whitewater area and the upper I90 corridor than streams to the east. All streams I fished were in great shape, if not gin clear, for the most part.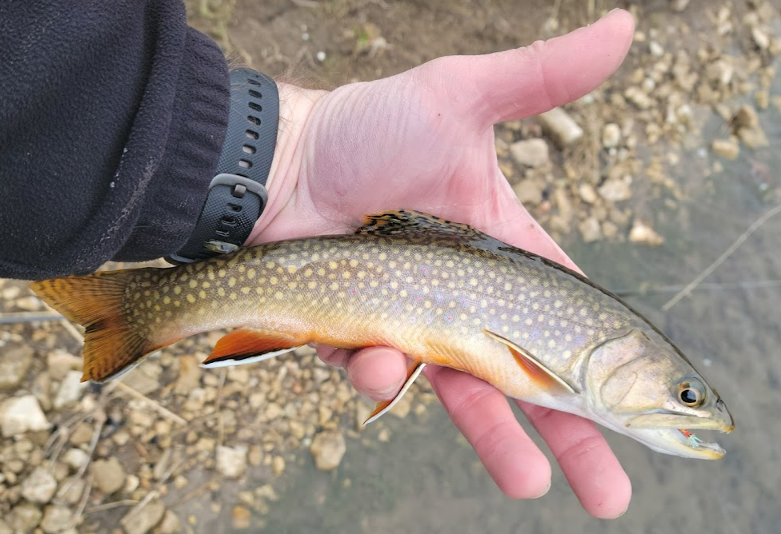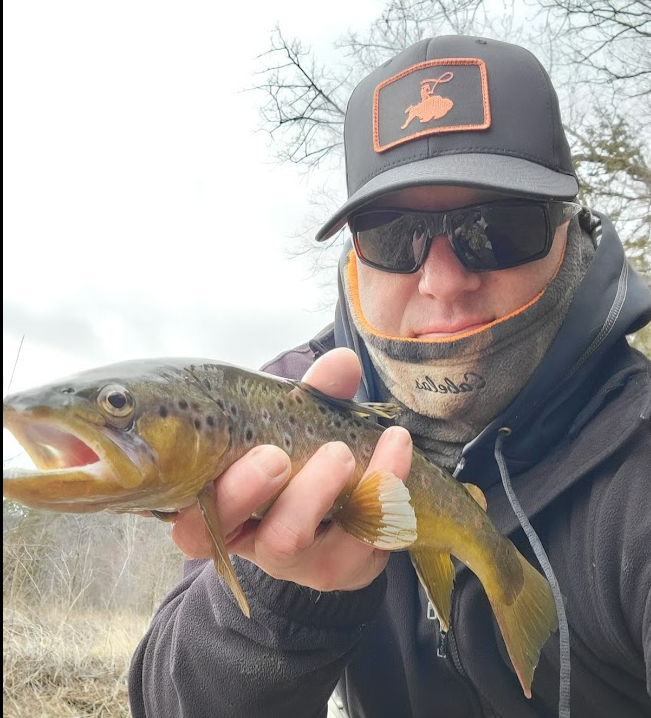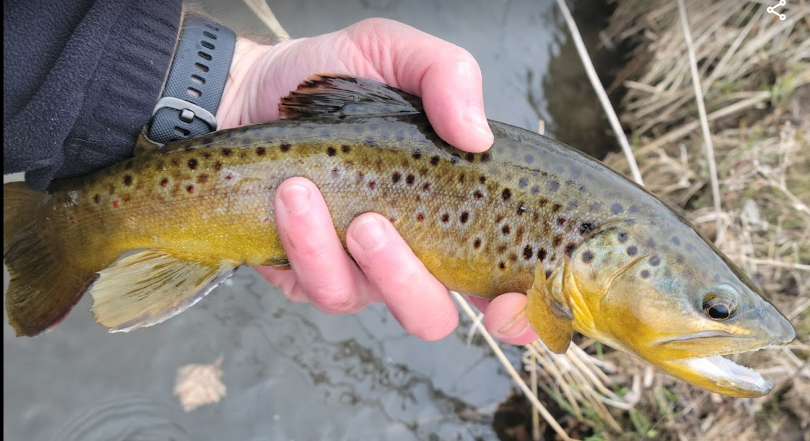 Friday was similar in that the NW wind was relentless, but the sun poked out and the BWO's got going around 12:30. I fished dries all afternoon, and the fish were wiling to pick up an imitation without hesitation.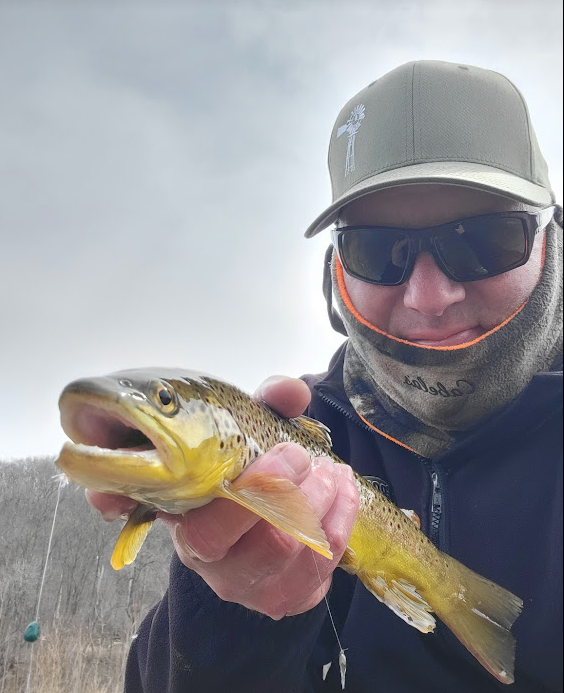 I did nothing complicated or fancy to put a 120 fish day in on Thursday. I rigged tandem nymphs and covered water. The fish were stacked, Thursday afternoon, in pocket water, so it wasn't hard to rack up big numbers of fish. They're hungry, the bugs are available, and they are ready to pick up well-presented flies.
I covered parts of three different streams and pulled off the Driftless Trisecta: brook, brown, and rainbow.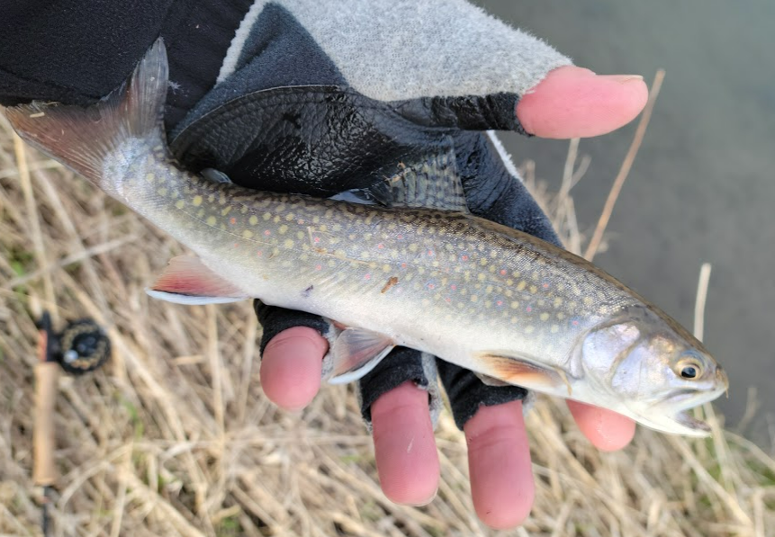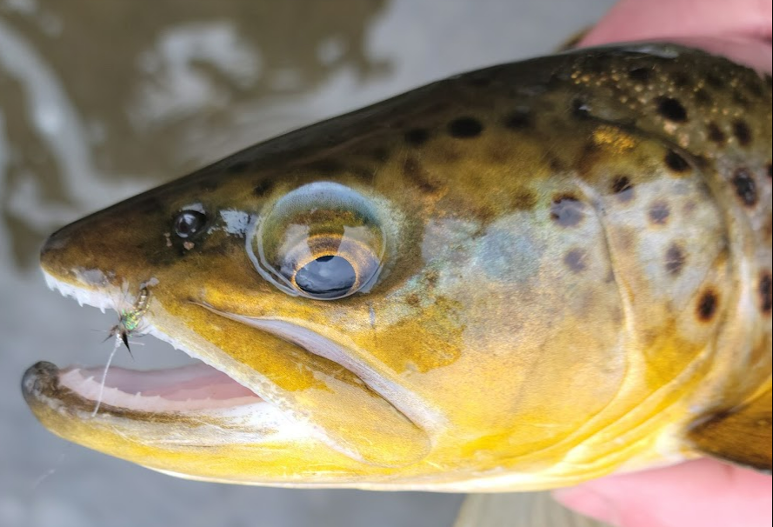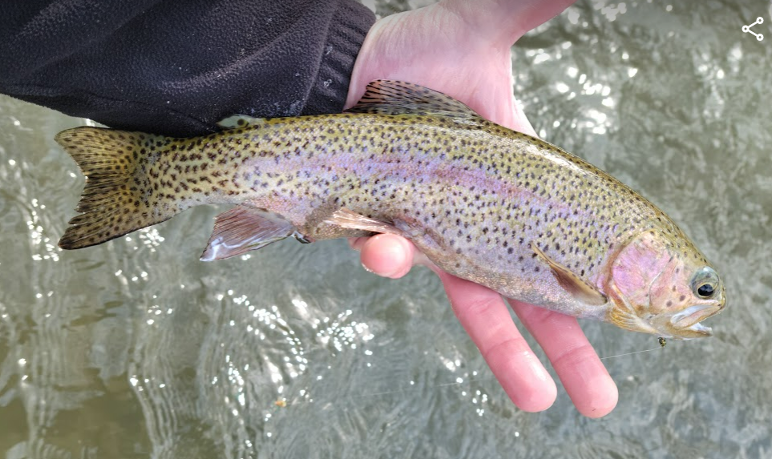 The opener is tomorrow (April 16), so there will be higher traffic than what I saw the past couple of days, yet the weather isn't terribly appealing, so who knows.
April 9, 2022
I spent the morning with Eric, a recent retiree and transplant to the Driftless, who was interested in learning more about trout fishing, fly fishing, etc. The weather was mainly cooperative: chilly with light winds most of the morning. The water is still very clear and very low.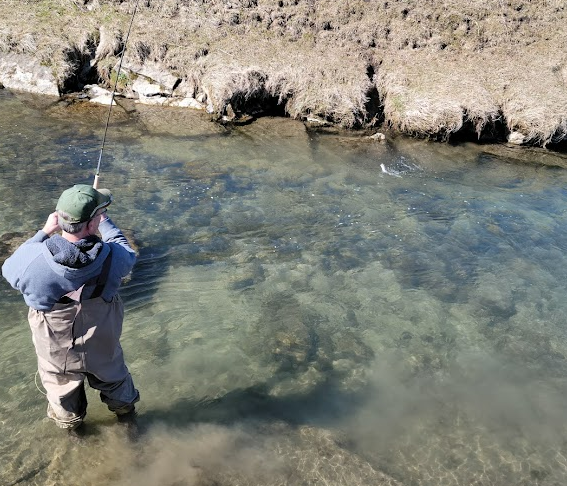 Turning over a few rocks showed that there are lots of inverts ready to pop. The next three or so days with rising temperatures should kick off some real hatches. This time of year, I carry midges, BWO, Dark Henricksons, and caddis. You often run into one or a combination hatch at the same time.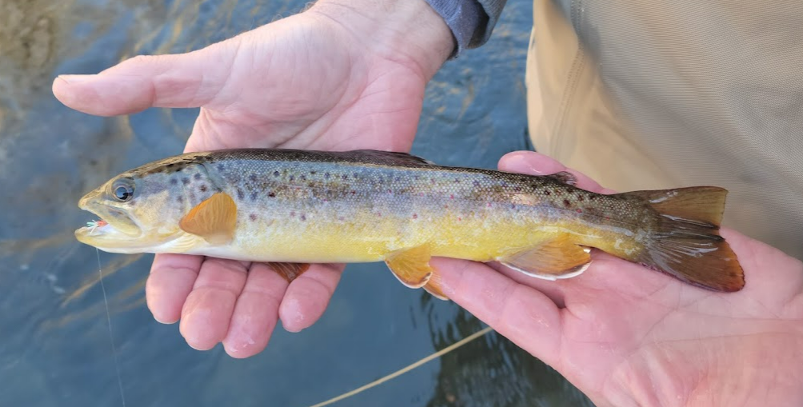 April 2, 2022
Ben and I had this weekend pegged for an outing for a while, so we made the most of a snow filled morning. The wind was not an issue and temps were in the low 30's, so we were in good shape. We nymphed all morning, mainly deeper pockets and pools where the trout were stacked up.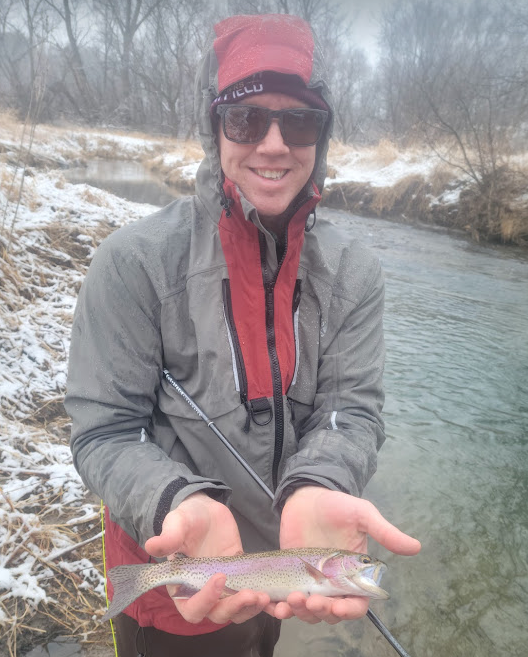 We covered ground when we had to, and stuck it out if the fish kept taking flies.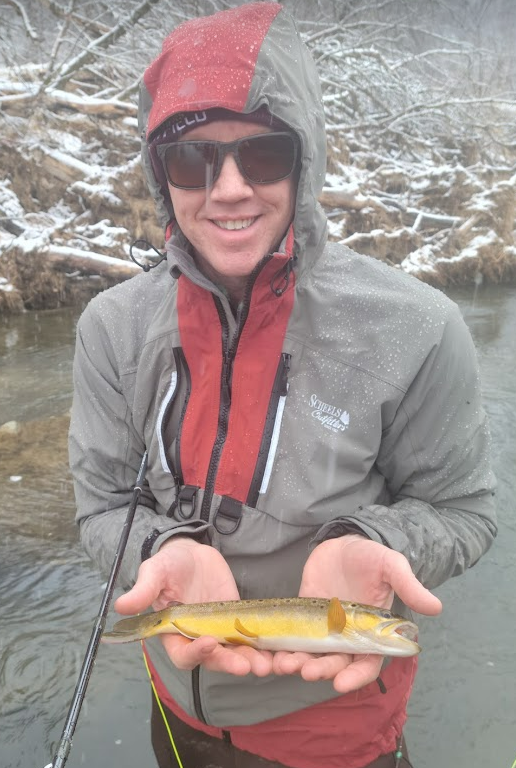 The trout were all in very good shape, despite low water conditions and very clear water.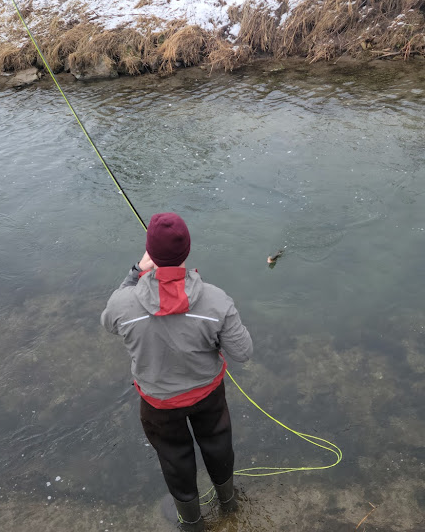 Conditions improved as the snow subsided and the sun decided to make an appearance. Around 1:00, a small, sporadic BWO hatch materialized, so fish were aggressive, not so much that they were willing to take dries, but they certainly picked up a well-presented fly.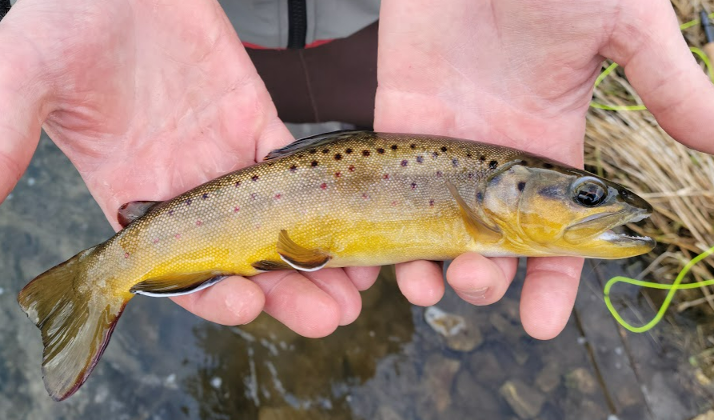 Conditions do not glorious this coming week with low temperatures.
March 25, 2022
Under normal circumstances, I probably would not have opted to spend the day on the water in 20 plus NW winds, snow squalls, and highs in the mid-30s; however, I had the day off of work, and my buddy Troy came down to make the most of it. The weather was actually nicer in the morning than the afternoon. We fished some wooded areas in the AM, just to minimize the howling winds. The strategy paid off with many browns caught and released.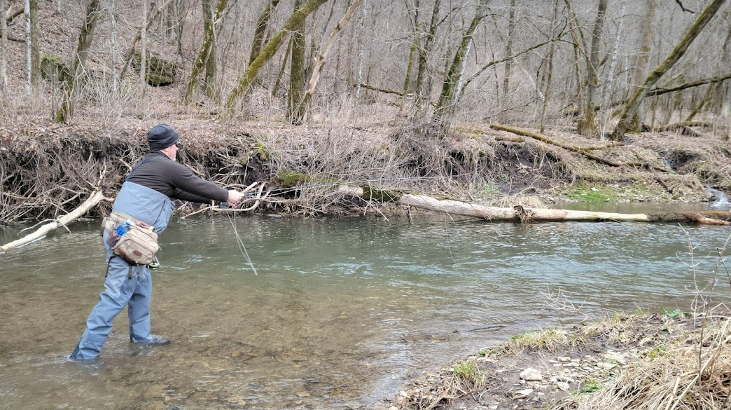 The water was low and clear at our first stop, so Troy went with the standard tandem rig with an indicator, and I started with a gray marabou leech, which got the attention of trout consistently, but with the low water temps and air temps, they were really not in feed bag, chase and kill mode. I ultimately changed up to a tandem rig with no indicator and immediately started catching fish.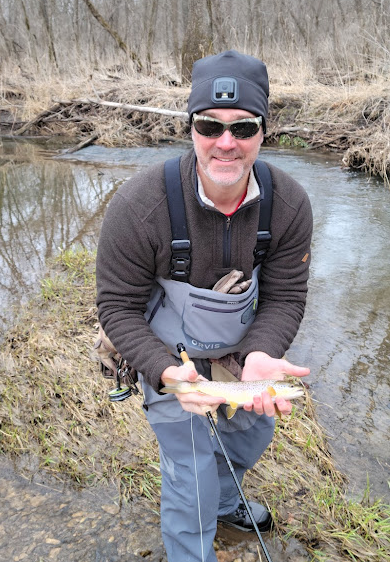 We pulled the pin at our fist stop, had a sandwich in the car, and hit our final stop of the day. This stream was a little chalkier and had better flow than our morning stop, but we kept on nymph rigging and consistently catching trout despite the unfriendly fishing conditions.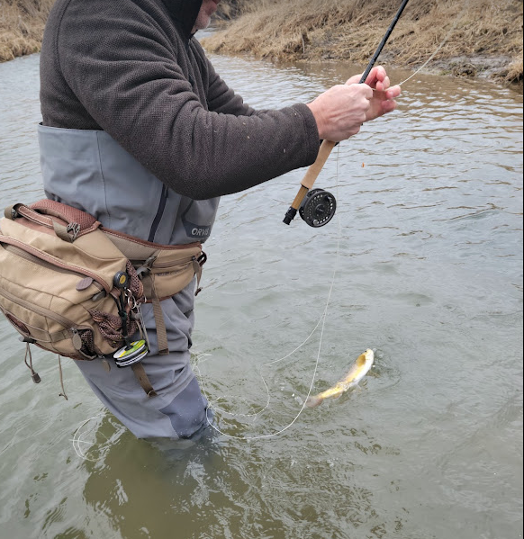 The forecast for the next week sucks. Low air temps, windy, and some rain/snow mixed in. It looks better ten days out, but I'm hopeful the weather will continue to improve.
March 20, 2022
Temperatures in the low 60's (70 on Monday) got me to bag any intention of elbow rubbing at this weekend's Expo and put me on the water of a local stream. Nothing significant in terms of hatches came off for me, but the fish were willing in some very low and clear water.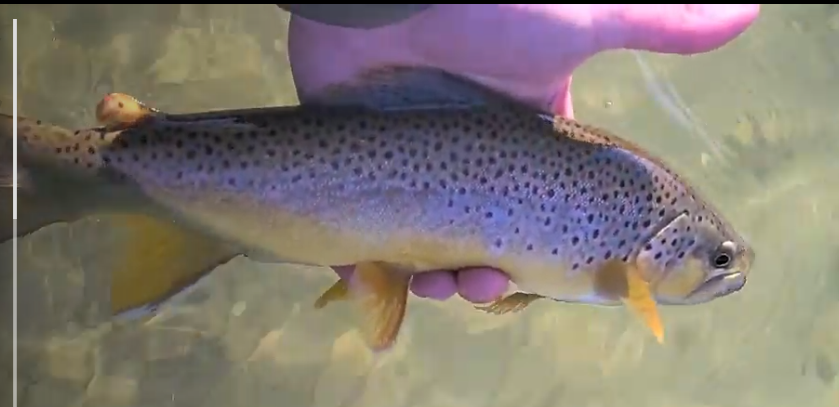 I fished a tandem nymph rig early on and did well enough that it was time to switch it up to a streamer and fire into some deeper pools. It was a mixed bag of browns with a half dozen brook trout mixed in.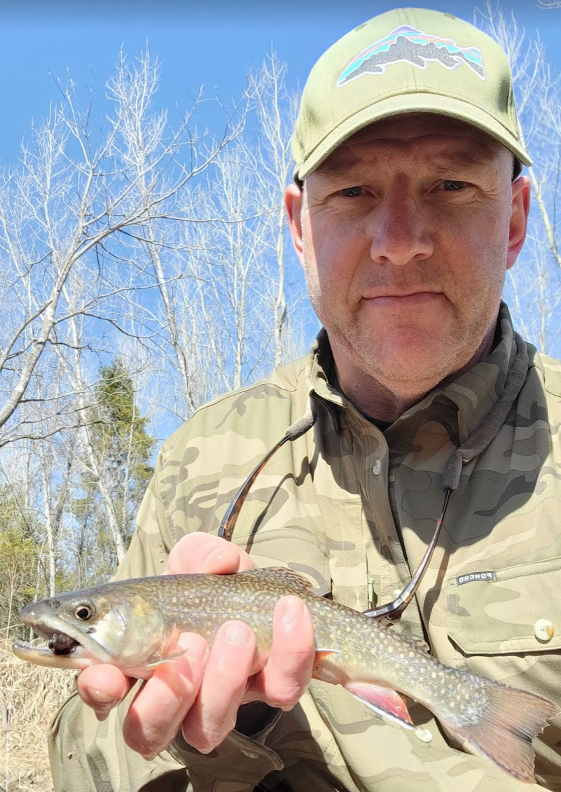 It was a great day for a long walk, covering lots of ground, and no other anglers in sight.
This guy was one of the strangest fish I've caught in a while (on a streamer0. His tail has seen better days.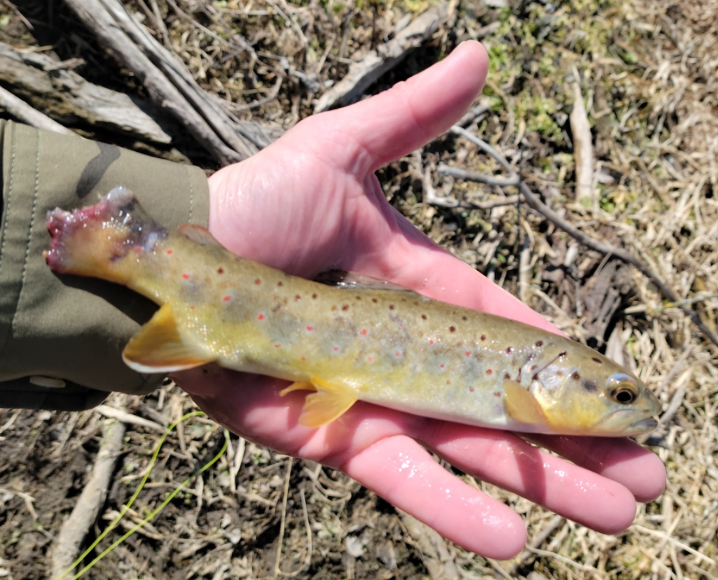 Rain/snow is on the way, and while the temperatures are going to plummet and make fishing a little less appealing than this past Sunday, we are in desperate need of significant moisture in the southeast.
January 18, 2022
I made my first official outing of '22 on Tuesday, which was really the only good day in the forecast. The rest of January, if you believe what you read on the weather, looks miserably, brutally cold. In other words: January.
Charlie, Wayne and myself hoofed into our stretch around 10:00. Walking was not overly challenging with the snow, but our progress was slower than normal.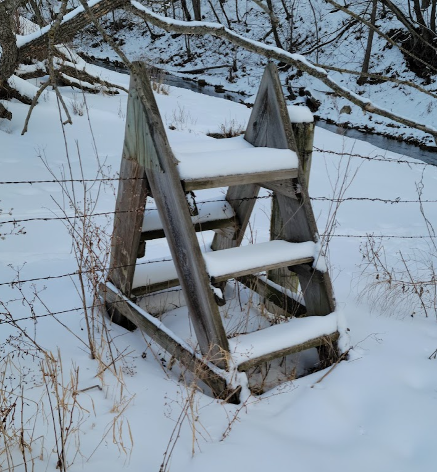 There had not been anyone back as far as we walked, and we had the whole stretch to ourselves all day. Nymph rigging was the way to go; Wayne Euro nymphed, Charlie ran some mid range rigs, and I dredged a scud and a midge.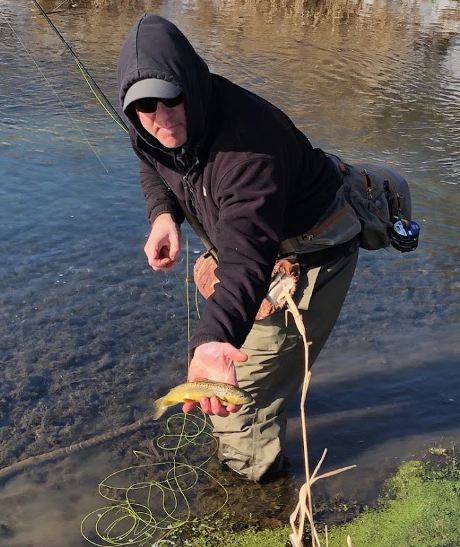 The weather was a mix of sun and high clouds, but the wind was a constant reminder that it was still a winter day.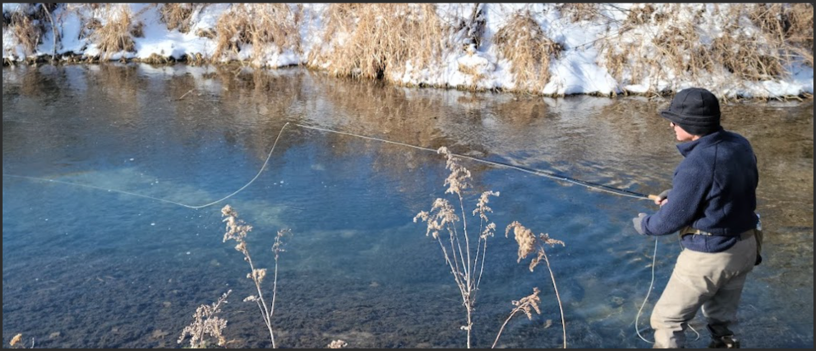 Water levels are always lower in the winter months, but with last summer's drought, they are significantly lower than normal, and, yes, crystal clear.