I have typically tried to get to the West for a few days each summer to go after fish in a whole different part of the world compared to the home waters in the Driftless. 2020 didn't pan out for the obvious covid related situation, and in hindsight, reports from those who did go out were the same: lots of people everywhere.
I booked a cheap flight from MSP to FCA (Kalispell) via Sun Country and spent Wednesday through Saturday with by longtime fishing partner, Charlie, who is out there as they work on building his house. Charlie has been in WF for a few months, so he has had a chance to scope things out, meet enough locals willing to divulge enough information to give us lots of options. Before people start clamoring that we shouldn't be fishing due to Hoot Owl restrictions, the rivers we were on didn't have Hoot Owl restrictions, so we weren't breaking any rules, or stressing out fish. In fact, there were lots of drift boats on the Flathead.
Day one, due to my early morning arrival, put us on one of the branches of the Flathead (there are three major stems) for a few hours of dry flies in spots, nymphing in others.
There was a haze the entire trip in the Flathead Valley with all of the smoke from an early onslaught of western wildfires. We were never very close to any of it and never in any danger, but the smoke certainly clouded the sun and the landscape, much of it predicated on what direction the wind was blowing.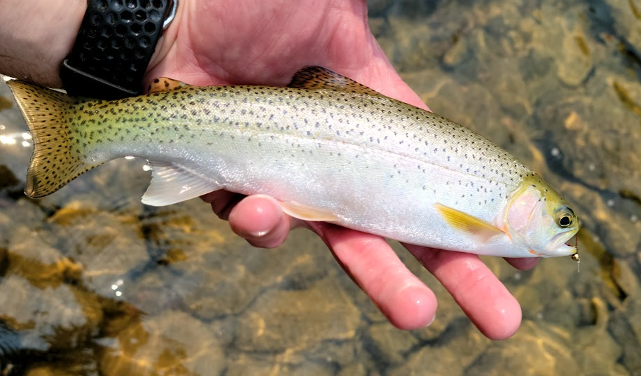 We pulled up stakes and hit a different section of the Flathead and sitll utilized a vareity of nymphs and dries, Royal Coachman being the pattern that Charlie fooled a pile of cutties on.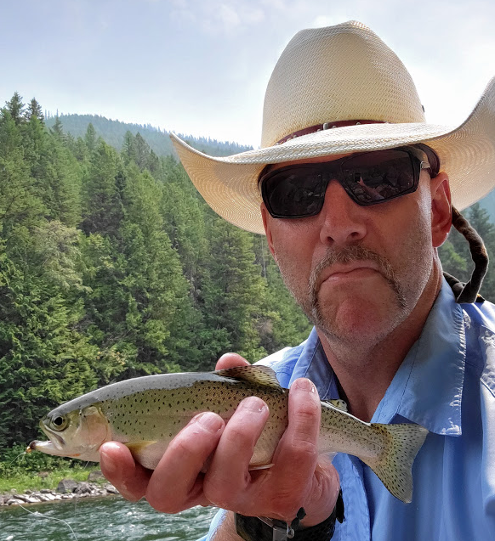 Thursday found us out of the Flathead area entirely, well out of cellphone range, and down a 55 miles gravel road where we could get out and pick and choose our spots. WF/Kalispell is very dry and not humid at all in the summer, so mornings were pleasantly cool, giving way to sun and rising temps in the low 80's throughout the day.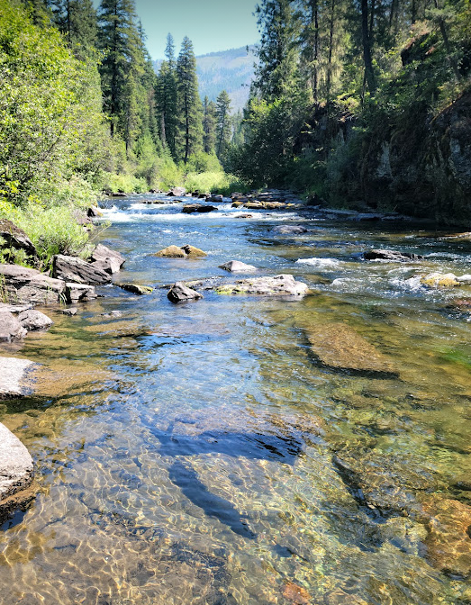 Water conditions were low all over as the snowpack from the prior winter that feeds these rivers had melted very early. That said, the water was still plenty cold and clear.
I stuck to double beadhead nymphs: a red Bjorn's Pretty trailed with a Smaller Gabriel's Trumpet and a couple pieces of tin split shot was very successful.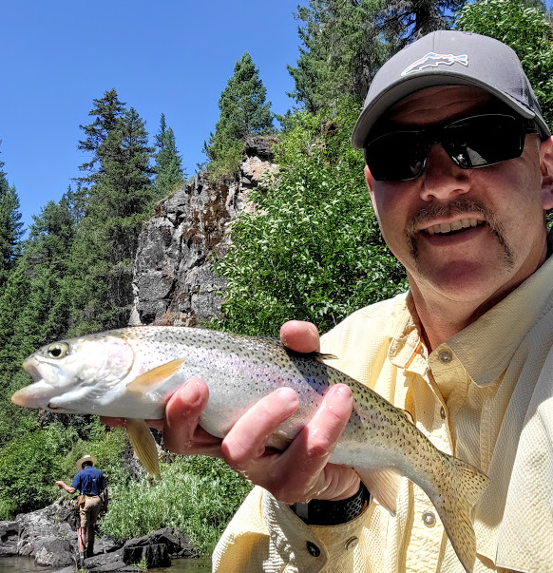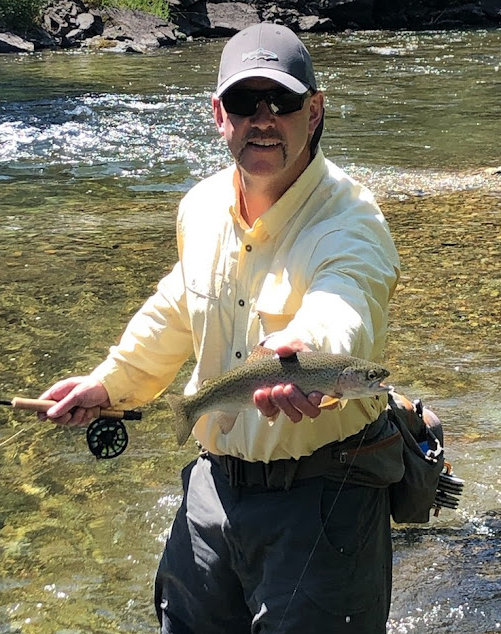 Charlie nymphed a bit but stuck with dries and fooled a few rainbows in spots.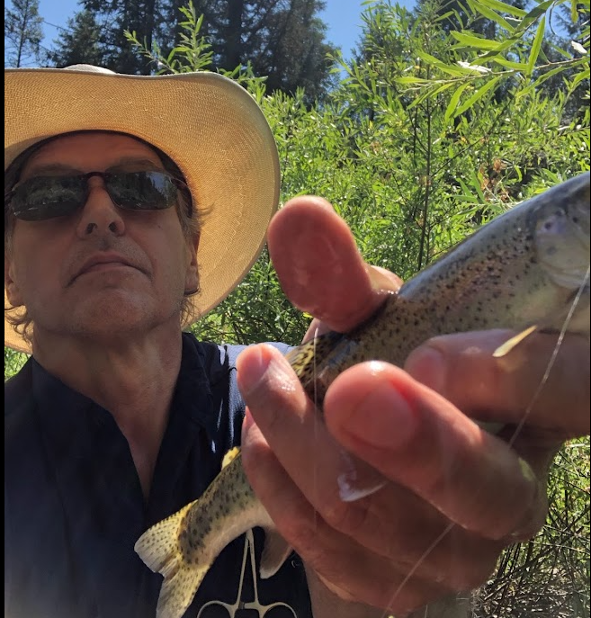 The whole drainage was fantastic with no other anglers around and a variety of species caught: browns, rainbows, cuttbows, and whitefish.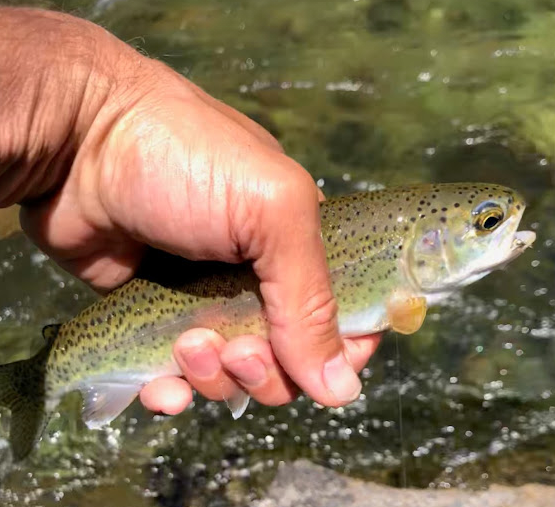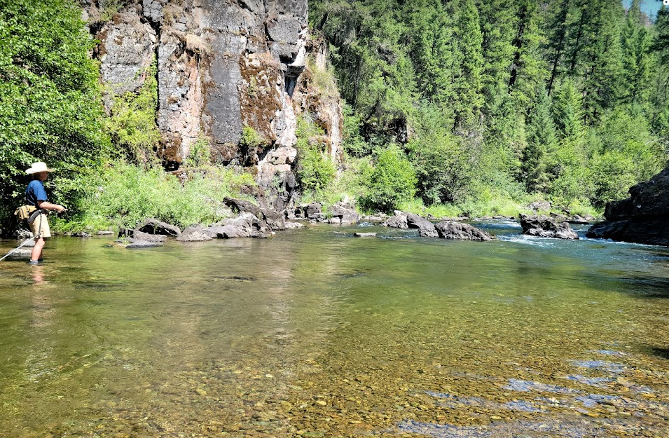 We did have our first encounter of a fish that we had both hoped to check off our list: bull trout. The first came by accident as I was unhooking a snagged dry near the bottom of a run, when a huge black shadow submarine swam up out of range. The second was not more than a few minutes later as I stripped a small streamer through the top of a run, hooked up a small brown who lept out of the water, and was followed by a significantly larger bull trout that propelled itself completely out of the water, missing the brown, but showing us exactly who the hole master was.
The last day, we ventured further down Highway 2 along the Flathead and checked out some newer water to us. Another shift in the wind and the start of two new fires, one near Polebridge on the North Fork of the Flathead made the valley, clouded up the beauty of the valley.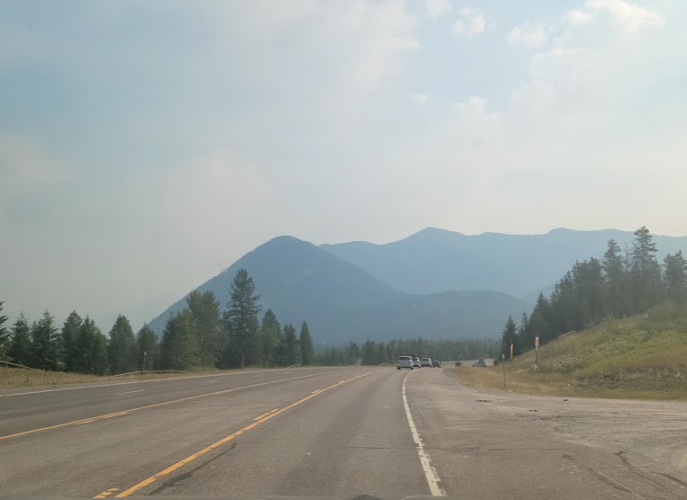 The run below produced well over twenty cutties rising to pick off a Coachman.
My nymphing efforts had produced nothing more than a handful of whitefish, when I finally switched over to a dry and popped this beautiful cuttie.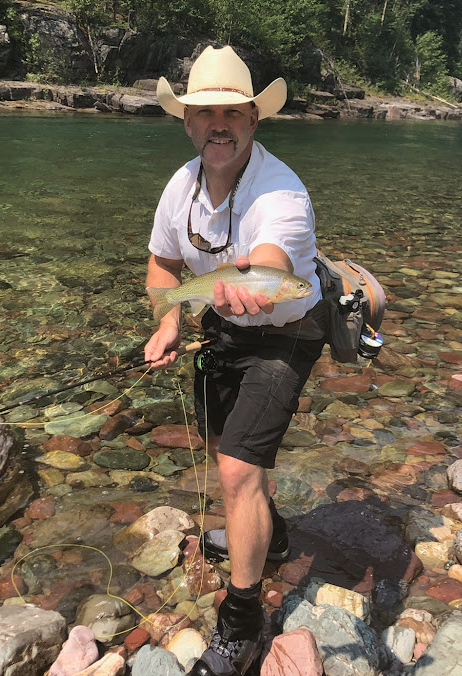 We trekked up the river a bit further, running into a beautiful waterfall pool that was nothing more than a beautiful waterfall pool.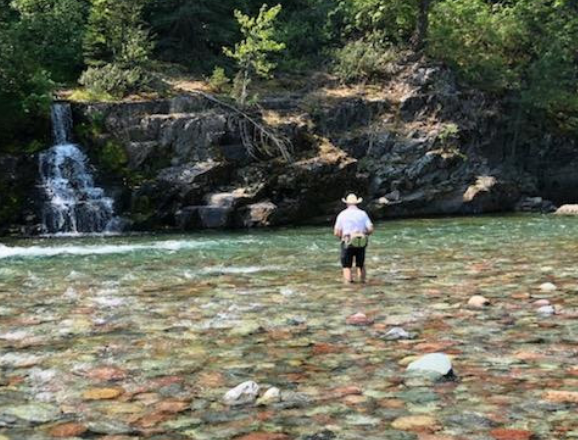 Takeaways from the trip: MSP to FCA is a super easy, angler friendly flight in terms of time. Whitefish is an awesome town - lots of people in the summer, and lots of people in general right now. Highway 2 from West Glacier to East Glacier is simply stunning. The drive out and back each day was fantastic...other than the road construction. Wet wading the rivers is the best way to go right now. The water isn't so cold, you freeze up, but cold enough to keep you cool, which leads to the weather: 80's and low humidity by day. Low 50's, upper 40's by night and early AM: perfect. I fished a 4 and 5 weight rod the whole trip, but I wish I would have packed my 6 weight with the sinking line to give myself a better shot at bull trout. GNP/Flathead is not over run with anglers, but it also has a much lower fish volume per mile than other fly fishing destinations in Montana. I caught as few as 5 and as many as 20 fish in a day: browns, one brook trout, rainbows, cuttbows, Westslope cutthroat, and whitefish.
I didn't carry a wading staff very often (probably should have more). The places you fish or cross aren't terribly deep, but slippery rocks and very fast current is challenging.The best thing I did was put new studs in my wading boots before the trip. That still didn't prevent two falls (no injuries, etc). Bear spray - I carried it once when we ventured through some sketchy terrain, but there was enough car traffic, boat traffic, etc. that I never felt unsafe. Yes, there are griz in the area, but they aren't just wandering all over snacking on helpless fly fishermen.