Montana/Wyoming 2019
I am fortunate to have a great fishing buddy, Charlie, who is always interested in going West to fly fish. Seems like our trip usually starts to take shape in the winter months with a master list of places we want to explore, or places we want to go back to. This year was no different as it was a mixed bag of new, high altitudes, a lake, and back to the comforts of a stream that we had gotten to know pretty well last year.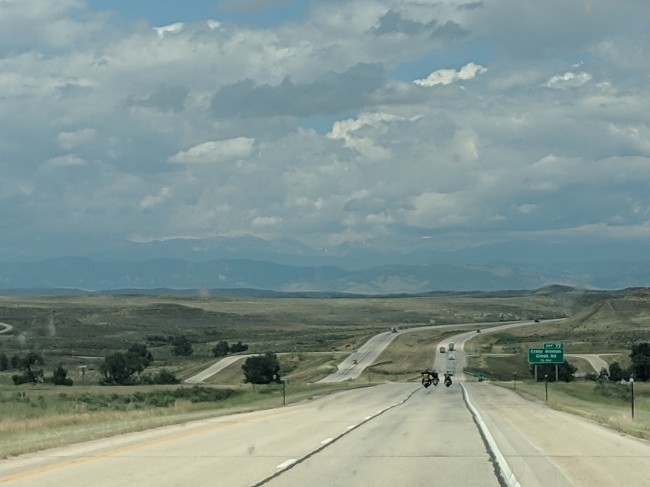 The trip from MN to middle of nowhere South Dakota was only made tolerable by interesting car conversation and quality Pandora music choice. By day two we went through Buffalo, Wyoming and made a stop at The Sports Lure, a really cool outdoor store with a really decent fly selection, which is more than I can say to our side trips to Cabela's' in Mitchell and Rapid City. Big box fly fishing departments have gone the way of the dinosaur. Cabela's is a great place to pick up a shirt on sale. It's not a great place to get even basic fly fishing essentials.
Out West also provides the beer taster many local options. Be good at who you are, and they are good at brewing.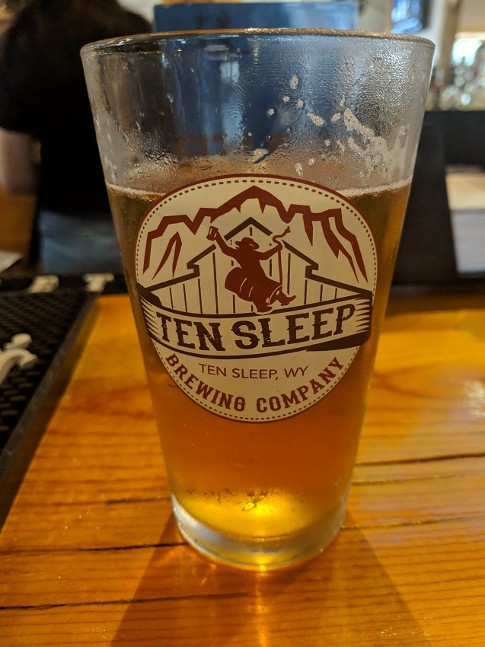 From there we went up the road to Sheridan and a stop at The Bighorn Flyshop. I've heard this was the place out West for flies, etc. Well, it is a nice flyshop, but it's not that great. A pile of hats and sweatshirts advertising them as a business are for sale, but entire bins of Hippy Stompers were empty. So, in my opinion, an average at best shop. Hit The Sports Lure instead.
The night would not have been complete without a stop at The Mint Bar. The decor alone is a great reason to make this a stop when you're passing through Sheridan, Wyoming.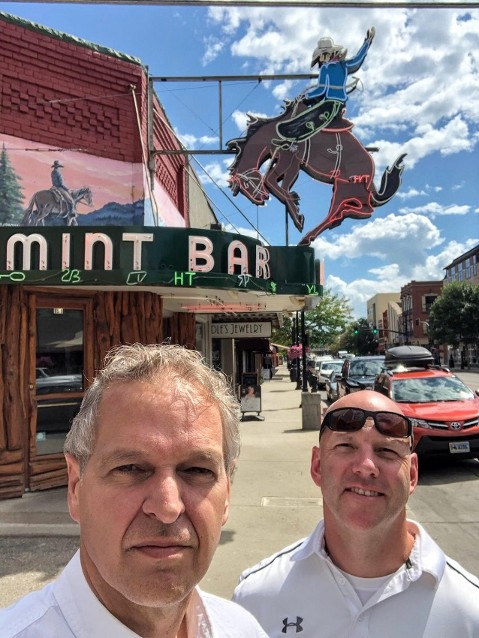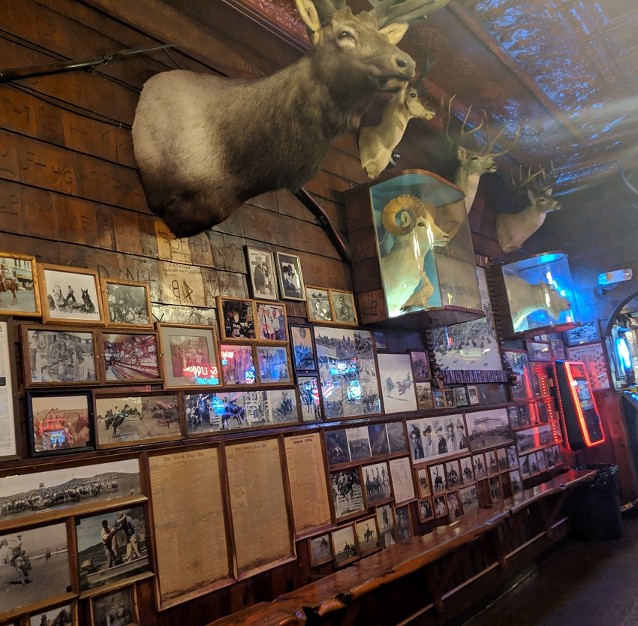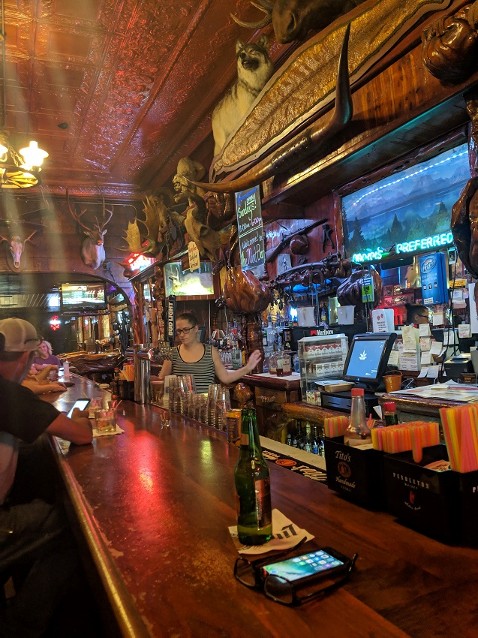 Up early and out the door, we were on our way into Montana, and then back into Wyoming to fish. I know that makes no sense, but if you look up Little Bighorn River access, you'll see what I mean. I often hesitate to name streams outright, but I'll put that policy aside for this one. Mainly, if you have the vehicle to get there and the physical grit to hike a canyon on a poor horse trail at best, pack in a few hours to fish a few holes, then knock your wading socks off.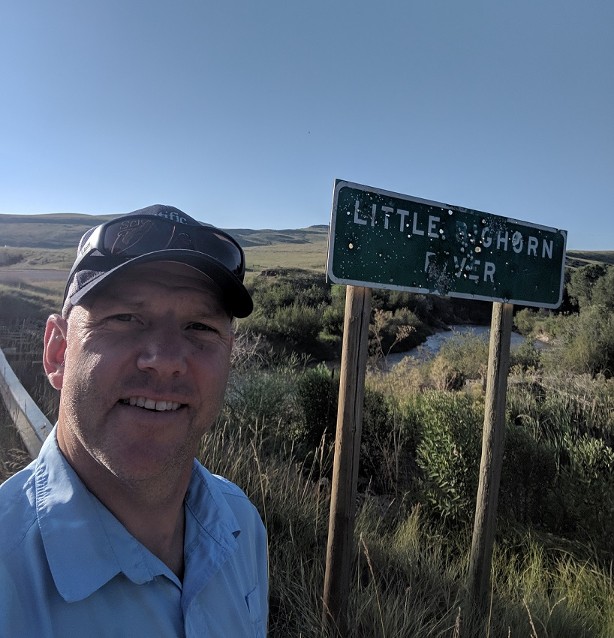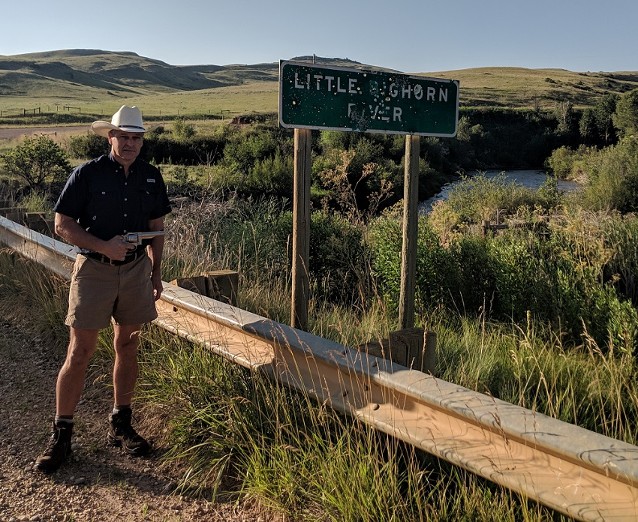 The road off I90 is perfectly driveable until you get back in. Then it turns into a two lane rutted mess that wreaks havoc on your tires and vehicle. It took us 30 minutes to drive 2.5 miles at one point.
We packed .357's for many parts of the trip, some of it for bears, some of it for the unknown when you're isolated without cell service in no man's land. A jogger went past and warned us of a bear on a kill up the valley, so the bear spray and guns were always packed.
The fishing was ok, not great. We caught a few browns, a few rainbows, and a few small cutties. This is the lower end of the LBH down the mountain from its source in the Bighorn Mountains of Wyoming.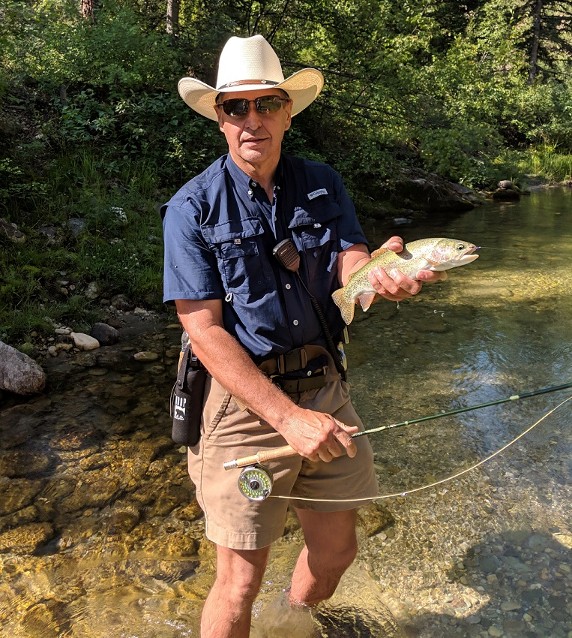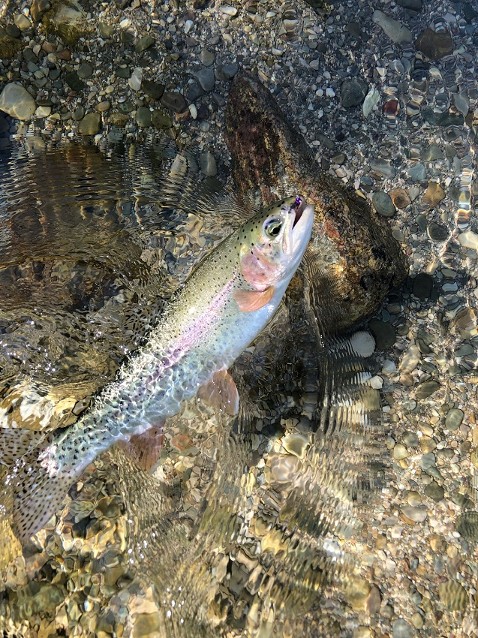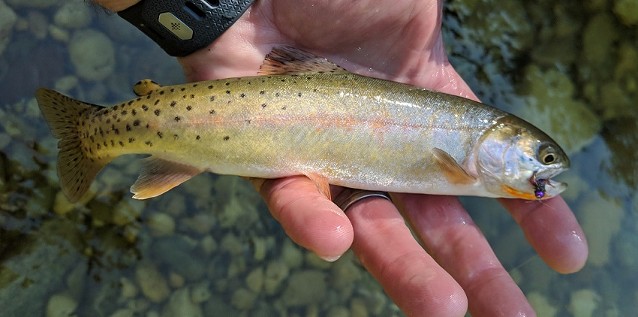 The lower LBH is really pretty country, but it is tough country to fish. Basically a trail runs along it, but it's very fast water that is unfishable, so you have to look for pools to settle on. The number of pools versus the number of miles walked certainly was not in an angler's favor. All told we hiked in and out about 8 miles, probably a little more than we had bargained for considering our future agenda of fishing/hiking.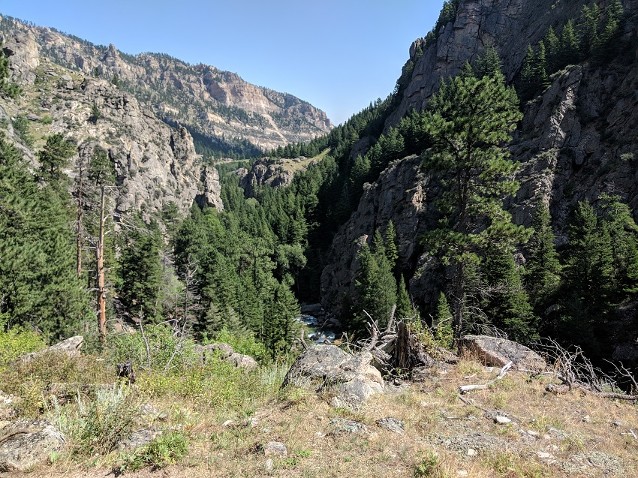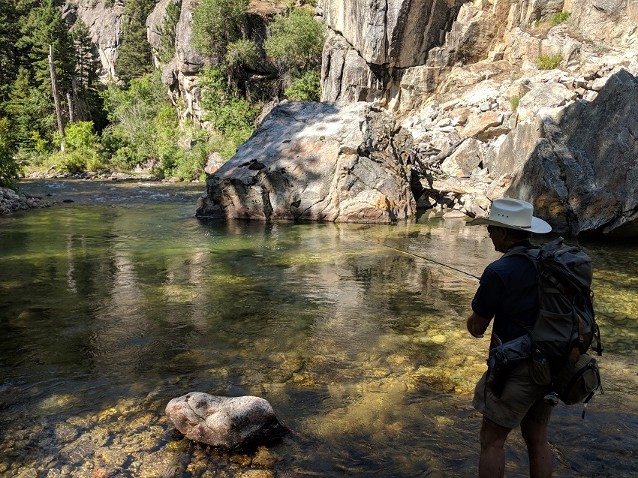 We hoofed out and got on the road to get to Red Lodge for our next day's punishing adventure.
Day Two: Sylvan Lake, Montana
I will kiss and tell on this fishing area, too, because getting there and back is not for everyone, and, really, when it comes to seeking golden trout in Montana, it's not a secret.
I wasn't terribly optimistic when we got up early from our accommodations in Red Lodge to find rain, clouds, and a very low ceiling Hiking uphill in the rain carrying a bunch of gear wasn't high on my list that day. Catching a golden was the only thing on my list.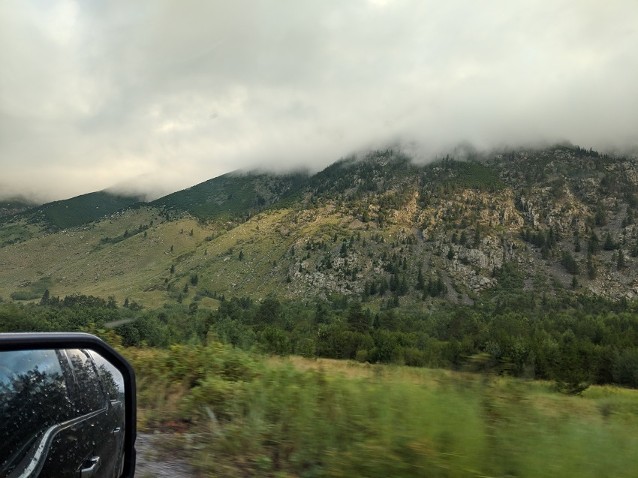 We drove back into the East Rosebud Lake area, found our parking area, loaded up our gear, and started the climb.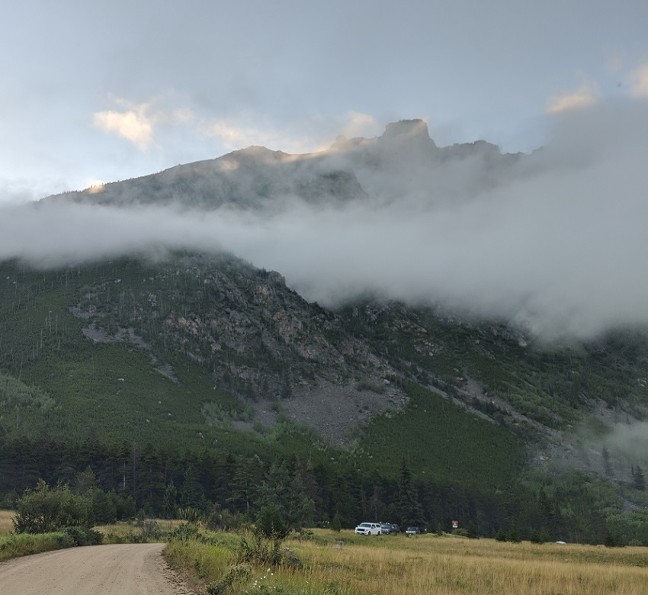 Disclaimer: This part of the report will be scenery heavy, and not so much golden trout picture heavy. More on that later.
The trail started at 6200, headed up to 9300 to a plateau, then down again to the lake at 9100. The trail itself was very well maintained and easy to walk. The elevation for some Midwest flatlanders certainly came in to play as we had to stop and do some basic deep breathing early on.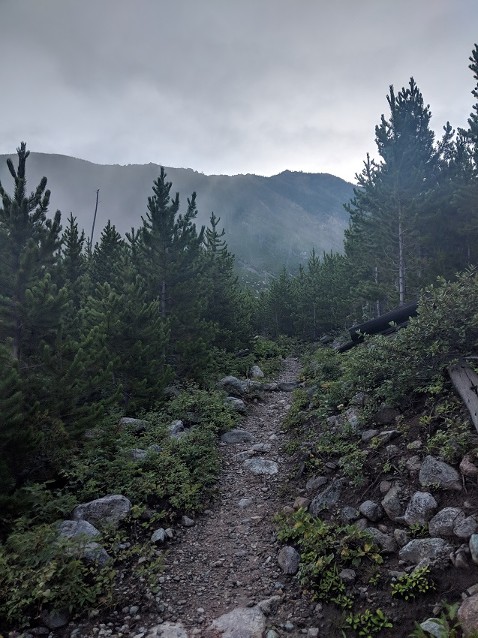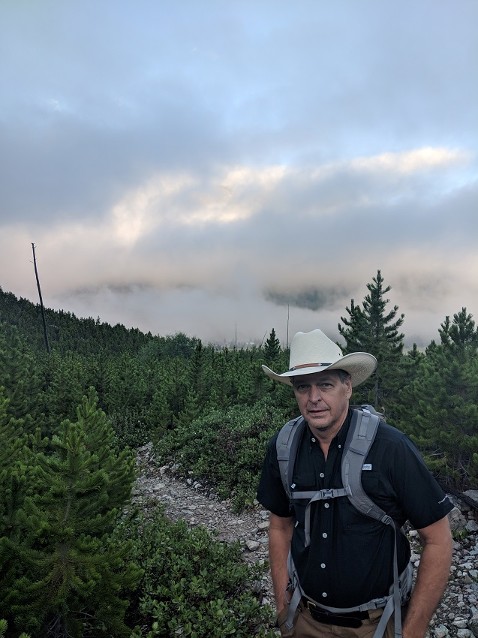 We started the hike out in mist and fog and walked above it into sunshine, looking back on a valley that was still overcast and gloomy.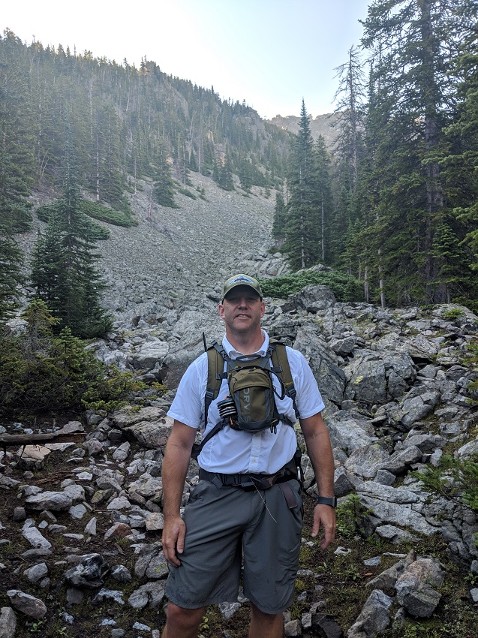 We had a GPS tracker/altimeter with us - this is 9000 feet.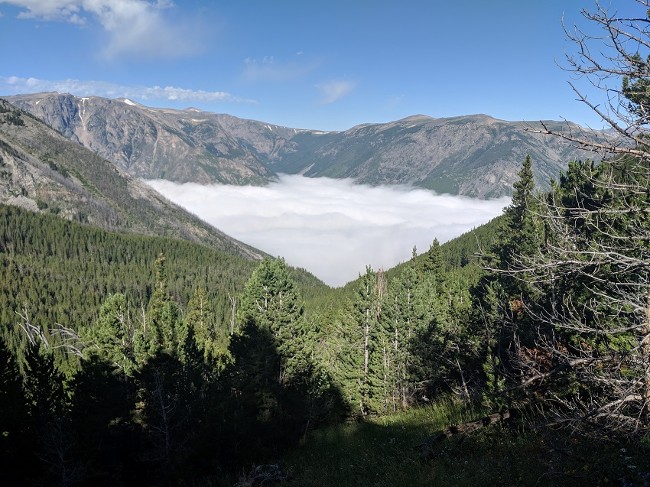 This is the view at the uppermost part of the hike, before we go over the top and descend to Sylvan Lake.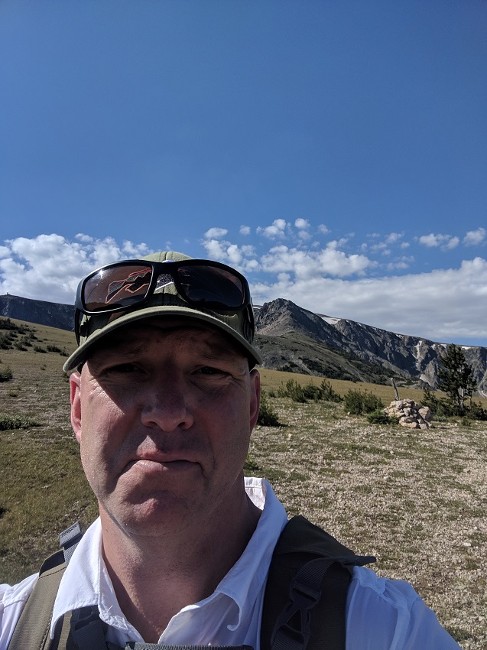 Once we got to close proximity of the lake, we ran into some campers, a few anglers, and some dogs who had made the trek with their owners, but, overall, it certainly wasn't busy. There were plenty of places to fish, but.....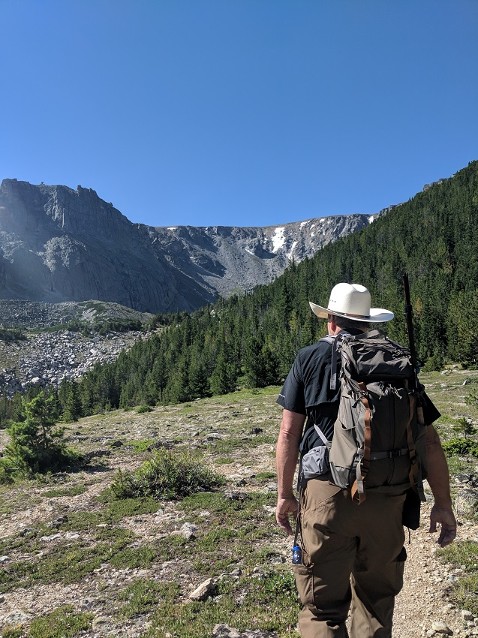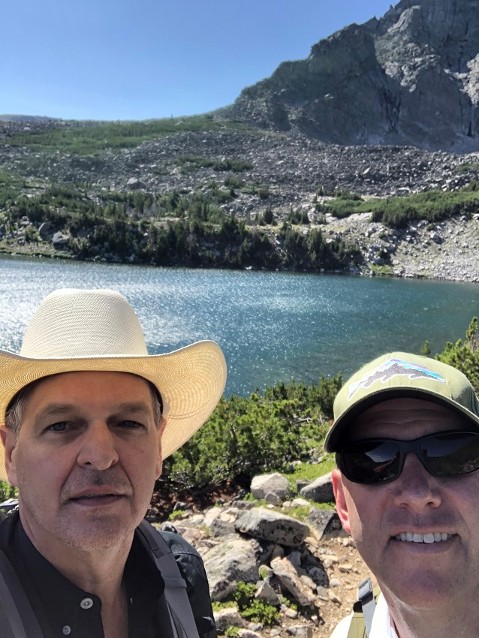 ...as you can see in the above picture, a well defined ripple effect is on the lake because of the wind. Goldens, that day at least, were nowhere near the shoreline cruising for flies when the wind was high. We found some calm water and found a few cruising fish. I lost a pretty nice 14" fish and landed a tiny 5" that I didn't manage to get a photo of, but I did land one.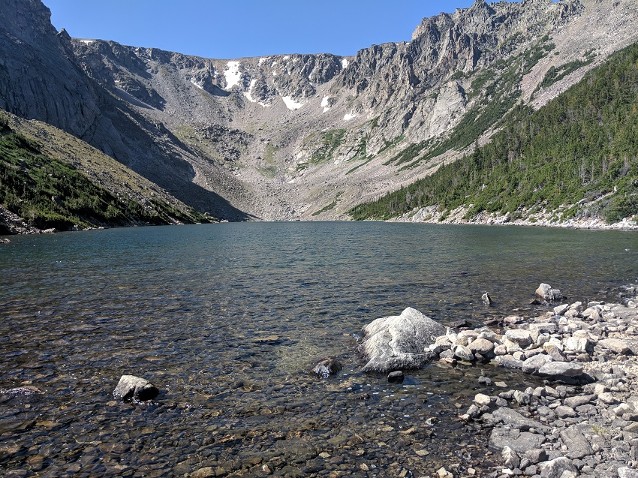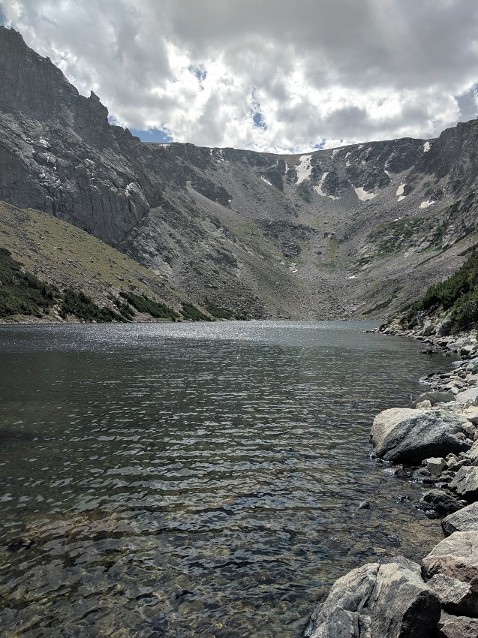 The hike up took us 3:20 with a few stops on the way. So by 1:30, we had to pack it, pack it in, and get moving back to the starting point.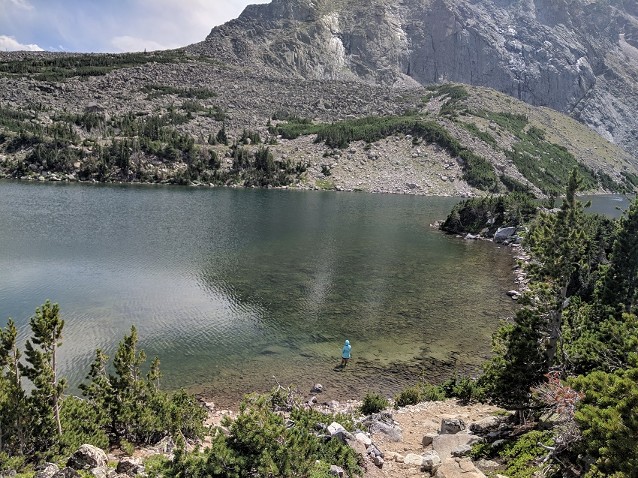 The walk down wasn't any easier, as downhill hiking puts a whole different strain on one's muscles and joints. The walk down took us 3:00. All told, we did around 12 miles that day in and out and around.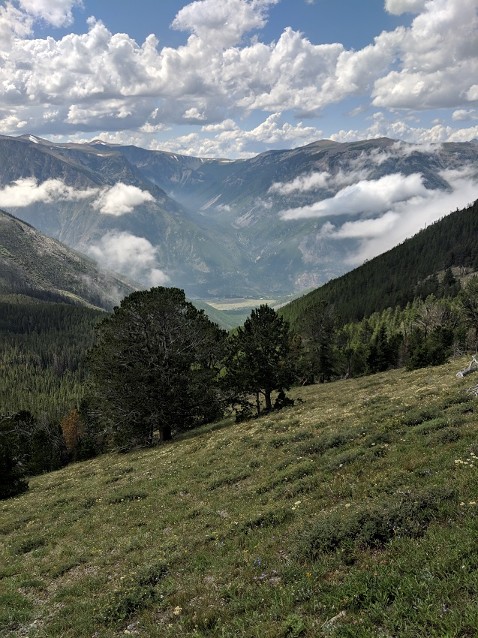 A stop in Roscoe to the Grizzle Bar is a must if you are ever in that part of the world. A fine Red Lodge beer on tap, then a trip to Natali's front bar for food and a beverage on main street Red Lodge, MT is highly recommended.
Day 3: Somewhere in the Red Lodge Area:
I'm not going to lie, I was very sore and tired after two full days of hiking and fishing, and this third day's plan was no different. We started out at 7200 feet of elevation and walked a good two hours plus to our first stop, a flat open space to pitch dry flies to high elevation brookies.
The stream we were on generally looks like this: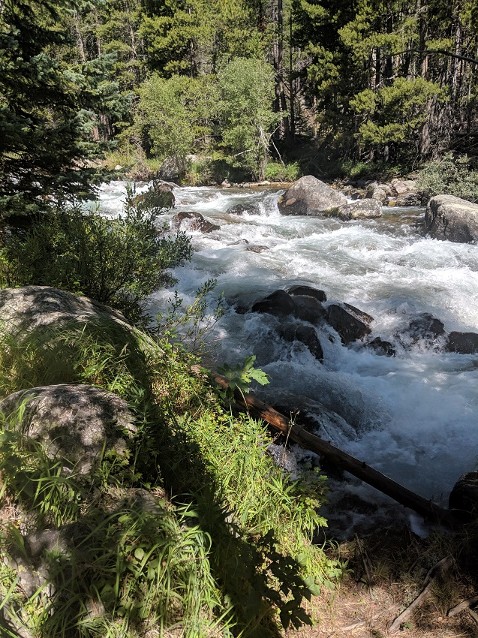 It's fast, big bouldered water, so looking for the flats and side eddies where the fish can hang is the name of the game (this is where Google Maps is invaluable).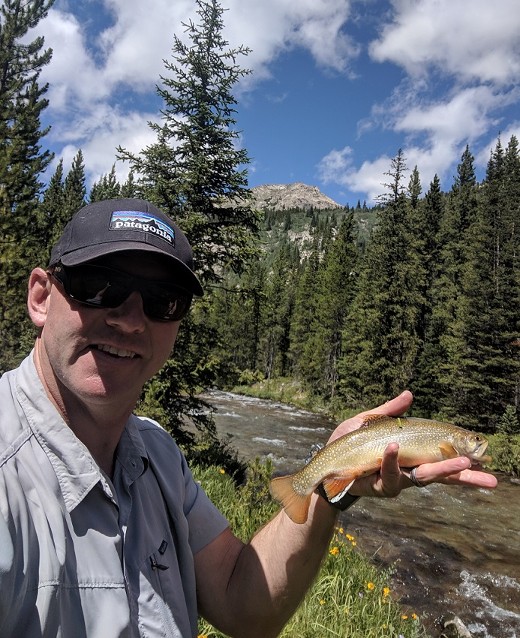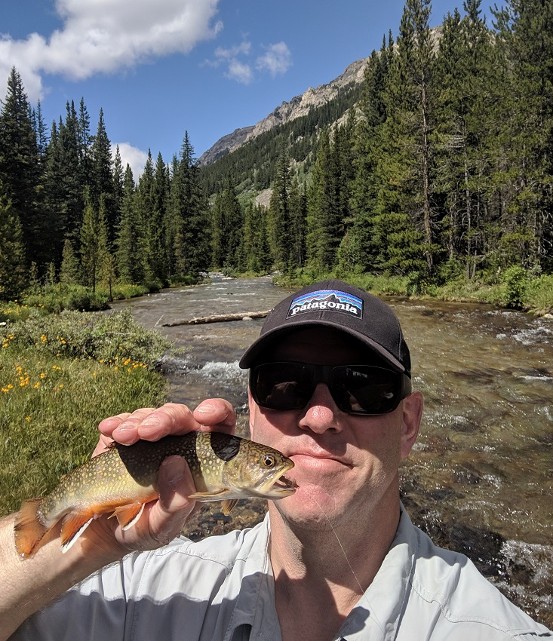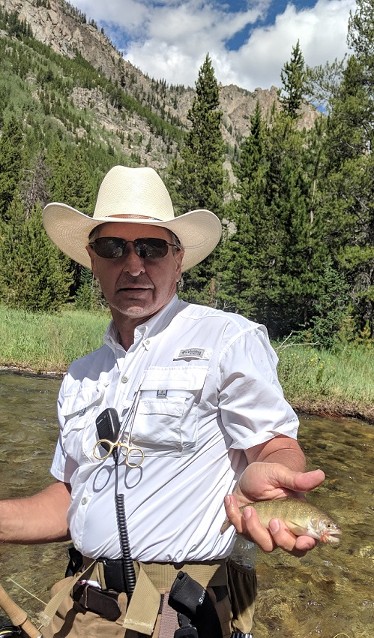 Well presented, visible dry flies was the key to popping these brookies. I know many Western folks aren't fans of brook trout, but they were prevalent in this body of water, and probably here to stay.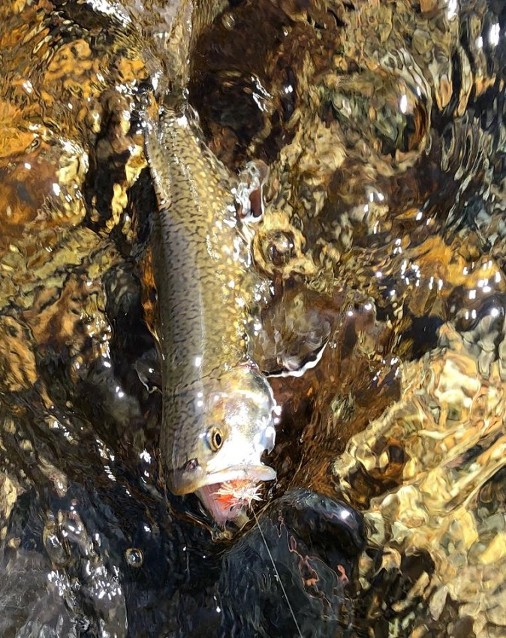 We weren't in real bear country on this outing, but we were certainly in moose country.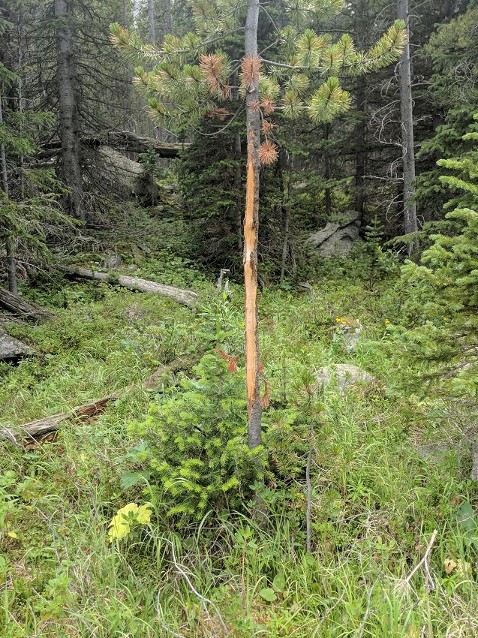 The markings on these fish is amazing as it certainly varies.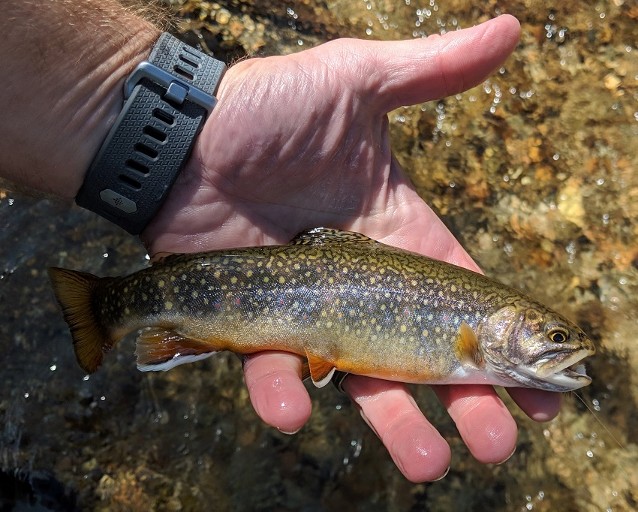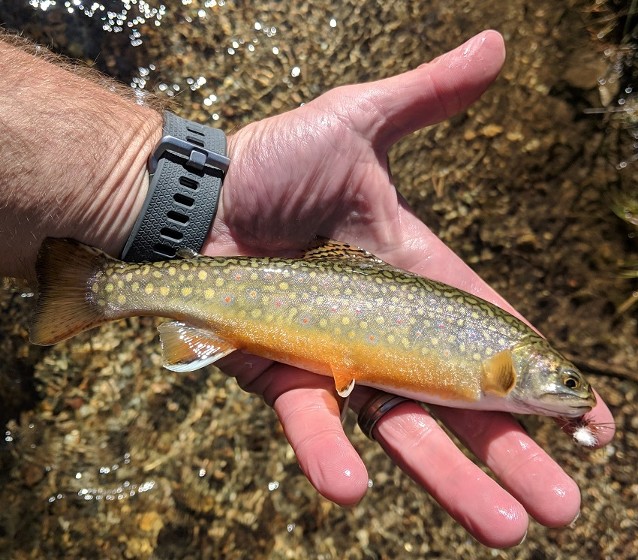 Just another double digit day in miles, hiking into 8500 feet and back.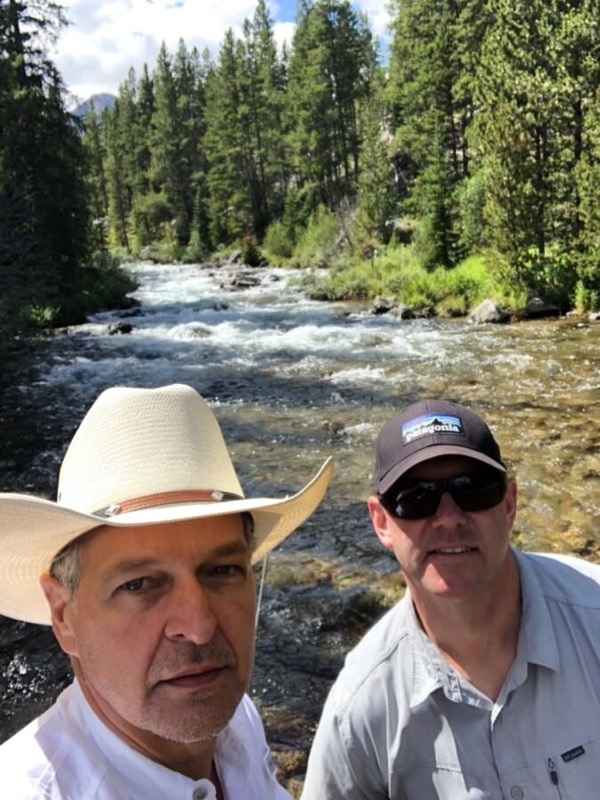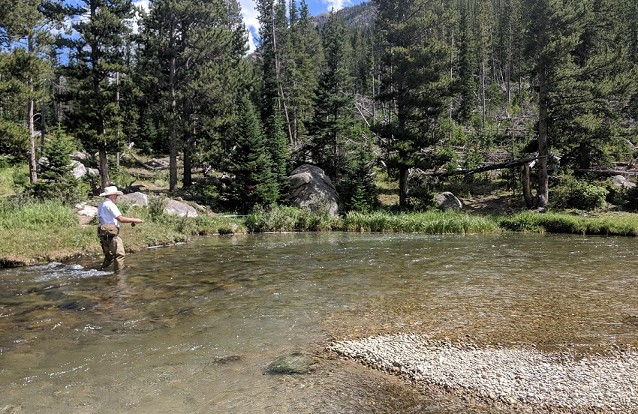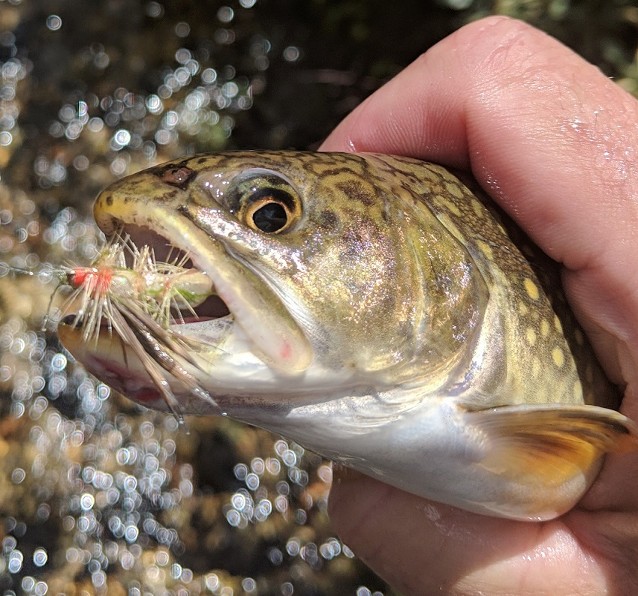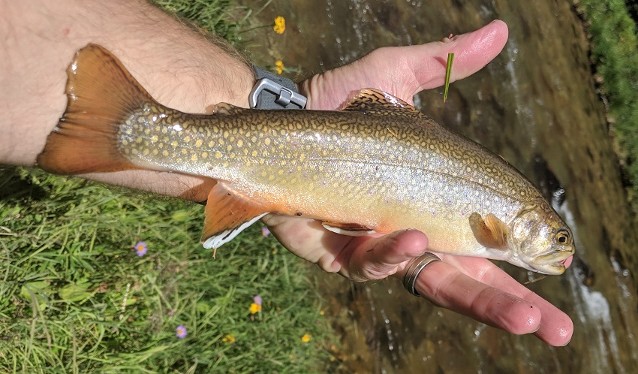 The only ugliest trout we pulled that day was this rainbow, that I dubbed the ugliest wild rainbow I had ever seen...at least on this part of the trip.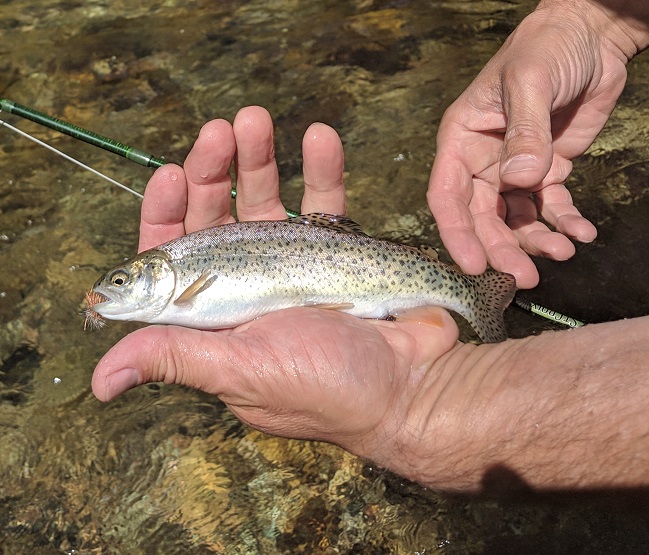 We hoofed for an hour down the trail, and down in elevation, back to our place of origin, unloaded, went back to Red Lodge, showered up, and had a well-deserved bottle of wine and ribeye from the Carbon County Steakhouse, easily one of the best places to eat in Red Lodge.
Day Four: The Bighorns
We left Red Lodge for the trip south and east into Wyoming. To say this is a scenic drive would be a lie. Flat, uneventful country at best until you hit Lovell, Wyoming for lunch. From there it's an interesting switchback trip up the mountain.
Note: this is the part of the report that gets picture heavy (because it was catch heavy). The Bighorns are a place I'm very familiar as are a few thousand other anglers, so it's secrets are not very secret. Many things hinge upon Bighorn success: air and water temperatures (wind), angler traffic - which is a constant, so timing on your area to fish is crucial. These are often big fish that live in clean water, have a host of insects to feed, and get fished over numerous times a day. The biggest factor for us this year was snow pack. The area didn't get as much as most of the West, so it was definitely lacking volume, which made it even more challenging to fool some big fish.
The ride up: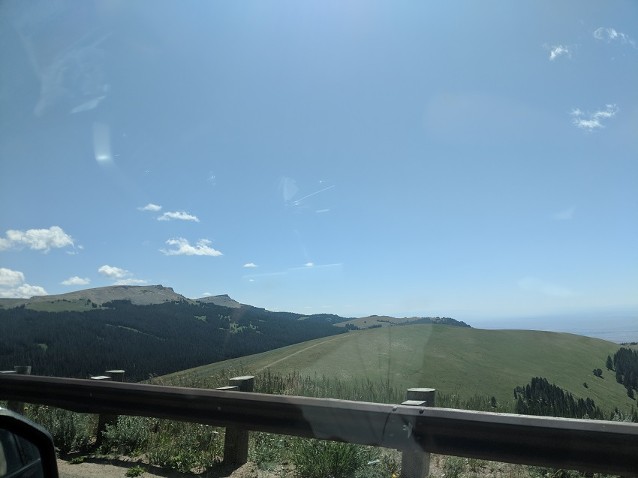 We got there in the afternoon and found our usual pullout devoid of other cars/anglers, so we rigged up and got to it. We met one of our buddies, Fred, from Colorado a few hours later on the water.
Out of the gate, there were some caddis and mayflies here and there, but not much for rising. I put on a small beadhead and a small emerger that I had been working on at home as the trail fly and did a little sight fishing, and a little just straight guesswork by running a nymph through runs.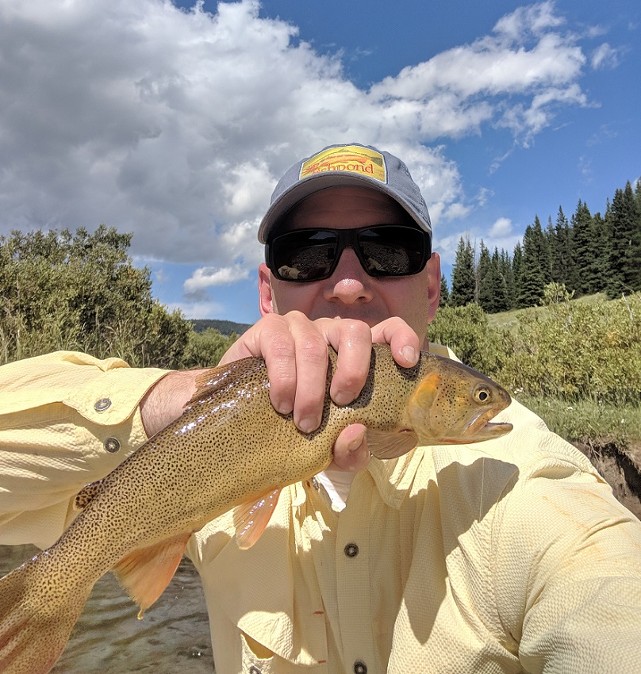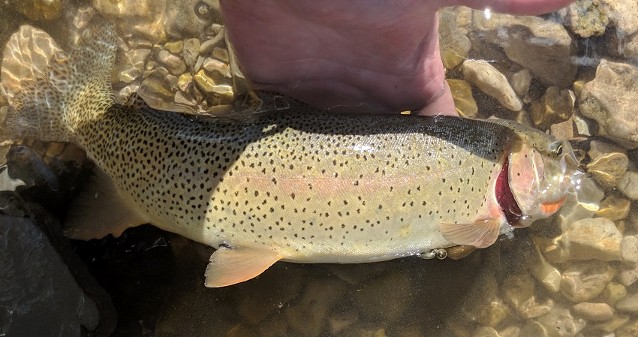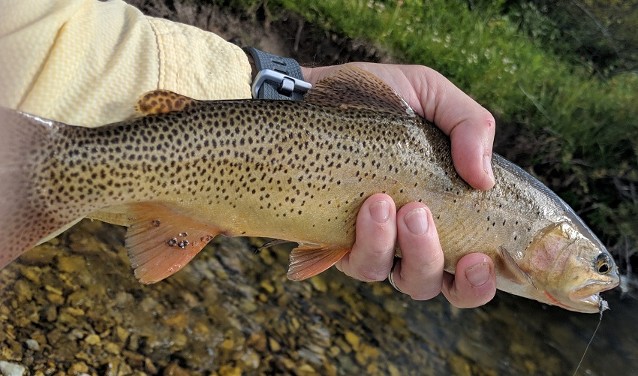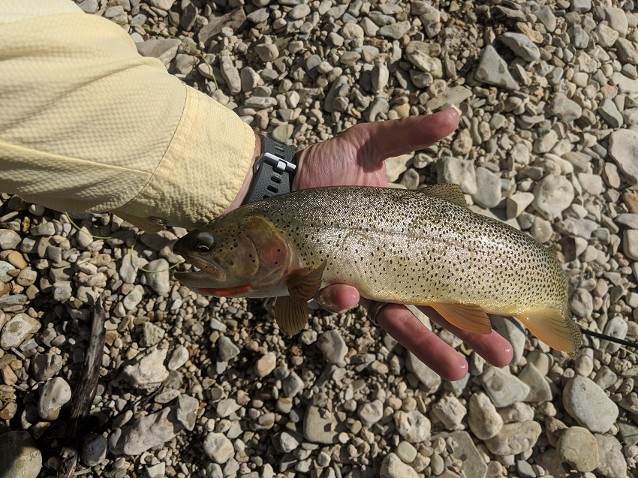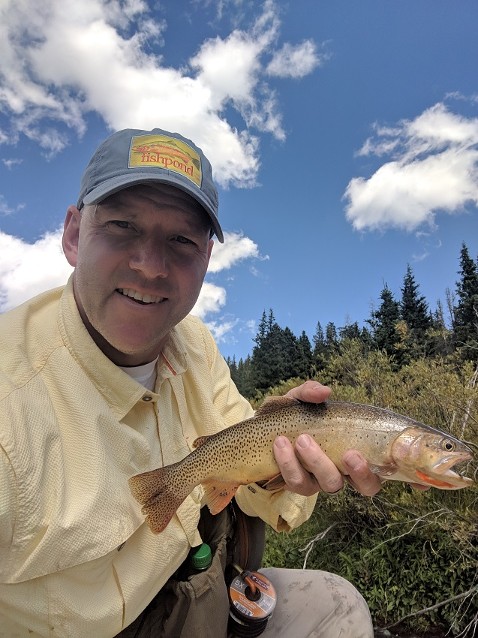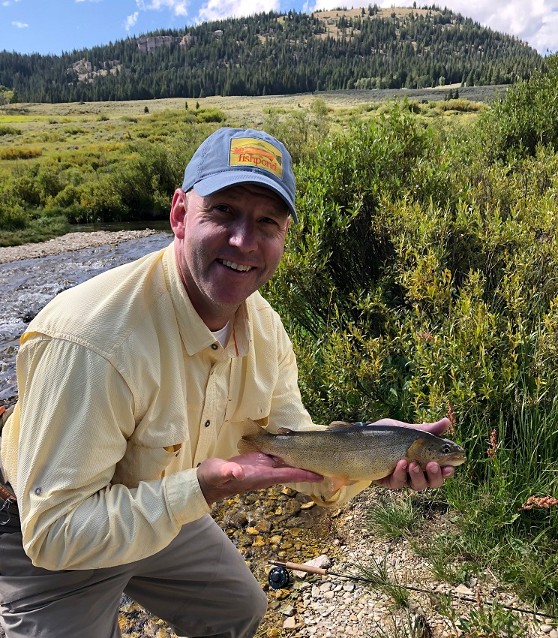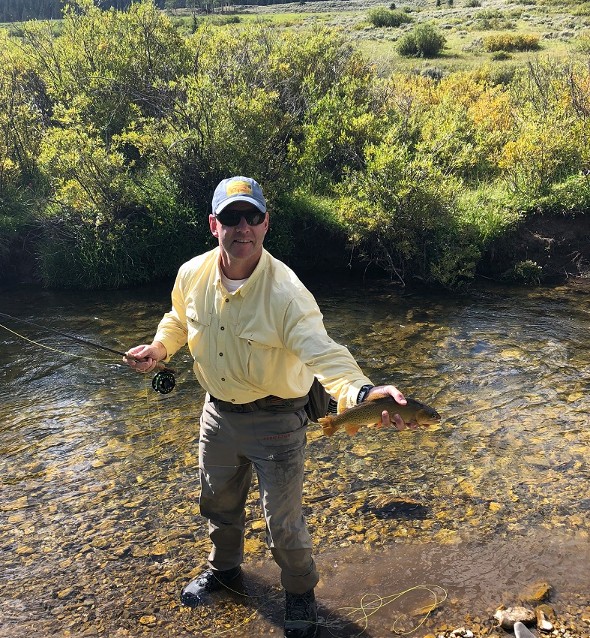 Charlie opted for a variety of dries and droppers (even some straight up soft hackled or cdc trailers). As has been the case, changing flies on this river is not uncommon. We all changed flies quite a bit just to start figuring out what the trout were truly keying.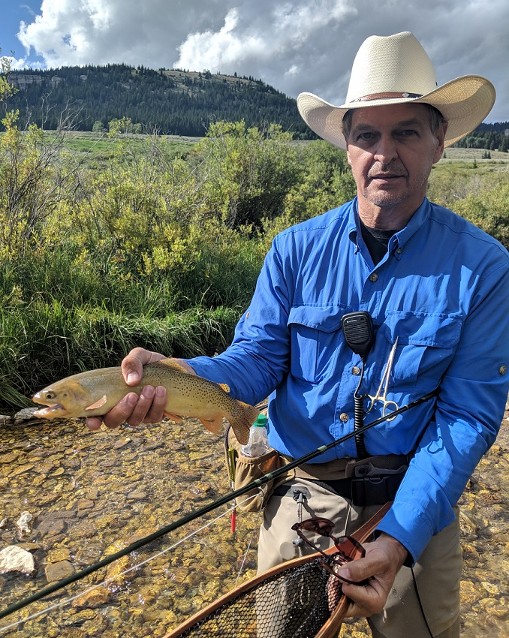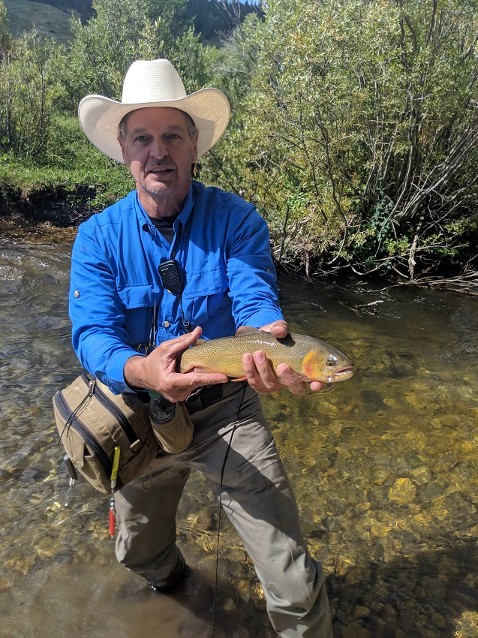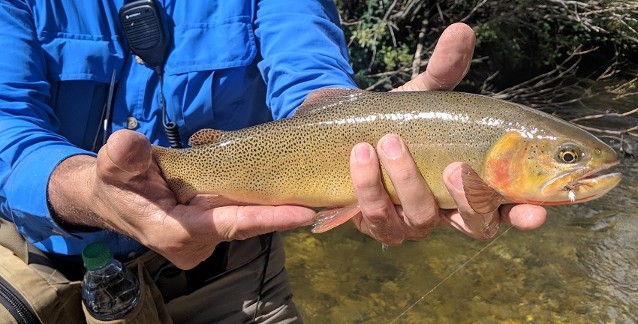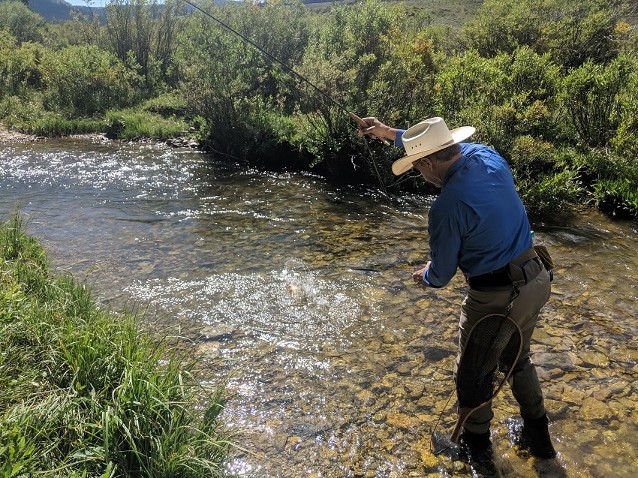 Fred with an absolute stud of a cuttie.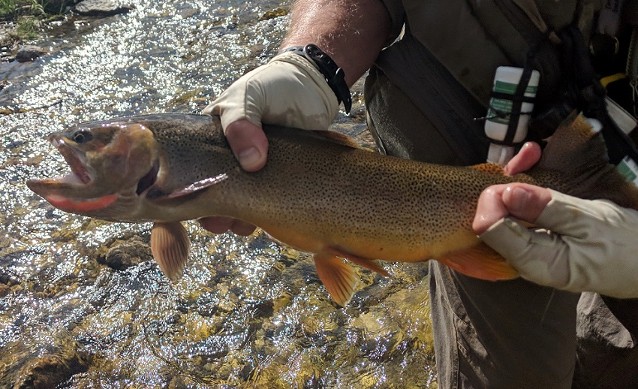 Day two in the Bighorns and we awoke to cool temperatures, so we decided to hit another stretch of river, do some exploring, and get back to the hot stretch by lunchtime.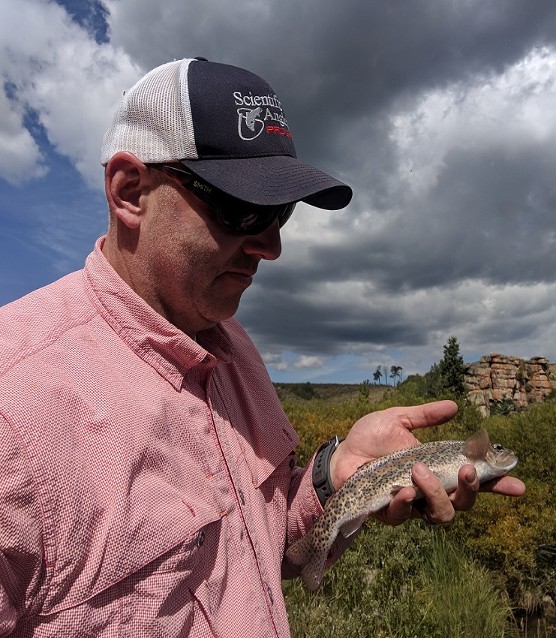 The best part was the walk out as we got pretty close to a pack of moose on the move. Three of the four were bulls. Two of which were mature bulls.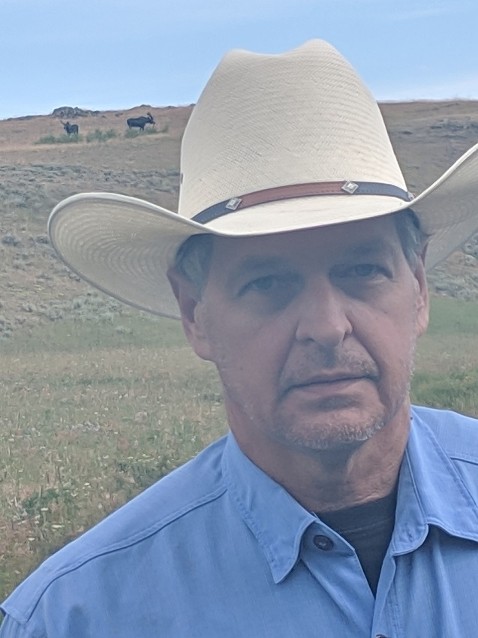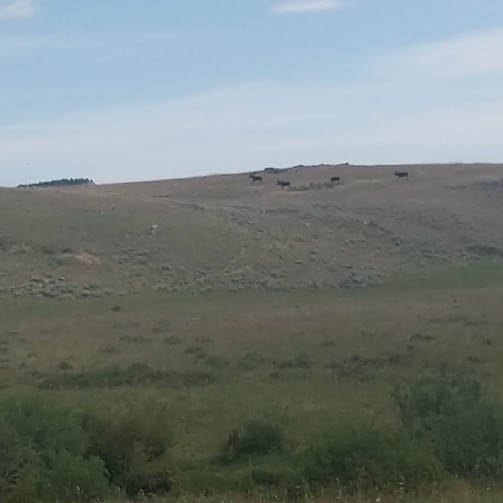 Some moose shit.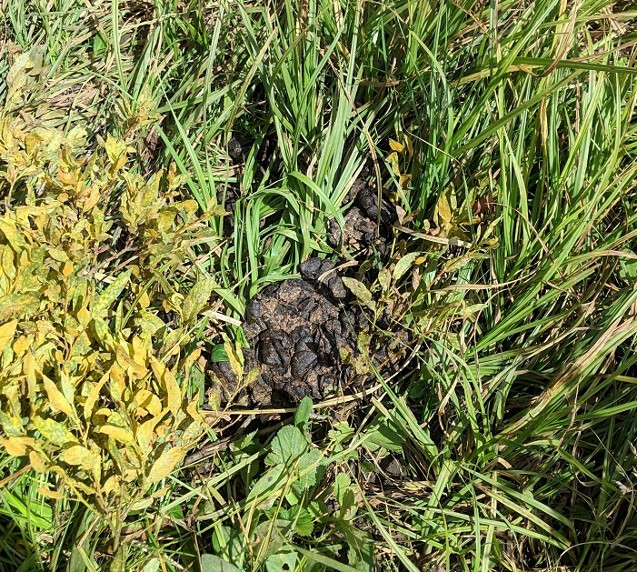 We parked two cars - one up and started downstream intending to walk to the second vehicle....which also had our cold beer in it after a day on the water.
I stuck to nymphs as the hatches were not overblown to the point of fish being on top consistently. I did quite a bit of sight fishing, too, which came into play on our third day out there as well.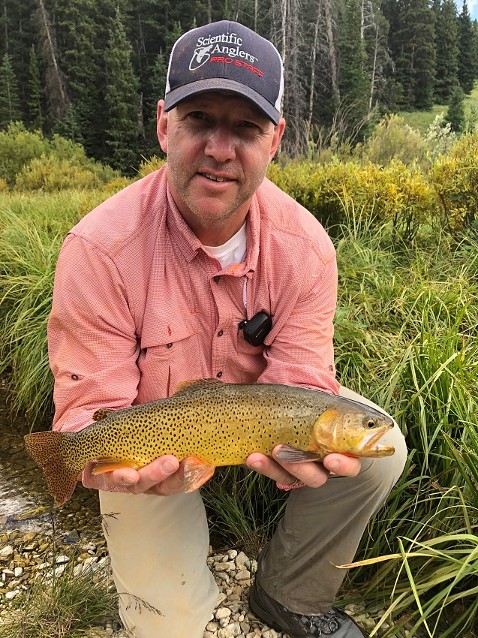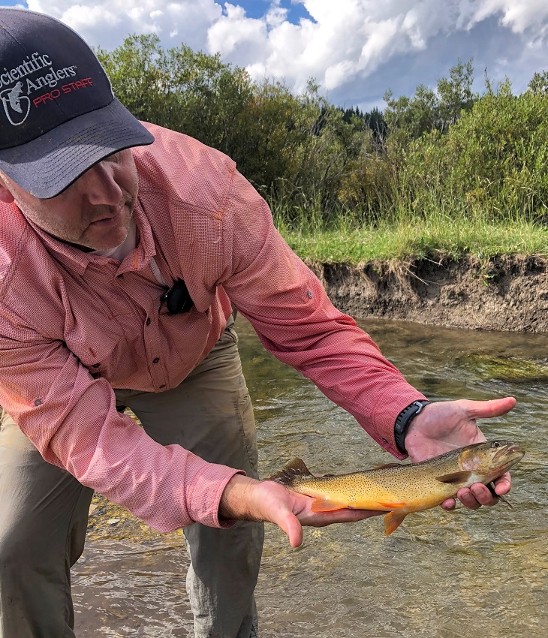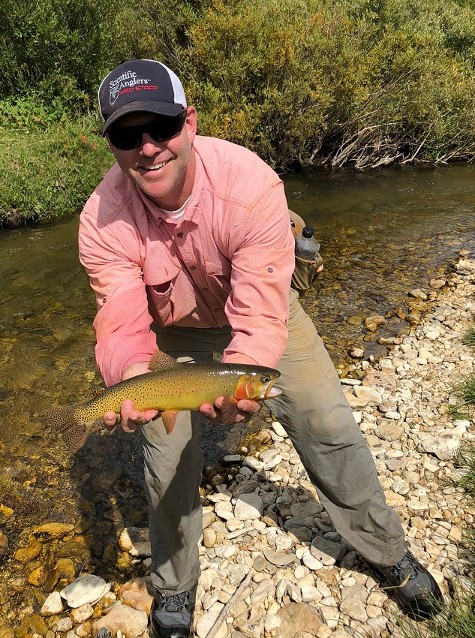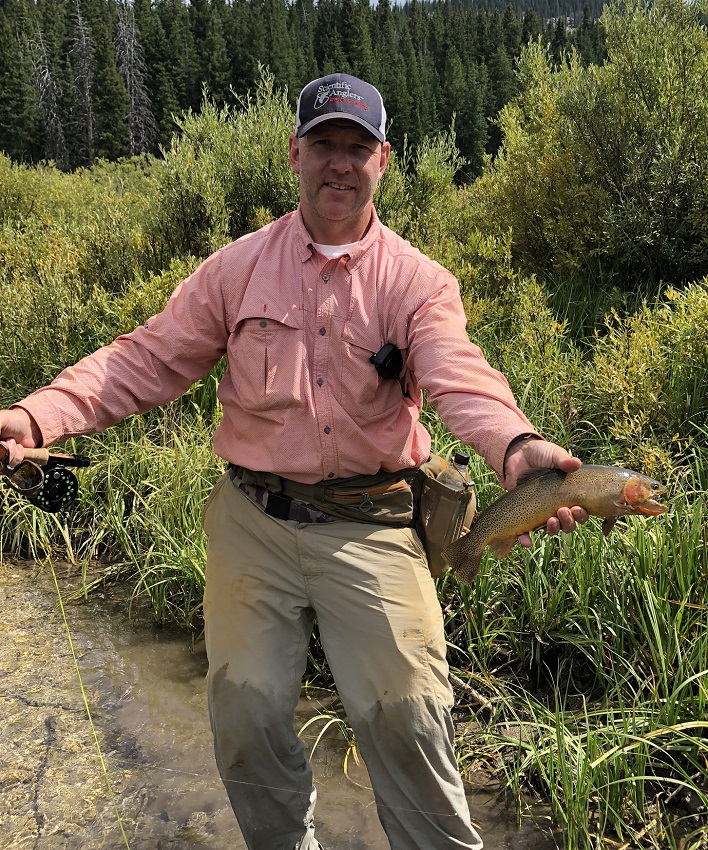 Charlie with dry and dropper.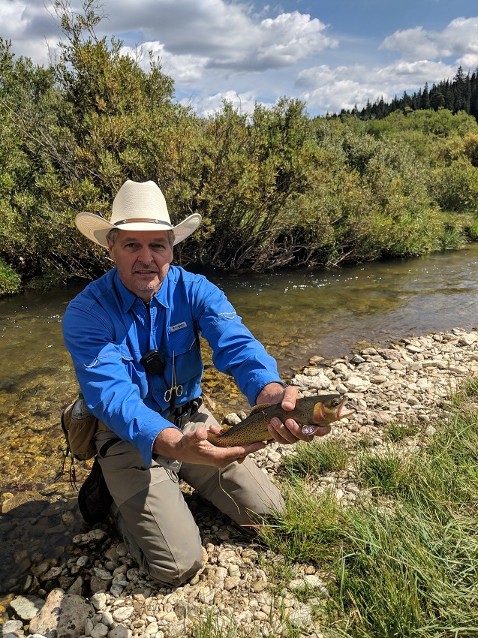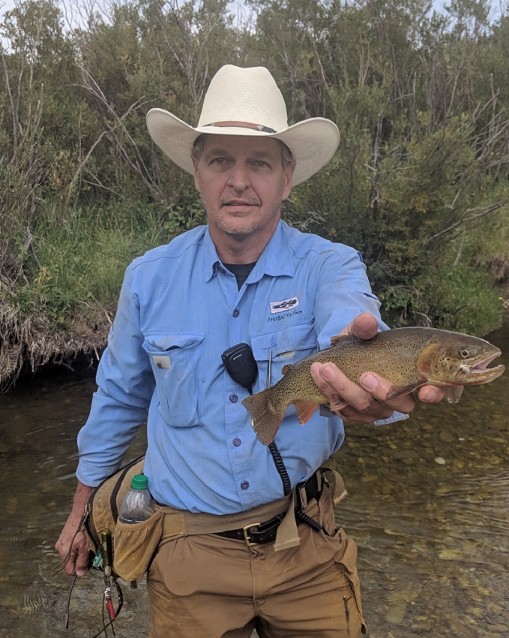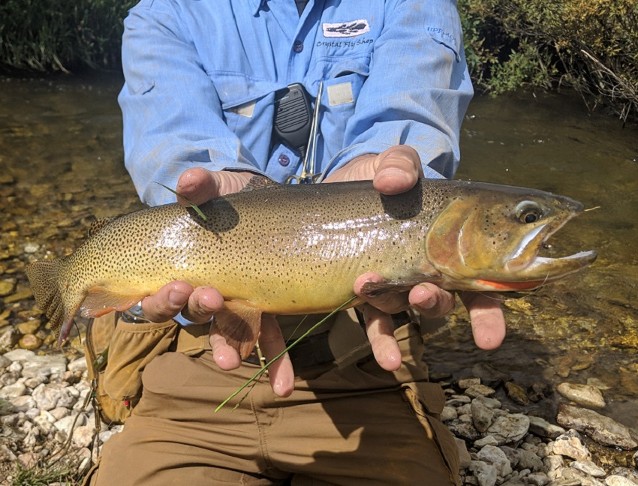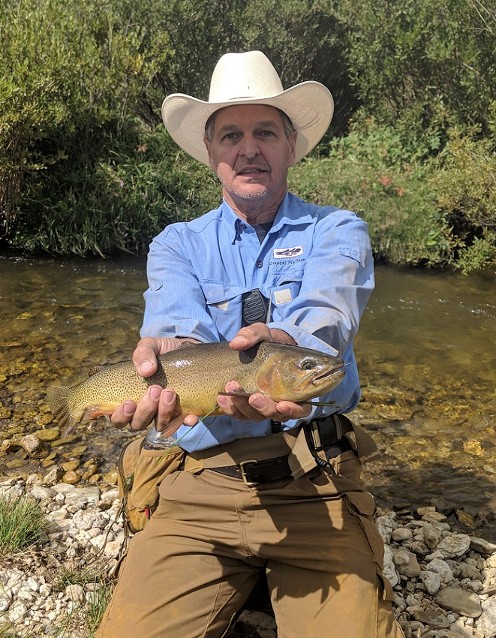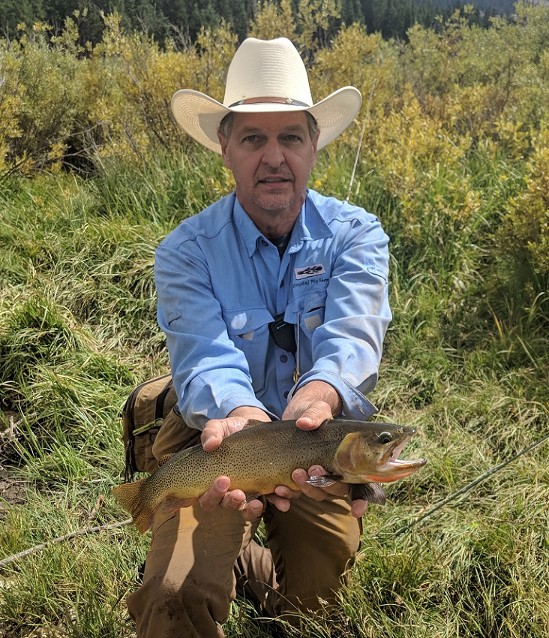 Well deserved libations after a solid day catching and releasing some gorgeous, but finicky fish. Plus, it literally started to rain about four seconds after we snapped this picture. Good time to go.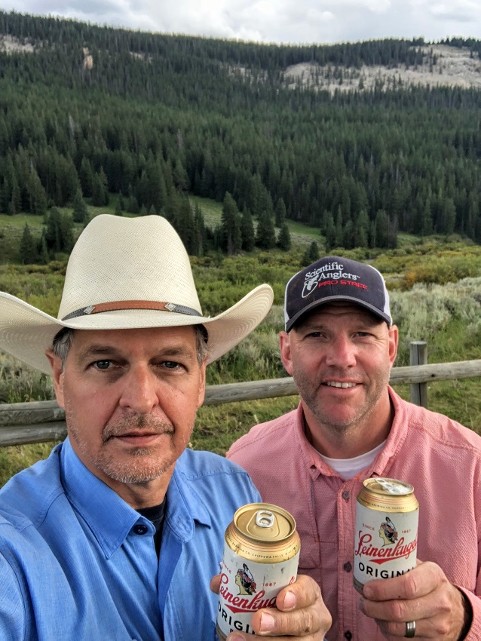 Our last morning fish before we had to pull the plug and head back to the Midwest was cold, and some rain in the overnight hours. Fishing was going to be tough. No hatches would be coming off at those temperatures (and they didn't). So we opted for a slow walk and sight fishing to cutties we could see. Sometimes they bit. Sometimes they spooked and swam off.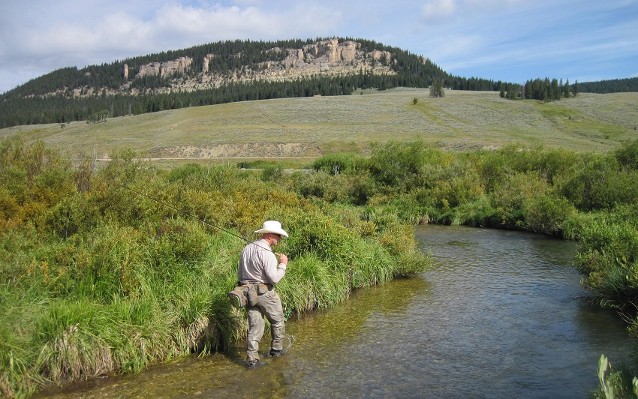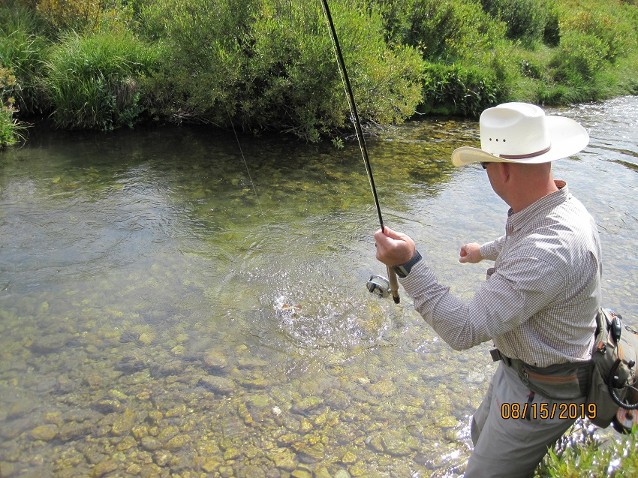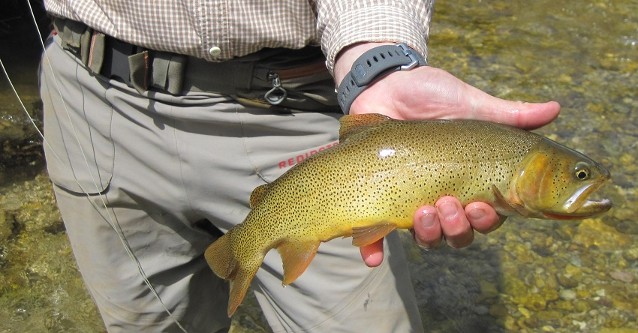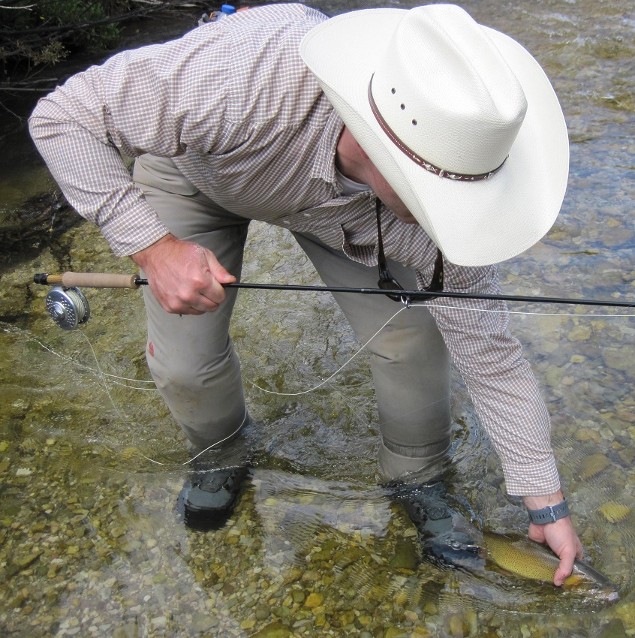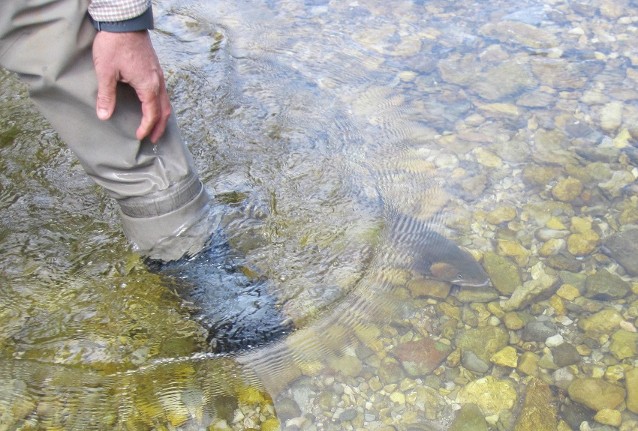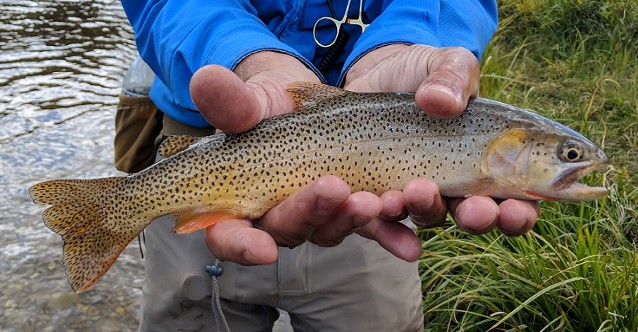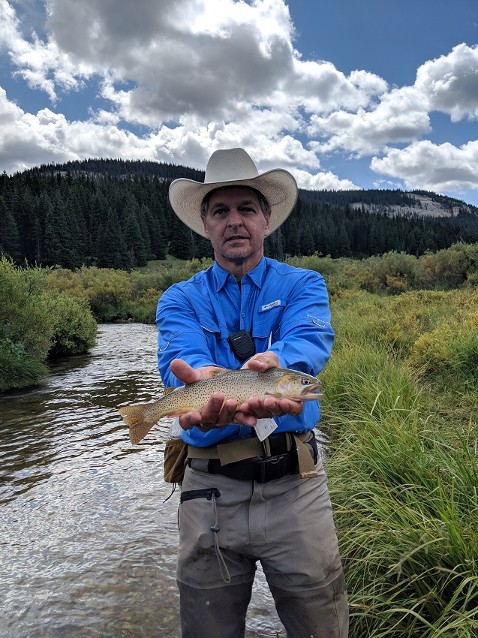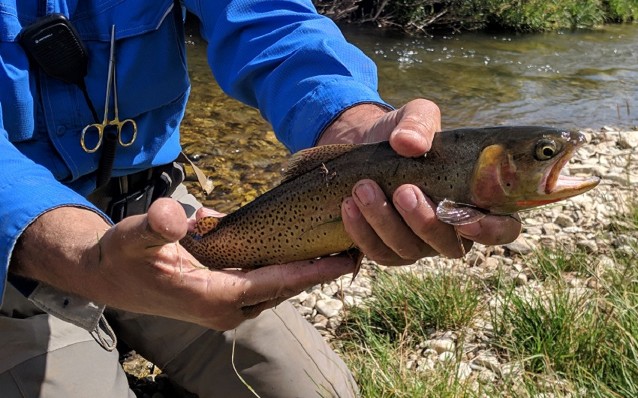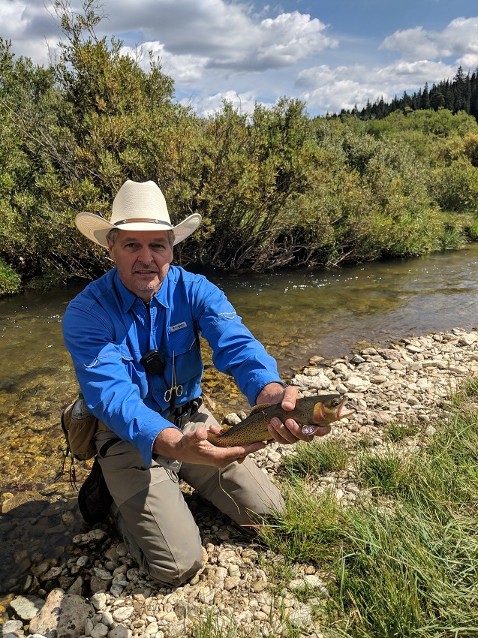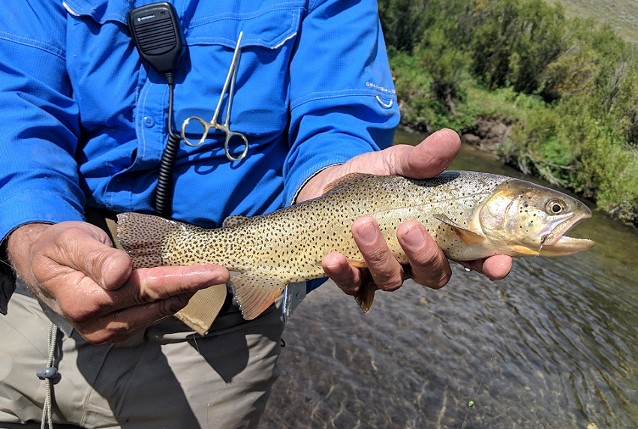 One last cuttie shot.